This Reporter Uncovered Her Own Marriage Proposal in the Cutest Way Possible
by Ivy Jacobson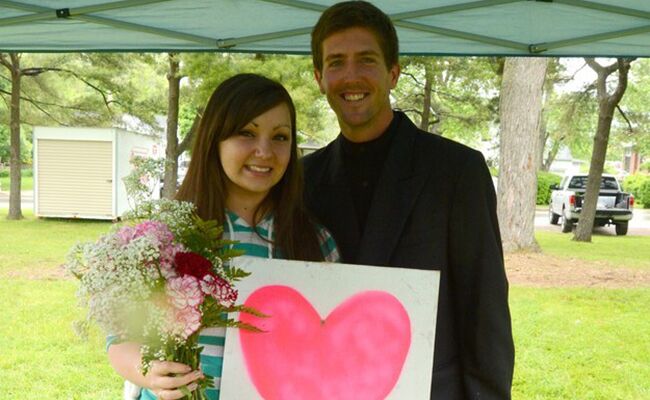 Maryanne Firth, like any other reporter, is eager to get to the bottom of things in her community. But her most recent case was a little cuter and sweeter than anything she had ever covered for her newspaper, the Welland Tribune in Welland, Ontario.
Maryanne described a mysterious appearance of white signs with bright pink hearts on them popping up throughout her town.
"It seems someone out there wants to have a heart-to-heart with Welland," she wrote in an article. "[The signs have] become the talk of the community, with people questioning their meaning and origin. Some believe it's a way to spread love through the city, others question whether it's a business or election ploy. None of the other signs contain any writing, though they still seem to be delivering a positive message."
Maryanne even started a hashtag, #WellandHearts, to try and find out more about the sweet signs. The last new sign to be planted in the ground had an address and a time on the back—"Chippewa Park, Sunday 3 p.m." So she went to try and finally solve the mystery of the hearts and found a pop-up tent in the area.
"Despite the rain, dozens of people came out with umbrellas in hand," Maryanne wrote. "Inside the tent was a man dressed in a suit with a box over his head. Complete with a signature pink heart painted on it. He was handing out flowers to onlookers with what I can only imagine was a smile behind his cardboard disguise. He handed one to me—a sweet, but familiar gesture—and then continued passing them out to others. Then he gathered up the remaining flowers into a bouquet and turned to me. He removed the disguise. This was the man who I've loved for the past eight years. Who I've built a life with. This was all for me."
She continued, "Ryan got down on one knee and as I tried unsuccessfully to hold back tears, he asked me to spend the rest of my life with him. No pressure, right? Of course I was ecstatic. Shaking. Crying. Of course I said yes! It all boils down to the fact that Ryan St. Denis knows me better than I know myself. He knew I'd see the signs. He knew I'd be curious. And he knew my nose for news would drive me to unearth the secret."
See a picture of the proposal below: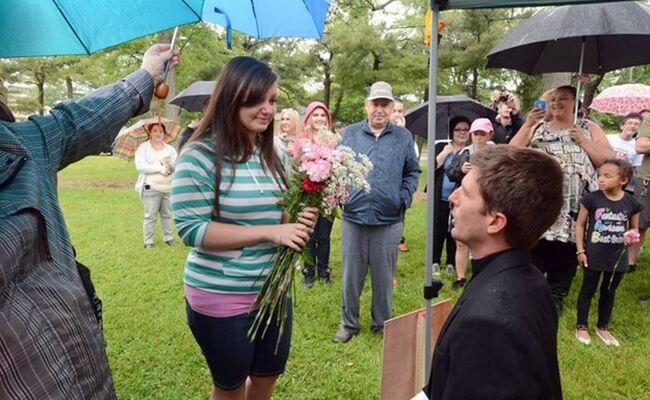 Want more? Right here!
> These Oregon wildfire wedding photos are unbelievable