5 Tips For An Edgy Jewel-Tone Reception (From Jes Gordon!)
by Bridget Clegg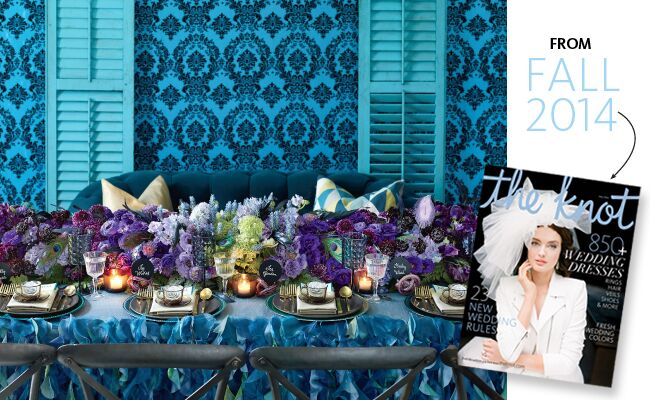 Think black and blue can't be playful? Event designer jesGORDON/properFUN shows you how to pull off a rich ombre wedding color palette at your reception in this flirty styled shoot from The Knot fall magazine (which, by the way just hit newsstands!). Wedding color tip to steal now: lighten up a saturated jewel-tone palette by adding soothing pastels like seafoam and lavender into centerpieces, colorful macarons and even your bouquets and boutonnieres! Read all of Jes's tips for pulling off this edgy reception look and see the photos from Philip Ficks below and here.
Tip: Work In Gradients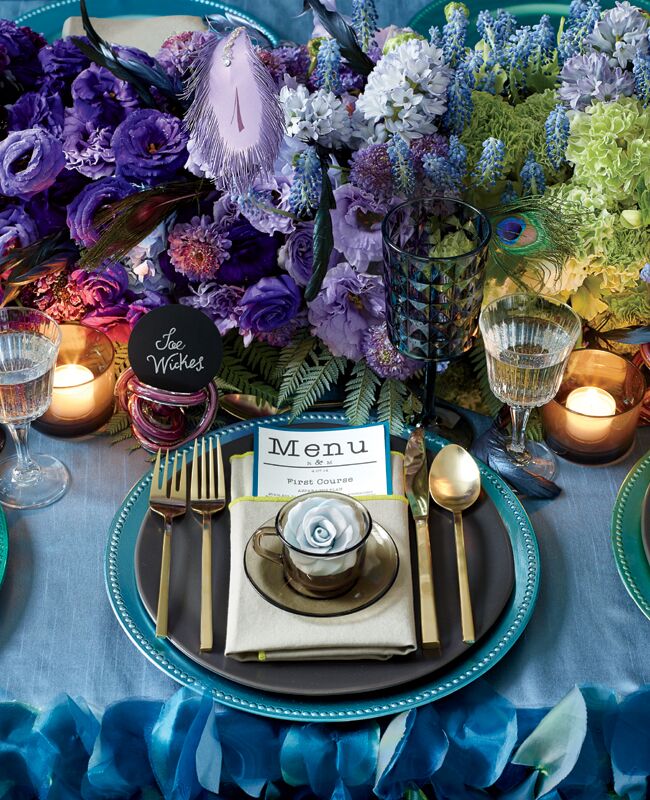 Jes's Tip: "Black and blue is timeless and can work for any season. These colors give a lot of monochromatic opportunities where you can work within the gradients of each hue, using the lightest shade of blue and working to its darkest."
Tip: Vary The Seating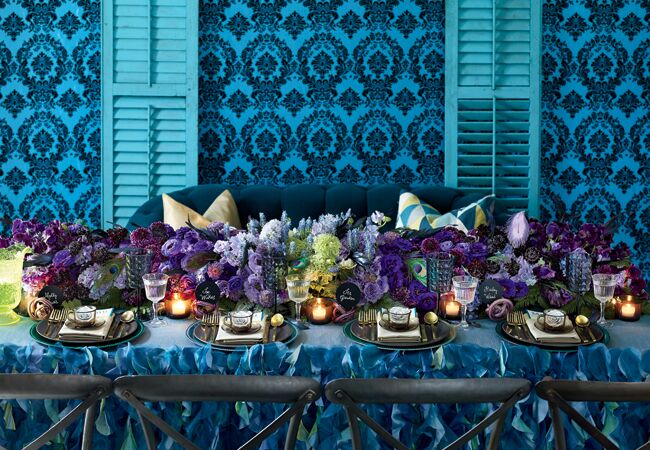 Jes's Tip: "Mixed seating looks amazing but it's so important to make sure that all of the chairs are equally comfortable and the same height."
Tip: Choose An Approachable Signature Cocktail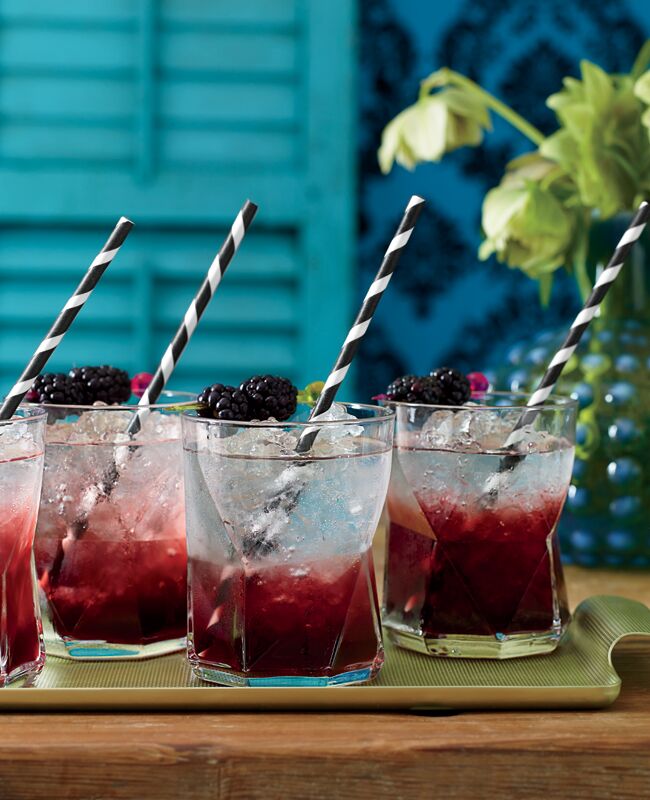 > Shop the look: Striped paper straws, The Knot Shop, $7/pack of 25
Jes's Tip: "Offer obtainable liquors in your signature cocktail. Vodka is user friendly, it tastes good in a lot of different scenarios and it can be used with seasonal produce."
Tip: Add Texture To Your Bouquet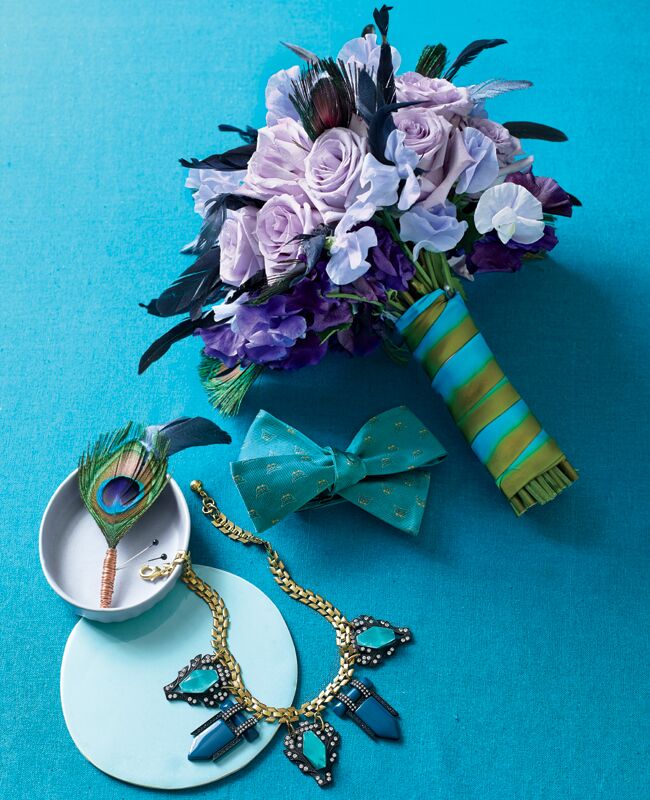 Jes's Tip: "Feathers add to a bouquet in such a romantic and ethereal way. Peacock feathers help keep the sophistication of the bouquet while adding texture to it."
Tip: Use Your Dessert To Carry Your Colors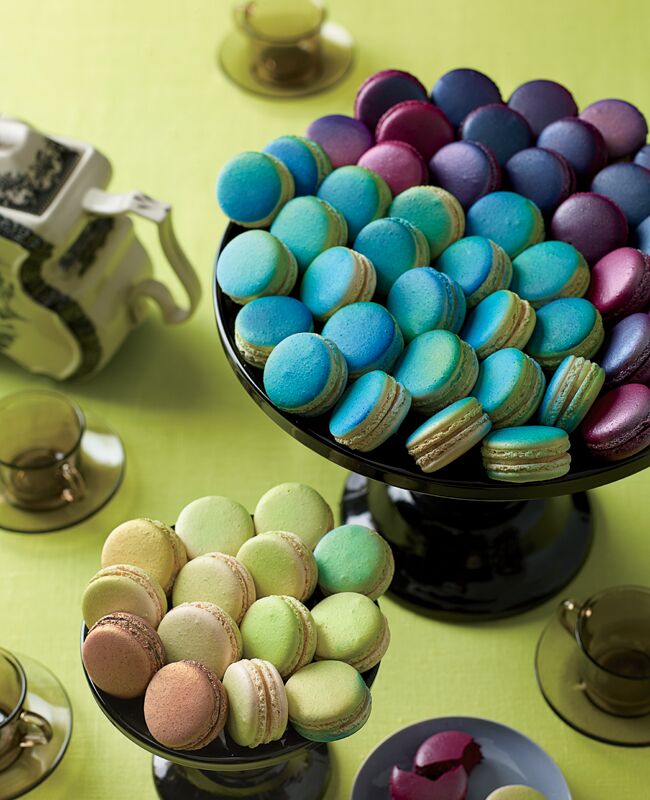 Jes's Tip: "Macarons are a great choice for something sweet that you can hold in your hand, even while dancing!"
From the album: Edgy Jewel-Tone Table Decor Inspiration
See More!
> 7 head-turning gowns from The Knot fall magazine
> 54 jewel-tone centerpiece ideas for your reception