A Planner's No-Fail Tips for Staying Organized on Your Wedding Day
Make sure everything is organized and accounted for with these expert planning pointers.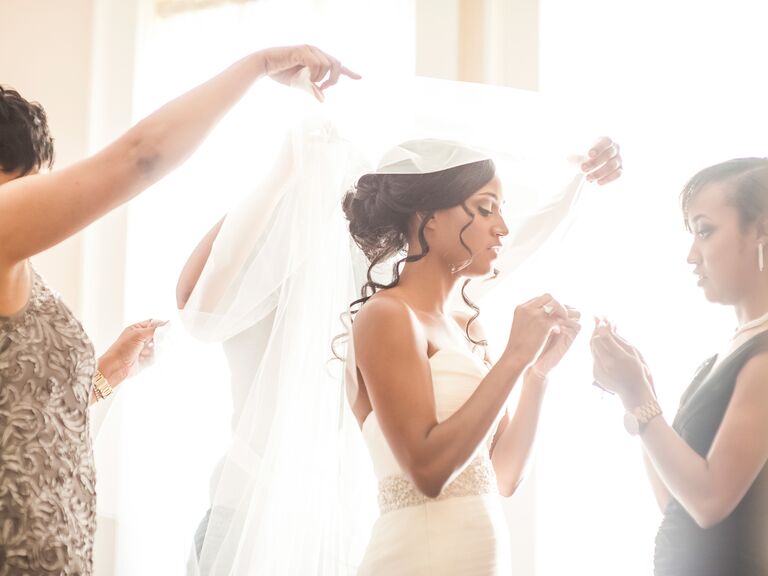 David Loli Studios
The day of your wedding will be a full one—even if you're cool as a cucumber, you'll probably have plenty to do before you walk down the aisle. Plus, some tasks are meant to be done closer to the event, like confirming times and locations with your transportation company and hairstylist. Here are a few foolproof tips from Boston-based wedding planner and master checklist-maker, Cristen Faherty of Cristen & Co. Event Coordination and Design, plus a few of our own, for how to stay organized—and sane—right before you say "I do."
1. Have a Wedding Day Timeline
Most important is to orchestrate a day-of timeline with tasks and items laid out clearly and chronologically. "The timeline is my bible for a client's wedding day," Faherty says. "Make sure you have as many details as possible on yours—it'll keep everyone on track and vendors in the know about the order and duration of every major moment."
2. Label Your Décor
Never underestimate the power of a trusty label. "We pack and label everything at least two days before a couple's wedding day," Faherty says. Get this task done in advance and you'll be able to breathe at least a bit right before your day. You'll know exactly where each box of décor should go upon arriving at the venue for setup. "If you have helping hands, it's so much easier for them to simply read a label stating what's inside and where it needs to go," Faherty says.
3. Make Packing Lists
"Create packing lists not only for décor but for what you need as a couple," Faherty says. "There are so many items to remember to bring for a wedding, and you don't want to forget anything." We know what you're thinking: Not another list, please. But trust us—you'll be grateful you were so organized. Whether it's your honeymoon suitcases, wedding day emergency kits or your second reception outfit and shoes, the act of checking things off, either physically or digitally, will give you peace of mind, since you'll know exactly what's ready to go and what still needs attention.
4. Designate Your Point People
Even the most on-the-ball brides and grooms can't do this thing alone. Whomever you assign to tackle any final chores should know exactly what their responsibilities are and when they're on duty. If you have a planner or day-of coordinator, maybe your mom can make sure they're introduced to the site manager. Make sure the best man is ready with the officiant's fee envelope, which he'll hand off after the ceremony. Confirm that a family or wedding party member will chaperone any little attendants throughout the event.
5. Use The Knot Checklist
We're always here for you (but you already know that!). With our handy Checklist app on your phone or computer, all your day-of tasks will be right at your fingertips—literally. Have you set some cash aside in labeled envelopes to tip your vendors? Does the maid of honor have the photographer's contact info so she can be point person for any issues? We'll help you put a nice, big check mark next to every last-minute to-do.
Ready to find yourself a fabulous wedding planner? Get started here.