7 Wedding Myths You Learned From Romantic Comedies (in GIFs)
Real life isn't always like the movies.
by The Knot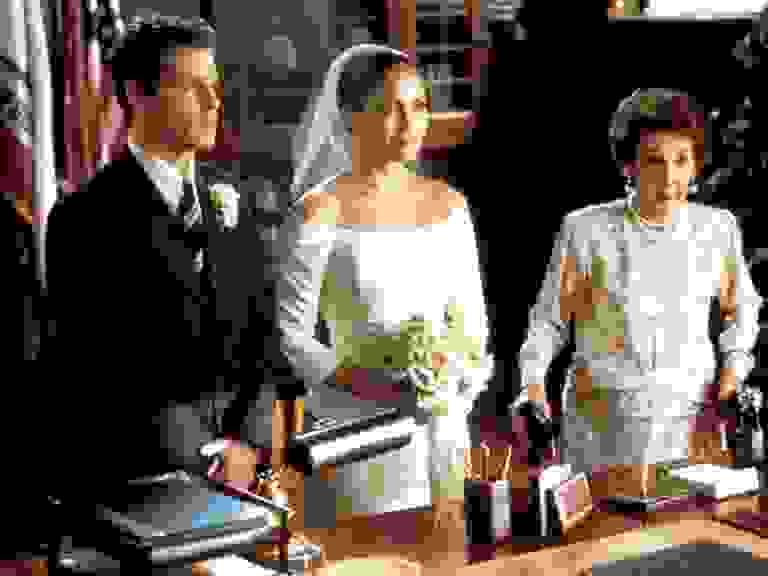 As much as we love these classic wedding rom-coms full of ridiculous bridal parties and over-the-top wedding planners, they're not exactly true to life (which is probably for the best!). While we secretly wish Franck Eggelhoffer was a real planner, we're pretty glad that not every wedding is at risk of being sabotaged by the groom's best friend. See the top seven misconceptions from wedding movies known (and loved) for their eccentric characters and exaggerated mishaps.
1. The bride's family controls the wedding.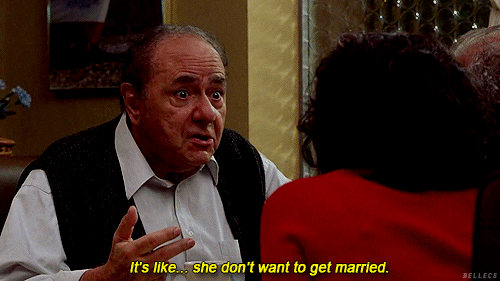 The Movie: My Big Fat Greek Wedding
The Truth: As much as we love this indie hit, the idea that the bride would have zero say in her own wedding day (especially in her choice of wedding dress) is pretty far-fetched. You may have some big personalities in your family, but don't let anyone take over your day.
2. Every couple must have a "signature color."
The Movie: Steel Magnolias

The Truth: Gone are the days when every wedding color palette looked like the bubble pink of Julia Roberts's character's dreams in Steel Magnolias. Designing a wedding is all about evoking an atmosphere or theme that represents you and your relationship, and you can do that through so many details, including the venue, invitations, flowers and favors. Pink not your thing? Your wedding colors can be anything you want. 
3. An unsuspecting person will try to sabotage your day.
The Movie: My Best Friend's Wedding
The Truth: You may have past love interests who've turned into good friends, but you probably won't need to worry about the maid of honor confessing her love to the groom on the day of the wedding. Everyone at your wedding is thrilled to see you get married.
4. Wedding planners follow you everywhere, including dance lessons and dinner.
The Movie: The Wedding Planner
The Truth: Depending on the type of wedding planner you hire, they'll be there for you throughout all of the big wedding planning moments, but that's usually where it ends. Dinners with in-laws, dance lessons and anything unrelated to the wedding itself will be all you.
5. At-home weddings are easy.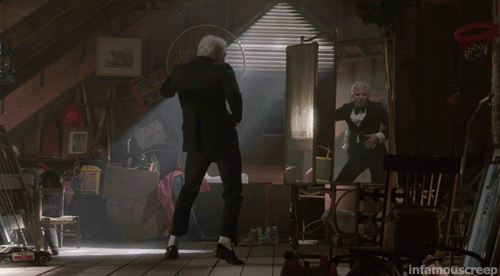 The Movie: Father of the Bride
The Truth: At-home weddings are magical and personal—but don't forget all the legwork that goes in to making them so special. Although Steve Martin's character makes a scene about how difficult it is to orchestrate an event in the backyard, in reality, Father of the Bride barely skims the surface of all the planning logistics of an at-home wedding (think: portable restrooms, flooring, extra electricity, heating or cooling, noise ordinances—the list goes on).
6. Everyone has a lavish destination bachelorette party.
The Movie: Bridesmaids
The Truth: Jumping into first class on a plane to party in Vegas with your closest girlfriends sounds like a blast (and destination bachelorettes are absolutely a thing), but it's not what you have to do. Most bachelorette parties are still a single night on the town, a day trip to a vineyard, a hike or another fun, low-pressure group activity.
7. Planning an elaborate wedding in a few days is totally possible.
The Movie: The Proposal
The Truth: People get married with little to no prep all the time, but that's if they're okay with a dialed-down affair. If eloping  is right for you, do it! But if you want a big, traditional wedding, you'll need to think about how long it takes to pull a fabulous party together. The average engagement period is almost 15 months, and couples tend to start planning about one year out. So while throwing together a last-minute celebration is technically possible, it's pretty rare.