Top Wedding Trends for 2008
What's hot now? This year, bigger is definitely better, from luxe place settings to statement-making gowns and hairstyles.
by Christa Vagnozzi
Is chocolate brown still the new black? Are brides really planning to wear two dresses? These are some of the many burning questions this year's brides and grooms are asking.
Trend 1: Making Split Decisions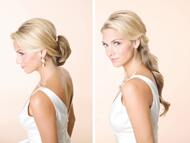 Can't decide between a princess ball gown and a sexy mini? Wear both! In 2008, brides will make their guests do a double take by switching up their looks between the ceremony and reception with their gowns and hairstyles -- like an elegant updo for when you recite your vows and switching to natural cascading curls to party. And it's not just the bride that's getting a makeover between acts. Couples are also changing up their palettes with a progression of color throughout the day. Guests arrive to a clean, all-white ceremony, experience a hint of pale hues during the cocktail hour, and then step into an explosion of rich color for the reception.
Trend 2: The Gray Area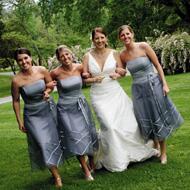 Steel gray will replace chocolate brown as the accent color. We absolutely love this soft yet deep hue teamed with butter yellow, bright aqua, rich eggplant, or pale pink. It's so versatile! Introduce the color in your stationery, either in the typeface or paper, and then gradually build it into your reception space by way of slate gray table accents and pewter-toned bridesmaid dresses with a contrasting sash.
Trend 3: A Return to White
In recent years, white has taken a backseat to bold hues like hot pink, orange, and purple. The classic color (or lack thereof) is poised to make a huge comeback in a fresh, modern way. Think tall, glistening glass vases overflowing with crisp arrangements of white phalaenopsis orchids and clouds of soft baby's breath. Also, picture sparkling white cakes covered from top to bottom in miniature fondant blossoms. Palette partner: Rose-colored metallics will add a big dose of sophisticated glamour.
Trend 4: Lush and Luxe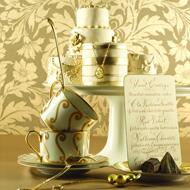 Size does matter. Event designers and brides alike are teaming up to create showstopping floral arrangements, such as those seen during the days of Marie Antoinette. This move toward French opulence means more petals, blossoms, candles -- even feathers! -- as centerpieces go from simple and low to towering and lush. Gilded place settings, brocade linens, and hand-painted invitations complete the elaborate look.
Trend 5: Sample Stations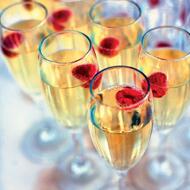 Self-proclaimed foodies will love this trend: tasting bars for every whim. Sure to be popular, wine and cheese stations are not only delicious, they can be educational as well. We know one couple who hired a professional sommelier to provide pairing pointers. Our favorite is the champagne bar. Just pick your favorite bottles of bubbly and don't forget the mixers, such as Chambord, Midori, cranberry juice, and pineapple juice. Guests will have so much fun making their own signature cocktails.
Trend 6: Vintage Visions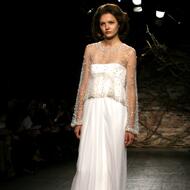 From dresses to rings, brides are revisiting the past for style inspiration. For wedding gowns, that means delicate fabrics like chiffon and tiers of tulle, along with bygone embellishments such as beaded straps, keyhole halters, and lace sleeves. For rings, the hot style for '08 is something vintage. Whether it's simply an antique-style band or a real antique (think your great-grandmother's diamond), what's old is definitely new again.
Trend 7: Guests Make the Call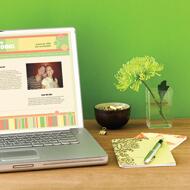 Need help picking that first dance song? Have your guests vote on it. With wedding websites adding more features like blogs, polls, and quizzes, it's easier than ever to involve your loved ones in the planning and decision making. Blogs are also great for reaching out to your bridesmaids and getting feedback on dress colors, flower options, and decor ideas. We love the idea of setting up wedding polls on your website and asking your guests to vote for their favorite cake flavor, entree choices, or dance music.
More Hot Trends
Green Weddings: Couples continue to be earth-conscious in 2008, from buying conflict-free diamond rings and recycled gold wedding bands to serving locally grown, free-range fare and donning bio-friendly wedding dresses made of 100 percent silk and cottons. They're also honeymooning at eco-resorts and gathering friends for charitable showers at soup kitchens and local park events.
Honeymoon Hopping: By now, it's no secret: Brides and grooms are going big this year for their weddings, and that includes the honeymoon too. Newlyweds are jetting off to not one, but two or three different destinations to celebrate their union. And they're traveling further than ever before. The hot spots: South Pacific jaunts to Tahiti and Bora Bora; Mediterranean getaways to Sicily and the Greek Isles; and African expeditions to Zambia, Botswana, and Johannesburg.
Home-Spun Weddings: For the utmost in personalization, couples are choosing to wed in their own or their parents' backyard. While it may be harder to plan than a ballroom wedding (you'll need to bring in your own caterer, tent, decor, etc.), your day will be truly one-of-a-kind.
Cover Bands: You heard it here first. Cover bands are in demand for 2008. From '80s cover bands to other genres such as classic rock, swing orchestras, or Latin ensembles, it's all about specialized live music to keep guests on their feet.
Photos from top: Mike Kehr Photography; Paul Sunday; Sorell Images; KingenSmith, photography by heather & rick; Bob Heimstra
Deanne Dunlop Photography; Tat Leong; Andrew McCaul