How Wedding Dress Shopping Will Change Due to COVID-19
Bridal salons are bracing for a new normal.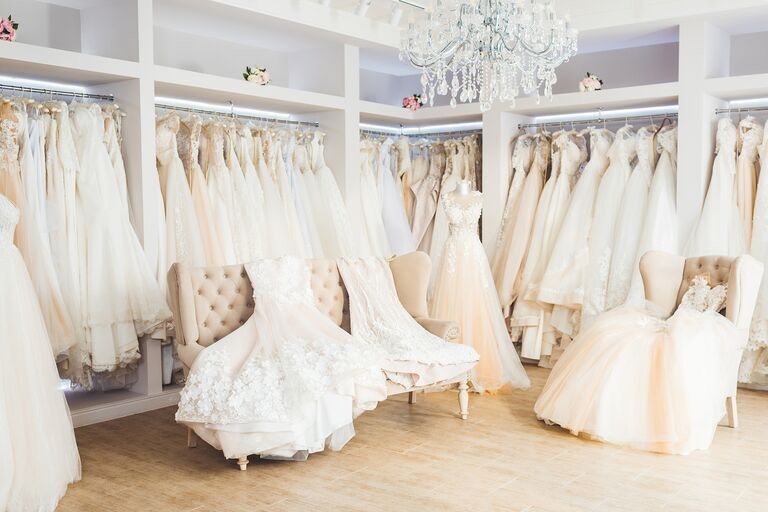 Shutterstock
Tell someone, anyone, that you're planning a wedding during the coronavirus pandemic, and the looks you'll receive will be a mix of sympathy and concern. Thankfully, the wedding industry has been working overtime to make sure that it adapts to our ever-changing world and social distancing regulations so that vendors and retailers alike can help brides look and feel their best on their big day—without the added stress of risking the health of their loved ones.
While some brides have chosen to postpone their nuptials until a later date, others are opting for smaller, more intimate ceremonies at home; either way, one of the non-negotiables for any bride regardless of changing circumstances is that she feels beautiful on her wedding day. As such, bridal salons are taking big precautions as they prepare to reopen their doors for brides eager to find their ideal wedding gowns.
"What's exciting about weddings these days is there are no rules," Beth Chapman, a stylist and founder of the White Dress Society, tells The Knot. "Especially in this situation where all those preconceived notions will go out the window. You should wear what you love. Wear it for whatever type of ceremony and wedding you're having."
While every retailer is taking different precautions as they slowly reopen their doors in coming months, in speaking with salons across the country, one message seems consistent across all states: just because wedding planning will look a little different doesn't mean it has to be any less special.
How to Shop for Your Wedding Dress Amid COVID-19
Brides who are in the midst of wedding planning need not stop planning altogether, experts say; they just need to pivot. "What's so important for brides, as they're hedging on postponement questions and planning, is they do not hit pause on the planning process," Chapman said. "From a shopping perspective, that means to keep gaining inspiration. Use this time to research the stores of where you want to shop when this is all over. It'll allow you to narrow down your selection and you'll be that much more focused and closer to making your decision when you go into the store."
Source Inspiration Online (Along With Choice Salons!)
Take the time to pull together a mood board of gowns and styles you'd ideally prefer. Once you've narrowed down your ideal designers, silhouettes and runway season selects, explore local salons that may have inventory of your favorite choices. Pick up the phone and check to see if they're scheduling virtual appointments, or when they anticipate in-person appointments once again.
Take Advantage of Virtual Appointments
Along the same lines of what they've done in the past, Chapman's team and other salon owners are chatting directly with prospective clients. "First, we have a phone call to get more details about the wedding vision," she explains. "And now, we virtually take the bride through the store. If her mom wants to join, we can add her too."
Boutiques are using everything from Zoom to Facebook Messenger, all the way to FaceTime and Google Hangouts to host efficient client service meetings. "For our brides who have purchased from us but don't want to get behind on accessorizing, we'll do virtual appointments by using mannequins to showcase it all as well," Chapman adds of how some salons are ensuring the veil and other essential accessories are covered. "The use of technology!"
Bridal salons and attire shops are now offering virtual appointments, which match in-store stylists up with brides to help chat out any preferences or concerns in real time. "Give virtual appointments a try,," says Laura Calderone, owner of Laura & Leigh Bridal in Cherry Hill, New Jersey. "At the very least, it'll help you make positive steps forward in your gown search and narrow down gown options. Spend time looking at Pinterest or Instagram to get inspiration."
Consider At-Home Try-Ons
Some boutiques are even offering curbside pickup and at-home try-on options to brides so they can further hone in on their ideal gown. Select salons are shipping out gowns and delivering them directly to brides to try on at home. This, however, is only available typically to brides getting married within the year.
"We have been giving instructions for trying dresses on at home," says Chapman. "And we're being very very careful about disinfecting those dresses both for our staff to handle and for anyone else."
Ask About Specific Designers
Designers are working directly with independent retailers to ensure inventory and other needs are currently being met. This includes Anne Barge, Justin Alexander, Allure Bridal, Maggie Sottero, Casablanca, Watters and Mori Lee. Some designers are even offering discounts to brides.
Normal lead time for a gown can be 15 weeks to 25 weeks to get a dress with production since each gown is being made individually for each bride. Designers are now reassessing the situation to help salons and brides in return. "Designers are getting dresses in as little as three weeks and we're getting them turned quickly," says Chapman.
In total, you shouldn't worry about inventory or other issues. "When our doors open, our intention is to say yes to every single bride and to have them say yes to us," she concludes. "We support brides who have so much anxiety and disappointment and we want to help them navigate this."
Schedule Ahead
Other bridal salons are scheduling advance appointments with brides (even via social media) so that they're able to pop into the store just as soon as things open back up. Bacio Bacio Bridal in Palm Beach is bracing to reopen mid-May (with plenty of social distancing precautions in place. In the interim, the salon, of course), and has been keeping their brides' spirits up with constant check-ins and updates in anticipation of reopening soon.
For bridal salons like a&bé, which has locations in Denver, Minneapolis, Dallas, Miami, Portland, Seattle, and Sacramento, is keeping an eye on each state's different regulations and adjusting accordingly. "With social distancing and 'stay at home' regulations changing daily, we are gathering information through our online form so that we can help brides book an appointment the minute we are able to reopen," says Kaitlin Stout, the brand's merchandising director of a&bé. "For the bride who can't wait for, or who wishes to avoid an in-person appointment, we are offering shop-at-home appointments. And we've even launched a new online consignment shop called re:bé."
While some stores are temporarily closed, select owners are planning to eventually hold mass sample sales and promotions when they reopen this fall. A few are already anticipating foot traffic and are preparing their inventory accordingly.
For now, keep planning and continue doing your research. Check out The Knot Marketplace to explore salons local to your area that carry the gowns your hearts so desire.
How Dress Shopping Will Change as Salons Reopen
When bridal salons do open back up, things will look a little different, and there are a few things that brides will have to keep in mind as they book their appointments. "We are following all CDC guidelines and recommendations for keeping our brides and staff as safe and healthy as possible," says a&bé's Stout. "We are requiring that all staff and customers wear masks, maintaining six-feet of distance whenever possible, limiting the number of appointments we take in one day, and we're disinfecting the shop between each bride. The local mandates on [wearing masks] vary from location to location, but we're choosing to take the extra step at all of our stores to keep everyone safe."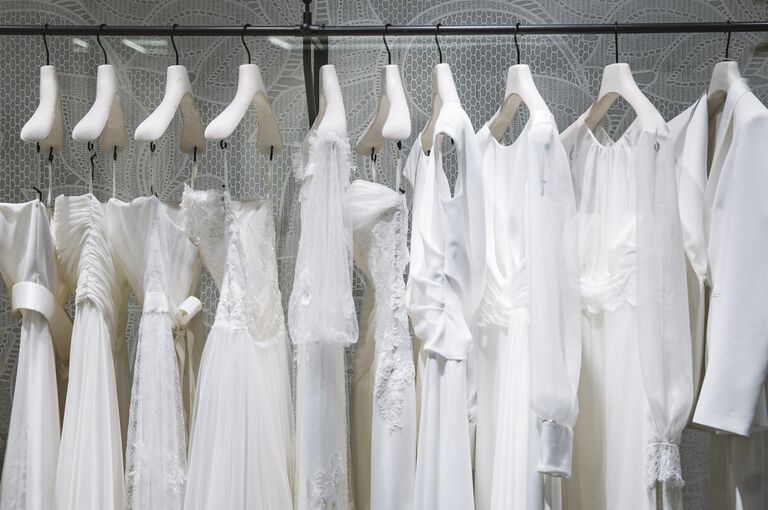 Health and Safety Measures Will Be Strictly Enforced
Barcelona-based retailer Pronovias, which has flagship stores throughout the world, released specific guidelines in advance of scheduled openings. The brand said it's "committed to prioritizing the health and safety of our teams and brides above all else" and "will be socially distant but emotionally connected throughout the entire visit."
Upon entrance to stores, the employees will have hand sanitizer and protective equipment available for guests, while stylists and others will use gloves and masks throughout the duration of the appointment, it said.
Guests Will Be Limited
Pronovias, among other boutiques, will maintain a strict policy in the number of people allowed in each store. For now, it has said only one guest will be welcome to accompany each bride. However: with supplemented WiFi, the retailer will be able to dial in other loved ones.
Calderone, the owner of Laura & Leigh Bridal, said they will be doing the same with regards to masks, limiting appointments, and trying to make sure there is a six-foot distance between individuals in-store. "The hardest part about our business is that its very nature violates social distancing because stylists have to dress customers and help fit them into gowns," she says. "Plus, it's an emotional experience with family and friends coming together to help brides find their dream dress. Bridal shops, including ours, will need to adapt to life now."
Appointments Will Be Spaced Out to Accommodate Disinfecting
Between fittings, Pronovias has maintained it will clean gowns and all fitting rooms, disinfecting everything thoroughly. Due to the potential influx of to-be-weds, the retailer plans to extend opening hours as appointments will have to be spaced out.
Lenyce Boyd, the operations manager at Bacio Bacio Bridal says the salon will ask brides and their guests to wear proper facial coverings as well. "When the bride arrives for her scheduled appointment, she is to call us and we will ask her to wait in her car until we have cleaned and disinfected extensively," she says. "Once the coast is clear, we will bring her in. We are asking that everyone take their temperatures that morning and to please reschedule if they are not feeling well or have been in contact with anyone who was not feeling well."
"We ensure all staff have been trained and qualified to safely attend to our brides during the 'new normal,'" read the release from Pronovias. "We will be close to our brides more than ever to make all dress dream come true."
How to Be Prepared for Your Dress Shopping Appointments
Shopping for a wedding gown can be an overwhelming experience in and of itself. Add on top of that the various precautions that come with respecting social distancing measures, and the task can seem Herculean. But fear not—bridal salons say the most important thing is to be patient and understanding as retailers take extra measures to ensure the health and safety of you and your guests.
Talk to Your Loved Ones in Advance
What to expect? Limiting the number of friends or family members you bring along to try on dresses, and less available appointments per day, meaning it would be wise to schedule appointments sooner rather than later.
"We plan to enact social distancing by limiting appointments to one bride and three guests," says Boyd of Bacio Bacio Bridal. "This will allow us to space out the seating arrangements. In the past, we have allowed as many as 12 guests—with champagne—to attend with their bride! We book appointments in two hours slots to allow us to clean all tried-on gowns and surfaces between appointments."
Laura & Leigh is also requesting that brides whose weddings are a longer way out book a virtual appointment first, in consideration of those brides who have more imminent weddings. "We ask that our brides be patient with us as all stores do their part to help contain the spread, with stylists asking brides to change themselves in the dressing room or stores reducing the size of entourages," she says.
Be Open to Dialing in Family Members on Zoom
For brides who do want more of their loved ones to take part in the momentous occasion, some bridal salons, like a&bé, are offering to set up FaceTime, Zoom, or Skype to help accommodate that request, and are even extending the length of appointments for good measure.
"The good news is we have extended our bridal appointments to be two hours long to account for the extra safety measures as well as giving our brides time to video chat with their loved ones so they have all the support they need to say 'Yes!'" Stout says. "Our safety protocols may continue to shift to reflect the most current information we receive … Our goal is to provide the absolute best experience for our brides, as well as to make sure everyone feels comfortable and safe when they walk through our doors."
Words of Wisdom to Remember as You Dress Shop
"We know that wedding planning is crazy stressful (always, but especially right now), and when we can help you problem-solve, alleviate stress, and check the box on this huge to-do item, that's worth celebrating," a&bé Merchandising Director Stout says. "This global pandemic has affected all of us in one way or another, but we know that for brides whose dream wedding has been altered, postponed, or changed in any way, that just plain sucks. We can't control what will happen in the coming months, and we don't know when we will be able to give you a big hug of support or congratulations, but we will always be here cheering you on (from 6 feet away, of course)."
"We know that the dress shopping process probably isn't what you had originally dreamed of, but we will do our best to make your experience as special and stress-free as possible," she continues. "Because love isn't canceled. And that's the whole damn point."
Adds Boyd, the operations manager of Bacio Bacio Bridal, "We are not all in the same boat together, but we are in the same storm together. We will have weddings again and they may feel even more intimate and special. We will be back to family gatherings, happy hours will continue, hair salons and gyms will be back. We are not alone in this so keep planning and marching forward!"