Turn Your Wedding Into an '80s Concert Like Sara Gilbert and Linda Perry Did
by Ivy Jacobson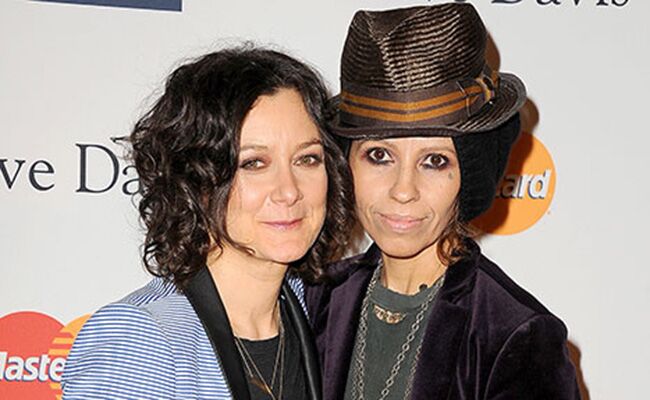 photo by
Steve Granitz/WireImage
Actress and The Talk cohost Sara Gilbert and her songwriter girlfriend, Linda Perry, got married this weekend and had what sounds like the coolest reception ever, especially if you loooved the Wilson Phillips cameo in Bridesmaids (but who didn't, honestly?). Since Linda is a musician and well known in the industry (read: major connections), she surprised Sara at their reception with an unbelievable roster of '80s musicians who put on a concert with a cover band called Flashback Heart Attack, according to TMZ.
The stage was reportedly set to look like the classic rock club CBGB, and Steven Tyler and Sharon Osbourne were even guests. Does it get more '80s than that?
For the concert, Annabella Lwin from Bow Wow Wow sang "I Want Candy"; Martha Davis from The Motels sang "Only The Lonely"; Dale Bozzio from Missing Persons sang "Destination Unknown" and "Walking in LA"; Terri Nunn from Berlin sang "The Metro," "Highway to Hell" and "Take My Breath Away." OMG.
"Sara's favorite bands are '80s girl bands, so Linda put the whole thing together to surprise her," US Weekly reported. "It was all a big surprise for Sara! She was dying."

If your inner scrunchie is also dying of jealousy like ours, here are some other songs to have fun with at your reception from the most fun decade ever:
"Holiday" by Madonna
"Walking on Sunshine" by Katrina and The Waves
"Footloose" by Kenny Loggins
"Take on Me" by A-Ha
"Lovesong" by The Cure
"Dancing on the Ceiling" by Lionel Richie
"Pour Some Sugar on Me" by Def Leppard
"Sweetest Thing" by U2
"Love Shack" by the B-52s
"I Melt With You" by Modern English
"You Shook Me All Night Long" by AC/DC
Want more? Right here!
> You won't be able to stop watching this choreographed Britney Spears wedding dance
> A modern, romantic wedding in Minneapolis, MN