Wedding Tuxedo Sizing Basics for Grooms
Whether you're renting or buying, it's crucial to get a good fit. Here's how to properly measure for it.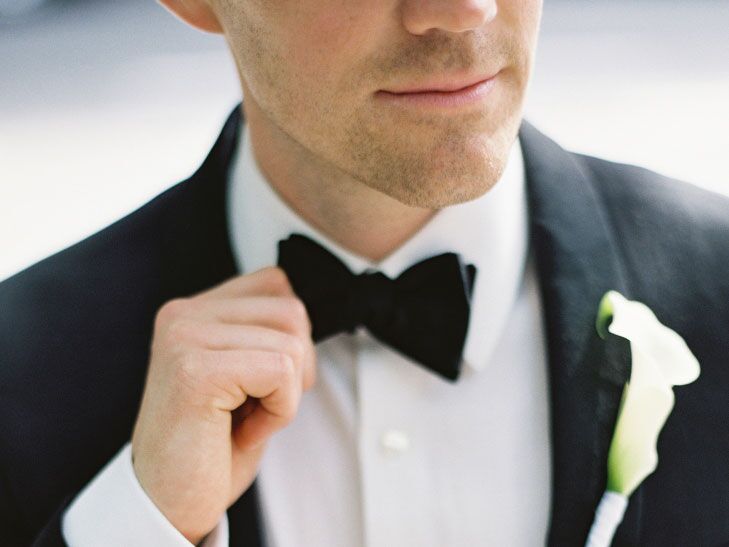 JEN HUANG PHOTOGRAPHY
No matter how nice your wedding tuxedo looks on that hanger, it won't mean a thing if it ain't got that...fit. You definitely don't want a high-water, too-tight or too-loose suit that will make you look like a little boy playing dress up on your wedding day. Make sure you get the right size by following these guidelines.
How to Measure for a Tux
The first step in taking your tuxedo measurements is getting your hands on a tape measure. It's best to go with a ribbon cloth one so that you can easily bend and wrap it around your body for the most accurate fit.
Next, recruit a friend or family member to help you get your tuxedo measurement right. Having another person take your measurements makes for more precise numbers. It's important to ensure they hold the tape measure straight and tight for the most accurate readings. Also, be sure to use the inches side of the tape measure.
Tuxedo Measurement Guide
If you're new to getting fit for a suit, you're probably wondering what measurements are needed for a tux to fit just right. To avoid looking like you borrowed your uncle's suit for your wedding day, follow our tips for measuring each part of your body.
First, we will determine how to measure for a tux in terms of the jacket portion:
For your chest, wrap the tape measure around the broadest part of your chest under your armpits. Once you have a number, add two inches to it for the most snug and comfortable fit.
Next, wrap the tape measure around the broadest part of your chest and shoulders to measure your overarm. Subtract 7 inches from this number to arrive at the perfect fit.
For your neck, place the tape measure around the circumference of your neck. Add one inch to this number.
To measure your arm, begin by placing the tape measure at the base of your neck in the center of your back. From here, you will bring the tape measure across the center of your back, over the top of your shoulder, down your arm, and out roughly 1.5 inches past your wrist.
Now we'll go into the tuxedo measurements for your pants:
Place the tape measure around the circumference of your waist, near where your belly button is located or where you usually wear your dress pants to get your waist measurement. Place one finger between you and the tape measure for the best fit.
For this tuxedo measurement, we recommend putting on a pair of slacks that fit you well in length and that hit just above the heel of your shoe to get an accurate leg measurement. From here, you can measure from your waistline, down the outside of your leg, to the hem of your pants.
Now that you have an idea of what measurements are needed for a tux, let's go into more detail about finding the best fit.
The Basics of a Good Fit
Here's what to look for when you're sizing up a tux: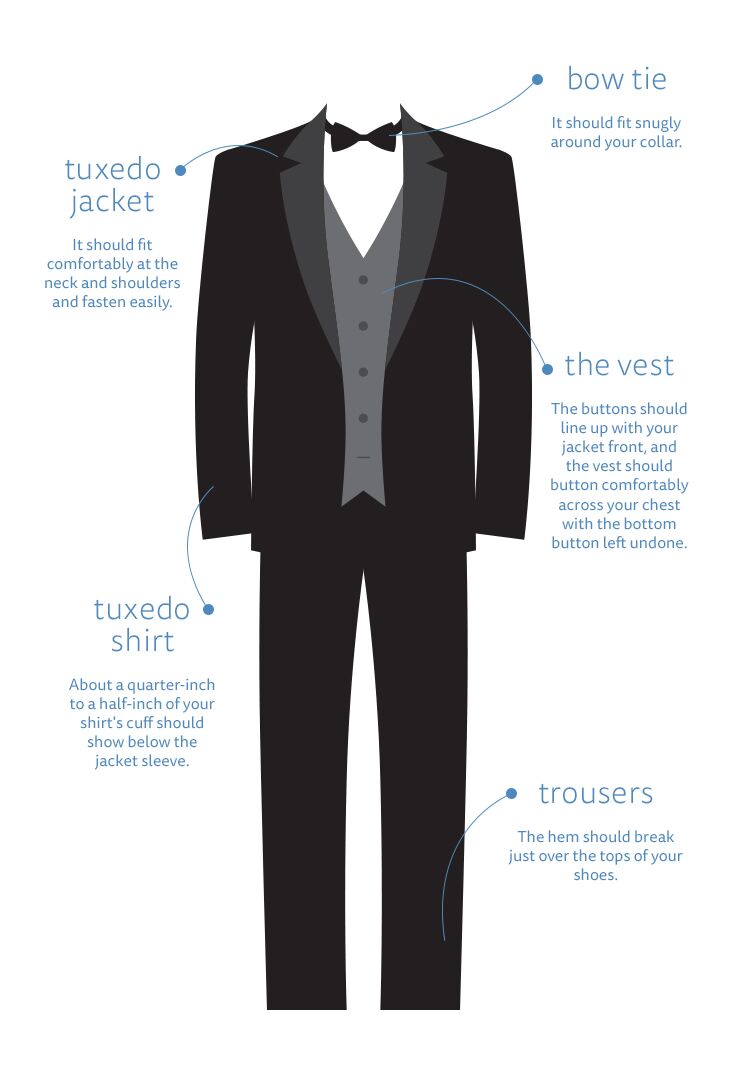 Tuxedo jacket: Your formalwear jacket should fit comfortably at the neck and shoulders and fasten easily. Don't forget to move around in it buttoned while standing (you should unbutton while sitting)..
Tuxedo shirt: About a quarter-inch of your shirt's cuff should show below the jacket sleeve. It should fit comfortably at the neck, shoulders and waist.
Vest: Vest buttons should line up with your jacket front, and the vest should button comfortably across your chest with the bottom button left undone. The bottom should slightly overlap the trouser waistband. The vest's waist can usually be adjusted with a slide strap in the back. Consider a vest with a full back. When jackets come off during the reception, guests will see the real deal instead of a strap and the back of your shirt.
Trousers: These should button comfortably and feel good when you sit. The hem should break just over the tops of your shoes.
Bow tie: Always try on a bow tie before buying or renting one. It should fit snugly around your collar. (And if you're going with a self-tie, learn how to tie it!)
Shoes: Remember that the best time to try on shoes is at the end of the day, when your feet are slightly swollen (which they'll almost certainly be by the end of the wedding). Better for shoes to be too roomy than too tight. It's also a good idea to wear them around the house to help break them in for the wedding day.
Comfort Is Key
You should be able to move easily -- do lots of twists, turns and arm raises when you try on tuxedos for your wedding. After all, you'll be wearing those duds for four to eight emotional, fun-filled hours.
Size It Up
It's a good idea for everyone to try on their formalwear at least two days before the wedding. Sounds like a no-brainer, right? You'd be surprised. Many mismatched bridal parties or ill-fitting suit jackets result from neglecting this simple step. In most cases, you'll try it on at the store or tailor, so you'll avoid having to run back to the shop if it needs further tweaking.