3 Types of False Eyelashes You Need to Know About
Considering falsies for your bridal look? Brittany Lo of Beautini, a New York City–based beauty services company, explains the pros and cons of three different lash options.
by Brittany Lo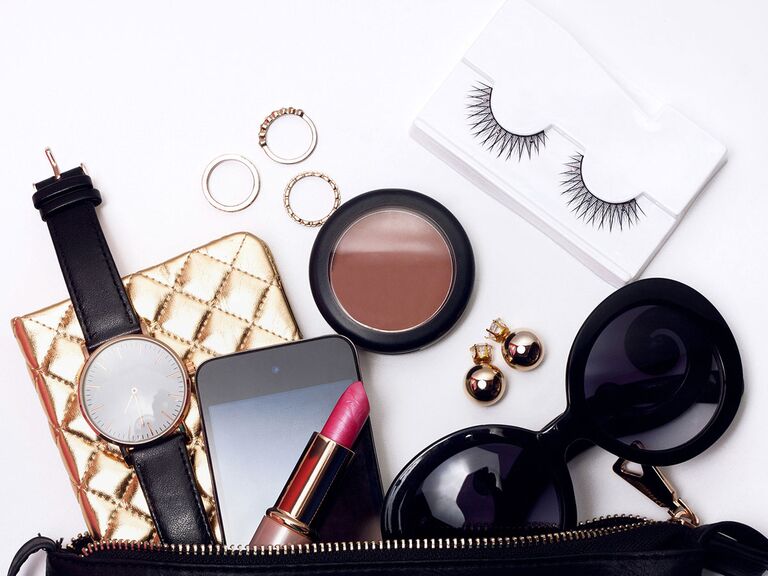 During your makeup trial, your stylist will might ask if you'd like to add false eyelashes to your look. False lashes—or "falsies"—come in all different sizes and shapes and will lend a lovely, feminine touch your eyes. Another popular option for adding length and drama to your bridal lashes is eyelash extensions, which are popular with brides because they create a gorgeous, natural look. Below are three different kinds of lash options to choose from, depending on your personal look and preferences.
1) Individual Lashes
Individual lashes allow you to mix and match different lengths to customize your look based on your eye shape. They also allow you the flexibility of adding as few or as many as you'd like.
2) Strip Lashes
These are amazing for more dramatic looks and are probably the most common type of false eyelashes. They're applied in a strip, which makes both application and removal quick and easy, and when applied correctly, they blend seamlessly with your natural lashes. The only downside is that the false lash line is sometimes visible when your eyes are closed. If you choose a strip lash, find a style that complements your eyes and makeup look.
3) Extensions
Lash extensions take the longest to apply, but they also last the longest, so your lashes look full from the rehearsal dinner through your honeymoon. You'll often need to go to a lash bar to get these done since applying extensions requires a certain license that not all makeup artists have. Once you're there, you can customize almost every element, including length, thickness and degree of curl. For removal, you can either visit a technician or simply let them fall out naturally. Just remember: After multiple applications, extensions tend to weaken your natural eyelashes. Before deciding to get them, do a trial run a month before your wedding to ensure you don't have an allergic reactions to the glue—and, of course, that you like how they look.
If I had to choose a favorite, I'd probably suggest eyelash extensions because they're easy to customize, won't fall off and will last you through your honeymoon. No matter what option you decide to go with, all three look beautiful and will help complete your look, so go with the style you're most comfortable with.
Brittany Lo is the founder and CEO of the New York City–based beauty services company Beautini, and an ultimate beauty junkie. She's been obsessed with makeup her entire life, and knew she'd end up dedicating her professional life to making women feel beautiful for the most important day of their lives.