5 Under-the-Radar Honeymoon Spots in Italy
Skip the crowds and try one of these hidden gems for your Italian honeymoon.
Italy is trending big time as a honeymoon destination right now—although this European jewel is so timeless, versatile and romantic it kind of feels like it's always going to be trending, doesn't it? Anyway, if you have your eye on a honeymoon in Italy, one, you've got great taste—but, two, you're probably not alone. (For instance, the breathtaking cliffside village of Positano is one of the 10 trendiest honeymoon places, and for a good reason—but you might be hesitant to follow the herd.) So if you really don't feel like bumping into five other couples you know or competing with mobs of tourists, we have the perfect solution for you. Study up on five Italian honeymoon destinations that are equally spectacular and more under the radar than the typical hot spots you can't stop seeing on Instagram. These locales may be more low key, but they'll have you saying, "Lake Como, who?" in no time.
Lecce, Instead of Florence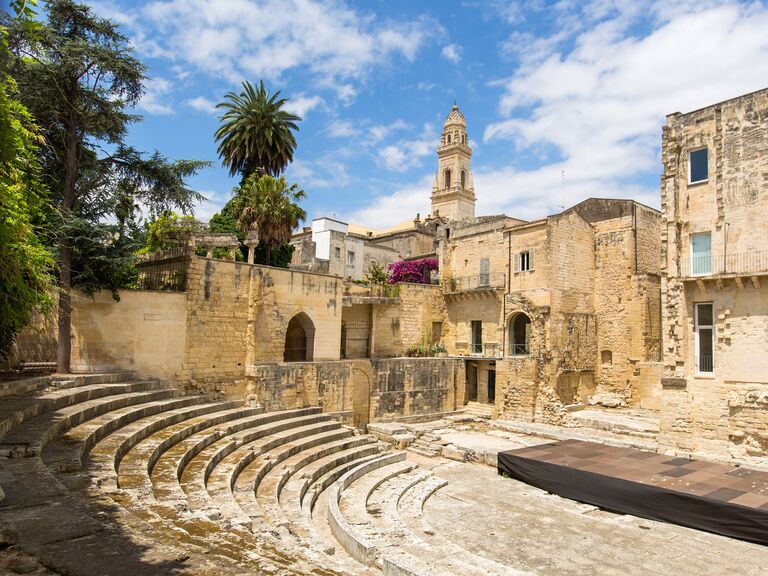 Travelers flock to Florence for their fix of rich Renaissance history, art and architecture, but especially come summer, this stunning Tuscan capital can feel overcome with tourists. For equally awe-inspiring architecture, head to Lecce in Puglia, down in Italy's boot heel. The city is known for its impressive baroque structures and spirited atmosphere, while the surrounding region is speckled with coastal beach towns, such as Gallipoli and Otranto, and rustic Puglia farmhouses called Masseries, where you should definitely take a cooking class.
Treviso, Instead of Venice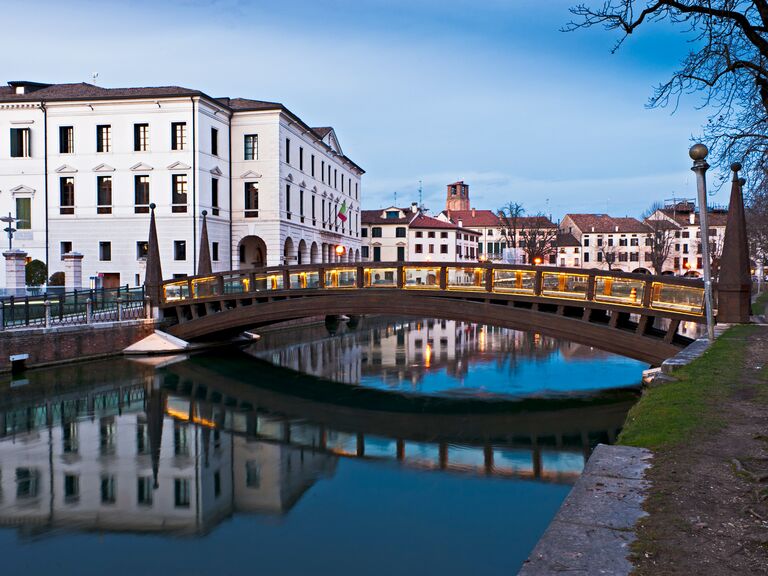 Everyone goes to Venice—why not branch out? Treviso, a neighboring city north of Venice, shares similarities to the City of Water in that you'll find no shortage of beautiful Renaissance squares, palaces and cathedrals, as well as ancient waterways winding throughout. And did you know Treviso is one of the original areas to start producing prosecco wine? Well, now you do.
Alassio, Instead of Cinque Terre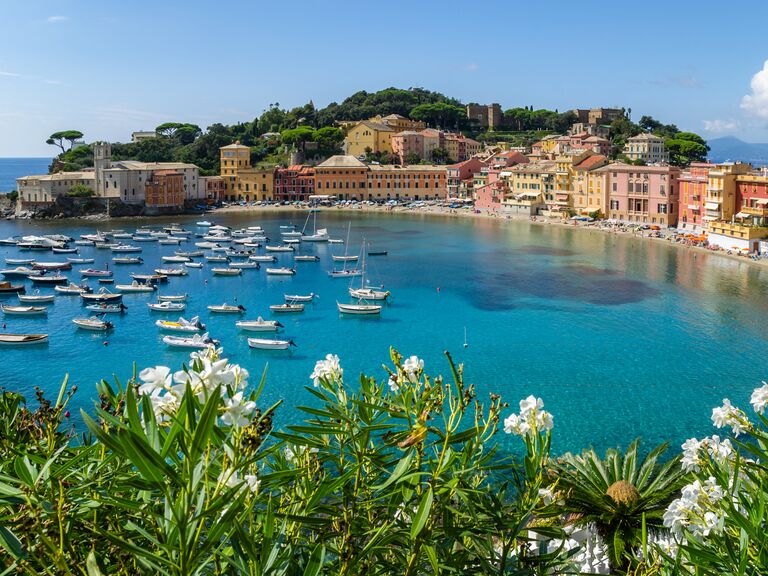 The colorful facades, rugged cliffs and boat-studded shorelines of Cinque Terre and Portofino have probably been blowing up your Instagram feed lately, but there are other towns in the picturesque Italian Riviera calling your name. For a honeymoon experience just as sunsoaked, romantic and photogenic as one in Cinque Terre, head to Alassio, which has managed to remain a hidden gem while drawing famous figures, including Ernest Hemingway in the '50s, to its shores. Lounge on the beach, hike to the medieval church at Capo Santa Croce, eat gelato, repeat.
Siracusa, Instead of Taormina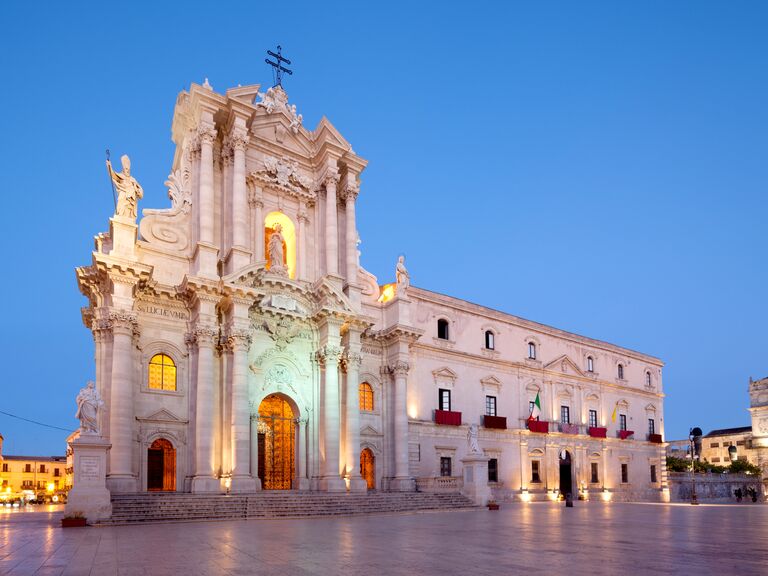 Heading to the island of Sicily? Try the city of Siracusa (or Syracuse) on Sicily's southeastern coast as an alternative to its more frequented northern neighbor of Taormina. Syracuse has all the heritage, charm and sightseeing you'd want from a stint in Sicily (think: impressive ruins, quintessential piazzas and dazzling seaside views), including the ancient island city of Ortygia, whose ruins make up one of Sicily's greatest archaeological sites.
Lake Maggiore, Instead of Lake Como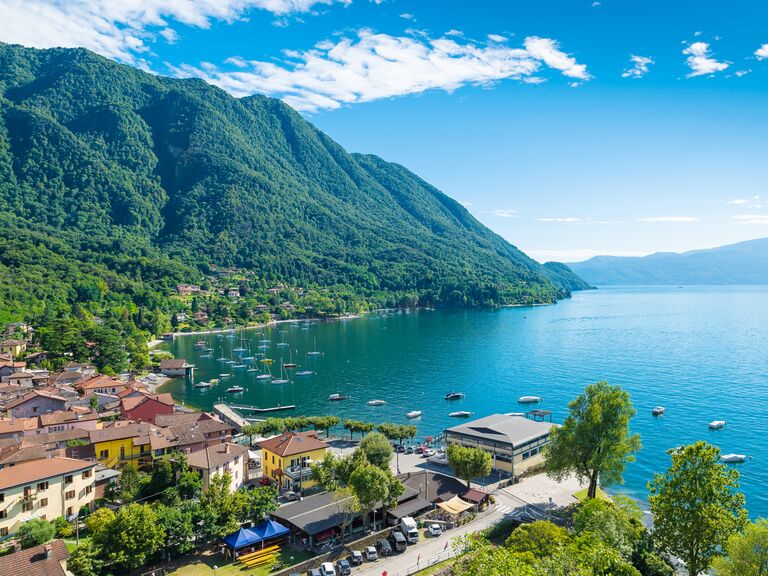 We can't all be Lake Como regulars like George and Amal Clooney, but we sure can try. Instead of honeymooning at the ever-popular (and undoubtedly more crowded) Lake Como, go slightly off the beaten path to Lake Maggiore. This long, skinny body of cerulean water actually shares its northern tip with southern Switzerland, so it's partially hugged by the Swiss Alps (talk about #views). Visit the beautiful villas and gardens in the towns of Stresa, Pallanza and on the Borromean Islands, and don't forget to stop in the tiny lake town of Arona, home to one of Italy's largest cheese makers—need we twist your arm?