These 7 New Unique Beauty Treatments Will Make You Wedding Ready
by Jessica Zaleski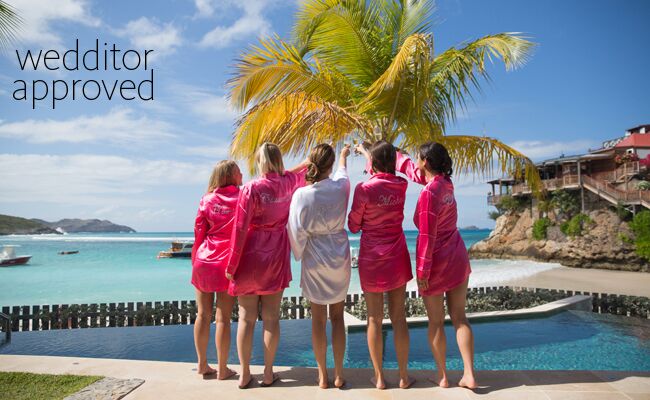 A few months before your wedding, you may want to hit up the salon and get the works. Massages, facials, body wraps and other spa treatments are a great way to de-stress for a few hours (we know that planning that seating chart is driving you crazy!).

While you've probably heard of the typical treatments you can get at any spa, like a seaweed wrap or a mud bath, but recently some really cool, unique treatments have been making waves. A few of our editors tried out some of these new treatments, and below are seven that we loved.

Yes, you could opt for a traditional facial before your wedding, but since this is such a special day, a facial with actual gold powder in it is more up your fabulous alley. I went to Mario Badescu and tried the Gold Mask, which promises "the reduction of fine lines and wrinkles, leaving the skin more firm, toned and glowing." Besides feeling like an A-lister with gold on my face, I noticed that my skin was smooth, glowing and photo-ready for at least a week after the treatment." – Jessica Zaleski, Assistant Editor
NYC: The Gold Mask, $105, Mario Badescu, LA: Pure Gold Radiance Facial, $310, The Beverly Hills Hotel, Boston: 24K Gold Facial, $165, Equinox, Austin: 24K Gold Facial, $170, Spa Reveil, Miami: 24KT Gold Facial, $160, Trump Miami

I never knew coffee beans had full-body benefits! This scrub and detox wrap proved me wrong. The unique mix from the pros at Paul Labrecque Salon and Spa includes green coffee beans, coffee bean oil, fresh jalapeno and mint — creating an amazing earthy scent and a warm, tingling sensation. The aesthetician first scrubs your whole body down to exfoliate the skin then uses the "cupping" technique to target problem areas reducing cellulite. Your skin also reaps the benefits of being a million times softer afterwards. What bride wouldn't want that?! Hellooo, honeymoon. – Jamie Miles, Assistant Managing Editor
NYC: The Green Coffee Bean Detox Body Wrap, $185, Paul Labrecque Salon and Spa, Baton Rouge: Red Stick Cellulite and Detox Slimming Wrap, Medical Spa of Baton Rouge, LA: Coffee Wrap, $100, Terra Day Spa, Tucson: Warm Hazelnut Coffee Body Wrap, $115, The Karma Day Spa, Portland: Island Espresso Mud Wrap, $131, Kanani Pearl

As far as beauty treatments go, putting bird poop on your face is as pretty strange as it gets, but it's really not as bizarre as you might think. For the most part it's just like a traditional facial, but with an extra step — a paste of powdered nightingale droppings (pre-sterilized with UV light) and rice bran are applied to exfoliate and brighten. I was most surprised by the fact that there was no bad smell — it actually reminded me of Rice Krispies (which is probably because of the rice bran). Afterwards my face felt clean and had a nice glow to it for a day or two, but I wouldn't say there were any long-term results. What really stood out to me was how gentle the facial was. All of the products used are all-natural which is great if you have sensitive skin or prefer to avoid chemicals. – Simone Hill, Assistant Editor
NYC: Geisha Facial (aka Bird Poo Facial), $180, ShizukaNY.com, LA: Organic Signature Facial, $95, AlchemieSpa.com, Boston: Naturally Nourished, $115, BellaSante.com, Chicago: Natural Enzyme Facial, $120/60 minutes, MirrorMirrorSalon.com, Dallas: Signature Holistic Facial, $95, SkinPlusNature.com

Stay with us on this one, because it sounds like something out of a science fiction flick. After cleansing and exfoliating with a traditional facial, your technician will mix a cocktail of vitamins, retinoids and peptides together and spread it over your skin. To make sure these essential ingredients absorb directly into the skin, they'll then apply a white, gelatinous mask connected to electrodes to safely pulse ions and sound waves on your face. This process is called Iontophoresis and Sonophoresis treatment. Even though I was scared to try it, I'm glad I did! My post-treatment, no-makeup look was bright, fresh and even. – Rachel Torgerson, Editorial Assistant
Editor's note: The white mask they apply will cover your mouth, but leave your nose open. If you get claustrophobic, you can ask your technician to leave your mouth uncovered as well.
Englewood: Environ Precision Iontophoresis and Sonophoresis Treatment, $250, EstheticaMD, Jupiter: UltraSonic Facial, Euro Esthetica Spa, Plaistow: Plumping Peptide Facial, $95, Bella Visage Skin Studio, Greeley: Ultra Sonic Facial, Beso Hair Skin Laser Spa, Washington, D.C.: Skin Tightening Ultherapy, Washington Institute of Dermatologic Laser Surgery

LUSH spa describes the Synesthesia treatment as "a complete merging of the senses into a fully choreographed massage." I know it sounds a little bizzarre, but this was seriously some of the best 80 minutes of my life. You start by choosing how you want to feel by picking a word from the chalkboard on the spa wall, like "relax" or "peace." I chose "mind cleanser," and my mind was totally cleansed when I left. The massage tries to fuse together all of your senses by filling the room with amazing smells and the sound of bird songs (the massage even goes with the music). I think a doctor should prescribe this massage to every bride and groom before their wedding because it works wonders. – Jessica Zaleski, Assistant Editor
NYC: Synesthesia, $230, LUSH, Philadelphia: Synesthesia, $230, LUSH, Alexandria: Pure Sensory Journey Massage, $129, Pure Aesthetica, Washington DC: Chakra Balancing Massage, $70, Logan 14 Salon & Spa, Miami: Aromatherapy Massage, $119, McAllister Spa

I opted for the Brighten Facial at Exhale Mind Body Spa. In LA it's nicknamed the "Red Carpet Facial" — so you can imagine how I glowed like a movie star after. The multistep facial utilizes iS Clinical products complete with a cleanse, 2 masks, extractions and a calming serum. It's as close as you'll get to a clinical facial in a relaxing spa environment (which all brides need!). This facial helps reduce fine lines and dark-spots while leaving you relaxed, glowing and 100% ready for your wedding week! – Samantha Roberts, Assistant Editor
NYC: The Brighten Facial, $200, Exhale Spa (Exhale spas around the country: Boston, Chicago, Dallas, Miami. Los Angeles)

Scrub-a-dub-dub! Massages, yoga and meditation are all great way to unwind, and so is taking a dip in hot and cold baths. It's actually not a new concept. Noble ancient Greeks and Turks used to indulge at the communal baths too. For about an hour I hopped around from baths of an extreme range of temperatures. The attendant suggested starting with a steam to really loosen my muscles and open my pores and then gradually move from hot to cool — ending with an ice cold dunk at the end. My favorite bath was filled with salt water so that you can float — it was the only time I was really able to get out of my head and stop thinking "am I doing this right?" If you really want to go decadent you can even opt for upgrades like red wine and olive oil baths. – Simone Hill
Editor's Note: Go with your fiancé or a few friends if, like me, you're not one to sit still for long — the atmosphere is quiet and calming which is great relaxing, but I did start to wonder if there was such a thing as too much relaxation.
NYC: Thermal Bath, $75, AncientBathsNY.com, San Francisco: Banya Basic Day Pass, $60, BanyaSF.com, Tucson: Aquavana Experience, CanyonRanch.com, Miami: Hydrotherapy Playground, complimentary with stay at The Standard Miami, StandardHotels.com, LA: Spa Access, $30 or free with spa treatment, BeverlyHotSprings.com
Want more? Right here!
> The secret to sleep the night before your wedding
> Is the new prewedding craze getting plastic surgery on your hands?