This Vintage Wedding Video Looks Straight Out Of The '60s (in a Good Way)
Bring on the VW vans and flower crowns.
by Nicole Piquant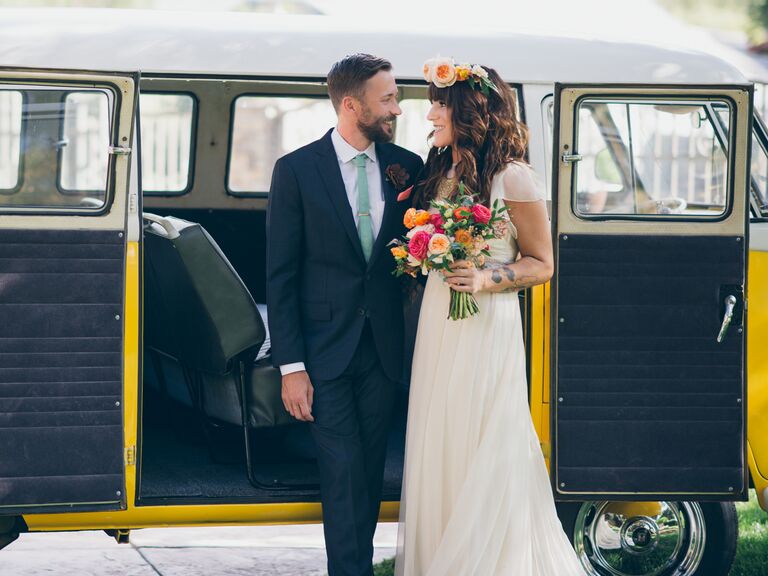 photo by
Renee Bowen Photography
Maybe it's the soft, unfocused shots, (or possibly the retro-sounding background music), that make this video look like it belongs in an episode of Mad Men. Whatever the trick, all of the sweet, romantic shots in Liz and Josh's gorgeous vid by Renee Bowen Photography, make for a totally timeless video that feels sentimental in all the right ways.
Then again, it couldn't have been hard to make their video extra charming. For their wedding day, "we wanted the ambiance of the wedding to be a mix of vintage and bohemian," says Liz. She and Josh achieved that vibe with a bunch of personal details. They were inspired by the desert sunset, which is how they agreed on their peach, gold and navy wedding palette. The wedding took place in Liz's best friend's backyard under a large, old oak tree. Plus, Liz's mom hand-painted all of their book and mason jar centerpieces. Just see it for yourself!
Josh and Liz get hitched. from Joshua Carey on Vimeo.
Want more of Liz and Josh's backyard wedding style? Check out their wedding album here!