Remember the Proposal on Top of a Bus? Now They're Married! (Happy Flashback Friday)
by Simone Hill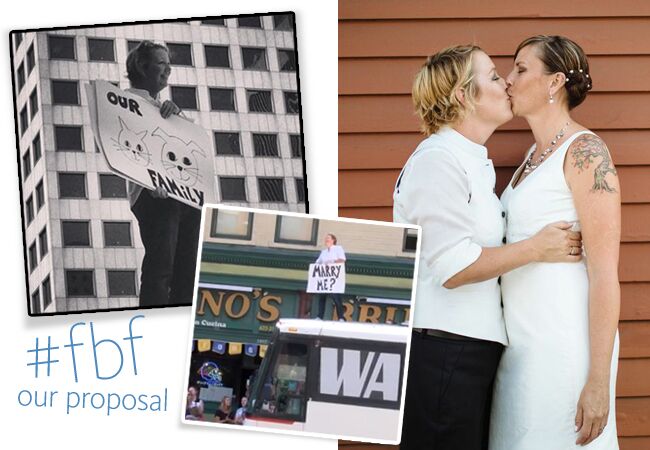 We feature our favorite proposals all the time on the blog, and some of them are so romantic that they just stick with us. About a year ago when Jeanne Sickel proposed to her then-girlfriend Alissa Haslam on top of a bus and the video went viral (with over 2.1 million views on YouTube to date!) it really caught our attention. So when we found out that Alissa and Jeanne were recently married we had to find out more. We got in touch with the couple and their wedding photographer, Vancouver-based Danielle Acken of Acken Studios, and got the beautiful photos and wedding story that made us tear up all over again.
Jeanne and Alissa never expected their proposal to go viral. "I almost didn't hire anyone to record it, and decided to at the last minute," said Jeanne. "There were comments about why would I make the proposal so public … and my reasoning was because I can, when before I couldn't and Alissa deserved the world to stop for her for just one moment (or 4 minutes)." Just in case you need a refresher on their proposal check out our blog post for the story and video.
On August 28, 2014 Alissa and Jeanne got married at Georgetown Ballroom in South Seattle. "The owner collects antique signs, and old movie props and so the space didn't need to much decoration," says Alissa. "We were pretty intentional about not wanting to do things traditionally but staying with the theme of the venue which is funky and rustic."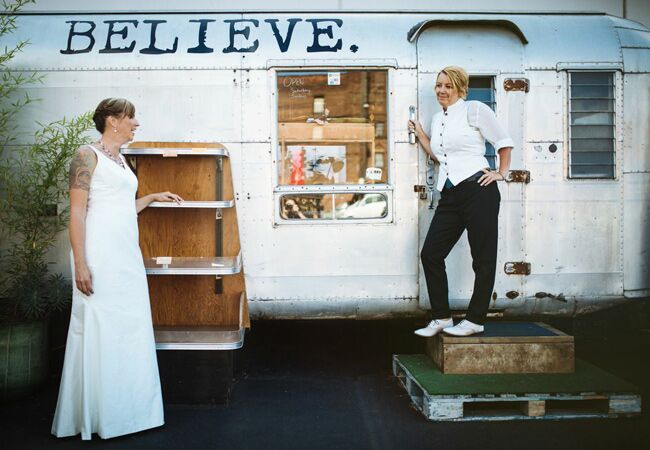 The couple's family and friends pitched in to help them create the decor, make desserts and even build a custom corn hole game set. "One of our favorite moments was the kick-off of our reception when Tubaluba, a New Orleans style brass band, marched through the back courtyard and led the guests into the reception hall in true 2nd Line fashion, kicking off the festivities," says Alissa. We were also surprised when they finished their set with the Ray LaMontagne song that they played at the proposal it became our impromptu first dance."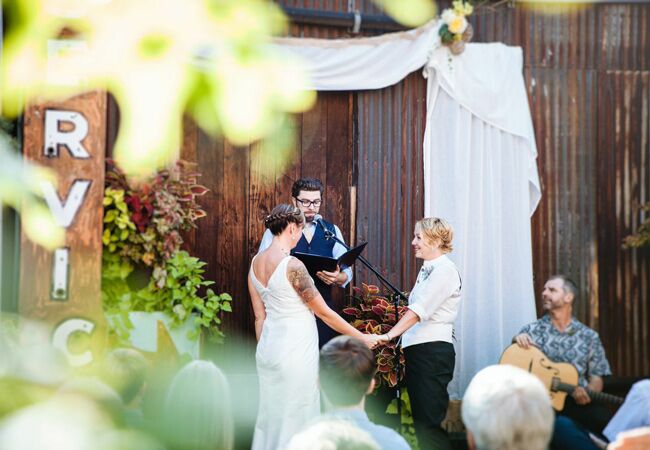 And of course they tied their now-famous proposal into the festivities. "In one room we hung the signs that Jeanne made from the proposal," says Alissa. "The signs are priceless and really encapsulate so much of who we are. We also had the WA Bus (the one Jeanne stood on) pick up our family at our house and bring them to the wedding."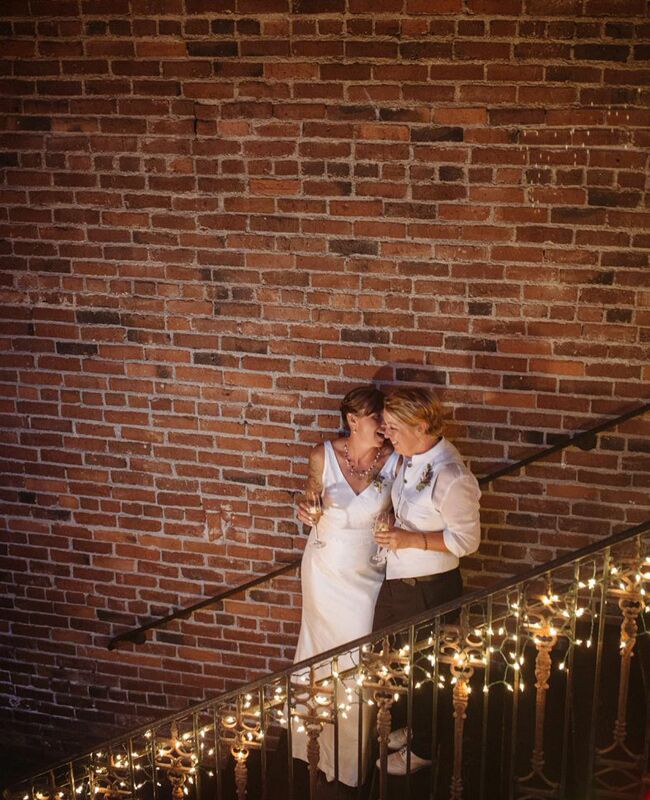 Jeanne and Alissa's story just goes to show that behind an amazingly creative proposal and viral video there's probably an equally as romantic wedding to follow. "If we could do it all over again we would do it exactly the same. I didn't think we could ever recreate the magical feeling from the proposal," says Alissa. "I remember thinking that night how I wished I could have bottled the feeling of that day because it was so amazing. We came pretty close at the wedding. It was equally amazing just in a different way."
Want more? Of course you do!
> 7 of the sweetest proposals we've ever seen
> 10 things no one tells you about getting engaged
> 10 of our favorite proposal stories from gay and lesbian couples