See Vivienne Westwood Wedding Dresses From Bridal Fashion Week
Take a look at every feminine look behind the Vivienne Westwood Fall 2021 collection, here.
British fashion designer Vivienne Westwood is known for bringing modern punk and new wave aesthetics into the mainstream. It's no surprise then that the iconic designer's wedding dress collection is unapologetically fashion-forward and pushes the limits of traditional bridal. If you're in the market for an expected wedding day look—this is the collection for you. Westwood drew heavily on her extensive archive of designs for Fall 2021, unveiling both new Made-to-Order and Couture bridal collections, which riff on iconic looks spanning the course of the designer's 25 year career since the inception of her London atelier. The collections include Westwood's signature avant-garde tailoring, experimental patterns and luxurious fabrics.
The Made to Order collection features a romantic selection of detachable sleeves, capes, trains and corsets, encouraging brides to customize their wedding day look by mixing and matching pieces. The collection was also created with sustainability in mind, produced locally in England with environmentally-friendly fabrics like recycled polyester and vegan silk. The Couture collection is handcrafted in Westwood's London atelier and offers gowns with playful exposed lace corsets, high slits, rose embroidery and airy tulle trains.
See every look from Vivienne Westwood's Fall 2021 collection below.
Vivienne Westwood's Fall 2021 Wedding Dresses
"Bagatelle" corset in silk taffeta with "Vesta" petticoat in silk taffeta and tulle and "Elizabeth" bolero in tulle and silk taffeta.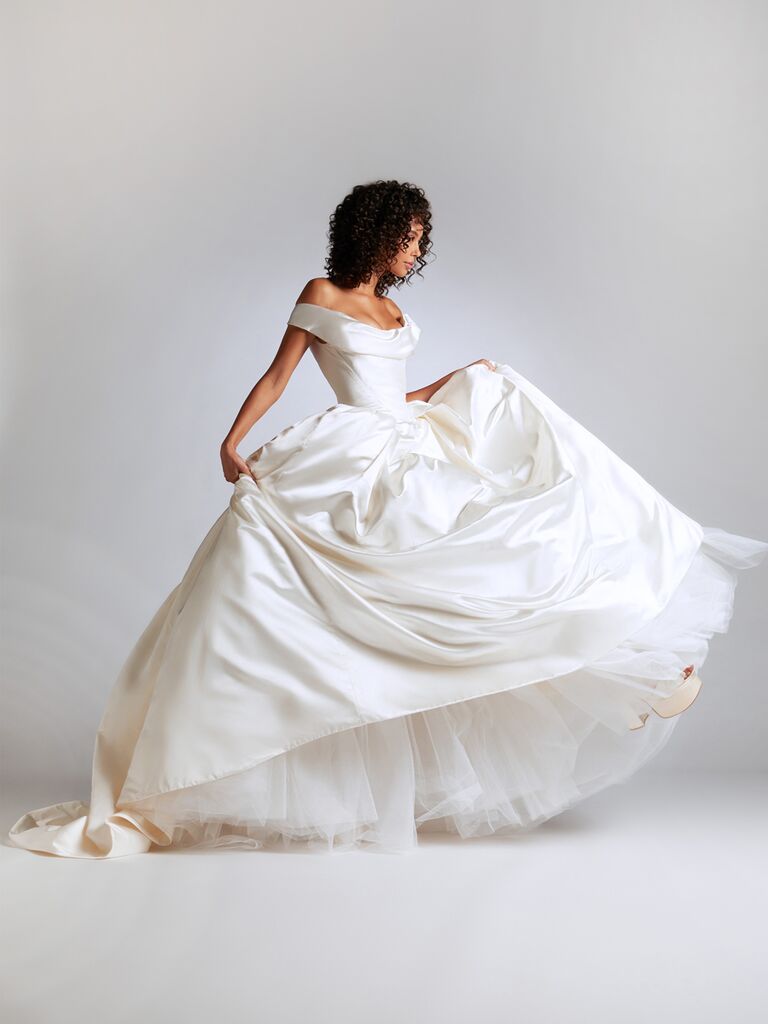 "Bagatelle" ball gown with off-the-shoulder neckline in silk Duchesse.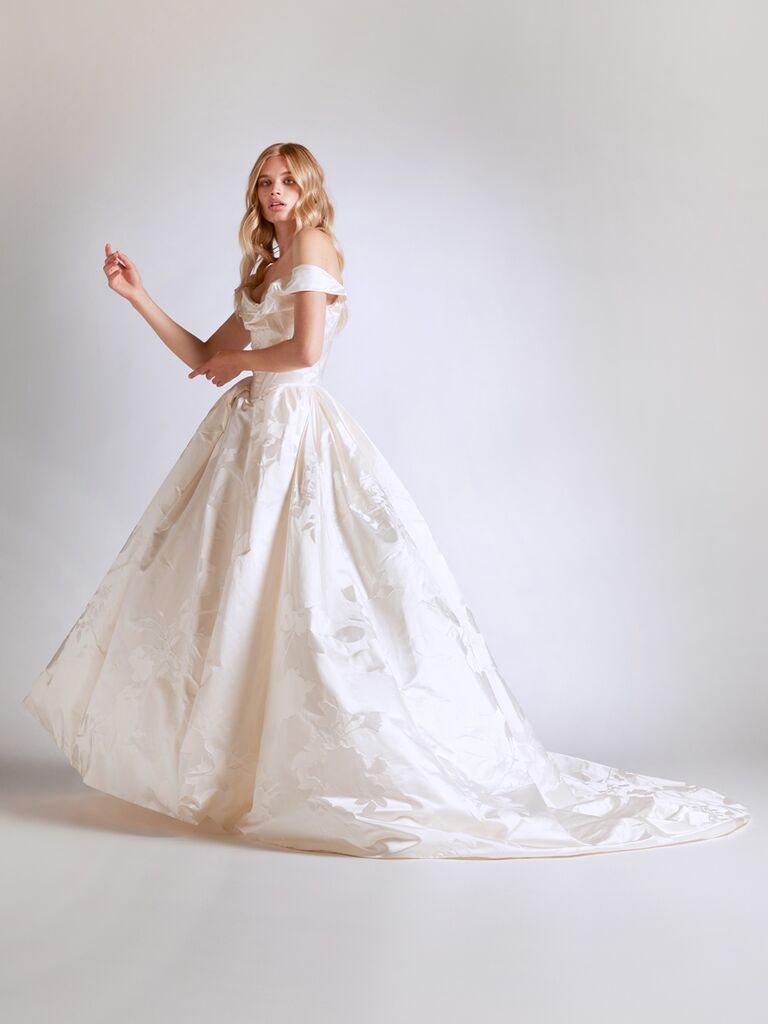 "Bagatelle" ball gown with off-the-shoulder neckline in "Absence of Roses" duchesse.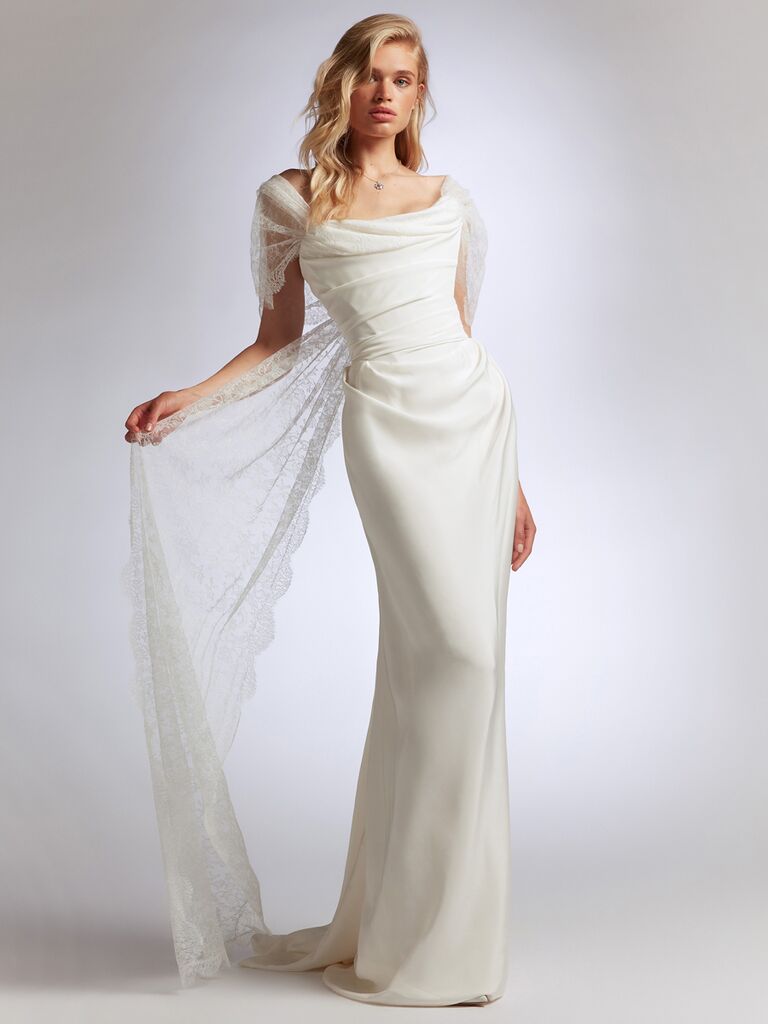 "Ball Tie" dress silk cady gown with chantilly lace ties.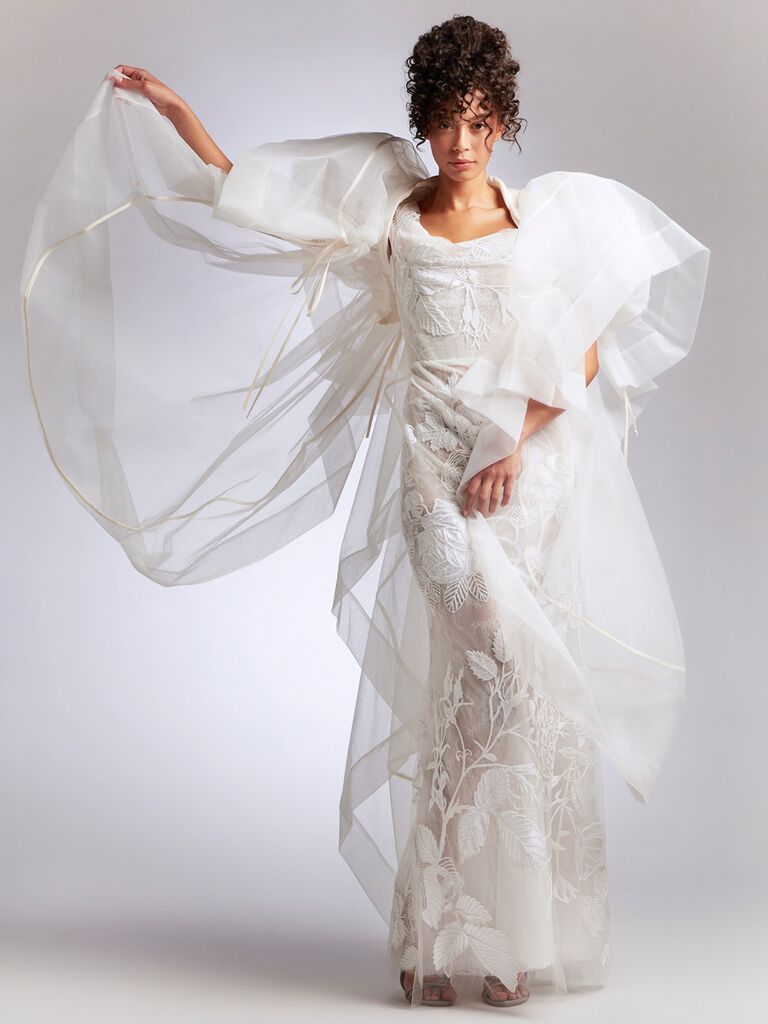 "Flora Cocotte" dress with roses embroidery and tulle cape.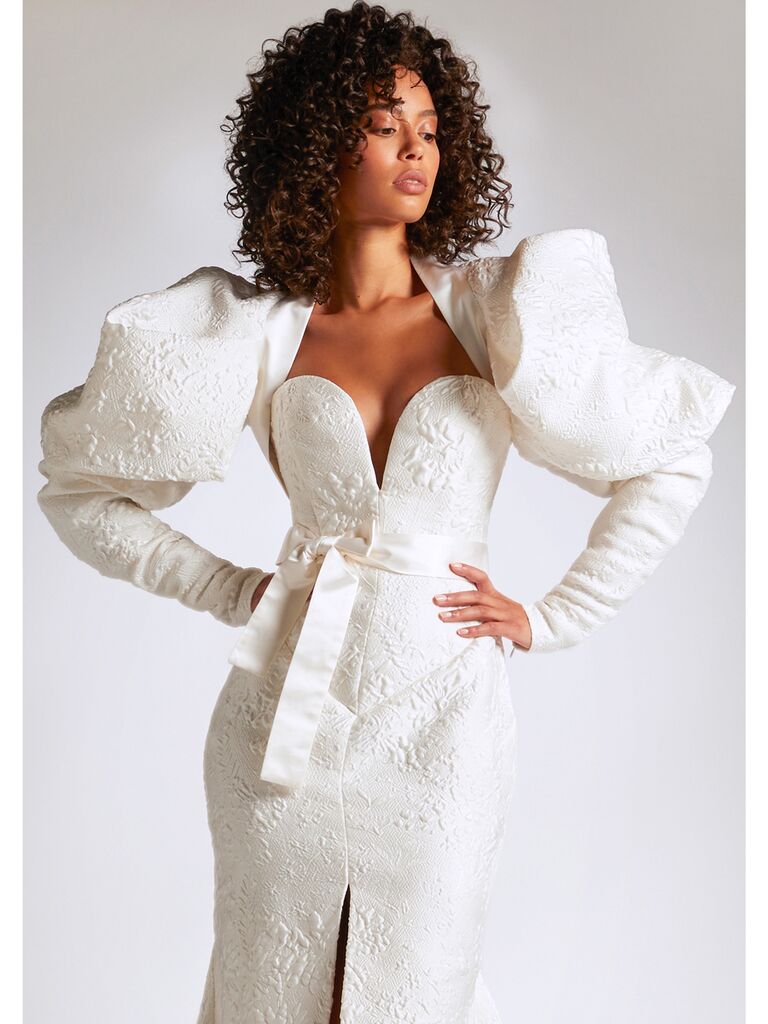 "Gina" dress in cloque jacquard and "Elizabeth" cloque jacqaurd bolero.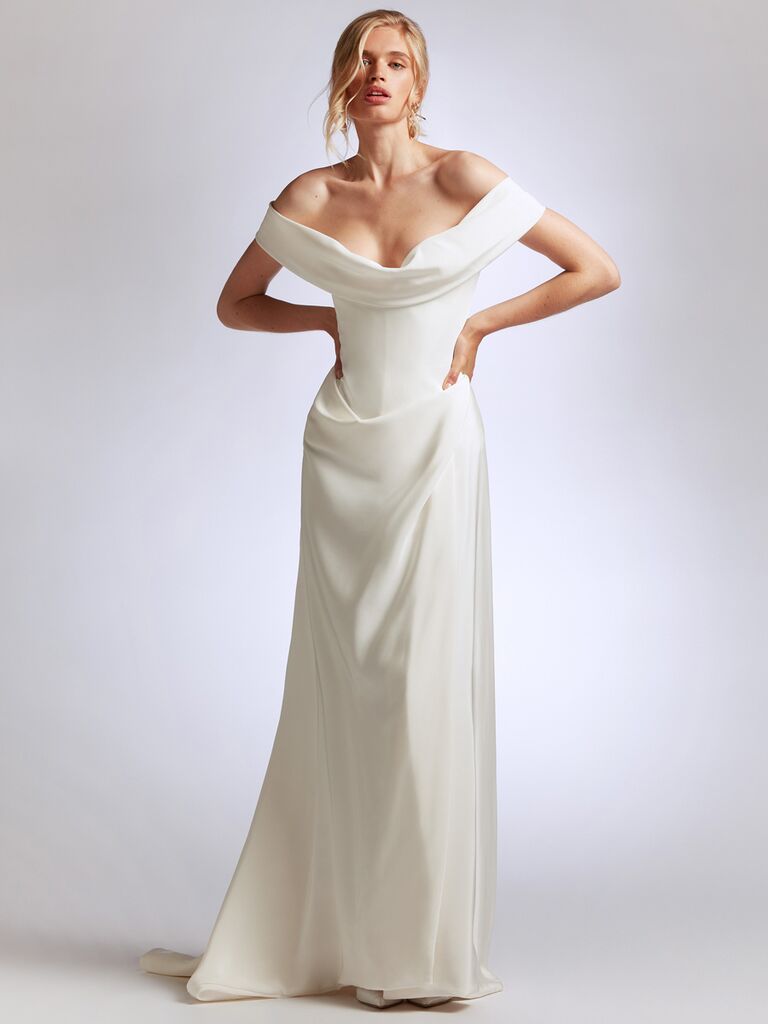 "Oriana" dress with off-the-shoulder neckline in silk Cady.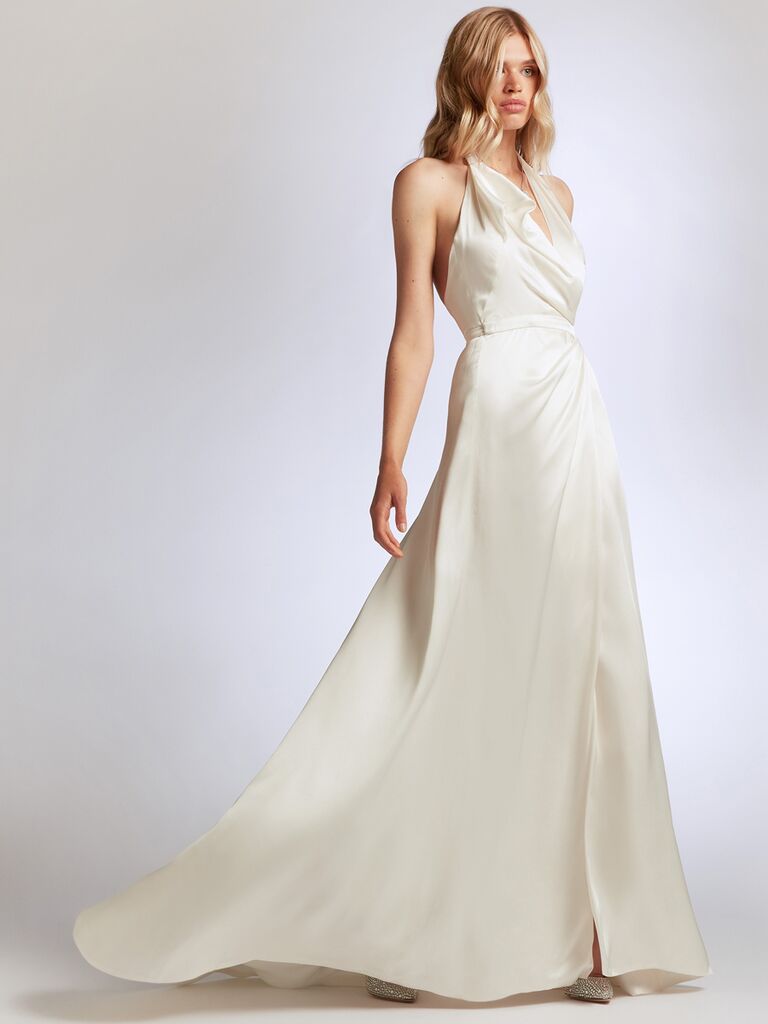 Panel dress in crepe satin with plunging V-neckline.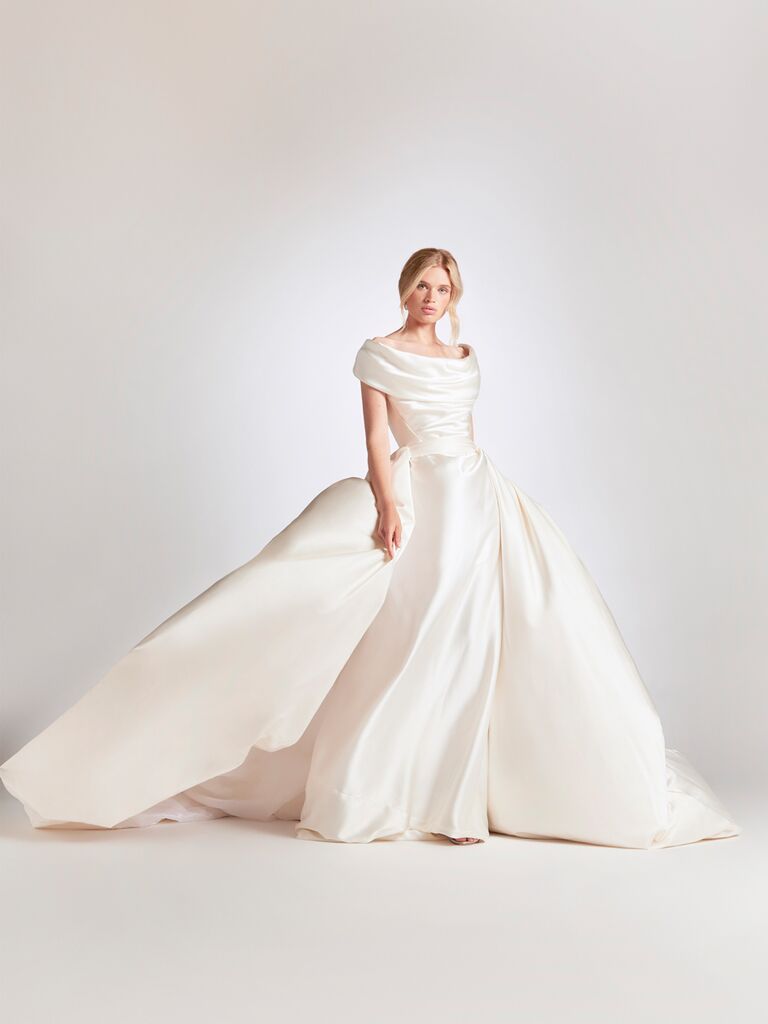 "Peace Cocotte" gown with "Paradise" train in silk duchesse.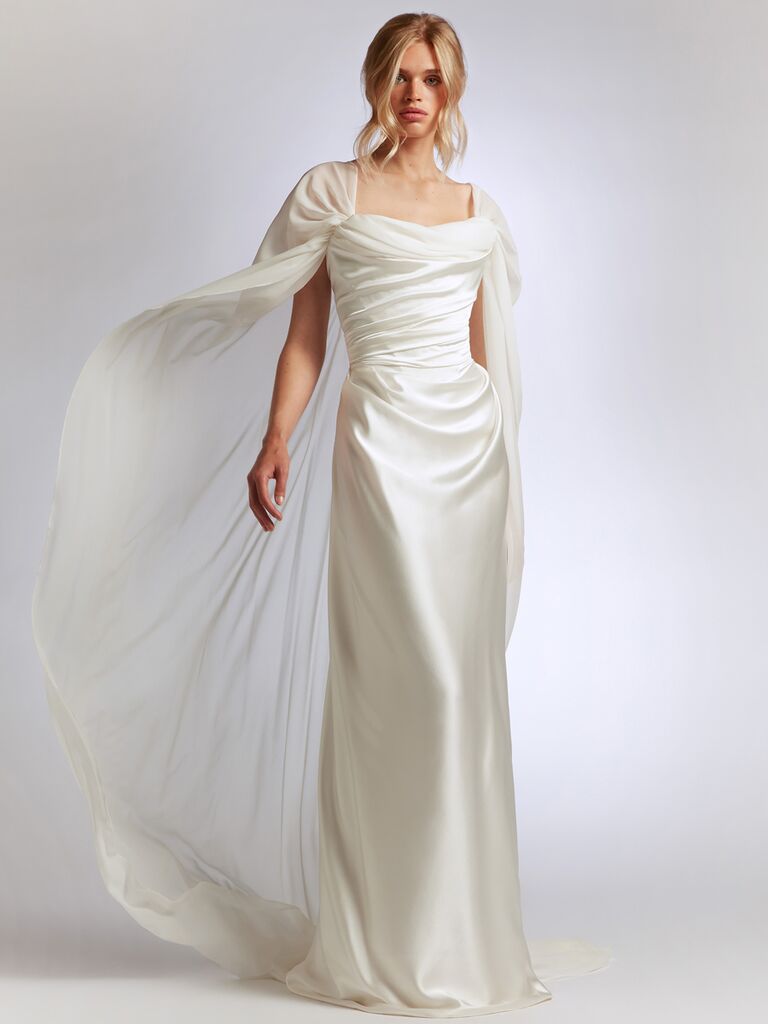 Strapless column gown with detachable cape in heavy silk satin with silk Georgette.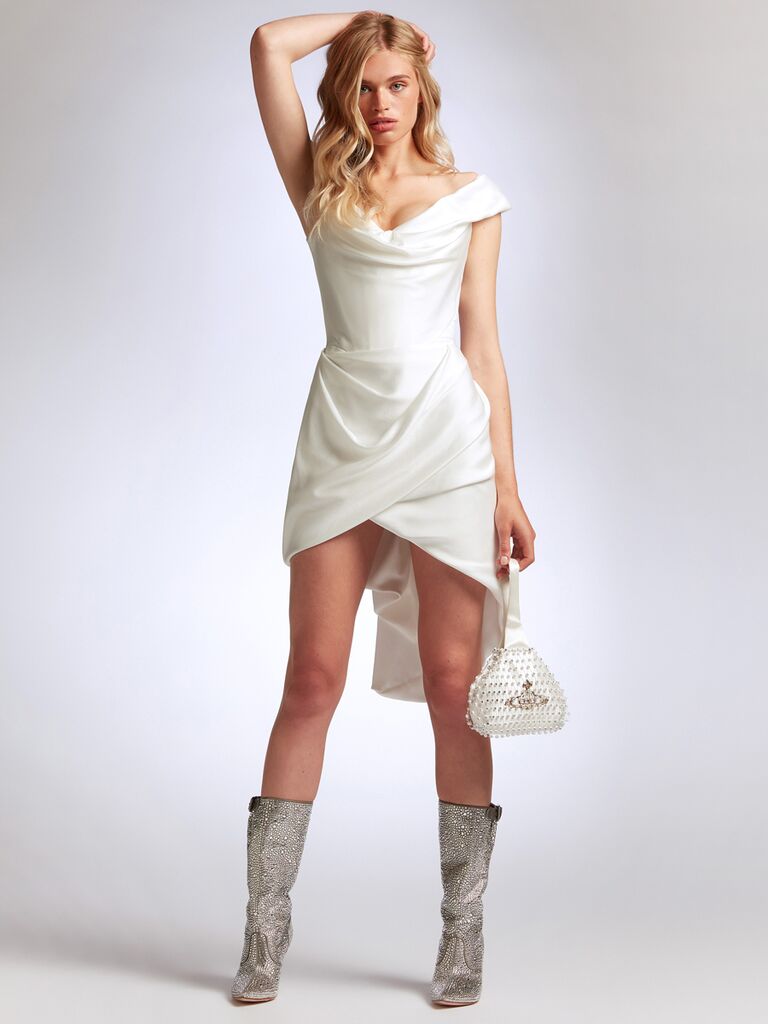 "Mini Cora Cocette" minidress in Peace silk.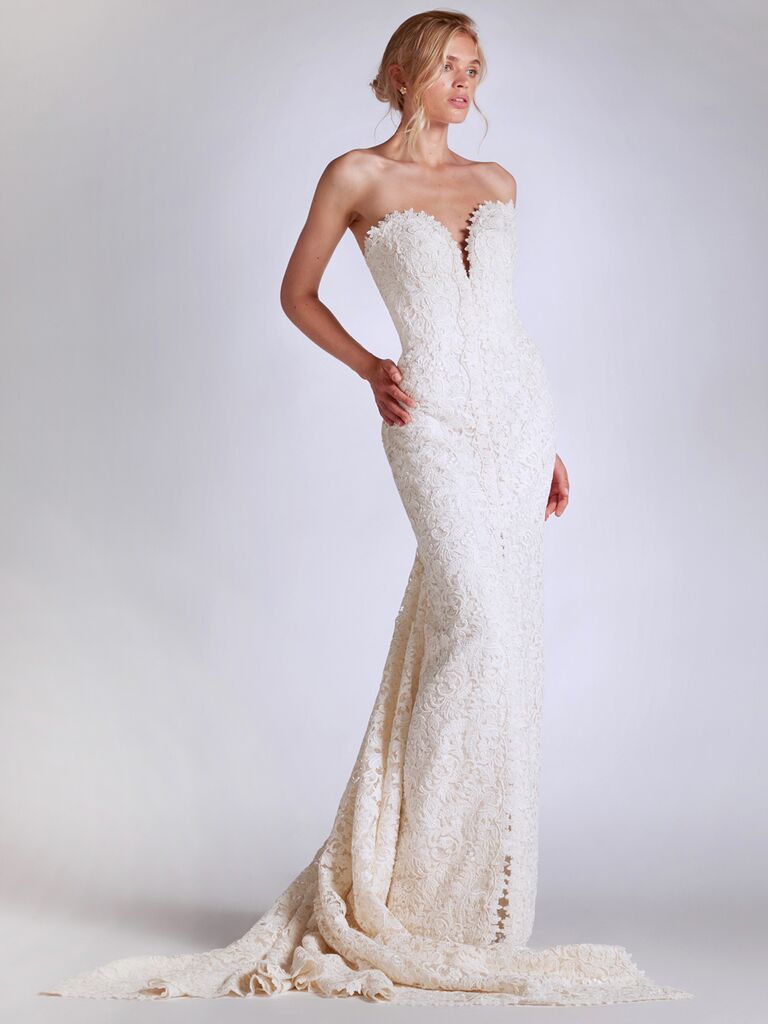 "Gina" strapless gown in guipure lace.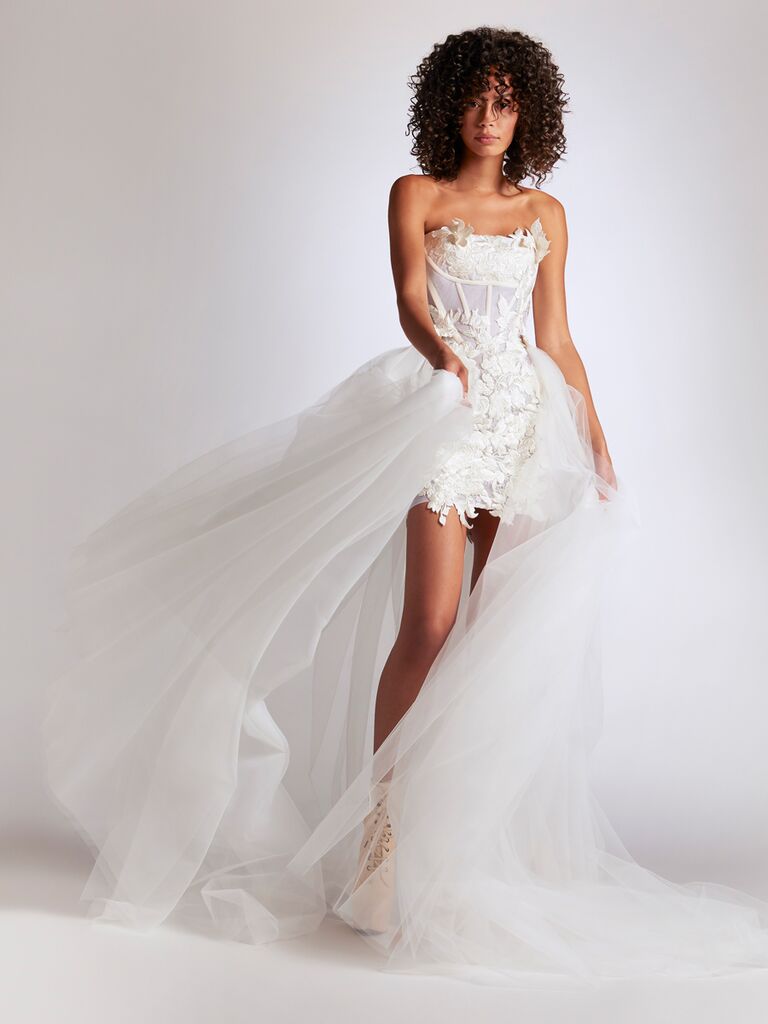 "Hemingway" rose strapless mini dress with floral embroidery and a tulle train.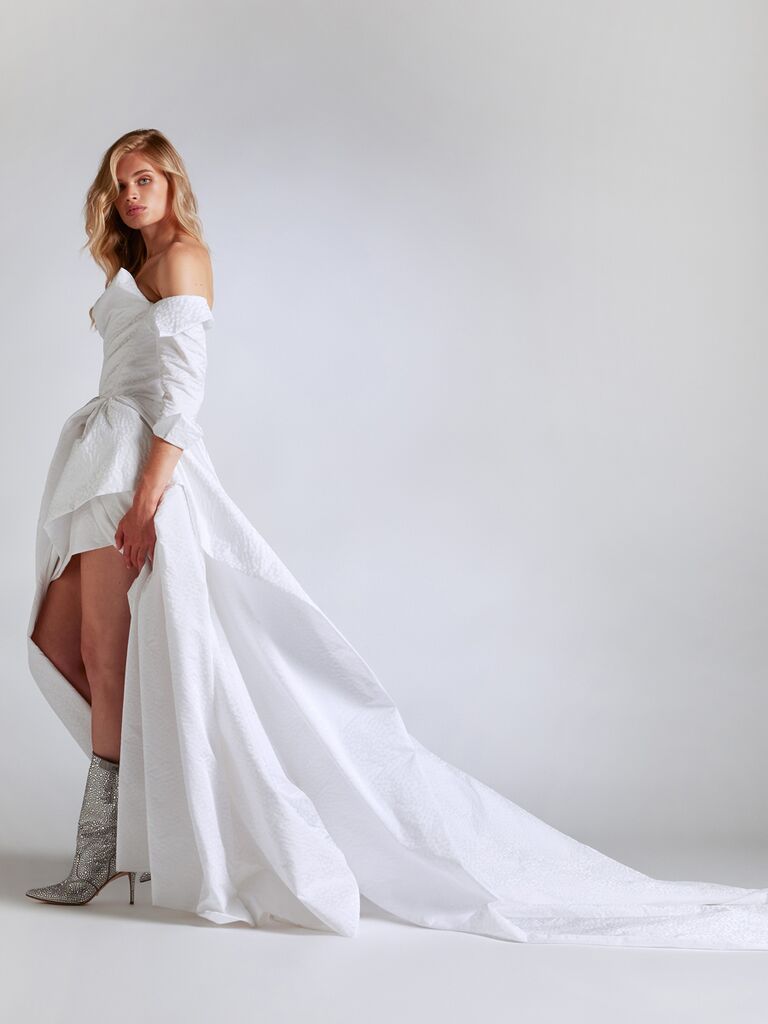 "Leia" high-low gown with detachable sleeves in "Tiny Stars" jacquard.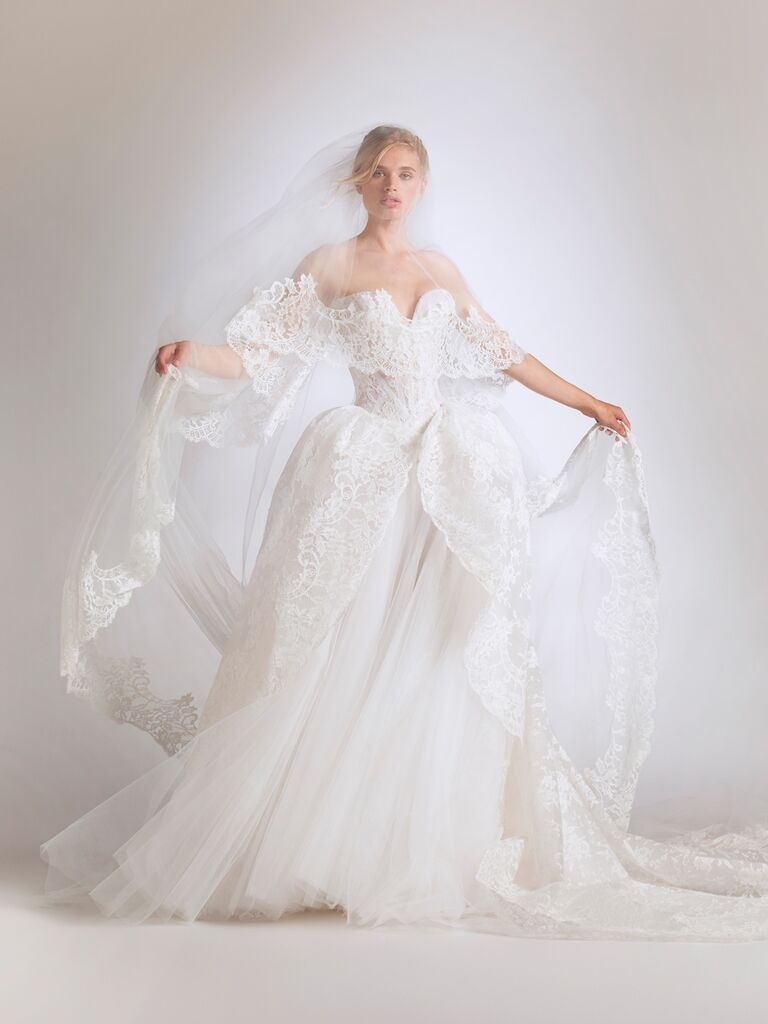 "Marie Antoinette" strapless ball gown with archival lace applied on tulle.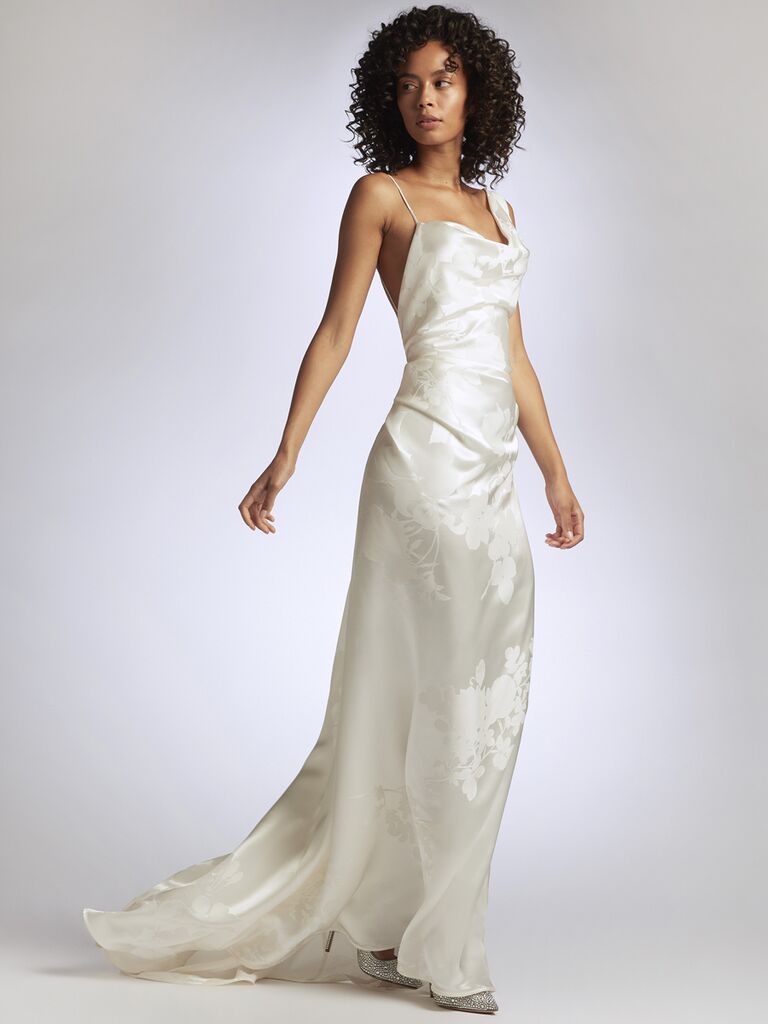 Gown in "Absence of Roses" Duchesse with asymmetrical neckline.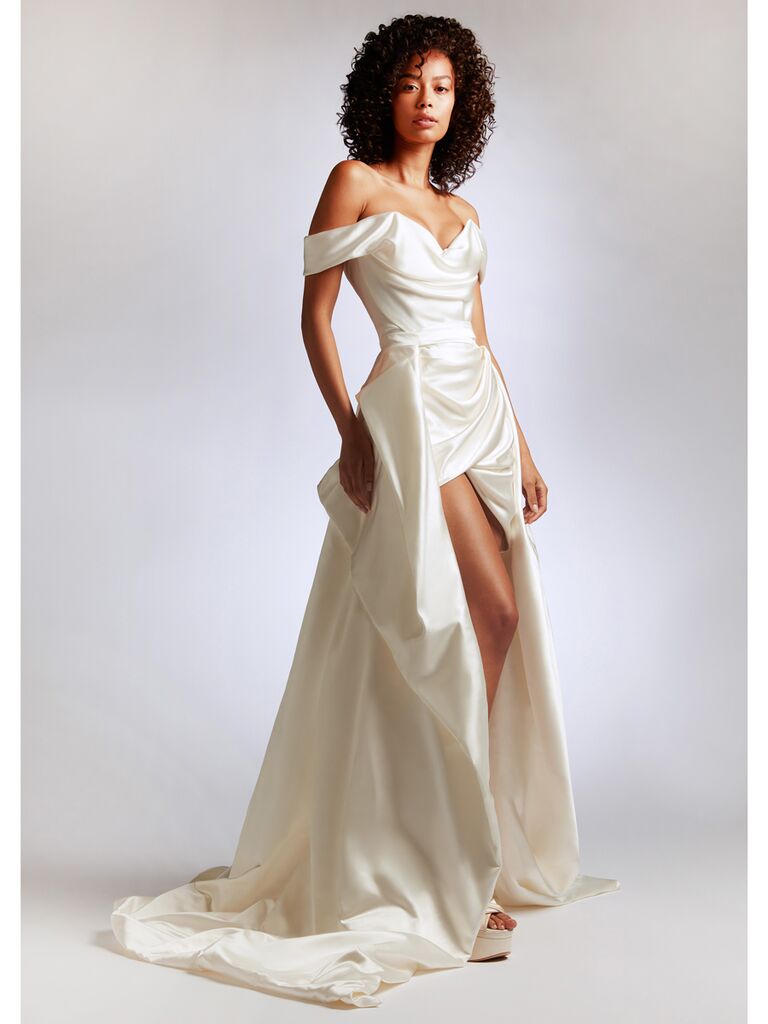 Heavy silk-satin mini dress with "Diva Train" in silk Duchesse.