Volunteer Honeymoons
by Miles Stiverson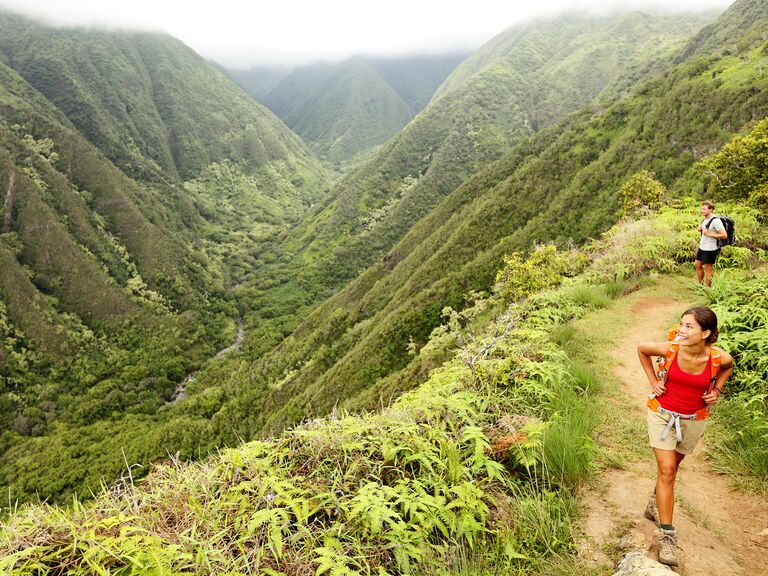 Want to extend the going "green" trend past your wedding day? Consider spending your honeymoon volunteering for a charitable project or organization. Here's how to become do-good honeymooners.
Why "Honeyteer"?
The benefits to volunteer vacations are many, and the most obvious is that you're devoting your time and energy to a group or cause that truly needs help. Volunteering for your honeymoon doesn't have to be a totally selfless sacrifice -- think about how much more fun it is to give a present during the holidays than it is to receive one. Volunteer vacations can be just as satisfying. (Check out this couple who "honeyteered" after Hurricane Katrina devastated New Orleans.)
"For a newly married couple, participating in a cause greater than themselves may offer the perfect balance to their wedding," says Michael Organ, Executive Director of Charity Guide, a nonprofit organization that promotes volunteerism. "Some newlyweds find it especially meaningful to start their new lives together by giving back."
Another upside for volunteer honeymoons is the opportunity to see and experience things that you may miss if you were simply staying at a resort. It's easy to travel to an exotic locale and head directly from the airport to the hotel, seeing little in between and leaving without a real feel for the destination and its culture. While volunteer vacations may not be as posh, you'll likely get a more well-rounded sense of place -- both of its beauty and its struggles.
What to Know
You should not approach volunteer travel with the notion that you may get to honeymoon for free. Volunteer programs usually won't provide your airfare and travel expenses to the destination, and many actually cost money to volunteer (to help pay for supplies, room, board, and other necessities). "Costs for a two-week volunteer vacation can range from a few hundred dollars to a few thousand dollars per person," Organ says.
Also, keep in mind that you may have to be flexible with the dates you plan for your trip. Volunteer programs often have scheduled start and end dates, and you'll likely have to commit for a certain amount of time, which can last anywhere from one week to several months. So, if you're determined to take off for your trip the day after the wedding, you may have to compromise with the cause for which you volunteer. Otherwise, wait a few weeks after the wedding for a program that's ideal.
How to Plan
Figuring out how to help after you arrive at your honeymoon destination is not the way to go. Organ suggests choosing a cause you wish to volunteer for first rather than selecting a destination. "For any given cause, programs are typically available in multiple countries," he says. A number of websites can connect you with reputable volunteer organizations around the world -- CharityGuide.org and i-to-i.com are two of them.
Here are more ways you can get involved:
Go Organic: Learn sustainable farming firsthand by working on an organic farm. World Wide Opportunities on Organic Farms (WWOOF) helps bring together host farms and volunteers, and you can spend a trip planting, weeding, milking, and taking care of other essential farm duties. It's especially good if you want to honeymoon in Europe -- in France alone, WWOOF represents over 250 farms.
Become a Dolphin Pro: Head to the Brazilian Amazon to research and monitor pink river dolphins in the Mamirauá Reserve through Global Vision International. Or volunteer with the Oceanic Society to help study the behaviors of bottlenose dolphins on an island in Belize.
Take a Hike: The American Hiking Society offers volunteer vacations to help rebuild nature trails. You'll find trips all over the country and hikes for every skill level.
Research Coral Reefs:Coral Cay Conservations is a London-based organization that plans trips aimed at preserving the world's coral reef ecosystems.
Protect Rhinos and Elephants: At the Imire Safari Ranch in Zimbabwe, you can work on black rhino and elephant conservation. Volunteers learn to care for and study the animals; they'll also interact with baby rhinos to give them the contact they need for development.
Build a House: If you're a handy couple, consider applying your effort to building and repairing homes, classrooms, and medical clinics through Global Volunteers.