Time's Up! Watch The Knot Dream Wedding Tomorrow to Find Out Where the Couple Will Travel on Their Honeymoon!
by Kristin Cimonetti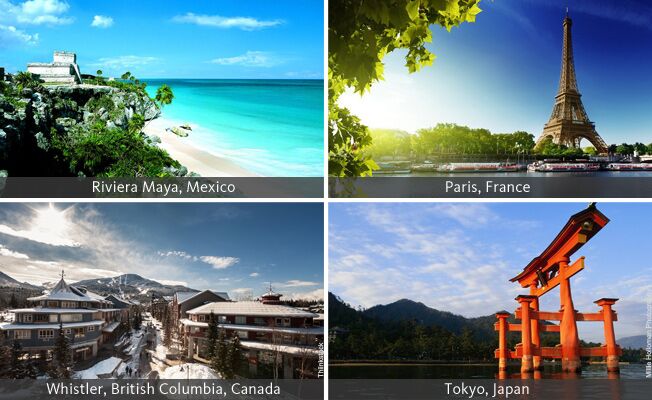 You've picked the dream wedding couple, the theme, the rings, the dress (Shh! We're not revealing that till the big day!), Sierra's hair/makeup, the bridesmaids gowns, the formalwear for Andre and his groomsmen, the cake and the ceremony entertainment! Now it's time to vote for the honeymoon.
See the four amazing location choices provided by Expedia.
Voting has closed! The couple will be heading to Tokyo, Japan for a charity-moon! Thanks for your vote.
Riviera Maya, Mexico
The Riviera Maya consists of 81 miles of white-sand beaches lining the aquamarine waters of the Caribbean. Soak in the sun, enjoy water activities at one of the many secluded all-inclusive resorts, or explore the Mayan ruins and tropical jungles. The Riviera Maya is a honeymoon haven for any beach-loving newlywed couple!
Paris, France
Paris, the City of Love, is a honeymoon hot spot for the romantic couple who wants to sightsee by day and dine under the fantastic French stars by night. Newlyweds can stroll the streets of the city, stopping for pictures at must-see sights like the Eiffel Tower and the Champs-Elysees. Every bride and groom will fall in love all over again on this unforgettable European excursion!
Whistler, British Columbia, Canada
Whistler is a Canadian resort town not far from Vancouver with beautiful mountains, world-class skiing facilities and amazing amenities fit for the new Mr. and Mrs. In the winter, Whistler is top-notch for any snow activity you desire: snowmobiling, horse-led sleigh rides or simply sipping warm cocktails fireside. Its intimate atmosphere is the perfect place for newlyweds who want a little adventure!
Tokyo, Japan
Japan is the ultimate Asian honeymoon destination — full of culture, customs and cuisine. Hike to the summit of Mount Fuji during the day and venture to the top of Tokyo Tower at night to see some of Japan's best views. Then relax with day trips to the natural hot springs in Hakone or the ancient temples of Kyoto. In addition, the couple would take this opportunity to volunteer, or "honeyteer" their time to improve conditions abroad following the Tsunami. What better way to start a life together than by working for a charitable cause, and after winning the dream wedding Sierra and Andre would love the chance to give back in this way.
> Meet the Dream Wedding Couple: Sierra & Andre!