Prevent a Wedding Day Beauty Meltdown
Everyone wants to look hot on their wedding day, not like a hot-mess. These products will keep your makeup looking cool no matter how high the temps rise.
by Amanda Elser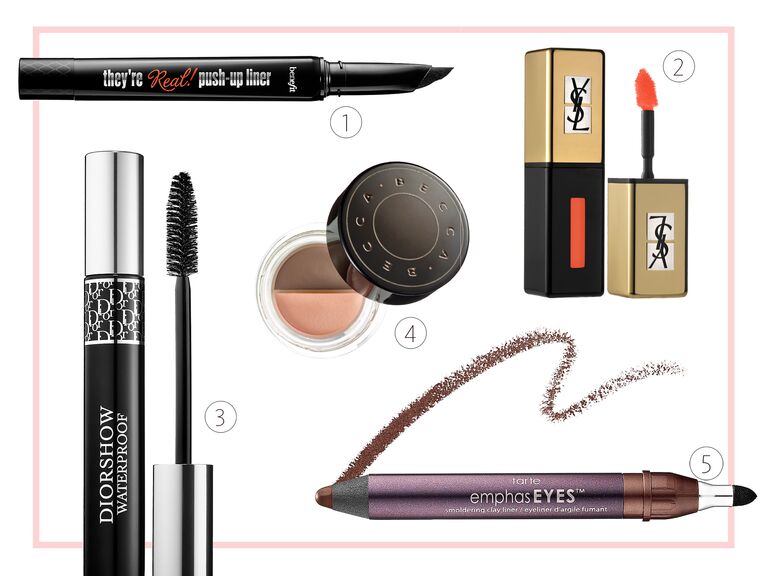 You'll spend hours getting ready on your wedding day, so don't let all that effort go to waste as soon as you step outside! If you know you're going to be getting married during a particularly hot month like July, August or September, stock-up your own kit of heat-proof products to bring to your makeup trial. Your makeup artist should have no problem using your own makeup, and this will give them time to play around and practice with these long-lasting, water-resistant products so you won't have to worry about runny mascara, melting lipstick or creasing eye shadow before you even walk down the aisle. That being said, waterproof makeup tends to be heavier and thicker, so reserve it for your prominent features like eyes, lips and brows. Your foundation and face makeup will last with an expert application and a good setting spray, so don't worry!
1. Eyeliner
The angled tip and gel-like formula make this eyeliner easy to apply, but hard to remove. Once it dries, it's not going anywhere.
Benefit they're real push-up liner, $24, sephora.com
2. Lip Stain
What we love about this glossy-stain is that it lasts all day with maximum shine factor!
Yves Saint Laurent pop water glossy stain, $36, sephora.com
3. Mascara
Wedding day 101–always wear waterproof mascara. Even if you're not getting married on a hot day, you'll want to use a water resistant formula to protect against tear-jerking vows.
Diorshow waterproof mascara, $25, sephora.com
4. Brow Mousse
Give your brows extra attention on a hot day. They tend to be the first area on your face that gets sweaty and a waterproof mousse brushes on easily and will keep them looking on-point.
Becca brow mousse, $22, sephora.com
5. Eyeshadow
There is a fine line between smokey eyes and smudgy eyes. Keep your makeup looking perfect and crease-free all day with a chubby stick. The application goes on creamy and then dries for a look that won't budge.
Tarte waterproof liner, $22, sephora.com