126 of the Best Engagement Captions for Your Social Media Announcement
Don't stress—just steal one of ours.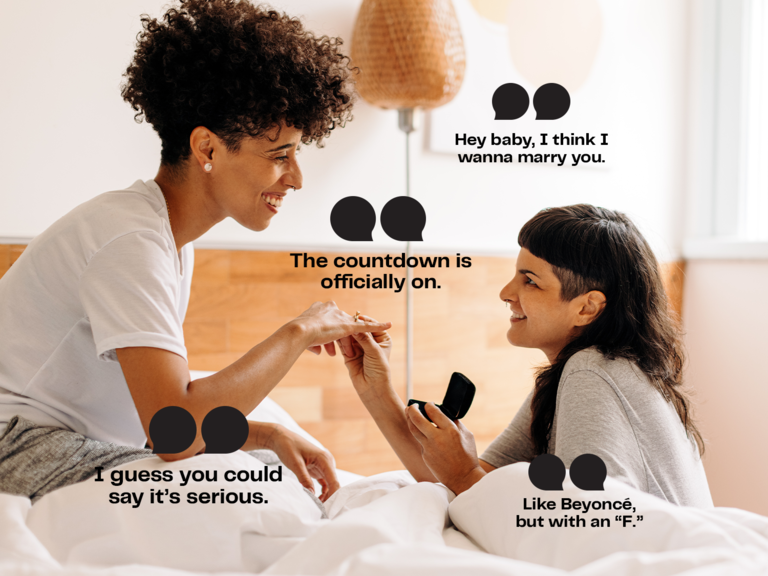 Photo: Getty,Design: Tiana Crispino
First comes love, then comes marriage *record scratch* actually before marriage comes the all-too-important proposal post and engagement caption. Once you've told your loved ones the happy news, it's time to spread the word on social media with a quippy and sweet caption, which can be tricky (and that's coming from someone with a degree in creative writing). Some want to express their love with a tear-jerking tribute, while others prefer a funny engagement quote. Regardless of what path you choose, have the post represent your relationship in its truest form. Fit for any aesthetic, I've compiled my favorite engagement captions and sayings to help inspire your "Just Engaged" post.
Once you're done posting, look here to find everything you need to know to start planning your dream wedding. Then head to The Knot to snatch up the best wedding pros in the business.
In this article:
Funny Engagement Captions
If you and your partner appreciate witty puns or sarcastic jokes, get creative with your engagement post. These silly engagement announcement ideas are perfect for those who love to show off their fun personalities. Here are some of my favorite funny engagement captions that will make you and your loved ones laugh or cry (whichever happens first).
1. The winner of my roster.
2. My horoscope said this would happen!
3. Officially off the market.
4. You probably saw this one coming.
5. I have a crush on you.
6. OMW to Pinterest.
7. Here comes the wedding spam.
8. Groom mode: loading.
9. Felt loved, might delete later.
10. Like Beyoncé, but with an "F."
11. The Instagram post you've all been waiting for.
12. Does this ring make me look engaged?
13. It's about damn time.
14. Suddenly I'm left handed.
15. My hand feels heavier today…I wonder why.
16. TL;DR: We're engaged.
17. Can't wait to be weird together for the rest of our lives.
18. 💍💍💍💍💍💍💍 – Ariana Grande
19. Nobody pinch me.
20. Me and a fan.
21. Can't wait to annoy you for the rest of our lives.
Cute Engagement Captions
There are plenty of cute ways to announce your engagement on social media. Keep it sweet and sentimental by writing a tribute to your partner, or if you'd rather keep the romantic thoughts between you and your S.O., these cute engagement captions are perfect for delivering the news without getting too sappy.
22. All mine.
23. Two fewer fish in the sea.
24. An everlasting love for me.
25. Mr. [last name] has a nice ring to it.
26. Forever with you.
27. Woke up a fiancé.
28. A crazy little thing called forever.
29. My whole heart for my whole life.
30. The best love stories never end.
31. Endlessly in love with you.
32. I look at you and I know I'm home.
33. The easiest "Yes."
34. Does this ring make me look engaged?
35. We'll be the cutest old couple ever.
36. All the feels.
37. We're getting married (!!!!)
38. The beginning of forever.
39. My person for life.
40. I said yaaaaaas.
41. Just taking in the view.
42. And so the adventure begins.
43. Will I ever stop smiling? Probably not.
Non-Cheesy, Simple Engagement Captions
With so many engagement puns and captions out there, it can be hard to find something that's to the point and doesn't make you cringe. Try one of these non-cheesy engagement captions for your post, guaranteed to make your followers say "Awww" instead of "Ugh."
44. I love this for him.
45. Legally mine.
46. Forever & more.
47. Mr. and Mrs. coming soon.
48. Soft launch.
49. Yes, duh.
50. A lifetime of us.
51. Blessed with the best.
52. I'll be the one in white.
53. A heart full of love and a hand that's heavy.
Pop Culture Engagement Captions
Pay homage to your favorite songs, books, TV shows or movies in your engagement post for social media. It's not uncommon for couples to plan themed engagement parties inspired by their favorite pop culture moments. When the time comes to post your engagement Instagram caption, consider these unique ideas.
From TV Shows and Movies
Here are some great engagement captions and quote ideas from popular movies and TV shows almost anyone will recognize and appreciate.
54. The one where we got engaged. (Friends)
55. My lobster. (Friends)
56. Better than Pretzel Day. (The Office)
57. "I love you and I like you." (Parks and Recreation)
58. You'll always be my person. (Grey's Anatomy)
59. "Marry me… because I'd like to date you." (The Proposal)
60. "When you realize you want to spend the rest of your life with somebody, you want the rest of your life to start as soon as possible." (When Harry Met Sally)
61. "I love you 3000." (Avengers: Endgame)
62. "The greatest thing you'll ever learn is just to love, and be loved in return." (Moulin Rouge)
63. "Three words. Eight letters. Say it, and I'm yours." (Gossip Girl)
64. "You had me at 'Hello.'" (Jerry Maguire)
65. "I guess you could say things are getting pretty serious." (Napoleon Dynamite)
From Books
If you're a bookworm like me, you should definitely include a romantic quote from one of your novels.
66. "Let's start with forever." (Twilight by Stephenie Meyer)
67. "I love her and it is the beginning of everything." (F. Scott Fitzgerald)
68. "But the greatest of these is love." (1 Corinthians 13:13)
69. "Whatever our souls are made out of, his and mine are the same." (Wuthering Heights by Emily Brontë)
70. "Here's to all the places we went. And all the places we'll go. And here's to me, whispering again and again and again and again: I love you." (An Abundance of Katherines by John Green)
71. "I've loved another with all my heart and soul; and to me, this has always been enough." (The Notebook by Nicholas Sparks)
72. "For you, a thousand times over." (The Kite Runner by Khaled Hosseini)
73. "He is half of my soul, as the poets say." (The Song of Achilles by Madeline Miller)
From Music
One of the easiest ways to personalize your engagement caption is by picking your favorite song and using lyrics that speak to your and your partner's relationship.
74. "Everything I wanted." ("Everything I Wanted," by Billie Eilish)
75. "Love you to the moon and to Saturn." ("Seven," by Taylor Swift)
76. I can't put my hand up during "Single Ladies" anymore. ("Single Ladies," by Beyoncé)
77. "Cause we were just kids when we fell in love." ("Perfect," by Ed Sheeran)
78. "You are the best thing that's ever been mine." ("Mine," by Taylor Swift)
79. "Hey baby, I think I wanna marry you." ("Marry You," by Bruno Mars)
80. "You're my end and my beginning." ("All of Me," by John Legend)
81. "I could hold you for a million years to make you feel my love." ("Make You Feel My Love," by Adele)
82. "I belong with you, you belong with me. You're my sweetheart." ("Ho Hey," by The Lumineers)
83. "Heaven is a place on earth with you." ("Video Games," by Lana Del Ray)
84. "I love you. Three words that are divine." ("I Love You," by Frank Sinatra)
85. "Keep all my love forever." ("P.S. I Love You," by The Beatles)
86. "Maybe I don't know that much but I know this much is true, I was blessed because I was loved by you." ("Because You Loved Me," by Celine Dion)
87. "Forever, forever ever?" ("Ms. Jackson," by OutKast)
Holiday-Themed Engagement Captions
If you think you see a rise in engagements during the holiday season (between Thanksgiving and Valentine's Day), you're not mistaken. According to an internal study done by The Knot, numerous people put a ring on it during this time––dubbed the "engagement season." With family gatherings and seasonal parties in full swing, it's the perfect time to pop the question. Honor your soon-to-be spouse with one of these thematic engagement captions below.
Christmas Engagement Photo Captions
It's the most wonderful time of the year…to bombard your followers with cheesy but cute Christmas engagement captions.
88. Christmas came early this year.
89. Guess who made it onto Santa's "Nice" list this year?
90. Mrs. & Mrs. Grinch
91. Hallmark movie coming soon.
Valentine's Day Engagement Photo Captions
The day of love is the perfect opportunity to show off your partner, so why not take it up several levels and share a proposal post too?
92. My forever Valentine.
93. Different year, same Valentine.
94. Cupid hit me with precision.
New Year's Eve/Day Engagement Photo Captions
Go into the new year on a high with one of these festive engagement captions.
95. A perfect way to 💍 in the New Year.
96. Cheers to us 🥂
97. Marry me at midnight.
Fourth of July Engagement Photo Captions
This is one of the best days to propose and get a great photo opp (for free). The fireworks in the background would be *chef's kiss.* Just make sure you time it at the right moment.
98. Yes, there were fireworks.
99. Red, white and never blue with you.
Thanksgiving Engagement Photo Captions
If you're not too full (and sleepy) after all the eating, post your engagement announcement using one of these captions.
100. We have plenty to be thankful for this year.
101. Picked the best pumpkin in the patch.
Engagement Quotes and Captions From Celebs
Sometimes, the best way to get inspired is to read an engagement quote from another happy couple. Here, I've compiled my favorite engagement quotes from celebrities. Use their words for inspiration, or read them simply because they'll give you a nice happy cry during your lunch break. There's no need to create unique engagement captions on your own—these stars have done the hard work for you.
102. "His proposal was dedicated to his love for me and the future he wanted to build together." (Rachel Lindsay, former Bachelorette)
103. "My forever." (Vanessa Morgan, Riverdale actress)
104. "Thank you for saying YES and making me the happiest man in the world. You're the love of my life, and I can't wait to spend the rest of my life with you." (Tim Tebow, athlete)
105. "He got down on one knee and he's like, 'I forgot everything I'm supposed to say, but you're my best friend.'" (Hilary Duff, actress)
106. "I'm the luckiest man in the world. #SheSaidYes." (JJ Watt, athlete)
107. "He took me to France and made a picnic and made me feel happy and free and then he asked me to marry him and I screamed YES." (Jenny Slate, actress)
108. "That can't eat, can't sleep, reach for the stars, over the fence, world series kind of stuff." (Sarah Hyland, actress)
109. "Here's to a lifetime of friendship, purpose & unconditional love." (Bindi Irwin, conservationist)
110. "He's just the best person I've ever met in my whole life." (Jennifer Lawrence, actress)
111. "I asked my best friend a question… and she said yes." (Jordan Fisher, actor)
112. "Once you've found the right person, you just know." (Sophie Turner, actress)
113. "How could I say no?" (Don Lemon, news anchor)
114. "Forever isn't long enough." (Sofia Richie Grainge, social media personality and model)
Engagement Party Captions
What better way to celebrate your milestone than with an engagement party? Whether you're hosting or a loved one takes over, you'll want to document the special night, which means you'll need a top-notch engagement party social media caption. (Psst: We have even more wedding countdown quotes here.)
115. The countdown is officially on.
116. The first of many parties to come.
117. X days until that knot is tied for good.
118. Finally making that forever thing official.
119. Engagement party for two, please.
120. X days until we're going to the chapel…
121. Instagram husband/wife in training.
122. Apparently [dating app name] isn't just for flings.
123. Diamond? Check. Spouse? X days to go.
124. Let's be real, every day is an engagement party for us.
125. Every love story is beautiful, but ours is my favorite.
126. Still on cloud nine.
Sarah Hanlon contributed to the reporting of this piece.