19 #Genius Ways to Display Your Wedding Hashtag at Your Venue
Because we know you want your guests to use your custom tag on the 'gram.
We have included third party products to help you navigate and enjoy life's biggest moments. Purchases made through links on this page may earn us a commission.
If you've chosen to forgo an unplugged wedding, you might be planning to create a custom hashtag for guests to use on their social media posts from your big day. Wedding hashtags are perfect for couples who want their guests to document the wedding from their point of view. In fact, creating a unique hashtag is one of the most exciting wedding planning tasks to tackle. After your nuptials, you'll be able to relive special moments by browsing posts under your hashtag on Instagram, Twitter, TikTok and Facebook—but if you've gone through the process of making a hashtag, you need to ensure guests know to use it. As a result, a wedding hashtag sign is an important piece of decor to include throughout your venue.
Before you start compiling ideas for your wedding hashtag sign, you'll need a hashtag first. If you haven't created one on your own, you can use a custom wedding hashtag generator, or you can hire a professional service like Wedding Hashers to do the creative thinking for you. Once you've narrowed down your favorite option, start planning all the ways you'll share it with guests. In addition to putting your tag on your wedding website and paper stationery, we also recommend placing a few wedding hashtag signs throughout your venue. Below, we've rounded up 19 creative ways to display your wedding hashtag sign to make sure your big day gets lots of love online.
Wedding Welcome Sign
Display your hashtag on your wedding welcome sign to ensure guests see it as soon as they arrive at your venue. With a big sign like this placed right at your ceremony entrance, no one will miss it, meaning you can be sure it'll get plenty of use on social media.
Decor Vignettes
There's no need to overthink your wedding decorations. We love how this couple created a decor vignette with disco balls, flowers, candles and their wedding hashtag sign on a mirrored tray. Place a few vignettes on wedding tables throughout your venue so guests see your hashtag everywhere they go.
On the Ceremony Program
Your ceremony program will land in the hands of every single guest, solidifying it as one of the best places to display your wedding hashtag. While you can also make a specific ceremony sign with your hashtag, putting it on your programs just about ensures that every guest will see it before the wedding even begins. And, to make your life as easy as possible, we have hundreds of ceremony program templates available through The Knot Invitations that you can customize to fit your wedding theme.
At the Wedding Photo Booth
Hundreds of photos will be captured on your wedding day, especially at your photo booth. If you've opted to give guests a designated Instagram hotspot with fun backgrounds and cute photo booth props, put a small wedding hashtag sign on a nearby table so their snaps are properly tagged online.
Neon Sign
Instead of choosing an acrylic or wood sign to display your wedding hashtag, opt for something a little more eye-catching, like a neon sign. These flashy pieces are having a moment, after all, and we couldn't be more obsessed. Plenty of online brands specialize in personalized neon signs, so enlist the pros to create a custom light fixture with your hashtag. Not only will it personalize your venue, it'll make for a cool piece of decor in your newlywed nest.
Acrylic Signage
With a pretty watercolor background, your guests will be drawn to any acrylic sign that boasts your custom tag. Arrange a few of these hashtag signs around your wedding reception space to serve as simple (and effective) decor.
On the Vendor List
Your vendors will play a pivotal role in the wedding planning process from the moment they're hired. To show your support, consider displaying a vendor list at your venue with their business information so guests know who's responsible for the gorgeous aspects of your wedding day. We recommend placing this at the entrance to your ceremony or next to the seating chart at the reception, that way guests won't miss it. If you do invest in this kind of signage, add your wedding hashtag sign next to it, as seen here. We love how this couple accented their wedding hashtag sign with geometric shapes and a showstopping floral arrangement to grab guests' attention as they arrive.
Behind the DJ
Open wall space behind the DJ (or live band) is prime real estate for your wedding hashtag. Every guest will look at the entertainment at some point throughout the reception, so hang a neon sign or custom board to display your hashtag so all can see.
Wooden Wedding Board
Consider this kind of wooden sign a must for your rustic wedding. With sleek white text on a dark wood background accented with moody florals, this wedding hashtag sign is impossible to miss, and it matches the barn venue perfectly.
Framed on the Bar
It's fair to say that most (if not all) guests of age will find themselves at the bar at some point during the night, so use this opportunity to place a framed photo of your hashtag next to additional decor elements. It'll serve as a nice reminder to post an Instagram Story as they wait for another glass of champagne or a custom cocktail.
Cocktail Napkins
In addition to putting your hashtag on a bar sign, we also recommend printing it on cocktail napkins too. That way, when guests grab one to hold their snacks during cocktail hour, they'll make a mental note to use it later in the evening.
On the Guest Book Table
You'll need a table sign to signify where the guest book is, so use this opportunity to add a wedding hashtag sign too. Guests will be reminded to post their pics as they leave well-wishes for you and your S.O.
Marquee Sign
Lights, camera, Insta: Put your wedding hashtag sign in lights with an illuminated marquee board. There's no doubt that all eyes will be drawn to this bright piece of wedding decor, so guests won't forget to add your hashtag to their 'grams.
Illustrated Chalkboard
Enlist an artistically gifted friend to create a wedding hashtag chalkboard sign at the reception. With elegant calligraphy lettering and a custom monogram or wedding graphic, your signage will have an impressive cohesive look that'll wow guests. Add your wedding date for a cute personalized touch.
Custom Letter Board
Consider this one of our favorite wedding ideas for a casual backyard soirée. Your wedding hashtag sign doesn't have to break your budget. Instead, buy an affordable letter board in lieu of an expensive custom sign. And, as a bonus, you'll be able to repurpose this wedding hashtag sign in your home after the big day.
Brick Block
This Instagram hashtag sign for a wedding would make a great DIY project for creative couples. Place a few blocks throughout your venue to creatively decorate and promote your hashtag.
On the Transportation
Mark our words: Guests will be seriously impressed by this unique wedding hashtag sign idea. Whether you're using a bus for actual transportation or for a quirky backdrop, your friends and family will love this old-school ride announcing your hashtag.
Wall Decor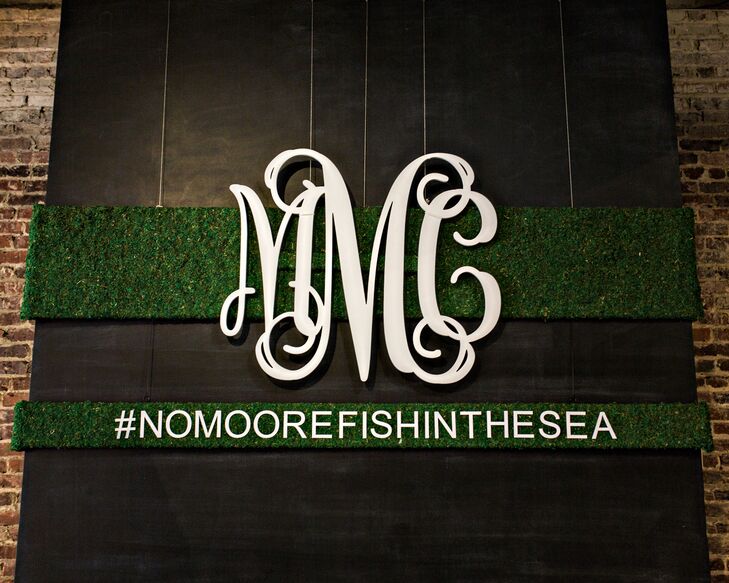 Display your wedding hashtag sign along with your new monogram on a focal point of the reception to blend it seamlessly with your decor.