11 Ways to Save on Your Wedding Gown
These simple secrets might surprise you.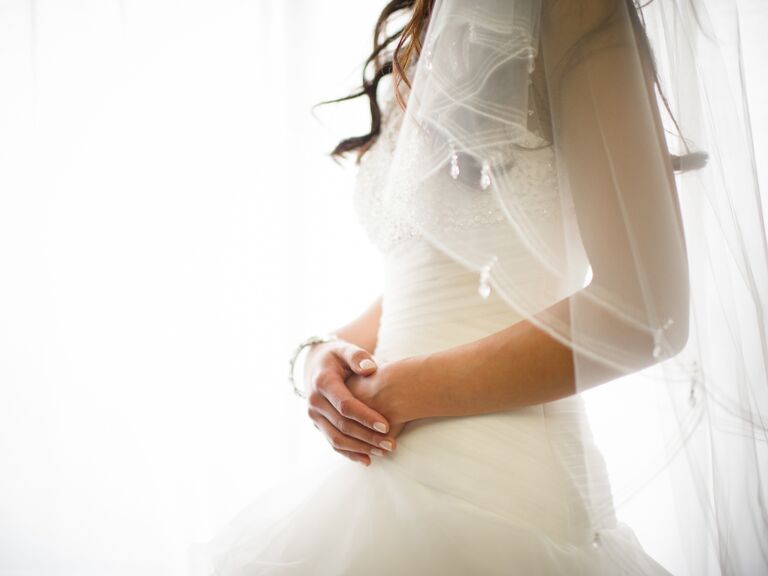 Lisa Boggs Photography

Simplify
Opting for a classic gown without any embellishments can lower the price tag significantly, since materials like lace and beading are more expensive, says Julie Sabatino, a bridal fashion stylist and owner of The Stylish Bride in New York City. Then use your accessories to dress up your gown and get the look you're after, she suggests.
Ask for Substitutes
If you absolutely must have that highly embellished dream dress, ask if the designer can limit the beading (which increases the price) to just the bodice and skip it entirely on the skirt or train. Or another option is to ask if the dress can be made in an alternative, less expensive fabric, so you still get the style and silhouette you're after but at a more reasonable price point.
Avoid Custom Alterations
Making special changes to couture gowns, such as changing the shape of the neckline or altering a sleeve, can cost up to $300 per adjustment. To save some money, look for gowns you love just the way they are, rather than trying to transform one into something else.
Pick a Less Formal Silhouette
If a big ball gown is out of your reach, you can save by buying a more casual or simple shape, says Lori Conley, senior merchant for David's Bridal. The more fabric it takes to make a gown, the more it costs, so it's not surprising a ball gown made with yards and yards of taffeta or organza can cost more than twice as much as a slim sheath in the same fabric.
Shop at the Right Time
Winter and summer are the two times a year when bridal designers and some retailers, like Kleinfeld Bridal in New York City, will host mega-sales to make room for the next season's merchandise. If you have your heart set on a pricey designer gown, you might be able to snag it at up to 80 percent less. Just keep in mind: Brides who wear a size 8 (the average sample size) often have the best luck, and you'll have to battle the crowds. Try going on the second or third day of the sale after some of the craziness has died down.
Try Other Brides
You'd be surprised at how many brides change their mind after their dress arrives and choose to get a new one at the last minute—or they're just looking to recoup some of the money they spent on the one they wore. Check out online sites, like OnceWed.com, that connect new brides with former brides selling their gowns, often at heavily discounted prices. Plus, if you get lucky and buy a dress from someone with a similar body type, you may not have to make too many alterations.
Buy a Floor Sample
If you're looking to save some serious cash (or if you need a dress fast!) consider buying the floor sample you tried on at the salon or boutique rather than ordering a new version of the same gown. Depending on how the long the dress has been on the floor and the condition it's in, as well as how good your negotiating skills are, you may be able to snag a sample gown for up to 50 percent off the retail price. Just inspect it carefully before you take the plunge to make sure there aren't any visible holes and tears or potentially permanent stains.
Tie It Up
Consider a gown with a lace-up corset-style back. "Corset backs are not only beautiful, they help save money on alterations since you can custom-fit the bodice of the dress to conform to your measurements," Conley explains. Another perk? Corsets can also easily accommodate your changing bridal body as you get closer to your wedding date.
Scout for Discounts
"Keep an eye out online for bridal-related giveaways and discounts," says blogger and author of The Broke-Ass Bride's Wedding Guide Dana LaRue, who posts a weekly roundup of them on her blog, TheBrokeAssBride.com. You could be lucky enough to win your dream gown, or find coupons or sales for some of your favorite designers. Lots of bloggers as well as bridal brands post these kind of updates on their social-media networks, so follow your favorites on Facebook, Twitter and Instagram to stay in the know about any big savings or fun giveaways.
Attend Trunk Shows
If you're in love with a particular designer, find out when she's having a trunk show at a local salon. At these special events, the designer (or a representative from the company) visits on a set day to show off her entire line of new dresses. While the dresses aren't marked as discounted, most trunk shows offer a percentage off for placing your order on the spot (sometimes up to 20 percent), so don't be shy about asking. And even if the salon doesn't offer a discount, the designer may throw in a few extras (buttons down the back, additional length on the sleeves or the train) for free. These relatively small savings could make a big difference if you're working with a tight budget.
Put It on Plastic
Okay, so technically this isn't a way to save money directly on your dress, but it can help you get more bang for your buck. If you charge your gown on a credit card that earns you points toward airline tickets or other travel incentives you can use for your honeymoon, you'll be saving money down the line on another wedding-related expense, and that's pretty cool too!