Here's How You Can Support Your Wedding Vendors and Other Small Businesses Right Now
Start with your holiday family photos.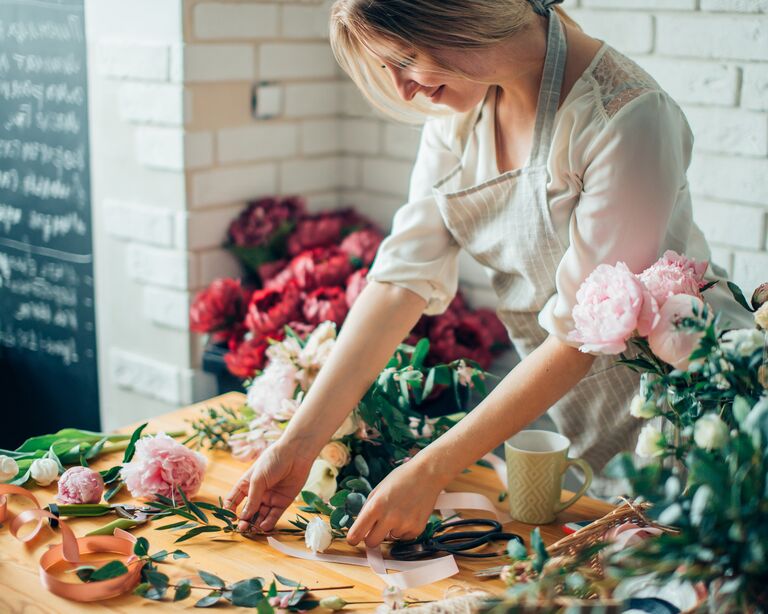 Shutterstock
Postponing weddings can be stressful for many reasons, especially when the cause is so definitively beyond your control. And the repercussions of the coronavirus pandemic have impacted many, including couples scheduled to marry this spring—and their wedding vendors.
During a tough time, there are many ways couples can still support their vendors, even if their weddings won't be happening until months down the line. Here, we've highlighted creative ways for you to help your wedding planners, florists, caterers, DJs and more especially when team effort is more important than ever before.
Postpone, Don't Cancel
This one's big: Even though there's uncertainty surrounding the next few months, consider postponing or rescheduling your wedding and wedding-related events instead of canceling them altogether. Most likely, you've already paid a deposit (or more!) to your vendors, and on their ends, they've likely budgeted for a certain number of clients in order to make an annual income. That to say that postponing or rescheduling will both ensure that you'll still be working with the squad you originally hand-selected, and your vendors will be grateful to know that they can count on you to help them make their quota.
Depending on the vendor (whether it's a photographer or a florist or a caterer), you may have to be a bit flexible, as they might already be booked through, say, Saturdays in the fall. As everyone's figuring out new schedules and timelines, consider a Monday, Friday or Sunday wedding, which could free up the stress of having to find totally new vendors from scratch.
Leave a Good Word
If it turns out to be the case that you simply can't continue to work with a vendor due to conflicting schedules, consider giving your vendor a positive review on any number of platforms—like The Knot Marketplace—to give them as much public support as possible. Word of mouth is another way to support your vendors too. By recommending them to a friend with an upcoming wedding, who knows what additional business they can pull in down the line? In wedding planning, recommendations and referrals are key, and a few good words go a very long way.
Sharing your vendors' work on social media is also a great way to show your support for them, and to ensure that they have a long line of would-be clients waiting to hire them once things start to return to normal.
Pay It Forward
Just because you can't host your wedding yet doesn't mean you can't help your vendors out in the more immediate: buying gift cards for future services, either for yourself or for a loved one, is a great way to support your vendors (we're thinking here especially of local vendors who may consist of a smaller team).
For florists, consider buying a gift card for a delivery later this year. For photographers, now is a good time to schedule a family photo session for the holidays to help with their current flow of income. For stationers, you can design a card template for a holiday or a backdrop for a loved one's upcoming milestone birthday. You can even design a change-the-date with your go-to pro as well.
DJs who aren't able to physically be in a space to get people on the dance floor would probably really appreciate it if you shared their playlists online, too. As an extra bonus, this would double as a way to share joy—because at a time like this, we all need a little levity. Think: virtual dance parties with your best friends, a good beat to get your day started, or just a fun way to spend a Friday night with your partner, getting excited about your big day.
Bring It Home
While most nonessential businesses have closed their doors, local vendors may still be able to "work from home." In which case, there's an opportunity to support them where they're at. Order a dessert from your local bakery to celebrate your would-be wedding date with your beloved, or schedule a food tasting to be delivered at home. Local florists who may have an overabundance of blooms might be happy to deliver flowers right to your door, which is a win-win, considering how flowers can brighten up any living space.
Since bars and restaurants have been largely closed except for delivery or takeout, there are spots offering cocktails to go, as well as fun kits to concoct your own drinks at home. Staying in? No problem. Especially if it means being able to live it up in your PJs.