We Spoke to the Craigslist Bridesmaid (and She's Just as Awesome as You Hoped She'd Be!)
by Ivy Jacobson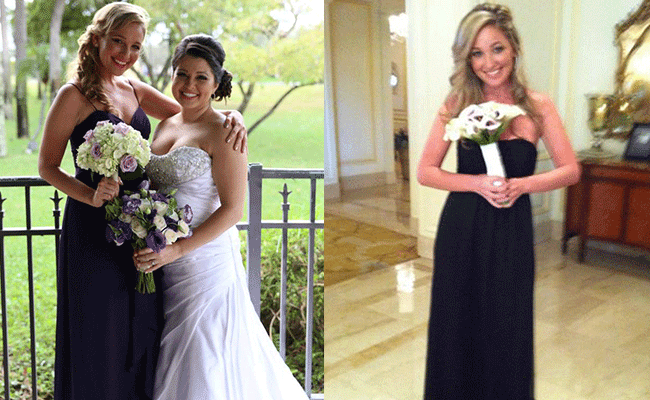 You may have seen this "Professional Bridesmaid" Craigslist ad that a 26-year-old woman in New York City (and veteran bridesmaid) posted a few days ago, advertising her many skills and services to brides in need.
"Let me be there for you, this time if:
-You don't have any other girlfriends except your third cousin, twice removed, who is often found sticking her tongue down an empty bottle of red wine.
– Your fiance has an extra groomsmen and you're looking to even things out so your pictures don't look funny and there's not one single guy walking down the aisle by himself.
– You need someone to take control and make sure bridesmaid number four buys her dress on time and doesn't show up three hours late the day of the wedding or paint her nails lime green."
She continues:
"Bridesmaid skills i'm exceptionally good at:
– Holding up the 18 layers of your dress so that you can pee with ease on your wedding day.
– Catching the bouquet and then following that moment up with my best Miss America-like 'Omg, I can't believe this' speech.
– Doing the 'electric' and the 'cha cha' slide.
– Responding in a timely manner to prewedding email chains created by other bridesmaids and the maid of honor."
The Professional Bridesmaid is actually Jen Glantz, copywriter and author of All My Friends Are Engaged, who also has her own website, The Things I Learned From. While many might think that it's all a joke from a bitter bridesmaid, Jen explained on her site why she posted the ad in the first place — and she's more than ready for the challenge.
"Within 48 hours, two of my dearest friends both asked me the very same question.
'Jen,' they both kicked it off with, fiddling the tips of their freshly manicured fingers, 'Will you be my bridesmaid?' Being a bridesmaid and having the chance to stand beside someone who means something so significant to you in your life, on their special day, is one of the greatest honors.
It's also something I've become quite familiar with these days. Which is why, this past Friday I posted an ad on Craigslist about being a professional bridesmaid. I know the ins and the outs of how to make your wedding day — and the months leading up to it — flawless. I know how to rally up the guests to dance the Hora or how to give a speech at the rehearsal dinner that won't sound like it's being read straight off a Hallmark card. So, if a bride is in need of a new best friend or an extra bridesmaid so her numbers match up with the groomsmen, why wouldn't I offer up my expertise?"
Since she was up for the task, we had to ask her a few questions — since she sounds too good to be true and all.
The Knot: How many responses have you received from the ad?
Jen Glantz: I've received quite a few messages! Some from past brides who write in to say how cool it is that I'm offering this service and am willing to put 100 percent into being a bridesmaid. And then, of course, I received some very strange messages that I'm almost tempted to put into Google translator to help me figure out because they are not relevant to my ad and contain only one or two words and a whole lot of wink faces. I sometimes forget I posted it on Craigslist!
TK: How many times total have you been a bridesmaid?
JG: Three times so far, and two more times on the way!
TK: What's your favorite bridesmaid dress you've worn?
JG: The last wedding I was in, we were asked to wear dresses that were silver, gold or bronze — it's a very cool look! Since I really couldn't afford to buy a brand-new dress, I borrowed a dress that my mom wore to my bat mitzvah 13 years ago. It was gorgeous and I loved having the opportunity to tell people the story behind the dress when I was at the wedding!
TK: What's your preferred reception cocktail?
JG: A freezing cold glass of water. Being a bridesmaid is dehydrating!
TK: The "cha cha" or "electric" slide?
JG: I just learned "the wobble" at a wedding in May, so I'll have to pick that one.
TK: What's the best quality in a groomsman?
JG: Someone who is willing to do a goofy entrance dance with you and accompany you throughout the night on the dance floor. Also, one who will hand you over their suit jacket when the air-conditioning starts to party too hard.
TK: What's your favorite wedding song to dance to?
JG: The Black Eyed Peas's "I Gotta Feeling."
TK: The five things you can't go to a bachelorette party without are:
JG: 1. A black dress. I invested in a $29.99 black dress from Forever 21 and it's my go-to bridesmaid dress. It's held up nicely through three different bachelorette parties so far.
2. A charged iPhone. You'll want your own photos and videos to scroll through the next morning.
3. Ke$ha or some other really great girl music that'll have everyone screaming at the top of their lungs while getting ready for the night out.
4. Party games that can be ordered online, like pin the lips on the half-naked, really buff supermodel.
5. Advil. Too many girls, too many loud voices.
TK: What's the best advice you ever gave a bride on her wedding day?
JG: One thing brides often forget to do on their own wedding day is eat, and so the voice of my Jewish mother tends to kick in and I like to remind them that while they're getting their makeup done or the back of their shiny hair curled, it's important to go halves with me on a medium cheese pizza. That way, when the photographer grabs her for photos before their ceremony starts, they'll be ready.
TK: How did you fix an awkward wedding situation for the bride?
JG: I'd say every time I have to dance with a drunk relative is a time when I deserve to be nominated for some bridesmaid award!
Funny, resourceful and knows the importance of pizza — Jen's hired!
Want more? Of course you do!
> Lena Dunham's bridesmaid dress: get the look!
> 9 tips for picking your bridesmaids