65 Wedding Aisle Decor Ideas for an Epic Processional
Make your walk down the aisle a memorable one.
Couples often spend a lot of time thinking about how to decorate their wedding reception, from centerpieces to epic flower walls and beyond. However, the ceremony is arguably the main event and deserves just as much attention in terms of decor. From wedding aisle decor to wedding arches and even aisle runners, there's a way to personalize your wedding ceremony, no matter the style. Below, we gathered some of our favorite wedding aisle decor inspiration, plus expert-backed tips for designing your wedding aisle with ease. Make sure to save your favorite ideas (you're sure to fall in love with multiple ideas below!) to share with your wedding planner.

In this article:
A Wedding Designer's Aisle Decor Tips
So what's the big deal with aisle decor? We tapped wedding expert Dee Lee of Dee Lee Designs, a wedding planning company based in California, to share the inside scoop on everything you need to know about aisle decor. "Your wedding ceremony is a welcoming of your guests to your big day and a focal point to keep in mind," emphasizes Lee. "It is often the most photographed moment of your wedding day. It is your grand entrance into saying 'I do' and you do want to make an impact in your aisle decor design."
Think Cohesively With Your Wedding Style
Don't design your aisle in a vacuum. Rather, keep in mind the overall formality and aesthetic of your wedding. "When it comes to aisle decor, it can as simple as a beautiful garland lining the aisles, or as extravagant as lush floral everywhere," advises Lee. "At a minimum, you should have two statement arrangements to frame the aisle and welcome guests."
Visualize Your Wedding Processional
"When you are thinking about your aisle decor for your wedding ceremony, take a step back and imagine what you see when you walk down the aisle," suggests Lee. The overall effect you want to create with your wedding processional should inform your aisle design. "What is the vibe you want to create for your guest and yourself as you are walking down the aisle? I personally love lush flowers everywhere, but it may not be for everyone. Do you just want statement flowers at the beginning of the aisle? Whatever you end up deciding on, it creates a different ambiance for your wedding day."
Keep Budget in Mind
As with all parts of your wedding, the budget will play a role in what's feasible. Talk with your wedding planner about the most efficient way to spend your budget and if there are other areas you can trim to allow for a larger aisle budget. Lee encourages to-be-weds to answer the question, "How big of an impact and first impression do I want to make? Budget is everything. It is important to think about your financial comfort zone."
Simple Wedding Aisle Decor
You and your partner are what the wedding ceremony is all about. So while having decor is a nice way to enhance the nuptials, you don't want your aisle decorations to detract focus from the vows. Take a peek at some of our favorite simple wedding aisle decor ideas.
1. Minimalist Greenery Aisle Decor
This couple took a less-is-more approach to their wedding ceremony aisle decor. Two simple greenery arrangements marked the back of the aisle, and translucent ghost chairs sat on either side of the arrangements.
2. Flower Petal-Lined Aisle at Outdoor Ceremony
Simple white rose petals lined the aisle of this tented wedding ceremony. To add more lushness to the scene, a few bunches of greenery were tied to the wood cross-back chairs.
3. Mountain Wedding Aisle Lined With Stock Blooms
The verticality of stock makes it a great option to line an aisle. At this outdoor wedding, the cut flowers were creatively made to look as though they were growing right out of the ground.
4. Candle Wedding Aisle Decor
There weren't any blooms in sight at the wedding aisle. Instead, the couple opted for a dramatic grouping of pillar candles to create ambiance.
5. Garden Wedding Aisle Decor
If you're having a small wedding, this is the idea for you. Since the couple didn't have many chairs for their intimate wedding, they had their florist extend the aisle arrangements to create a longer walkway for the processional.
6. White Rose Aisle Markers at Waterfront Ceremony
Since this couple's wedding ceremony had a dramatic draped altar backdrop, they kept their aisle decor minimal. Most of the aisle was bare, except for two arrangements of white roses behind the chairs to mark the start of the aisle.
7. Rose and Greenery Wedding Aisle Marker
We love how simple, yet whimsical this aisle arrangement is. A base of greenery added fullness to the arrangement while a few peach roses brightened the design.
8. Wood Pedestal Aisle Decor
Two wood pedestals anchored this aisle and enhanced the rustic feel of this outdoor wedding ceremony. Since the couple was exchanging wedding vows in front of a stately tree, using wood in the design ensured the aesthetic felt cohesive.
9. Fern Wedding Aisle Decor
Lush ferns lined the aisles of their garden-inspired wedding ceremony. Ferns are a great budget-friendly option if you want an abundance of greenery without breaking the bank.
10. Baby's Breath Wedding Aisle Decor
This ceremony is proof that you don't have to use lots of different types of flowers in order to create a major visual impact. All the aisle markers were made of only baby's breath, as was the altar arch, and the end result was absolutely stunning.
11. All-White Wedding Aisle Lined With Flowers
Like the idea of monotone aisle decor? This look is for you. To complement the white ceremony aisle walkway, this couple had their florist create a floral border of white blooms.
12. Larkspur Wedding Aisle Decor
If you're thinking about lining your ceremony aisle with flowers, take a moment to consider what floral varieties are local to where you're hosting your nuptials. This couple was tying the knot atop a mountain in Colorado and chose to line the aisle with larkspur, a bloom commonly seen in the Rockies.
Find your kind of venue
From barns to ballrooms, discover reception venues that feel like you.
Beach Wedding Aisle Decor
Ceremony aisles are especially important at beach weddings to ensure no one sinks into the sand during the processional. But beach ceremony aisles don't have to be only functional, they can also be beautiful decor statement moments, as evidenced below.
13. Palm Frond Aisle Decor at Beach Wedding
Palm fronds work great for floral installations because they maintain their shape and structure well. At this beach wedding, the aisle was lined with green palm fronds for a funky and textural look.
14. Rose Aisle Flower Arrangements at Beach Wedding
How fun is this ceremony aisle? Lush arrangements of pink roses lined the walkway for this couple's oceanfront big day.
15. Hydrangea Wedding Aisle Decor
Hydrangeas are a great variety to use for large-scale installations, like lining a ceremony aisle, because of how large and lush their blooms are. At this nautical wedding, the aisle was lined with blue, pink and purple hydrangeas.
16. Pampas Grass Aisle Decor at Beach Wedding
This ceremony aisle was both practical and beautiful. Pampas grass arrangements brought personality while the custom wood walkway ensured the path was easily traversable
17. Aisle Lined With Tropical Floral Arrangements
We love how fresh and fun this aisle was. Tropical greenery and white roses served as a lush border around the guests' chairs.
18. Lantern-Lined Beach Wedding Aisle With Greenery
This aisle was simple but effective. Lanterns were the main decoration used for this sandy aisle, but greenery was also layered in to bring cohesion to the look.
19. Colorful Beach Wedding Aisle
Love color? This aisle is for you. This couple selected vibrant orange and pink tropical flowers, like birds of paradise and peonies, to decorate their beach wedding aisle.
Wedding Aisle Flower Ideas
Flowers are typically a major part of wedding decor. They're beautiful, fragrant and add freshness to any design—what's not to love? To inspire your wedding aisle decor, we've gathered some stunning ideas with fresh flowers that you're sure to love.
20. Purple Delphinium Wedding Aisle Decor
This wedding aisle was all about soft pastels. Delphinium is an incredibly romantic flower and we love how the purple bloom brought whimsy to this wedding ceremony aisle.
21. Rose and Eucalyptus Wedding Aisle Decor
Peach roses and stems of eucalyptus worked together harmoniously in this aisle arrangement. Roses are a great flower to use for your decor because they come in almost every color imaginable.
22. White Rose Petals Along Wedding Aisle
This couple sprinkled white rose petals along their wedding aisle. To complement the neutral petals, they lined the aisle with white hydrangea blooms placed in box-style vessels.
23. Potted Floral Arrangement Aisle Decor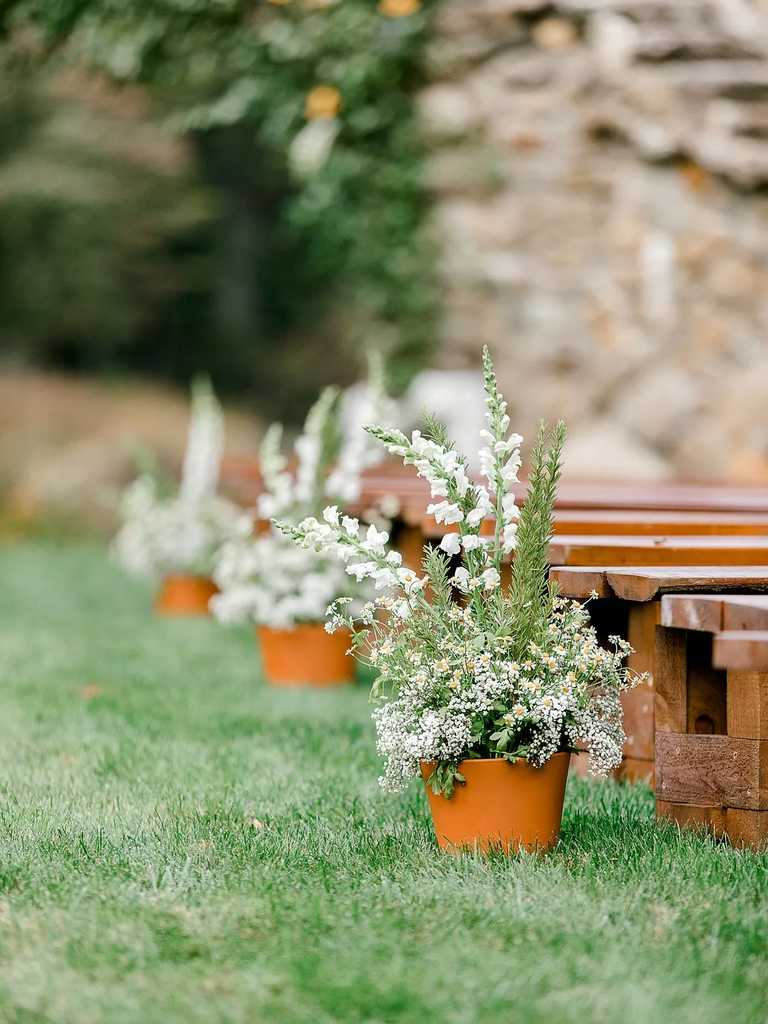 The flower arrangements along this ceremony aisle were made to look like potted plants. Daisies and stock brought a wildflower-like feel to the arrangements.
24. Mirrored Aisle Decorated With Roses
Want your wedding aisle to shine? Use a mirrored floor for the walkway! To soften the look, this couple added roses to the mirrored path.
25. Tropical Aisle Arrangement With Lilies
We love this look to decorate a wedding aisle if you're hosting tropical-inspired nuptials. This wedding aisle arrangement included lilies, roses and delphinium.
26. Rose and Eucalyptus Wedding Aisle Decor on Pedestal
If you want just a few anchor arrangements at the end of the aisle, instead of multiple arrangements along the wedding aisle, pedestals are a great way to showcase those designs. We love how these all-white pedestals showcased floral arrangements of eucalyptus, hydrangea and roses in urns.
27. Pink Protea Aisle Decoration at Indoor Wedding
Bright flowers are a great way to lighten an indoor wedding venue. For this warehouse wedding, this couple chose hot pink proteas to add warmth to their industrial space.
28. Queen Anne's Lace Aisle Decor in Chinoiserie Urn
We love the idea of chinoiserie or blue-and-white ginger jars as an outdoor wedding decor idea for garden nuptials. This couple filled their urn with fresh Queen Anne's lace.
29. Custom Monogram Wedding Aisle Decoration
Custom wedding dance floors are a trend that's on the rise, but why limit yourself to utilizing a floor wrap only at the reception? This couple had their aisle floor wrapped with vinyl printed with a custom monogram.
30. Yellow Marigold Garland Aisle Decor for Wedding Ceremony
Yellow and orange marigolds are frequently used at Indian and Hindu weddings. At this couple's Indian wedding, they lined their ceremony aisle with fresh marigold garlands.
Boho Wedding Aisle Decor
Boho weddings are having their moment in the spotlight and we're here for it. Couples with bohemian taste, consider incorporating pampas grass, rugs and greenery into your aisle decor. We're sure you're going to love the boho aisle ideas below.
31. Dried Palm Fronds as Wedding Aisle Decorations
If you're looking for a unique dried foliage element that isn't pampas grass, consider dried palm fronds. This couple decked out their ceremony aisle with arrangements made of beige dried palm fronds.
32. Pampas Grass Wedding Aisle Decorations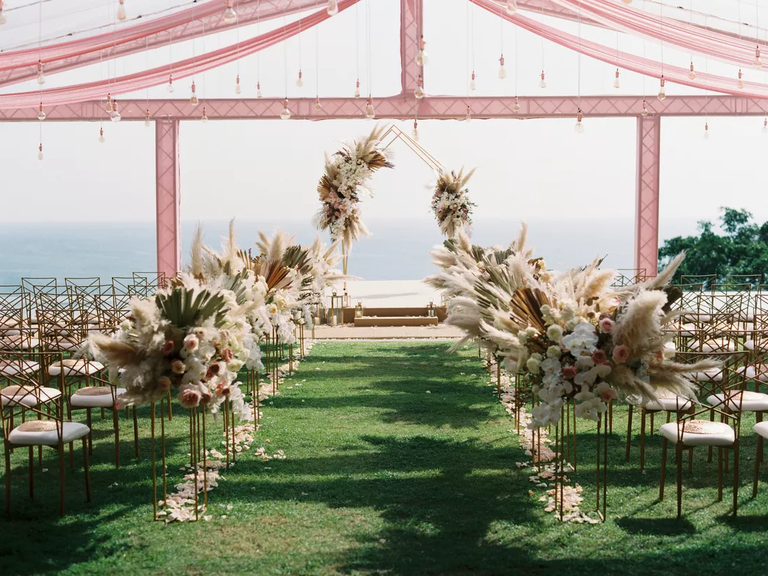 For boho couples, pampas grass is always a great option. We love how this couple added pink draping into their pampas grass-centric aisle decor to infuse color into the otherwise neutral scene.
33. Simple Pampas Grass Wedding Aisle Decor
Since pampas grass has such a commanding presence, don't feel the need to overcomplicate your ceremony aisle design. This aisle was mostly decorated with pampas grass and the effect was incredibly eye-catching.
34. Vintage Rug Wedding Aisle Decorations
Layered vintage rugs added a fun, textural element to the aisle of this Austin, Texas, wedding ceremony. Since the couple's altar arch was so vibrant, keeping the aisle more subdued was a very wise design decision.
35. Outdoor Wedding With Vintage Rug Aisle Decor
A collection of colorful vintage rugs brought warmth to this simple outdoor wedding ceremony. The couple chose to border their aisle with flower arrangements to make sure the entire look felt cohesive.
36. Boho Wedding Aisle Decorated With Pillar Candles
We love seeing candles used in every part of a wedding because candlelight enhances the ambiance of a wedding beautifully. Case in point? This boho wedding aisle looks beautiful with pillar candles lining the pathway.
37. Boho Wedding Aisle Decorated With Layered Rugs
We love how this couple creatively layered rugs along their aisle instead of just placing a single layer of rugs on the aisle. The look made the entire ceremony feel super warm and inviting.
38. Potted Plant Wedding Aisle Decor
Looking for a DIY wedding aisle decoration idea? If you have a green thumb then this idea is for you. Potted plants are also practical because you can easily reuse them after the wedding. Talk about a win-win.
39. Colorful Pink and Teal Wedding Aisle Idea
We are completely obsessed with this whimsical, eclectic wedding aisle. This couple's ceremony walkway was a cornucopia of color—talk about a bold entrance!
40. Boho Wedding Aisle Decor With Pampas Grass
Wildflowers were mixed in with pampas grass for this couple's wedding aisle to create an effortless, boho look. Because the aisle arrangements were so full and luscious, the couple kept things simple at the altar with a triangular wood arch.
41. Boho Aisle Decor at Desert Wedding Ceremony
Since the rock formation behind this wedding ceremony was such a major visual component for the ceremony, the couple kept their aisle design more limited. The duo commissioned two arrangements of dried foliage which they placed in urns at the end of the ceremony walkway.
42. Casual Backyard Wedding With Rug-Lined Aisle
Even simple DIY backyard weddings deserve special aisle decor. To up-level their simple backyard ceremony, this couple bedecked their aisle with vintage rugs.
43. Pampas Grass on Wedding Aisle Stairs
This couple's aisle included a set of stairs which meant that their aisle decor was even more visible to guests. We love how to arrangements ascend the stairs and end at the dramatic boxwood backdrop altar.
44. Rose and Pampas Grass Aisle Decor
To tone down the boho feel of the pampas grass in these arrangements, the couple's floral designer layered in romantic apricot roses. The end result feels effortlessly cool.
45. Eclectic Aisle Decor With Woven Baskets and Fresh Fruit
How fun is this aisle decor? A grouping of woven baskets and tropical fruit marked the beginning of this ceremony aisle.
Elegant Wedding Aisle Decorations
What comes to mind when you hear elegant? For us, we think of classic flower arrangements, pared-down design and a good dose of romantic vibes. If you're hosting an elegant, timeless wedding then keep these aisle decor ideas in mind.
46. Elegant Greenery Wedding Aisle Decor
Since this couple selected translucent ghost chairs for their ceremony, the greenery aisle decor made even more of an impact. To add continuity to the design, the altar arch was made to look as though it was an extension of the arrangements lining the aisle.
47. Romantic Aisle Decor With White Roses
There's a reason white roses never go out of style—they're just so stunning. This couple kept their aisle classic with greenery and white roses.
48. Twinkle Light Aisle Decor
Imagine making your way down the aisle under a canopy of twinkle lights. That's exactly what this New Orleans couple did. To make their nighttime wedding ceremony even more dramatic, this couple erected an arched tunnel of twinkle lights for the processional.
49. Romantic All-White Flower Arrangements as Aisle Decor
If you're looking for an elegant garden vibe then this look is for you. Although this aisle design utilized a wide selection of flower varieties, the look felt cohesive because all the blooms were neutral.
50. Curved Aisle With Eucalyptus
Since the couple was planning a ceremony in the round, they got creative with their aisle and opted for a curved pathway. A winding trail of eucalyptus marked the aisle at this loft wedding.
51. Boxed Delphinium Wedding Aisle Decoration
If you like the look of sprawling flowers, but also want your aisle to feel crisp and straight, then consider placing the arrangements in wooden boxes. That's what this couple did and it created a sense of organization amid the cascading designs.
52. Fern and Candle Wedding Aisle Decor
Planning a rustic wedding? Let this design inspire you. The couple decorated their wedding ceremony aisle with rustic lanterns and bunches of ferns.
53. Cascading Floral Wedding Aisle Decor
Want a design that feels cool without trying to hard? Take a look here. Loose, cascading floral arrangements lined this ceremony aisle and brought a beautiful intentionally effortless vibe to the vow exchange.
54. Hydrangeas in Urns as Outdoor Wedding Aisle Decor
Preppy to-be-weds, this look is for you. This monochromatic wedding aisle was decorated with all-white hydrangea blooms in dramatic white urns.
55. Rose and Baby's Breath Wedding Aisle Decor
A white runner anchored this outdoor wedding ceremony aisle. Meanwhile, the wedding pathway was lined with arrangements of baby's breath and pink roses.
56. Baby's Breath Aisle Decor at Tented Ceremony
Since guests at this Sikh wedding ceremony were seated on pillows on the ground, the couple kept their aisle decor low to the ground so as not to obstruct anyone's view. Small arrangements of white roses and baby's breath marked the pathway to the front of the tent.
57. Yellow Roses as Outdoor Wedding Aisle Decorations
How fun is this cheerful yellow design? Yellow roses and white delphinium lined the aisle and mirrored the yellow flowers seen covering the ceremony mandap.
58. Lemons as Wedding Ceremony Aisle Decor
Lemons are a great decor option for summer couples. At their summer wedding, this couple placed fresh lemons in glass vessels to highlight the ceremony aisle.
59. Outdoor Aisle With Greenery and Lanterns
How fun are the geometric glass lanterns nestled amid the greenery in this ceremony aisle design? Lanterns are a fun decoration, especially if you want something that can easily be repurposed from the ceremony to the reception.
60. Curved Aisle at Waterfront Wedding
When we say we're obsessed with this aisle design, we mean it. To make the design feel natural and organic, rather than stiff, this couple opted for a curved pathway to their wedding.
Church Wedding Aisle Decorations
Your decor options may be somewhat limited if you're getting married in a church or other house of worship. Many churches have strict rules about what kind of decor can adorn the altar area. But fear not, you can still make your church wedding feel beautiful by making the most of aisle decor. Let the church wedding aisle ideas we've gathered inspire you.
61. Wedding Aisle With Neon Crosses
This wedding aisle was inspired by the set of Baz Luhrmann's "Romeo and Juliet." How fun are the neon crosses?
62. Simple Greenery as Church Aisle Decor
If you have a wedding venue with really eye-catching architecture, keep your aisle decor minimal. This couple lined their aisle with just a few greenery garlands so that the building could be the star of the show.
63. Chapel With Floral Arrangements Along Aisle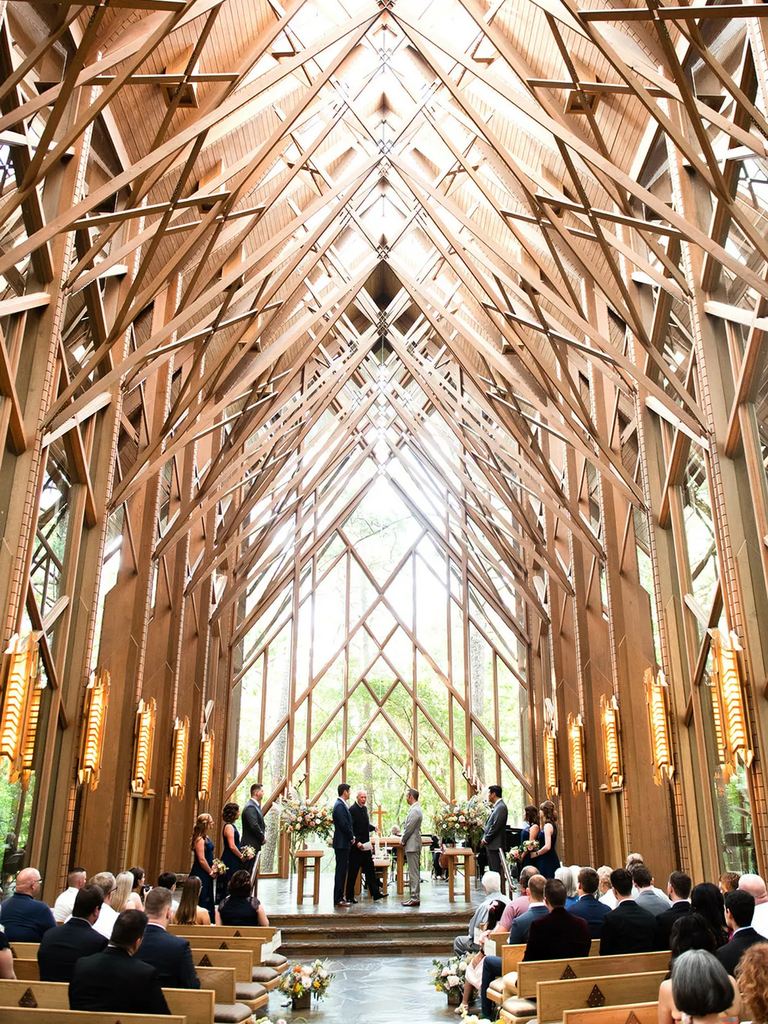 This couple kept their aisle decor to a minimum, selecting just a few small flower arrangements to mark the pathway. Doing this was a wise choice because it ensured the epic wood-and-glass chapel was the focal point, but also softened and enlivened the space.
64. Hydrangea and Greenery Aisle Markers
With church weddings, don't feel pressured to overdo things. This couple placed floral aisle markers at the end of each pew and the decision was simple but effective.
65. Fabric Draping Along Church Aisle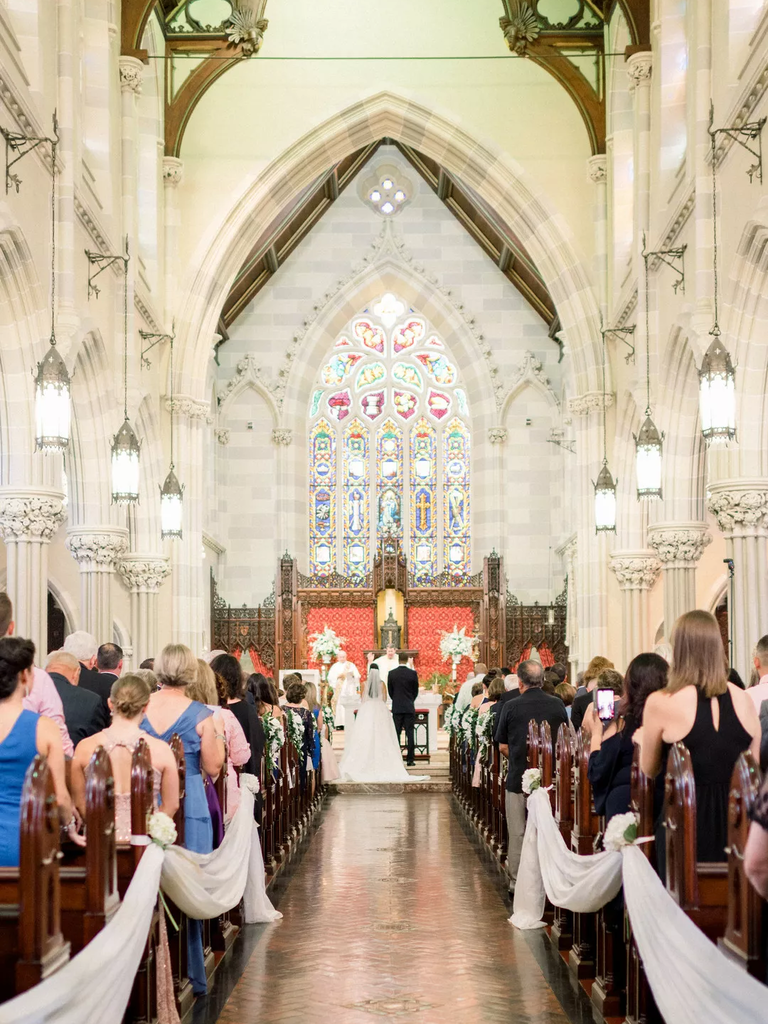 Instead of flowers, this couple used fabric draping to mark their aisle. Since the pews were made of wood, the addition of fabric made the space feel more elegant and romantic.