14 Unique Wedding Aisle Runner Ideas We Guarantee You'll Love
Walk down a stylish aisle.
If you're in the process of figuring out your ceremony look, you've probably reached a point where you need wedding aisle runner ideas. Depending on your wedding venue, you can get as creative as you want. You can have your aisle runner embroidered to say your and your partner's names or have mismatched rugs to match your bohemian theme. Read below and see some of our favorite creative aisle runner ideas, from real weddings.
In this article:
Flower Aisle Runner Ideas
Your blooms don't only have to be bouquets. Use flower petals to decorate the aisle at your wedding ceremony. Check out these beautiful flower aisle runner ideas that'll take your breath away.
1. White Orchid Wedding Aisle Runner
For this wedding walkway idea, the happy couple had white orchids sprinkled onto their wedding walkway for a natural and ethereal look. These flowers perfectly complemented their elegant Hawaiian wedding.
2. Ombré Floral Wedding Aisle Runner
At this outdoor ceremony, loose white and pink rose petals were scattered down the aisle in a striking ombré design. The roses matched the ones on the couple's wedding ceremony arch.
3. White Rose Wedding Aisle Runner
This luxurious wedding featured numerous different lush flowers. The white rose petals on the aisle flowed into the gorgeous chuppah decorated with pink roses and white hydrangeas.
4. White, Yellow and Orange Rose Wedding Aisle Runner
This floral wedding aisle runner was made of bold colors that matched the tones of the aisle chair decorations. The runner's unique scroll design makes the aisle eye-catching.
Outdoor Wedding Aisle Runner Ideas
If you're having an outdoor ceremony, there are many ways you can elevate your aisle. See below how real couples chose to bring their aisle runner ideas to life.
5. Bohemian Rug Wedding Aisle Runners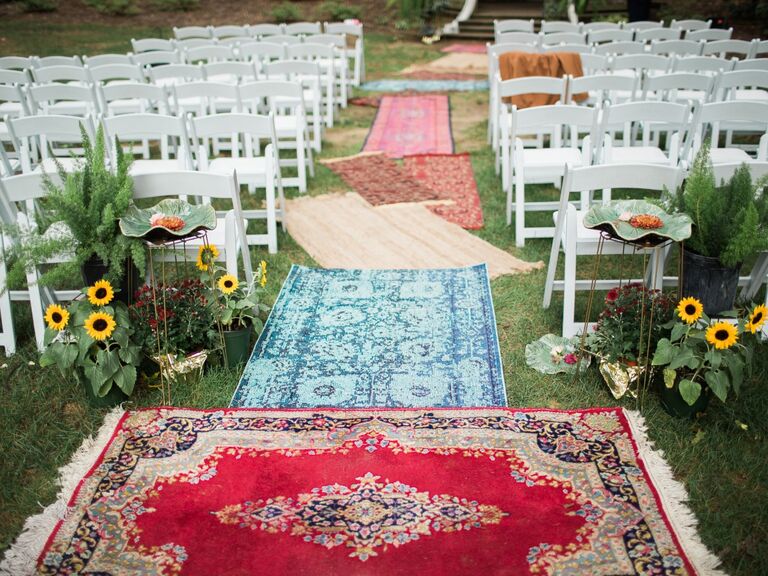 At this boho-chic wedding, the couple wanted colorful wedding aisle rugs that overlapped with one another. This is a great idea for people who want their guests to feel at home during their ceremony.
6. Mulch Wedding Aisle Runner
Unlike the reception, the ceremony was outside the venue overlooking the Colorado mountains. To highlight the wedding's natural vibe, the bride and groom had a simple mulch aisle runner.
7. Wooden Wedding Aisle Runner
Another outdoor wedding aisle runner idea you can use is a wooden walkway. The couple added a white cloth runner on top, but be cautious because if it's not secured properly to the wooden platform below, it can be slippery and cause people to trip.
8. Jute Wedding Aisle Runner
Jute is a long and shiny fiber made from plants spun into coarse threads. At this romantic and rustic wedding, the couple had a braided jute rug as their aisle runner with eucalyptus garlands along both sides.
9. Painted Burlap Wedding Aisle Runner
This burlap personalized aisle runner is one of the many DIY decorations the bride completed for the wedding. The bride painted her favorite Bible verse about marriage and love, Song of Solomon 3:4, on the runner.
Unique Wedding Aisle Runner Ideas
Want your wedding aisle runner to stand out? Then steal one of these cool ideas and add your own special touch for a truly unique wedding aisle decoration.
10. Linen Monogram Wedding Aisle Runner
This aisle runner made of natural linen and embroidered with the couple's wedding logo matched the other monogrammed decorations on their special day. The antlers with interweaving leaves fit with their Western wedding theme.
11. Vibrant Wedding Aisle Runner
Don't hesitate to make your wedding walkway as colorful as the rest of your ceremony. The happy couple had a festive color palette of bright blue, lavender, orange and red on their eccentric runner that complemented the rest of the ceremony decorations.
12. Mirrored Wedding Aisle Runner
If you wish you can see yourself while walking down the aisle, consider having a mirrored walkway. This type of design, which works for indoor or outdoor venues, gives an illusion of openness to the space and reflects the beauty of your ceremony.
13. Custom Floral Wedding Aisle Runner
At this glamorous wedding held in an outdoor courtyard, the bride and groom printed their wedding logo and floral design on their aisle runner. This went perfectly with the pink color scheme and rose backdrop at the altar.
14. Rose Lighting Wedding Aisle Runner
If you want to lower the cost of your wedding flowers, try illuminating your aisle runner with a floral design instead of adorning it with fresh blooms. The bride and groom took their simple white aisle runner to the next level by using lights that reflected romantic rose outlines.