16 Wedding Cupcake Ideas to Complement Your Wedding Cake
Supplement your wedding cake with some extra wedding cupcakes for a special treat
Looking to add even more flavor to your wedding cake? How about adding a bunch of tiny cakes (aka: cupcakes) that you can customize with the flavors and decorations you want? Adding wedding cupcakes to your dessert display is a great way to bring a lot of different flavors together and it's cost effective. If you have a large guest list and want to cut down on the cake cost, swap in some supplementary desserts and take a tier of two off the cake by creating your own cupcake wedding cake. Cupcakes are also an ideal way to meet special dietary needs without much extra effort.
Adding wedding cupcakes into the mix doesn't mean you have to sacrifice the age-old tradition of a wedding cake—you can have both! Customize a small, one-tier cake that can be shared between the newlyweds or opt for a trendy cake that can feed all of your guests and give out the cupcakes as to-go treats. A cupcake wedding cake can allow you to up the style, and the flavor, of your reception. Explore these wedding cupcake ideas to inspire your sweetest dreams.
Cake-Sized Cupcake on Top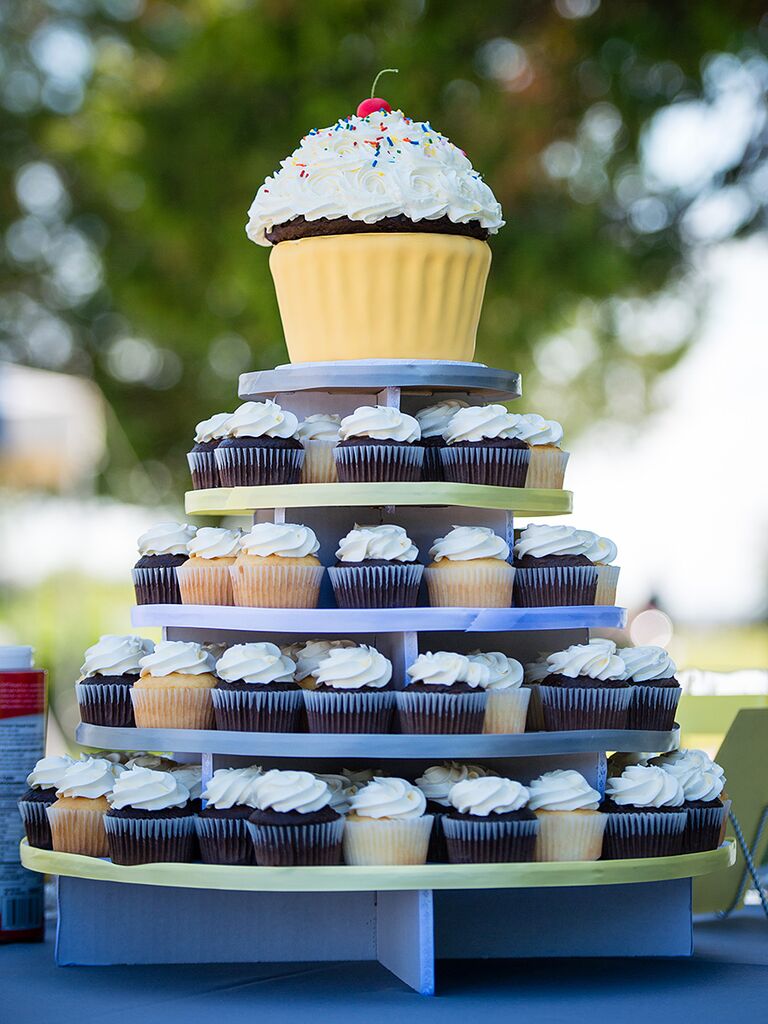 Keep it fun with the ultimate cupcake wedding cake—a giant cupcake perched atop the regular-sized cupcakes for a newlywed cake that'll bring squeals of delight.
Mini Rustic Wedding Cake and Cupcakes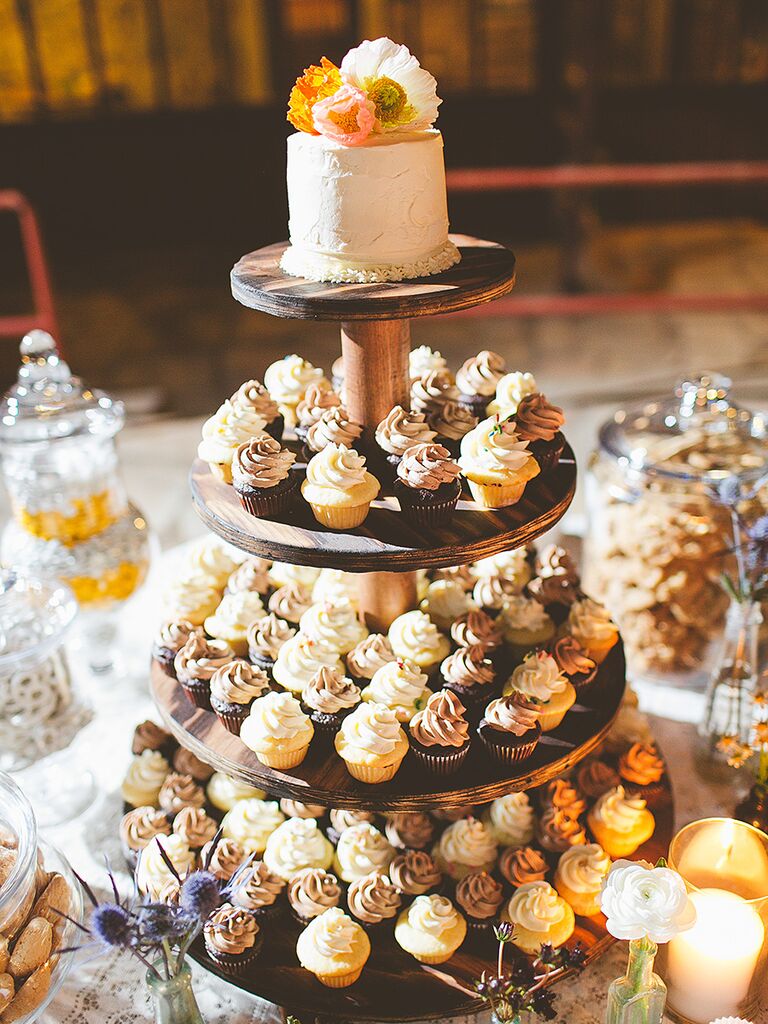 Compliment a small, rustic wedding cake with tiny, unpretentious wedding cupcakes to match in understated colors and displayed on wooden stands.
White Wedding Cake With Vanilla Cupcakes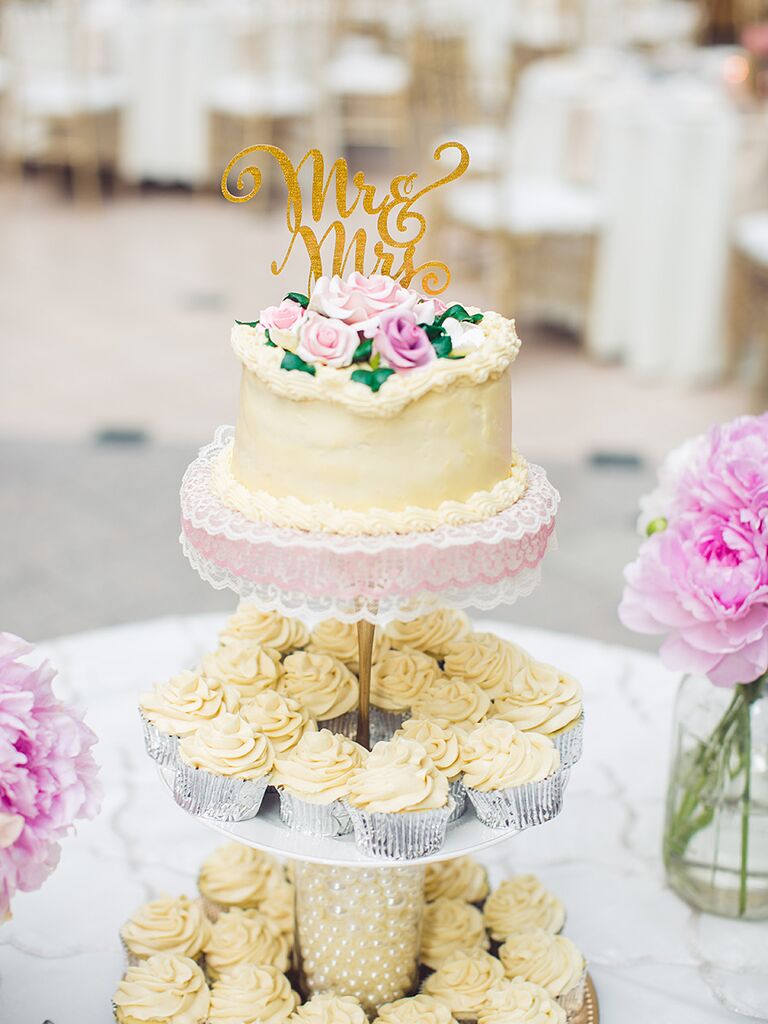 Stay classic and traditional with vanilla wedding cupcakes to match a small, white wedding cake adorned with flowers and pearls.
Wedding Cake Display With Assorted Cupcakes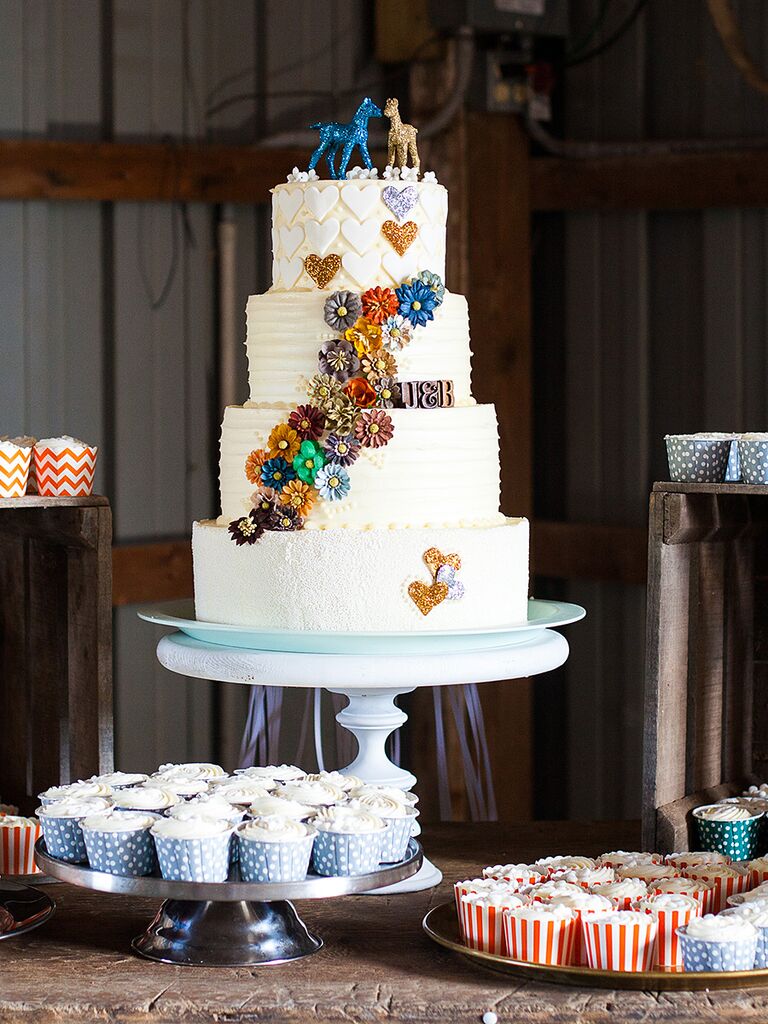 Get crafty and compliment a unique wedding cake display with matching wedding cupcakes with liners and stands that show off your wedding style.
Mini Wedding Cake With Chocolate and Vanilla Cupcakes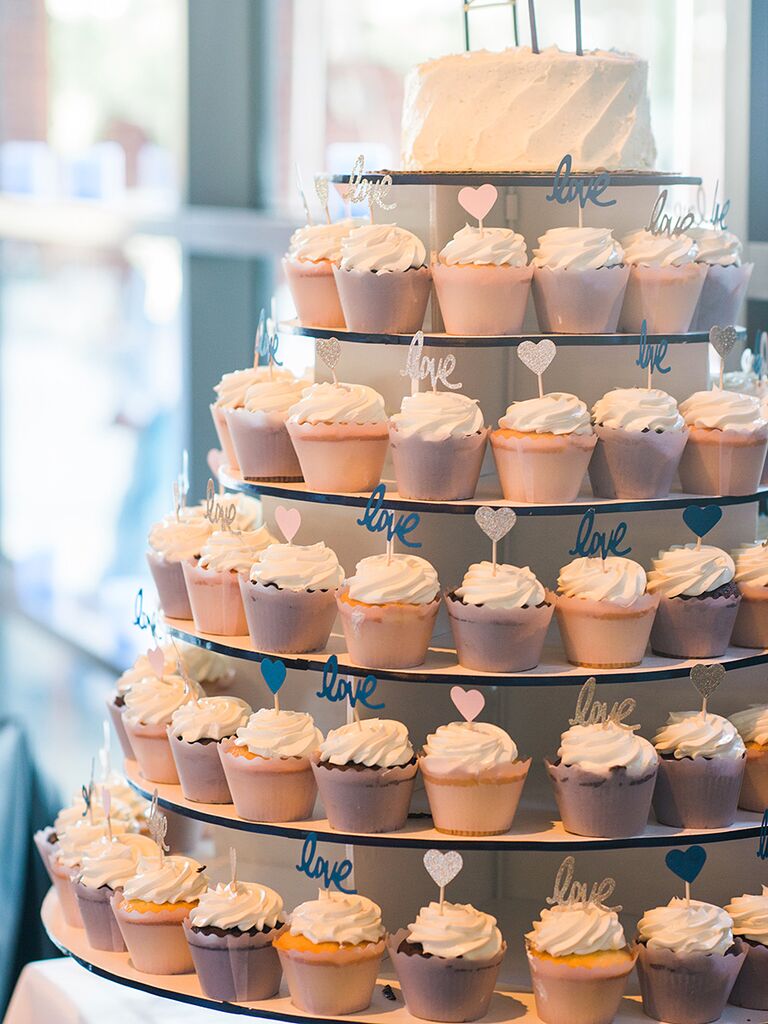 Get the best of both worlds with a cupcake wedding cake made of both chocolate and vanilla cupcakes, topped by a wee cake just for the newlyweds.
Two-Tier Wedding Cake With Assorted Cupcakes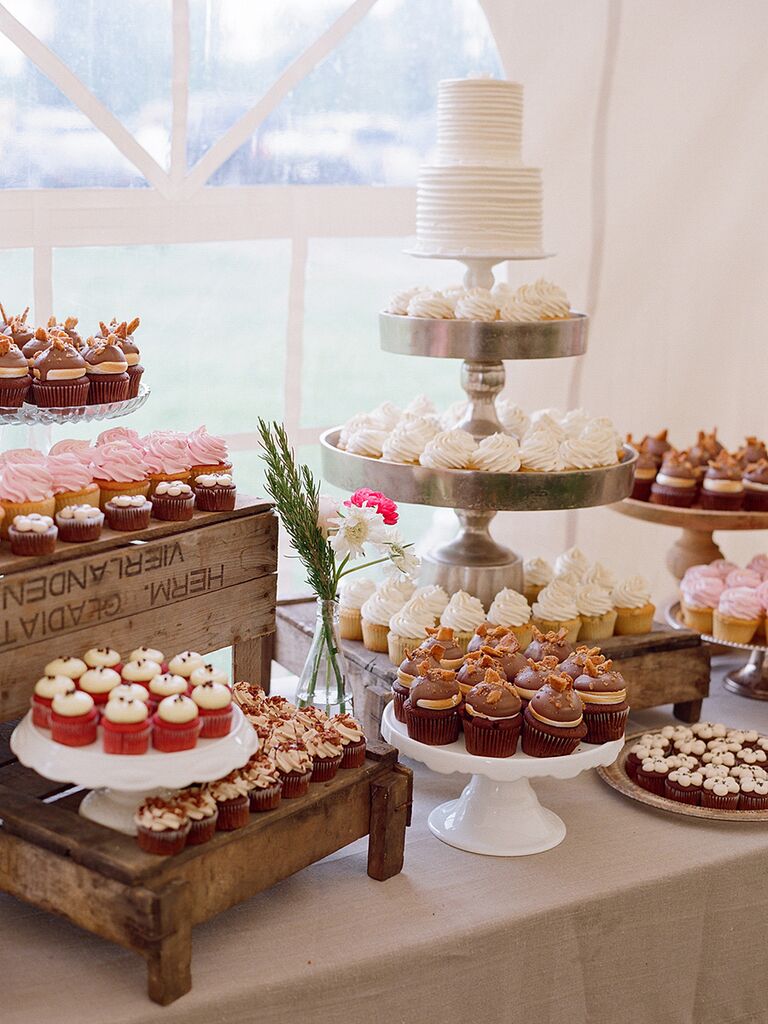 Accessorize a two-tier wedding cake with assorted wedding cupcakes in various flavor combinations to satisfy just about every diet and palate.
Small Wedding Cake With Small, Medium and Large Cupcakes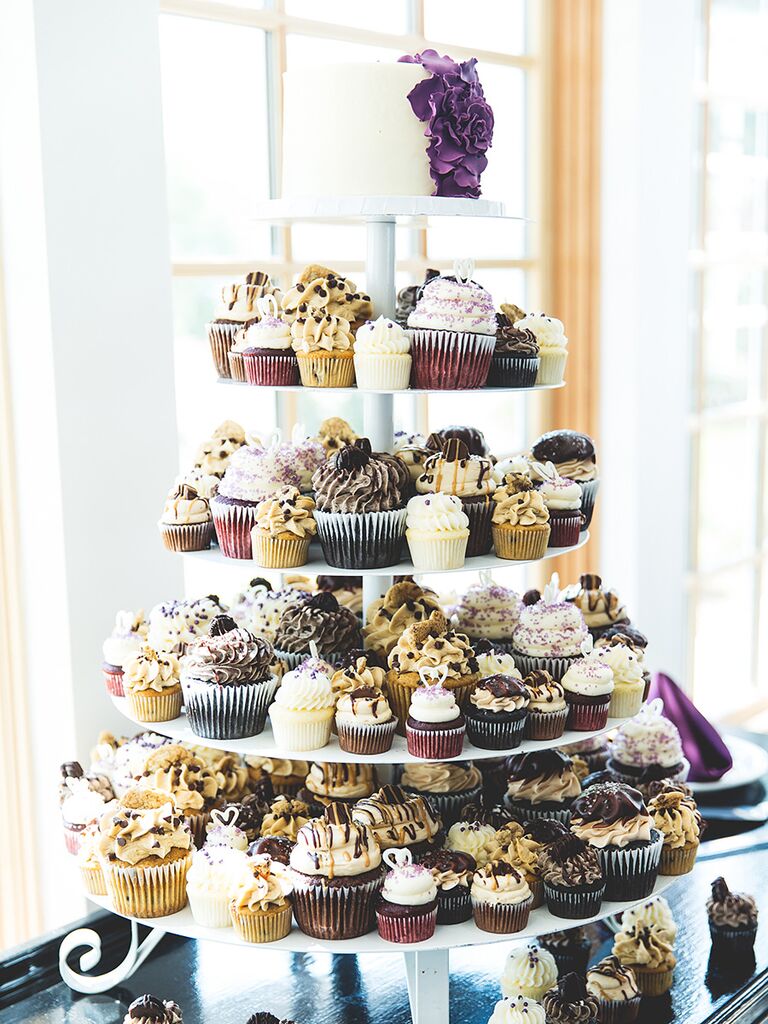 Have too many wedding cupcake ideas? Use them all with an indulgent wedding cupcake display that incorporates a variety of different sizes, flavors and styles.
Red Velvet, Vanilla and Chocolate Cupcakes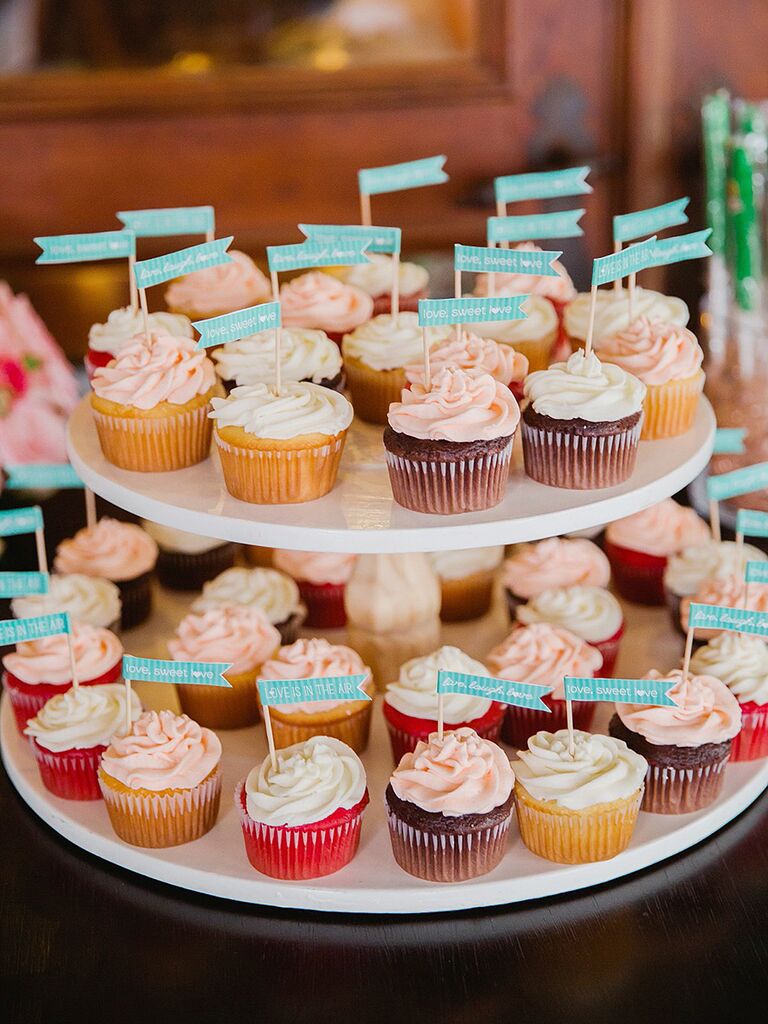 Throw a little color into the mix by balancing classic chocolate and vanilla with vibrant red velvet wedding cupcakes for a winning combination.
Small White Wedding Cake and Cupcakes in Decorative Wrapping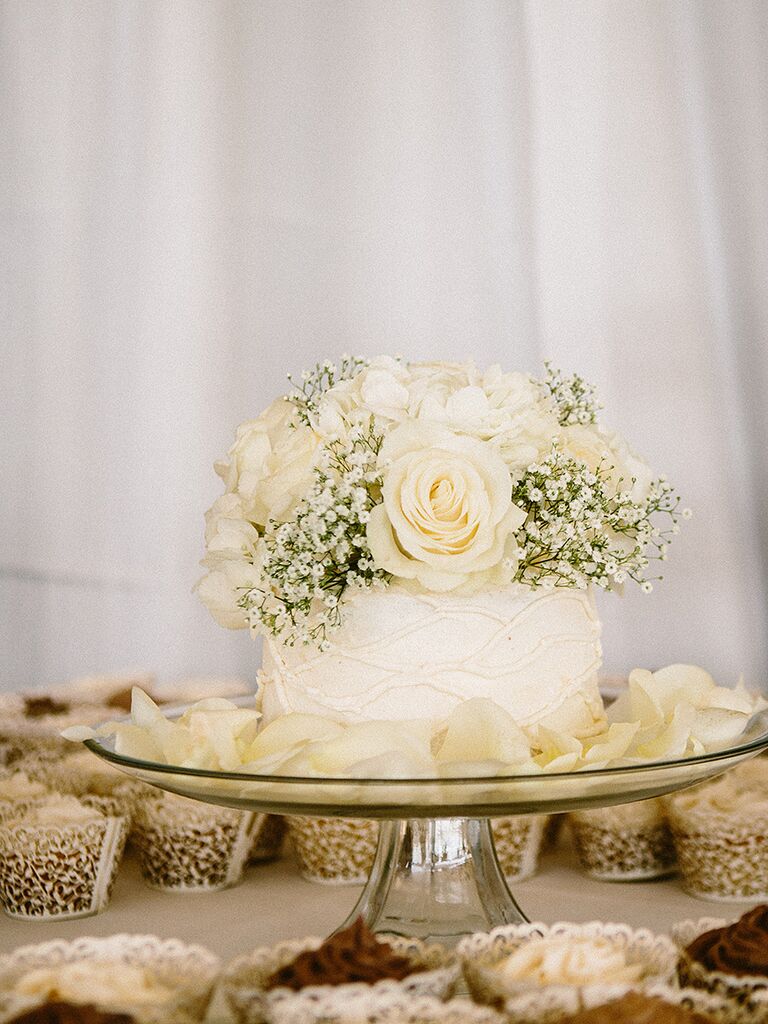 Wedding cupcakes are beautifully elegant and complement a small chic wedding cake in decorative liners that look like lace.
Themed Wedding Cake and Cupcakes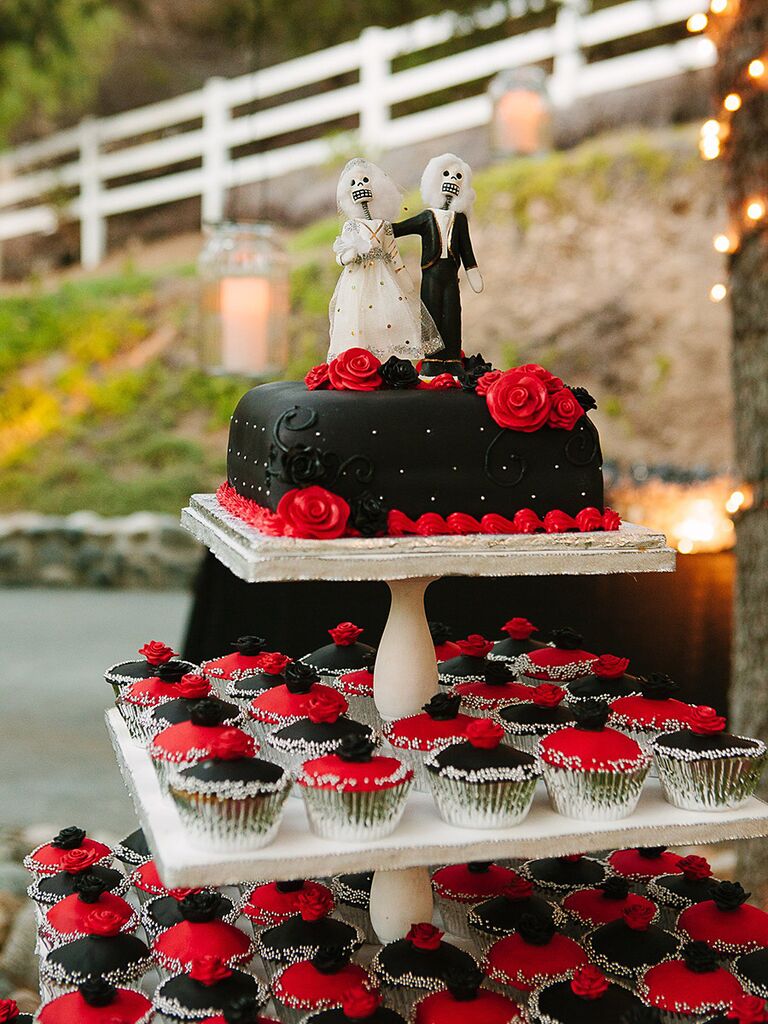 Stay on theme by using a cupcake wedding cake display to help create the right scene with creative colors and imaginative accents.
Small Wedding Cake With Lemon, Chocolate and Red Velvet Cupcakes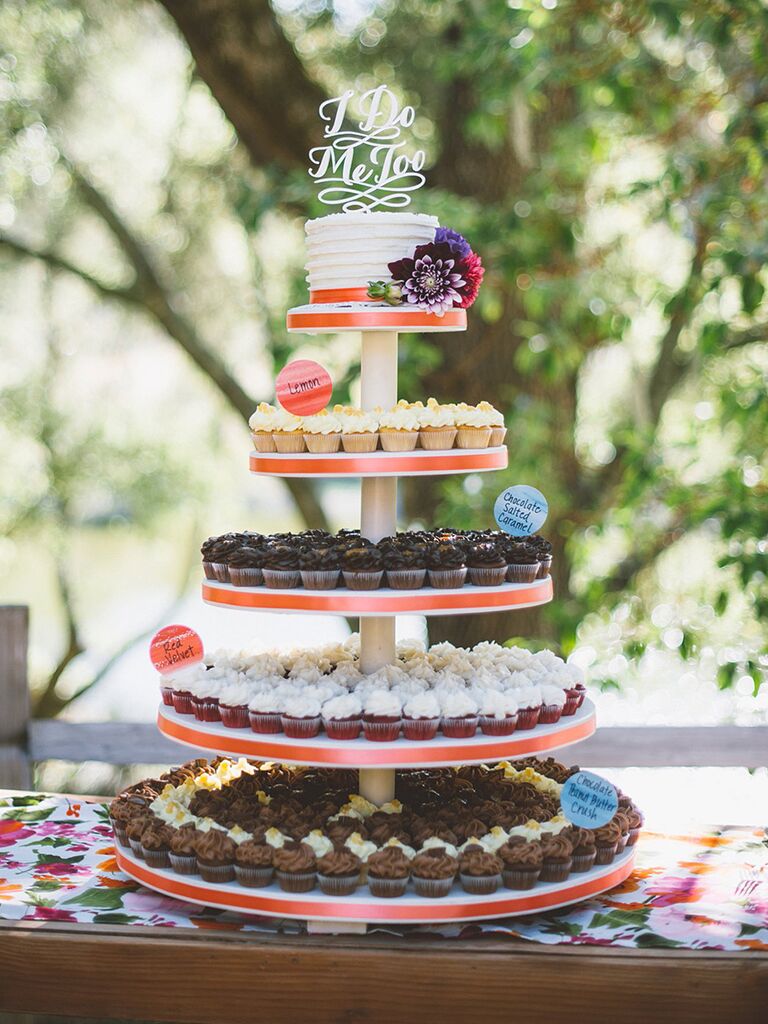 Use each layer of your display to separate and differentiate your flavors, while still incorporating all your wedding cupcake ideas in one eye-catching display.
Square Tiered Cupcake Display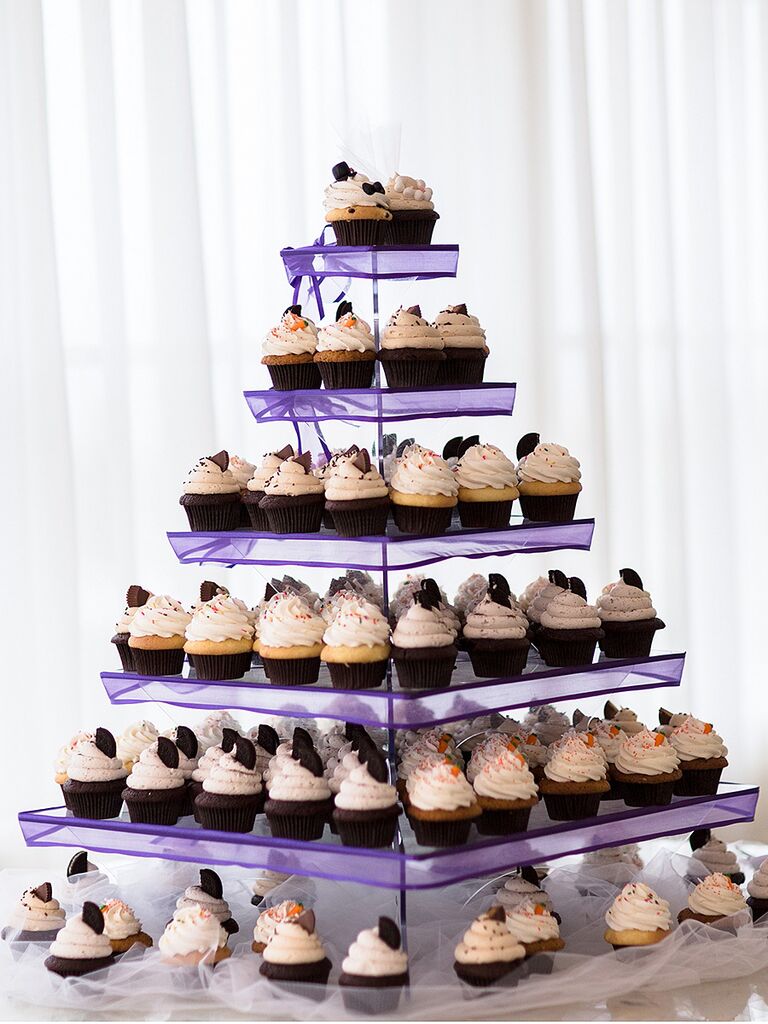 A square display for wedding cupcakes feels clean and modern. It allows you to separate different flavors for your guests.
Super Mario–Themed Piranha Plant Cupcakes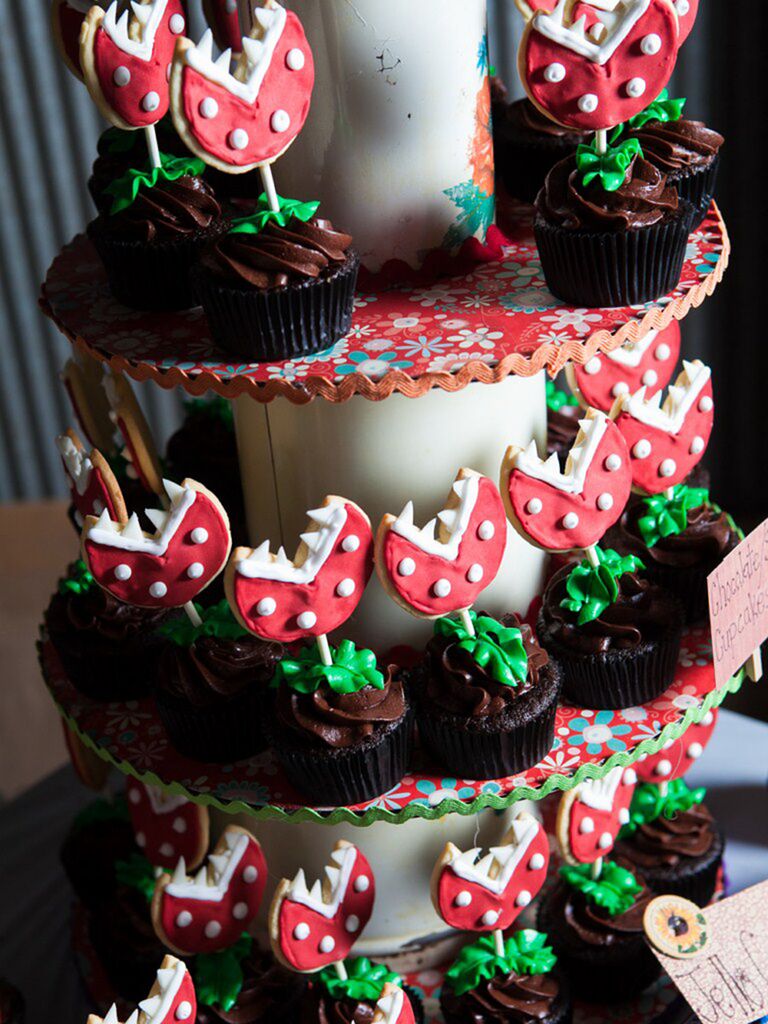 Kid-at-heart couples can show their passion for fun and games with themed wedding cupcakes that make everyone smile.
Cupcakes With Festive Toppers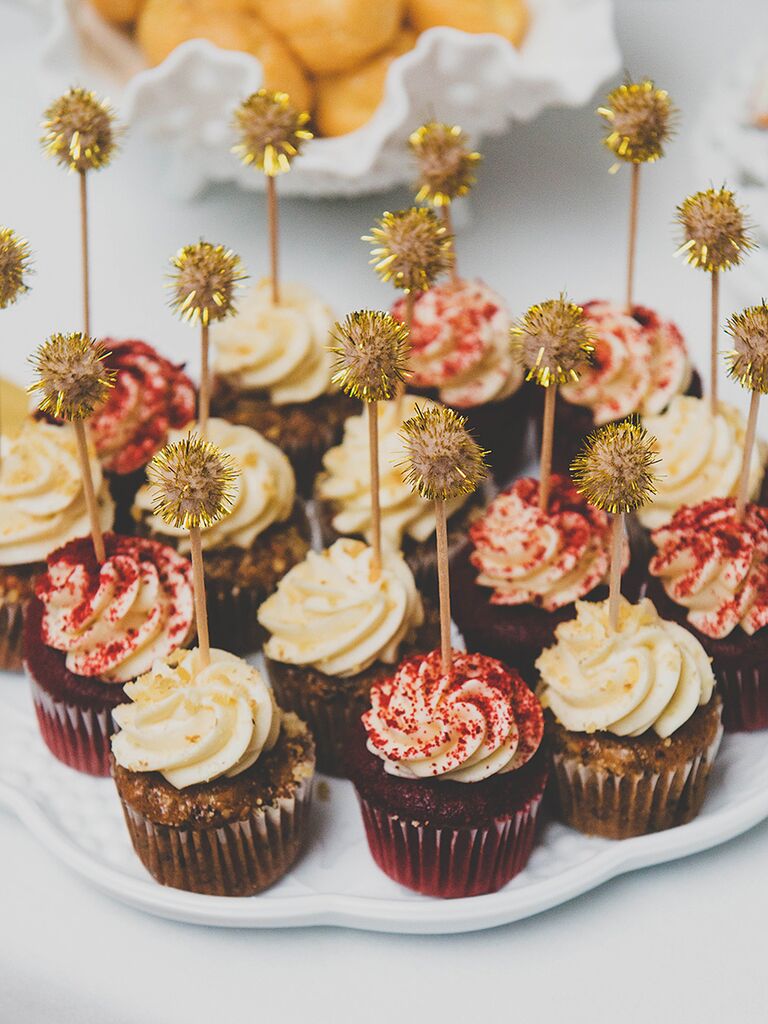 Keep the wedding cupcake design simple and clean and use festive custom cupcake toppers to show off your style and whimsy.
Cake Pops and Gourmet Cupcakes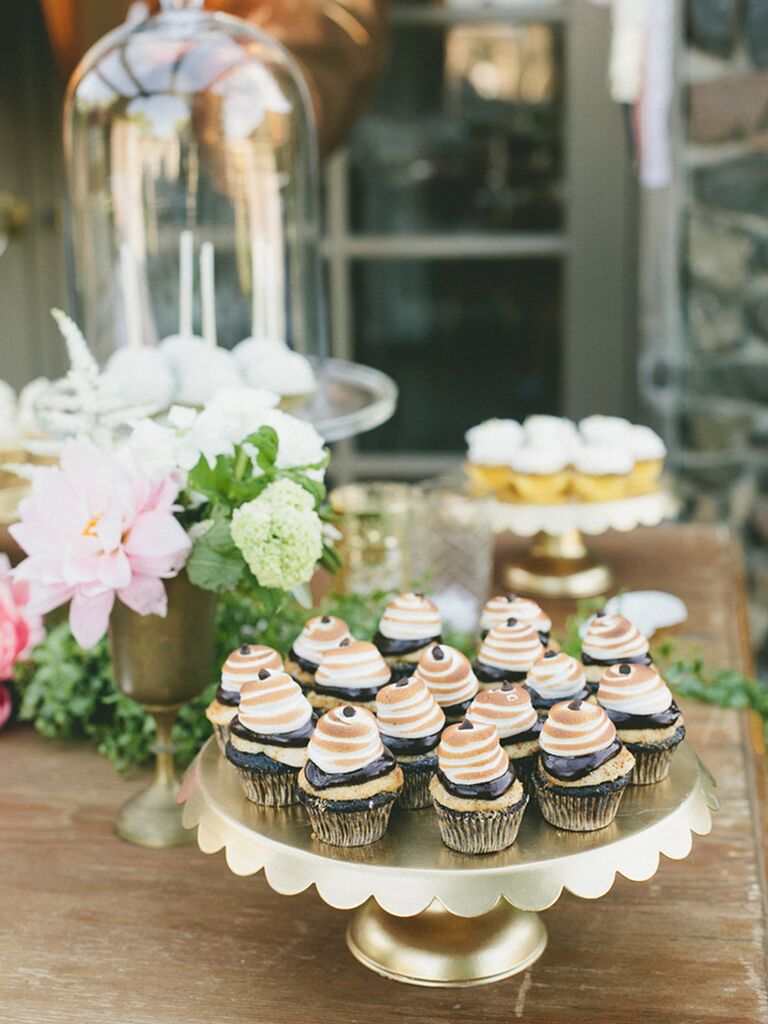 Offer guests unique gourmet wedding cupcakes during the reception, and hand out matching cake pops to snack on later as the night goes on.
Wedding Cake and Special Bride and Groom Cupcakes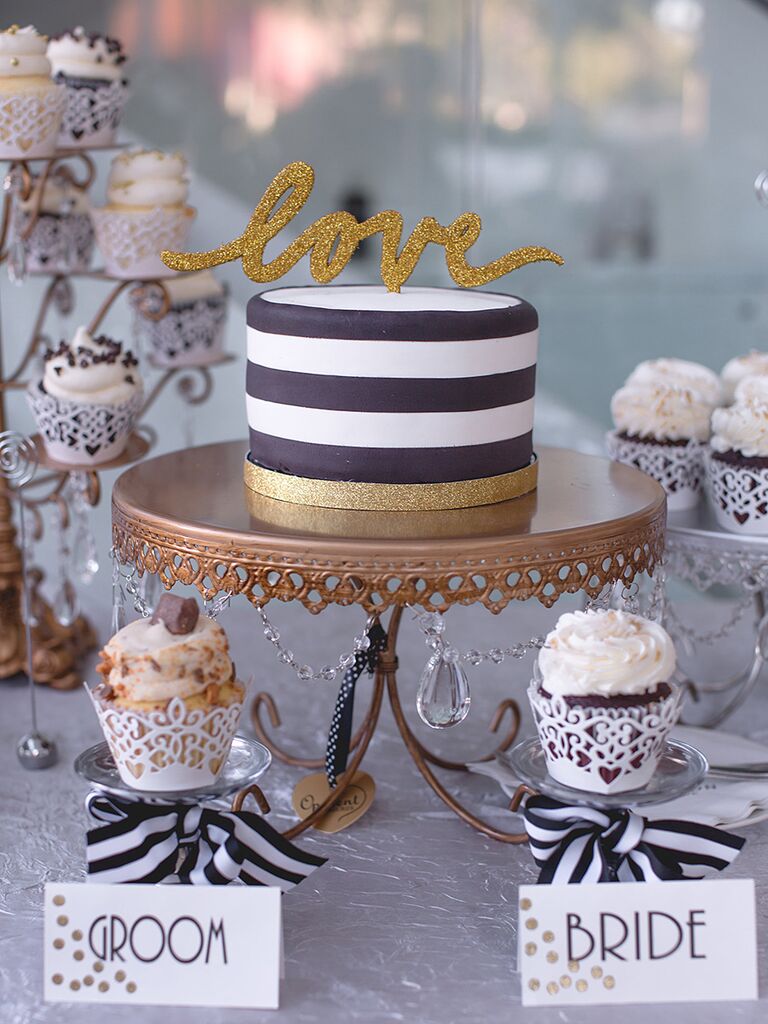 Choose wedding cupcakes to match each of your personalities—pick one flavor each to complement both members of the wedding couple and fit different tastes.
No matter which wedding cupcake ideas you decide to use, have fun with it! Cupcakes are made to be individual, so make sure they represent your individual style. Get creative with the flavors, the decoration and the display so that your cupcake wedding cake truly reflects who you are as a couple.