8 Wedding Ceremony Rules You're Allowed to Break
Hit refresh on these old-school traditions for a ceremony that's one of a kind.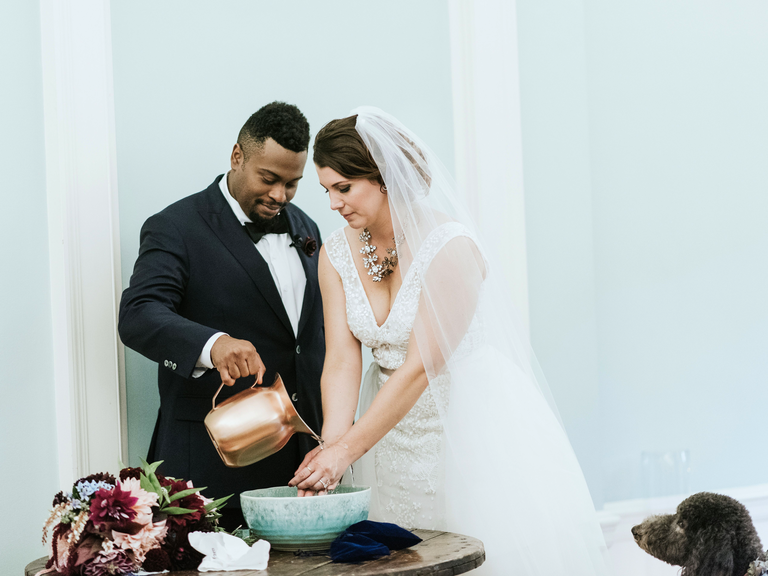 M2 PHOTOGRAPHY
Unless you're adhering to specific cultural or religious ceremony customs, most wedding ceremony traditions aren't set in stone (even though it might seem that way). Translation: Don't be afraid to shake things up. Times are changing and weddings are becoming as personal as possible—if redefining time-honored traditions is your MO, that's exactly what you should do. Here are a few conventional ceremony "rules" you should feel free to break—and make your own.
1. Cocktail Hour Has to Come After the Ceremony
You and your guests will love this one. Who says you can only say "cheers" after saying "I do"? Start the festivities off right with a preceremony cocktail hour complete with passed refreshments or a drink station (mocktails or cocktails—your choice) for guests to mingle and help themselves before the ceremony. Bonus: This setup gives any stragglers (we all have those tardy friends) a little wiggle room to join the rest of your guests before heading to their seats.
2. Unity Ceremonies Come in One Form
There's something eternally beautiful about traditional unity ceremonies, like a Celtic handfasting or the classic candle lighting—but you shouldn't feel tied down by tradition. Choose a unity ceremony that represents you as a couple on the deepest level. Some couples take a lighthearted, boozy route: Shotgun beers together, box up a special bottle of wine or spirits (to be enjoyed on an anniversary), or blend red and white wines to make unity rosé. You could also pour out unity sand, plant a tree together, seal away love letters, paint a canvas or perform a hand-washing ritual—whatever feels right to you.
3. The Bride Has to Walk Down the Aisle With Her Father
You've seen the customary processional order for as long as you can remember, but if this common entrance structure doesn't resonate with you, mix it up. Families and friendship circles come in all shapes and sizes, after all. You could absolutely walk down the aisle together or one after the other. You can also process alongside both parents, your mom, a grandparent (or another beloved relative), a furry friend, a best friend or your kids from a previous marriage.
4. You Can Only Play Classical, Formal Music
Yes, you can walk down (or up) the aisle to Beyoncé. Who are we to stop you from incorporating nontraditional ceremony music? Don't feel obligated to stick to the "Bridal Chorus" or other classical or ceremonial instrumentals—especially for a secular ceremony when the sky's the limit. Hire a live jazz or hip-hop band to play upbeat tunes you know will bring the right atmosphere to your ceremony.
5. Kids Are Required to Be Flower Girls and Ring Bearers
Okay, we're calling it—flower grandmas are the wedding attendants of the future. If they're up for it, ask a VIP in your life to spread the love as they process down the aisle, rather than the traditional young flower girls and ring bearers. Have your grandfather or even your pup carry the rings, have a hilarious friend toss leaves or let your little ones blow bubbles instead of leaving a trail of petals.
6. Everyone Needs to Be Super Buttoned Up
If suits and ball gowns aren't your thing, skip them. Unless your wedding day wardrobe is dictated by your venue or cultural traditions, you have free reign to set the mood however you'd like. Own your style and let it shine through ceremony attire that feels uniquely "you."
7. Vows Must Be Formal and Scripted
You definitely don't need to recite scripted vows if you're not into them. Write your own words—straight from the heart. Get as personal, poetic, funny or sentimental as your creativity allows.
8. Your Officiant Can't Be a Novice
If you're not having a religious ceremony and aren't sold on hiring a pro, why not ask a trusted loved one to do the honors as your officiant? It's way easier (and more affordable) than you think to get ordained, and having someone who knows you make your union official will be indescribably special.
​For more nontraditional wedding ideas, check out some creative alternatives to walking down the aisle​.