Kick Up Your Cocktail Hour With These Amazing Lounge Ideas
by Libby MacCarthy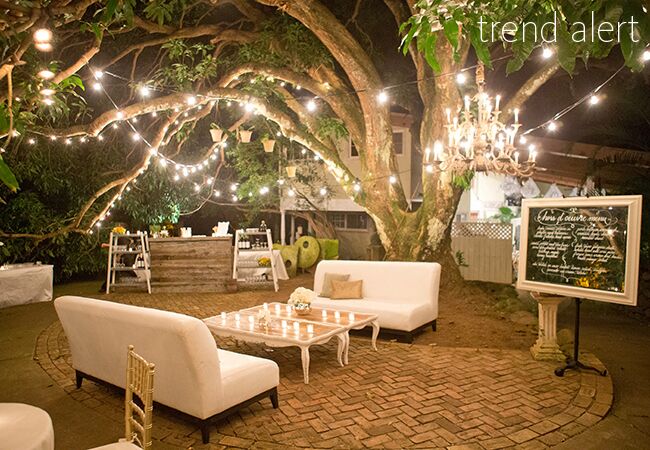 Cocktail hour is an extension of your reception, so why not give it just as much love as the rest of the day's festivities? In addition to a totally inspired menu, give your cocktail hour that extra something by creating a totally stylish, but incredibly comfortable environment. Traditional cocktail or bistro style tables are great for giving guests a place to put down their drinks so they can snag one of those amazing passed apps, but why not create a series of vignettes that invite guests to kick back and relax? Elegant lounge furniture (think: a classic Edison style chaise or a set of ornate wingback chairs) is the perfect match for a sophisticated affair, while a rustic, outdoor or laidback summer wedding calls for Adirondack chairs arranged around a roaring fire pit. Get inspired by some of our favorite ideas below!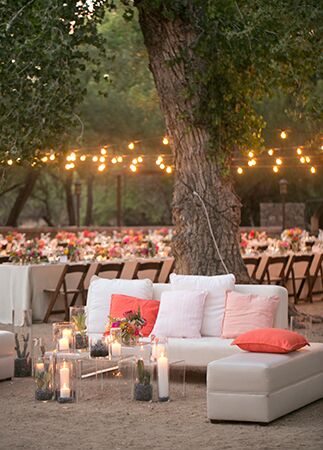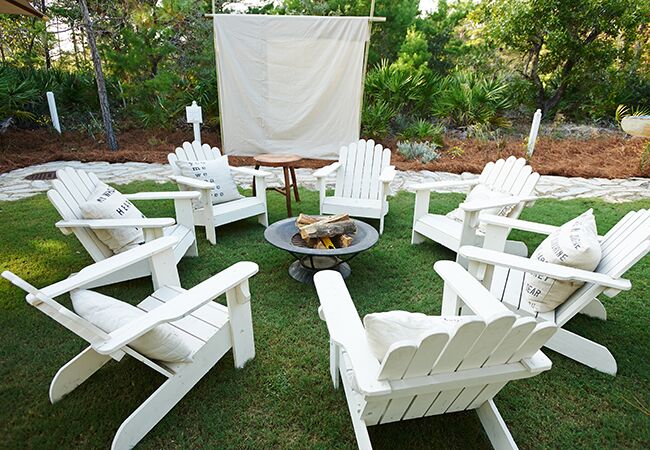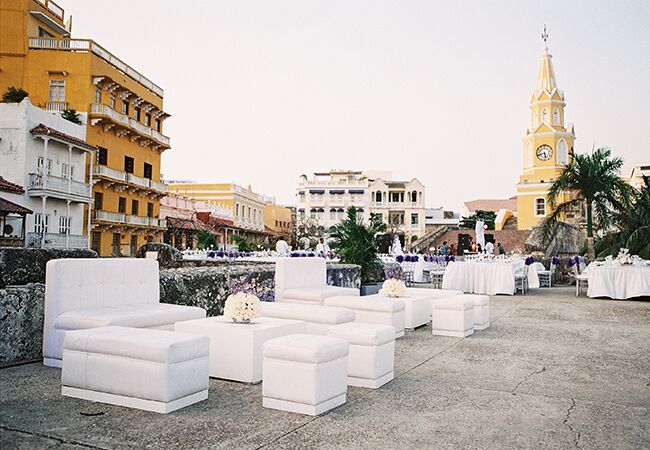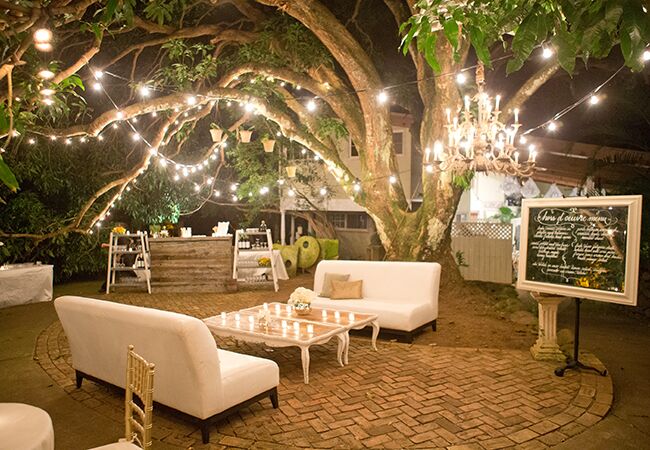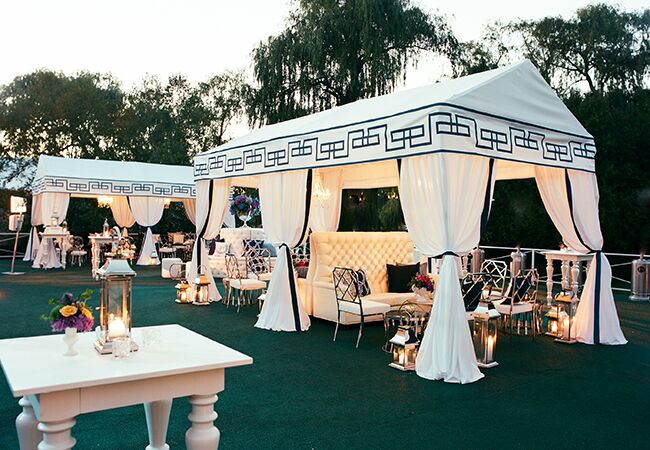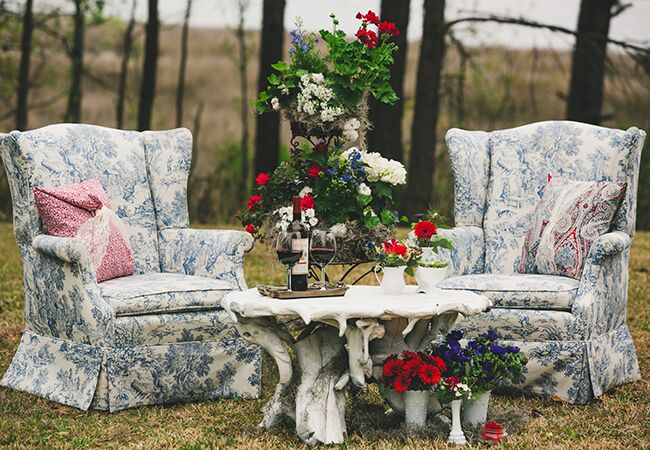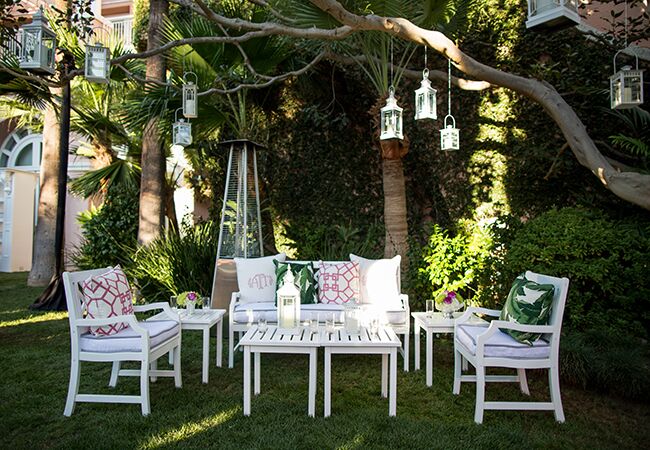 1. Classic Meets Industrial Chic
Give your lounge a contemporary vibe by mixing classic pieces like tufted love seats, chaise lounges and ottomans in neutral colors with raw, modern details with a slightly industrial edge.
Photo: Ashleigh Taylor Photography, From the album: A Sophisticated Outdoor Wedding at Villa Sevillano in Carpinteria, California
2. Desert Oasis
Neutral fabrics and local flora like succulents and cacti tie in perfectly with the arid landscape, while bright pops of color and clear glass or acrylic tables add a fresh, modern touch.
Photo: Mel & Co., From the album: A Romantic Desert Wedding in Tucson, AZ
3. Unexpected Lighting
Adding unique lighting, like these geometric orbs hung from lush greenery, will instantly elevate your lounge.
Photo: Braedon Photography, From the album: An Elegant Barn Wedding at Dos Pueblos Ranch in Goleta, California
4. & 5. Cozy Campfires
Kick off the evening's festivities by gathering guests around a brightly lit fire. Choose Adirondack chairs with monogrammed pillows for a hint of preppy, nautical flair, or opt for a mix of distressed wooden benches and chairs for a more rustic vibe.
Photo: Paul Johnson Photography, From the album: An Alys Beach Wedding in Alys Beach, Florida; Photo: Erin Jean Photography, From the album: An Antique Barn Wedding in Hillsdale, WI
6. Minimalist Modern
If your venue boasts an impressive backdrop or spectacular views, keep the decor simple and opt for a simple palette of white and minimalist design.
Photo: Braedon Photography, From the album: A Modern Destination Wedding at Torre Reloj in Cartagena, Colombia
7. Natural Elements
Play up the setting by making the most of natural features. Strategically placing the lounge under a tree's canopy makes the space feel intimate, while bistro lighting adds a romantic touch.
Photo: Aaron Delesie, From the album: An Elegant Island Wedding in Maui, HI
8. Cabanas
Earn your cocktail hour major style points by creating intimate vignettes with beautifully decorated cabanas.
Photo: Liz Banfield Photography from the album An Organic Countryside Wedding at a Private Residence in Barrington Hills, Illinois
9. & 10. Punchy Prints
Personalize your lounge with a print or pattern that speaks to the day's theme or color scheme. Go all out or choose a couple colorful pillows to brighten things up.
Photo: Jeanne Mitchum Photography, From the album: A Rustic Americana Style Wedding at Storm Pointe in Goose Creek, South Carolina; Photo: Samuel Lippke Studios, From the album: A Beverly Hills Hotel Wedding in Beverly Hills, California
Want more? Right here!
> 3 Super Stylish Reception Tent Alternatives
> Is It Rude to Have Your Wedding on a Holiday?
> Pantone Color of the Year 2015 Is Marsala: See 12 Ways to Use as a Wedding Color