44 Wedding Colors & Palettes for Every Theme You Can Imagine
The hard part is choosing just one.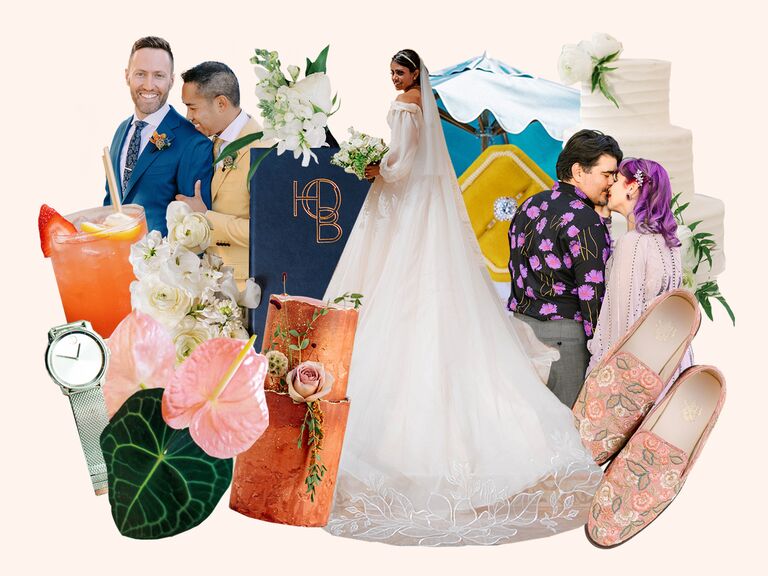 Photo: Terri Baskin Photography, Ashley Goodwin Photography, Porterhouse LA, Connie & Stewart Photography, Emily Loeppke,Photo: Ryan Greenleaf Photography, Anna Zajac, Kyle John Photography, Ether & Smith, Ivy Weddings,Design: Tiana Crispino
Your wedding colors will be some of the most defining features of your big day. It might sound like an exaggeration, but when you think about it, your wedding color scheme subtly ties together all of the decorative details, from the invitation suite and flower arrangements to the attire, table decor and even the wedding cake. Choosing a specific wedding color palette (or staying within a general color family) will help you create a design that feels visually cohesive and flows from start to finish. The best way to figure out what you like is by perusing inspiration—something we just so happen to have a ton of. We've narrowed it down to 44 wedding theme colors for every style, from timeless options to unexpected pairings that will give your event an artistic edge.
Color palettes in this article:
Rustic | Unique | Boho | Elegant | Classic | Modern | Seasonal
Rustic Wedding Colors
Build your rustic theme around these charming country wedding colors, from neutral browns to summery yellows and blues.
Peach and Lavender
Try this playful duo for a rustic summer wedding. Bring the colors into your decor through natural elements, like actual peaches and fresh lavender centerpieces, that echo the farm-to-table vibe.
Brown Tones
Believe it or not, shades of brown can look amazing as your wedding colors (yes, really!). If you dream of an earthy, laid-back rustic wedding, lean into a color palette with shades of ivory, cream and chocolate for a cozy and homey look. Incorporate cowhide or other animal prints for a farmhouse-inspired style.
Wildflower Colors
Take inspiration from wildflower fields by adding brights, like orange, blue, red and yellow, to your rustic wedding colors. Offset the busy range of hues by sticking to white or neutral tones for the majority of your other decor details, including table linens, vases and plates.
Burgundy and Rust
These rich wedding colors are great picks for a rustic fall wedding. Burgundy and rust will easily coordinate with other seasonal fall decor, like hay bales, pumpkins and pampas grass.
Lilac and Green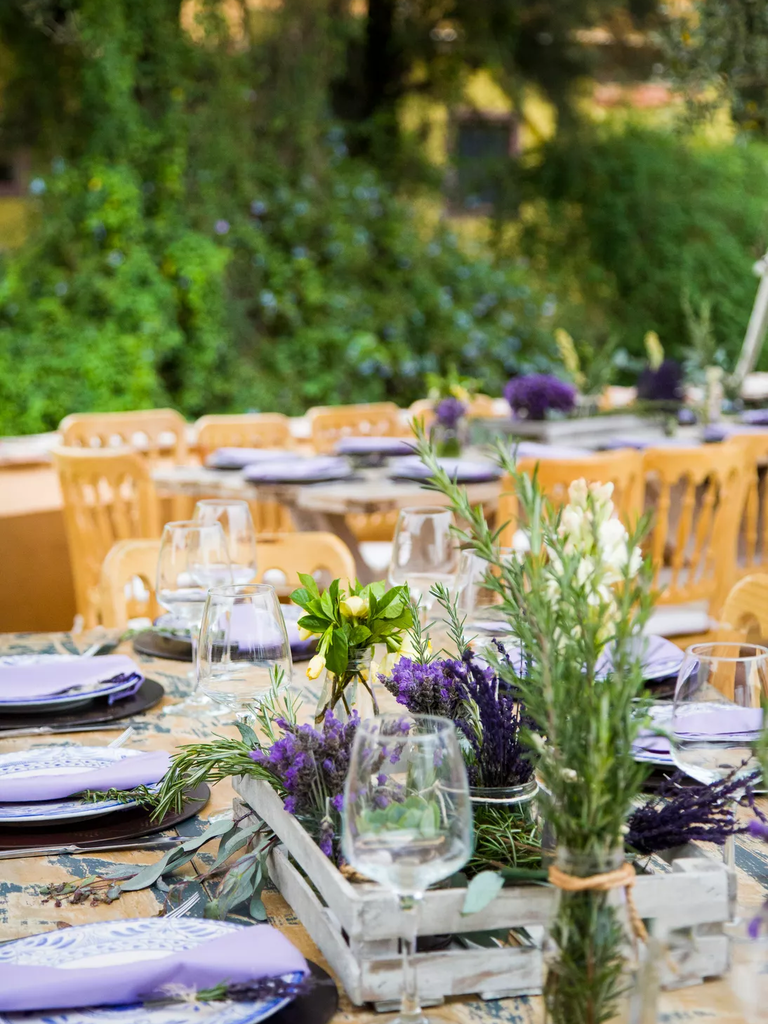 Decorate tables at a rustic vineyard wedding with purple flowers and greenery. For this color palette, you could even incorporate purple fruits—think bunches of grapes, sliced figs or freshly picked plums to echo the pastoral theme.
Blue, White and Yellow
Love sunflowers? This rustic color palette will instantly bring all the cheerful energy to your wedding day. Complete the look with mismatched vintage vases and bare wooden tables for added charm.
Unique Wedding Colors
Don't want a wedding that looks like all the rest? These unique wedding color schemes are your first step.
Citrus-Inspired Colors
From fruit-filled centerpieces to lemon-themed bridal showers, citrus fruits are having a moment—one that we're totally here for. Jump on the bandwagon with a fun wedding color palette inspired by grapefruits, lemons, oranges and melons.
Gold, Turquoise and White
A little bit boho and a little bit modern, this unique wedding color idea is sure to stand out. Finish it with whimsical details, like this reception backdrop made from turquoise and metallic gold streamers.
Violet and Tangerine
Orange and purple are both secondary colors on the color wheel (in other words, they're created when two primary colors are combined). They also share red as a common primary color, which means that they're natural matches for each other and make an unexpected pairing for your wedding color palette.
Blush and Mustard Yellow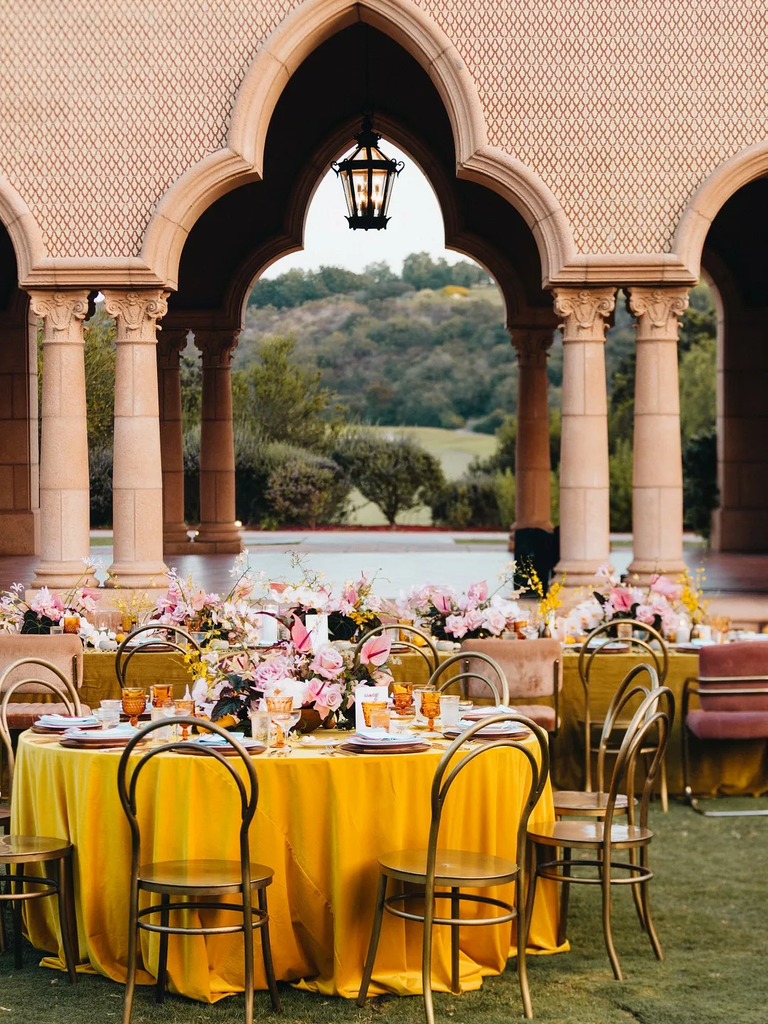 When paired together, yellow and blush can fit a romantic gathering or bohemian wedding—it all comes down to execution. Crisp shades of pink, yellow and white will feel bright and summery, while darker, muted shades of daffodil, mustard and salmon will create a palette that's fit for a trendy desert vibe.
Rainbow Colors
Can't limit yourself to two or three wedding colors? Don't sweat—just include them all! A rainbow color palette can be tastefully executed, especially if you're going for a maximalist wedding theme. Consider splurging on a colorful hanging installation or arch to serve as a statement "wow-factor" piece.
Ombré Palette
If you're really only feeling one color, choose an ombré wedding color scheme. Going with a gradient palette will make your wedding decor look uniform and perfectly planned out, and the best part is that this type of color palette is easy to tailor to any season.
Find your kind of venue
From barns to ballrooms, discover reception venues that feel like you.
Neon Pink, Lime Green and Blue
Embrace your playful side with a whimsical hot pink and electric blue color palette with pops of lime green. Balance out the trio of captivating hues with neutral wedding colors like white or beige.
Moss Green and Coral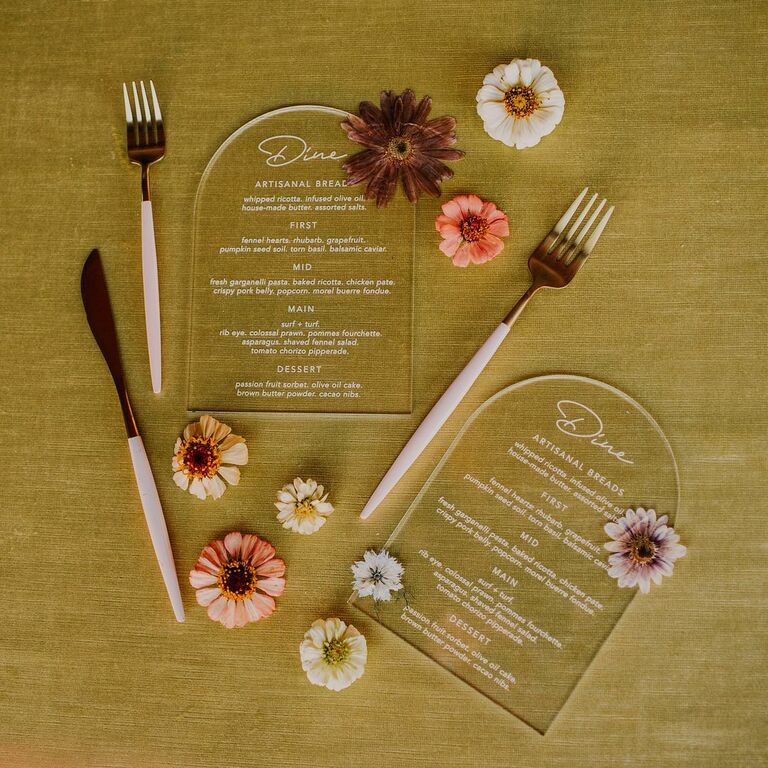 This quirky wedding color idea is a unique pick for a late summer or early fall wedding. Add details like velvet fabric, Midcentury modern-style flatware and trendy acrylic wedding invitations to achieve the grandmillennial aesthetic that complements these hues.
Boho Wedding Colors
Draw inspiration from landscapes and Mother Nature with these laid-back boho wedding color ideas.
Mauve and Olive
Turn the classic pink and green combo into a boho palette by using muted versions of the colors instead. A mauve tuxedo breaks the mold and makes a statement, especially when you add an unexpected bow tie or colorful green pocket square.
Soft Neutrals
With neutral wedding colors, it's extra-important to lean into textured elements like pampas grass or macramé textiles. For some added dimension, consider including greenery garlands, dried palm leaves or a custom neon sign similar to this display.
Light and Dark Green
Use different shades of green as the base colors for a boho beach wedding. Rely on natural elements to play up your color palette, like oversized monstera leaves, eye-catching green anthuriums or a flower crown made from greenery vines.
Orange, Fuchsia and Teal
Orange and fuchsia? You can make it happen. If going bold is totally your style, combining two strong colors will show off your affinity for the unexpected. Double-down on the bright wedding colors by adding hints of teal or turquoise.
Blush, Emerald and White
Since emerald is the boldest color of the three, let it stand out as your base shade. Adding in light blush and white accents will enhance the gem tone, allowing it to really shine. You can bring in more deep green shades through greenery, geode accents, green lettering or even glassware.
Dusty Blue and Gold
It's hard to go wrong with tried-and-true wedding colors like blue and gold. Use dusty blue and darker blues as your main wedding colors, and allow metallic gold to serve as an accent shade. Finish with details that are undeniably boho, like fringe trim and blue tie-dye fabrics.
Marigold and Ruby
If you usually gravitate toward warmer colors, an orange and red color scheme will create a happy and inviting atmosphere for your wedding day. Use light and dark variations of each color to bring depth and interest to the palette.
Elegant Wedding Colors
Ideal for black-tie themes and formal events, these elegant wedding colors will help you design a vibe that's luxurious and sophisticated.
Navy Blue and White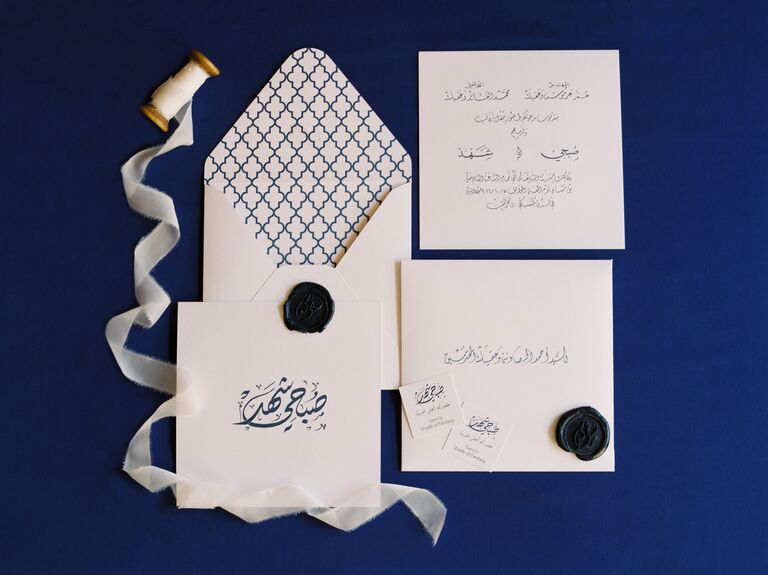 It doesn't matter when or where you're getting married—navy blue and white is always an elegant wedding color scheme. Depending on your final vision, you can leave this duo as-is or add a third accent color, like silver, green or blush.
Amber Gold and Salmon
Here's an unexpected wedding color scheme that's also super elegant. Pair amber and salmon tones with gilded details, like gold-rimmed water goblets, candlesticks and flatware for an opulent effect.
Baby Pink and Light Blue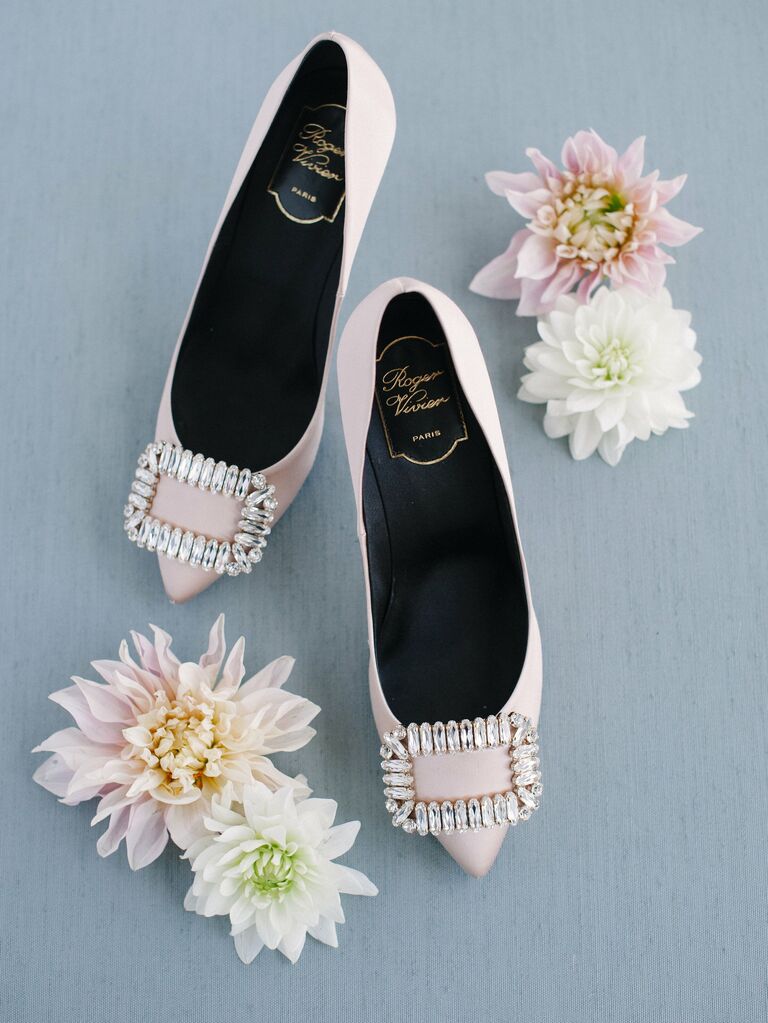 These pastel wedding colors never fail to disappoint. We love that the pairing is romantic and sophisticated, but to prevent the palette from coming across as too soft, you can consider adding one darker accent hue, like navy blue or deep mauve.
Emerald and Black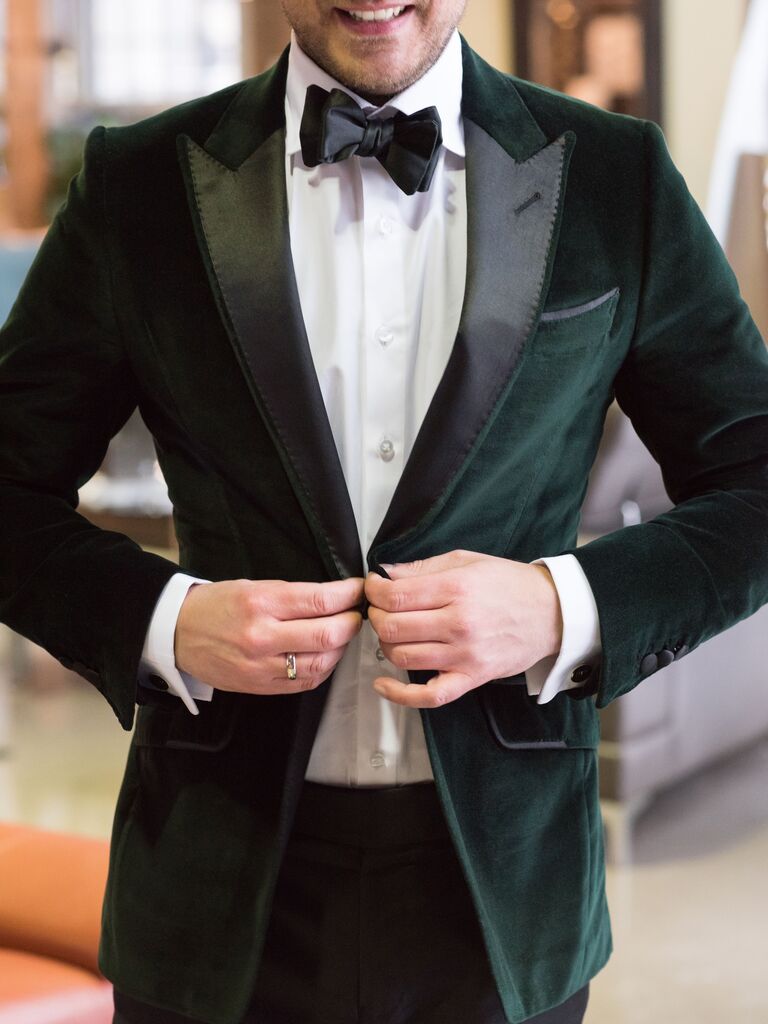 Whoever said that a drama-free wedding day is the goal obviously wasn't talking about wedding colors. An alluring combination of emerald green and black will bring all the moody vibes to your decor—this duo is a perfect choice for a formal wedding theme in fall or winter.
Gray and Bronze
Soft gray hues are a chic alternative to traditional white or black. When paired with bronze or brass elements and fresh greenery, you'll achieve a subtle, rustic elegant look.
Green and Ivory
Nature lovers, this soothing wedding color scheme is for you. Green and ivory will bring a breath of fresh air to your nuptials, whether you're hosting a garden fête or a ballroom reception. Since these wedding colors are fairly simple, we recommend paying extra attention to the little details, like your linens, stationery and tabletop items, so that everything looks intentionally planned.
Indigo and Eggplant
Perfect for the fall and winter months, gemstone-inspired colors will make your wedding feel royally elegant. Since jewel tones are naturally darker wedding colors, allow a third, lighter shade (like cream or metallic gold) to liven up the palette.
Classic Wedding Colors
With classic hues like blush, ivory and blue, these timeless wedding colors ensure that you won't look back and cringe at your photos in a few decades.
Sky Blue and Ivory
Pale blue and ivory can have the tendency to feel nautical, especially when paired with striped prints or chinoiserie. If that's the vibe you're going for, lean into all the preppy details (like seersucker and gingham) to stay on theme. If you're going for a more subdued style, play with deeper shades of blue and metallic gold for a wedding color combination that's classic yet regal.
Cream and Gold
A monochromatic white wedding color palette feels luxurious and high-end, especially when you accent it with details like monogrammed dinner plates, individual menu cards and candle centerpieces. Include two or three shades of white to keep the palette from falling flat.
Blush and White
Blush is always a pretty wedding color, whether you're planning a spring garden ceremony or winter wonderland reception. Accent your pink color palette with white to complete the understated and polished look.
Metallic Colors
Focus on metallic silver and gold for a bejeweled, shimmering aesthetic. These luxury wedding colors will instantly elevate the look and feel of your decor—don't worry about clashing colors or mixing metals (that's the point!). If you want to add an optional accent color, we'd suggest sticking to white or black for the most classic effect.
Black, White and Green
You already know that black and white are two of the most classic wedding colors of all time, but you can give them a slight modern edge by incorporating fresh greenery to provide a little bit of dimension. Boxwood and magnolia leaves will evoke a more formal look, while eucalyptus and olive branches tend to feel a little more casual.
Mauve and Pine
Here's another variation of the timeless pink and green wedding color combination, this time inspired by rich jewel tones. Dark pine green will add a little extra ~ something ~ to your color scheme, especially if you're focusing on lighter pink and cream tones.
Modern Wedding Colors
If you're all about minimalist style, use these modern wedding colors to pull off the less-is-more aesthetic.
Pink and Beige
We're kind of obsessed with this chic and sophisticated color scheme. Start with beige and off-white shades, then mix in a barely-there pink color—we'd also recommend adding an iridescent white or silver hue for an ethereal effect. Style these wedding colors with seashells, white marble details and minimalist florals.
Black, White and Blush
Set the scene for the party of the year (or decade) with a modern black, white and blush color palette. Include fun decor details, like a custom neon sign, champagne tower and over-the-top flower installations for the 'gram.
Silver and Gray
Keep your wedding colors cool and sleek by choosing silver and gray as your main hues. This versatile pairing works year-round and is easy to adapt to almost any wedding theme. The lack of bright colors gives you more opportunity to experiment with monochromatic textures and prints, like pairing a sequin dress with a plaid sportcoat.
Off-White, Green and Burgundy
This modern wedding color scheme feels unique and artistic, with a dash of moodiness thrown in. While the burgundy, green and brownish tones are primarily earthy, you can brighten them with an off-white accent color and focus on decor with clean lines for a contemporary edge.
Red and White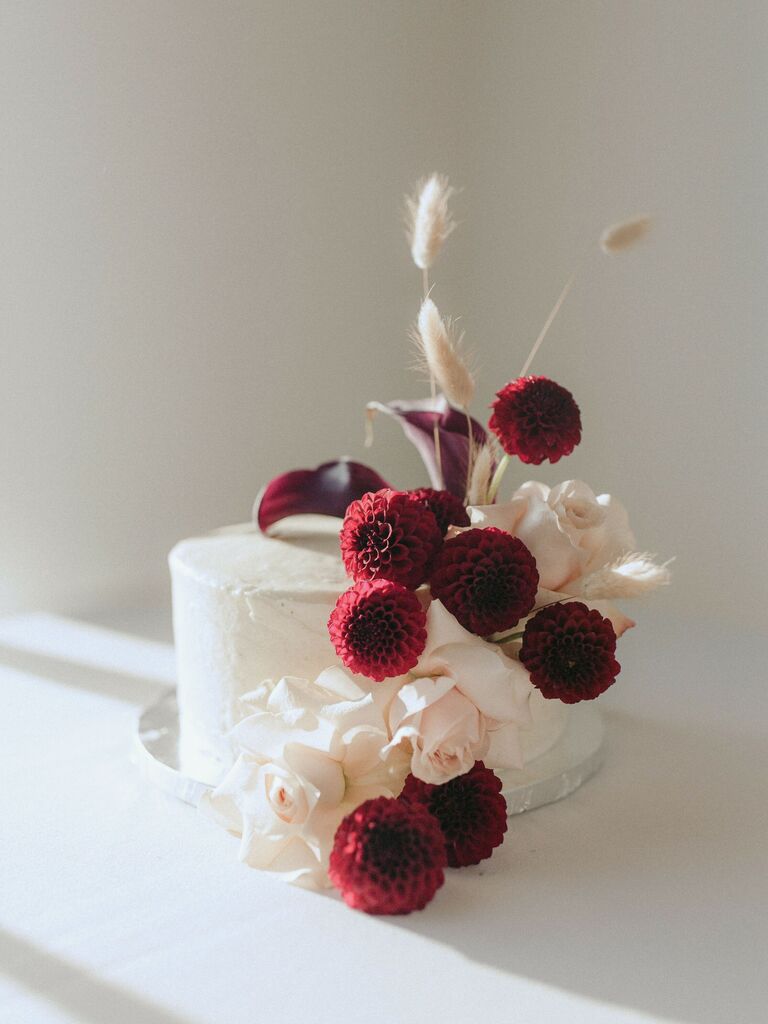 Red symbolizes love and passion, so what better way to honor your union than with dark wedding colors and a sultry palette? Since red is a bold color, balance with lighter accent shades (like white or blush) so your theme doesn't feel too overpowering. Bring in red pops through table chargers, signage, floral arrangements or even a touch of statement red lipstick.
Sage Green
We think that green is the unsung hero of wedding colors, including softer shades like sage green and mint. For a modern look, go heavy on sage green as your base hue and accent with black details, glassware and clear acrylic.
Seasonal Wedding Colors
If you don't know where else to start, choosing your wedding colors by season will always steer you in the right direction. Seasonal colors will easily tie into the rest of your decor, from the attire to the flower arrangements, helping you achieve the most cohesive and seamless look.
Fall Wedding Color Ideas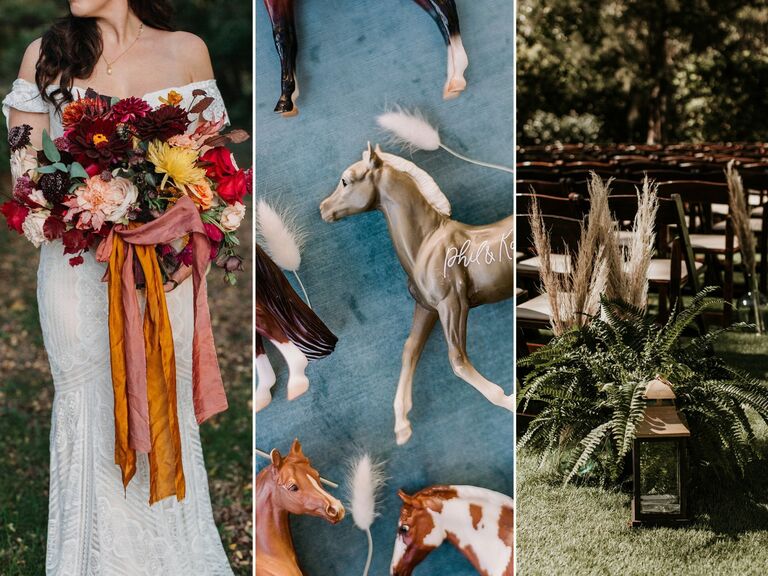 Between September and November, neutral hues, earthy wedding colors and warm tones like red and orange are all top picks for fall wedding colors. The goal is to create a welcoming, cozy atmosphere as life begins to slow down and temps start to cool.
Spring Wedding Color Ideas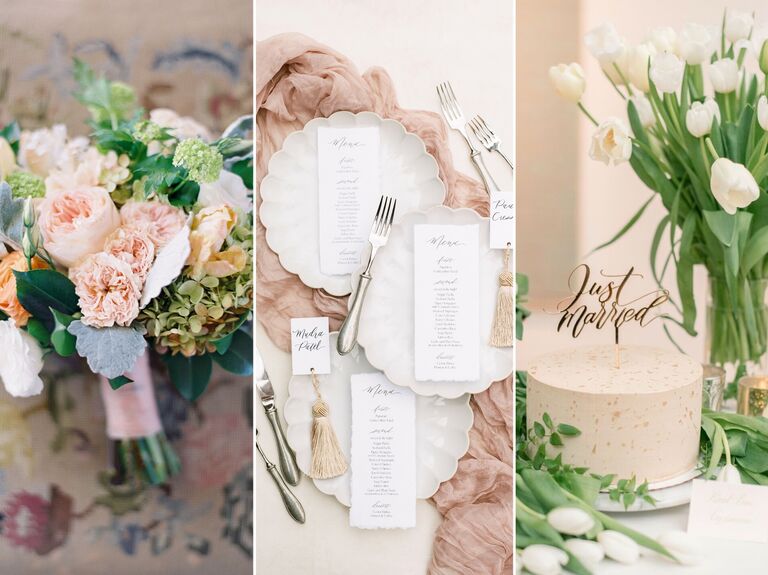 Spring wedding colors are synonymous with airy pastels, like lilac, blush and pale green to indicate the season of renewal. These soothing hues are inspired by flowers in bloom during the months of March, April and May.
Summer Wedding Color Ideas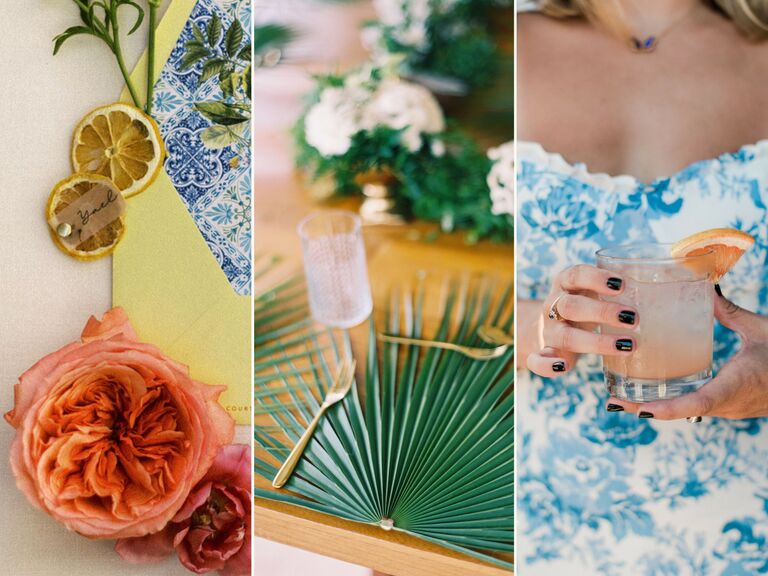 From bright sunshine yellow to ocean blue, summer wedding colors bring a burst of energy. If you're getting married between June and August, go for a cheerful palette that reflects the season of adventure, excitement and happiness.
Winter Wedding Color Ideas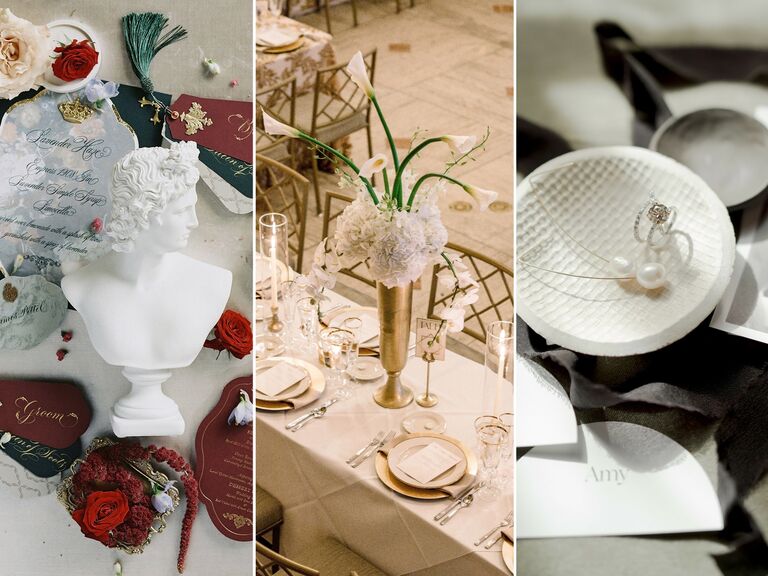 December, January and February are months of celebration and reflection. Red and green are a natural choice for a Christmas wedding, but winter wedding colors also include rich jewel tones and shimmering metallics that match the enchanting, magical mood of the season.