15 Tasty Ways to Serve Cookies at Your Wedding
These sweet ideas will make your wedding dessert table anything but cookie-cutter.
Your dessert menu doesn't have to end with wedding cake. Doughnuts, parfaits, cake pops and ice cream treats are just a few crowd favorites making appearances on wedding dessert bars—and cookies should definitely be on the table. Go simple and savory with homemade chocolate-chip cookies or serve playful shapes with festive icing designs. Here, 15 tasty cookie desserts for your wedding day.
1. Tea-Time Treats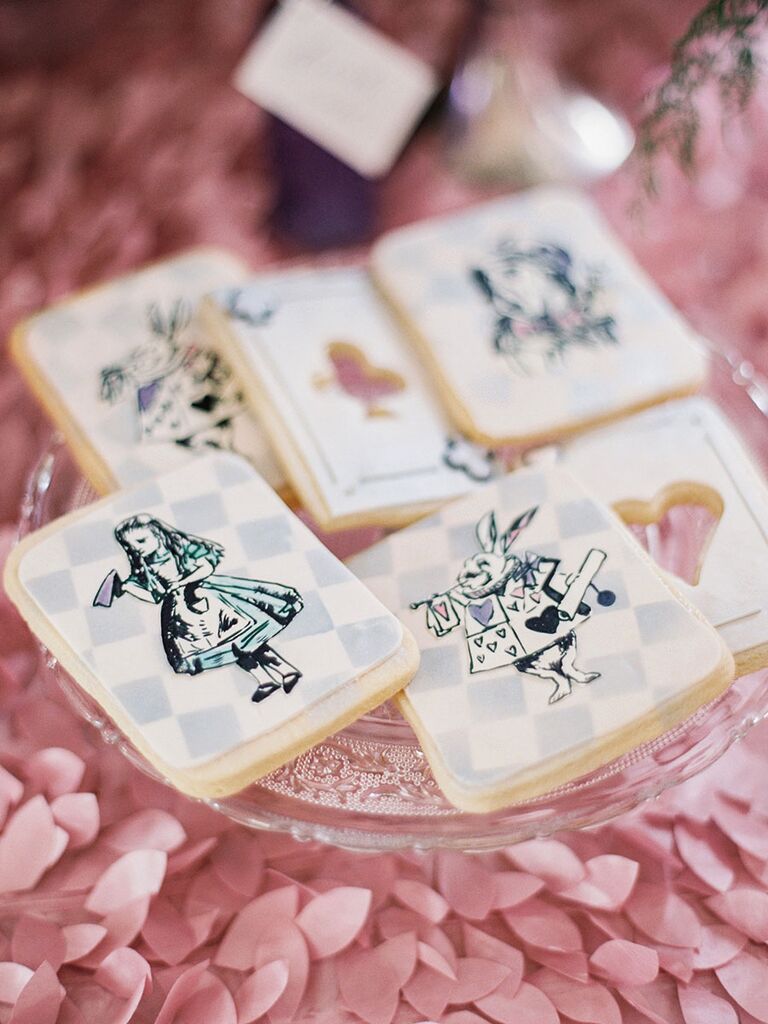 Your guests will go mad for these whimsical Alice in Wonderland–inspired sugar cookies.
From: A Whimsical Garden Wedding at Stan Hywet Hall and Gardens in Akron, Ohio
2. No Cake, No Problem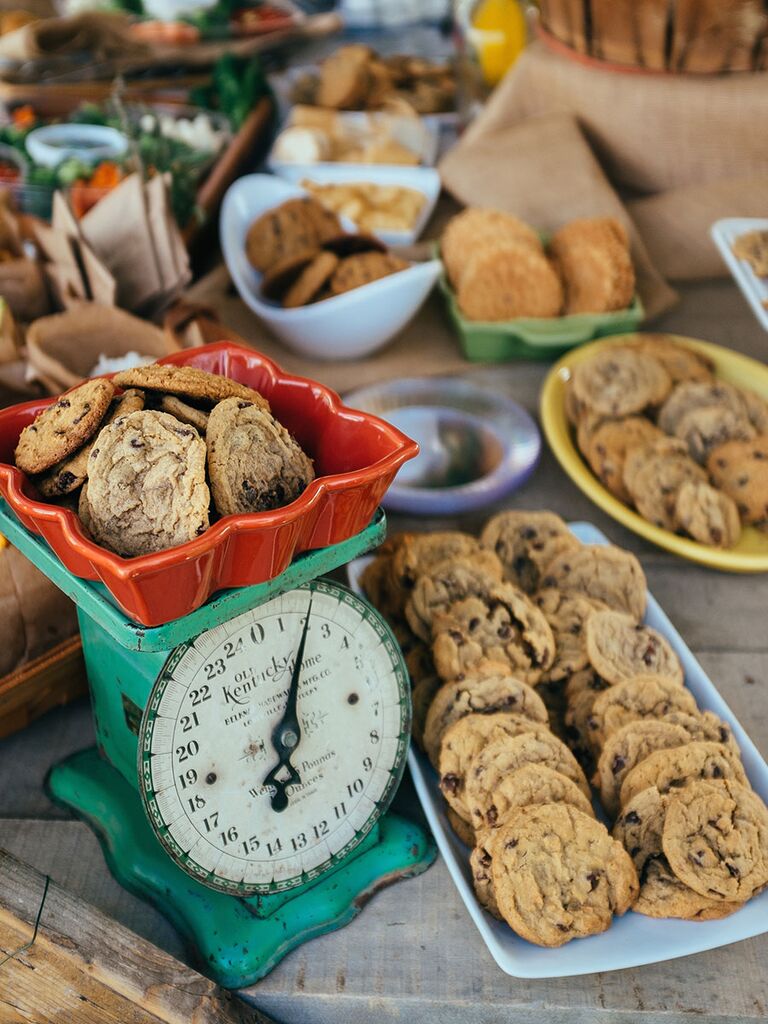 Swap a traditional cake for a chocolate-chip alternative no one can resist.
From: A Whimsical, Bohemian Wedding at Gaie Lea in Staunton, Virginia
3. Short Stack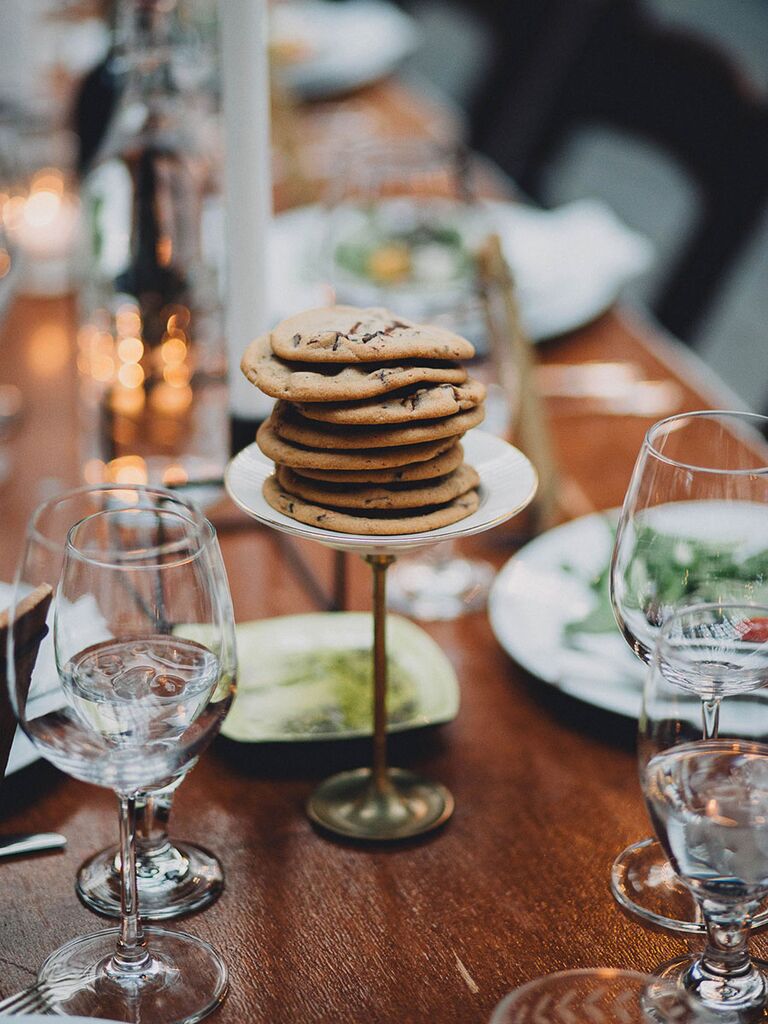 Line your reception tables with plates or elevated trays piled high with mouth-watering treats to satisfy sugar cravings (at least until you cut the cake).
From: A Simple, Rustic Wedding at Brewmaster's Gate in Columbus, Ohio
4. Beyond the Basics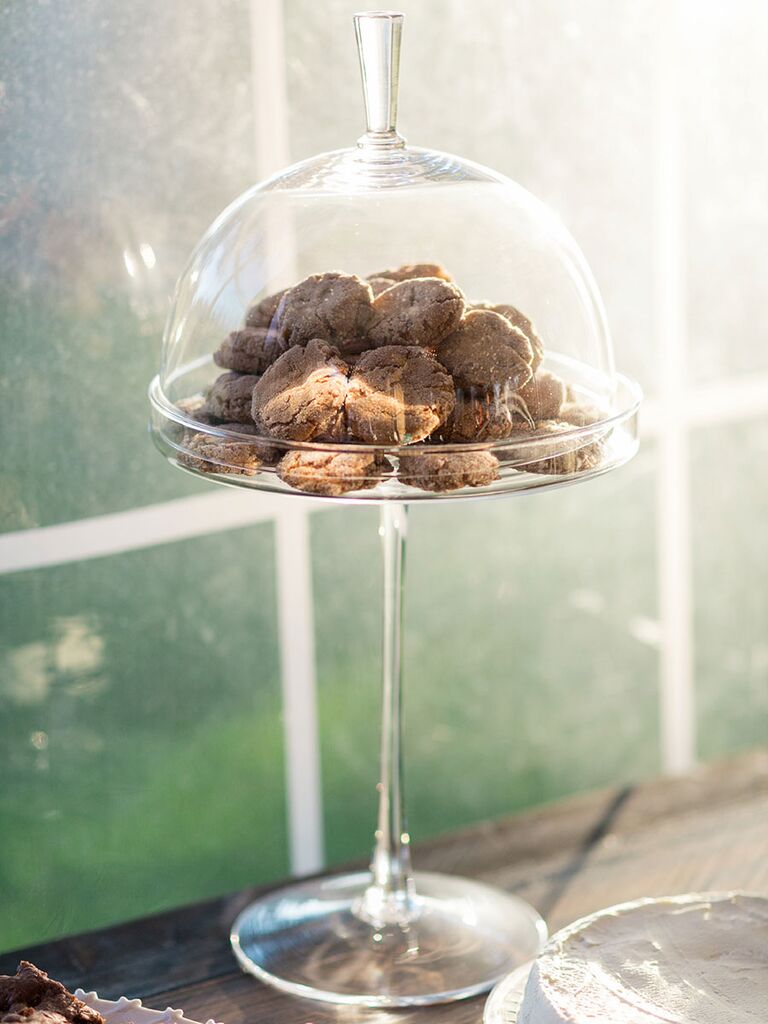 Offer a few choices of flavors, like sugar cookies, snickerdoodles, chocolate chip and oatmeal raisin (but don't stop there—get creative with your favorites).
From: A Festive, Fall Wedding at Amber Grove in Moseley, Virginia
5. On-Theme Shapes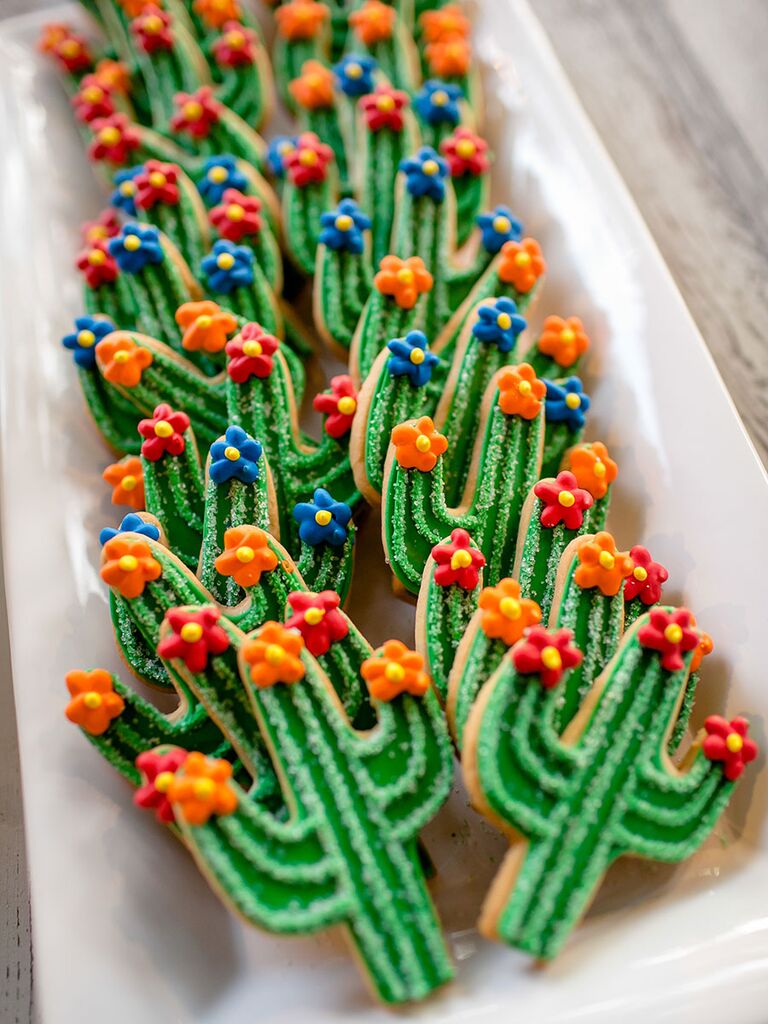 Bright and playful confections will look fabulous and taste even better. Ask your baker how to incorporate details from your wedding theme into each cookie.
From: A Southwestern Wedding at Sisterdale Dancehall & Opera House in Boerne, Texas
6. Take and Bake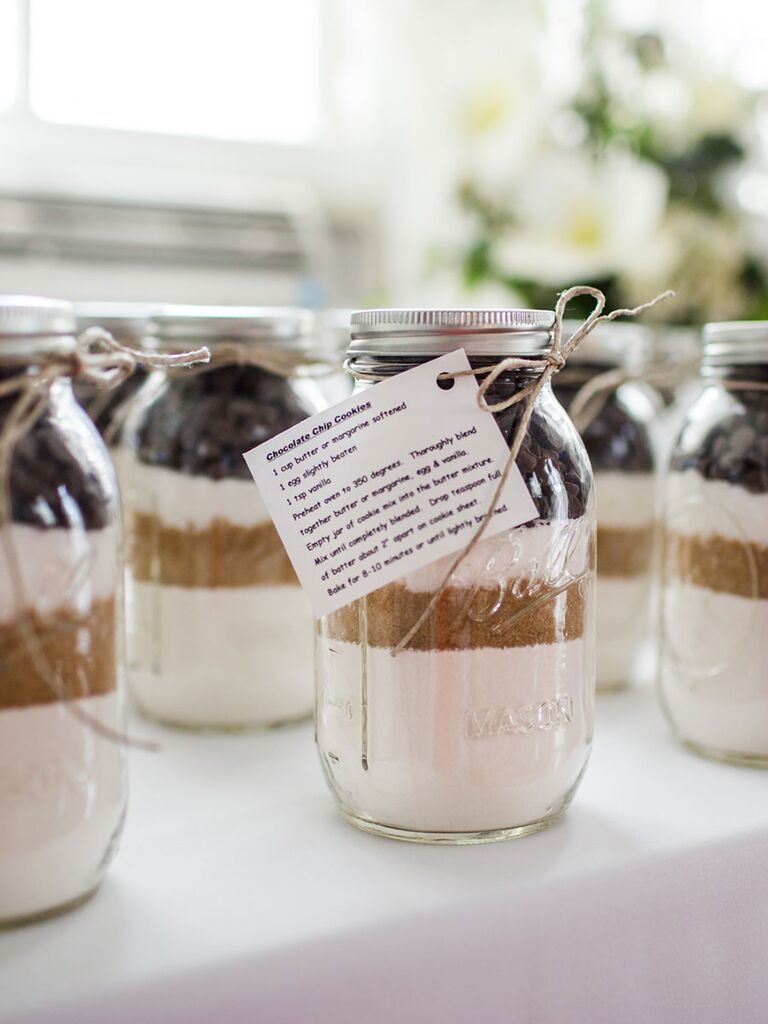 Hand out recipe cards and individually packaged ingredients for guests to take home and bake whenever they get a cookie craving.
From: A Simple, Rustic Wedding at Bristow Manor Golf Club in Bristow, Virginia
7. Personalized Pastries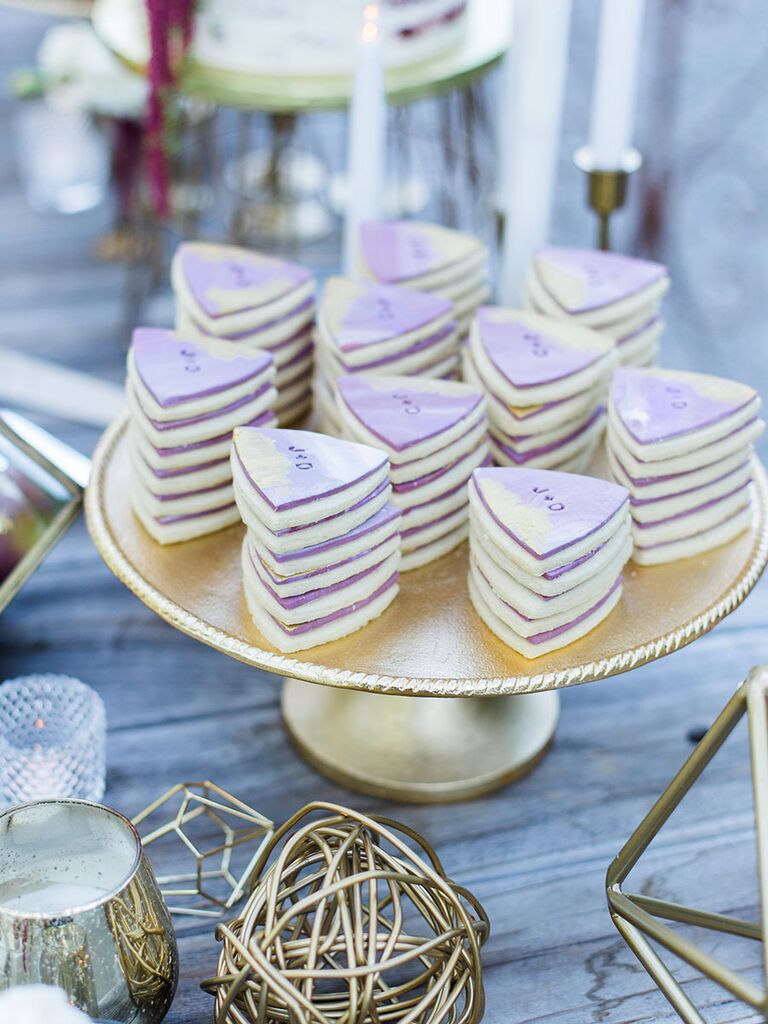 Personalize each cookie with both of your initials in icing.
From: A Bohemian Garden Wedding at the Gardens at Peacock Farms in Arroyo Grande, Californi
8. Cookies To-Go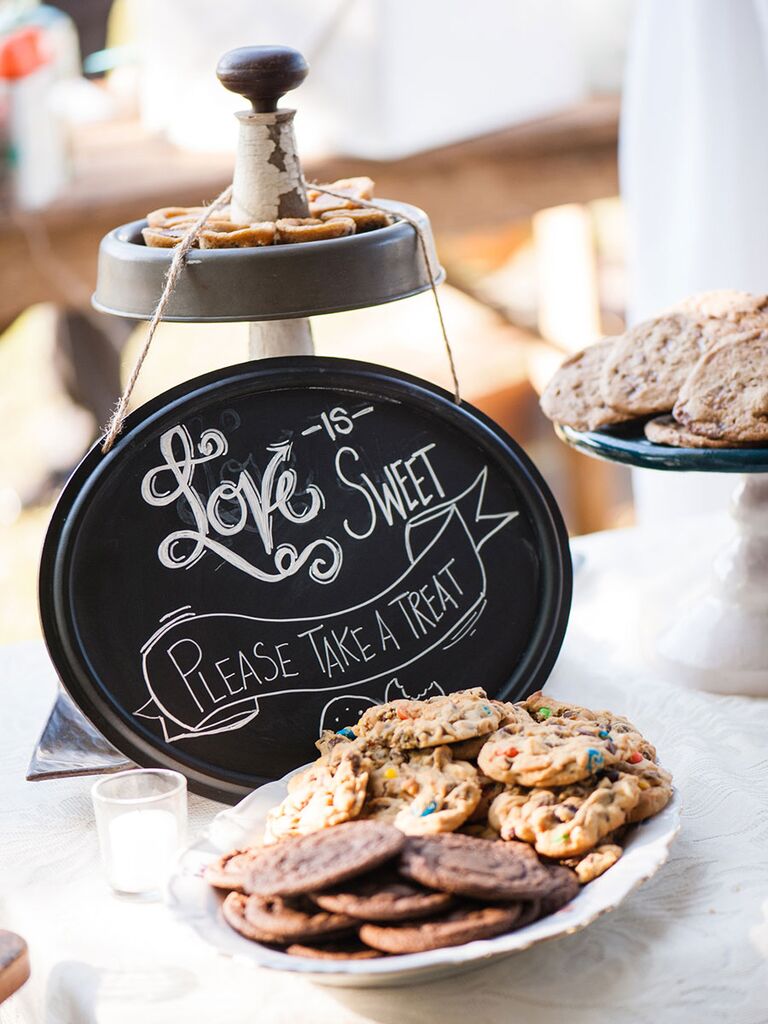 Place a cookie platter by the exit for everyone to snag something sweet on their way out. Add a cute sign so they don't forget.
From: A DIY Shabby-Chic Wedding at a Private Residence in DeLand, Florid
9. Edible Anchors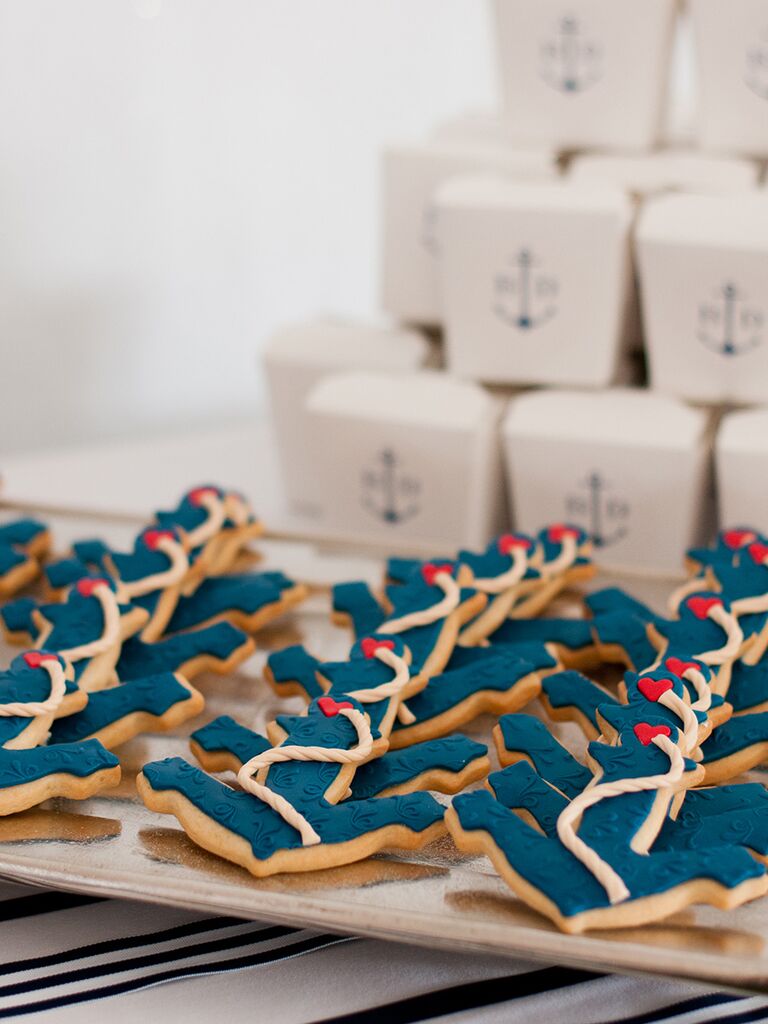 Instead of a groom's cake, serve decorated cookies to show off one or both of your favorite hobbies or passions.
From: A Nautical Military Wedding at The Crossings in Carlsbad, California
10. Milk and Cookies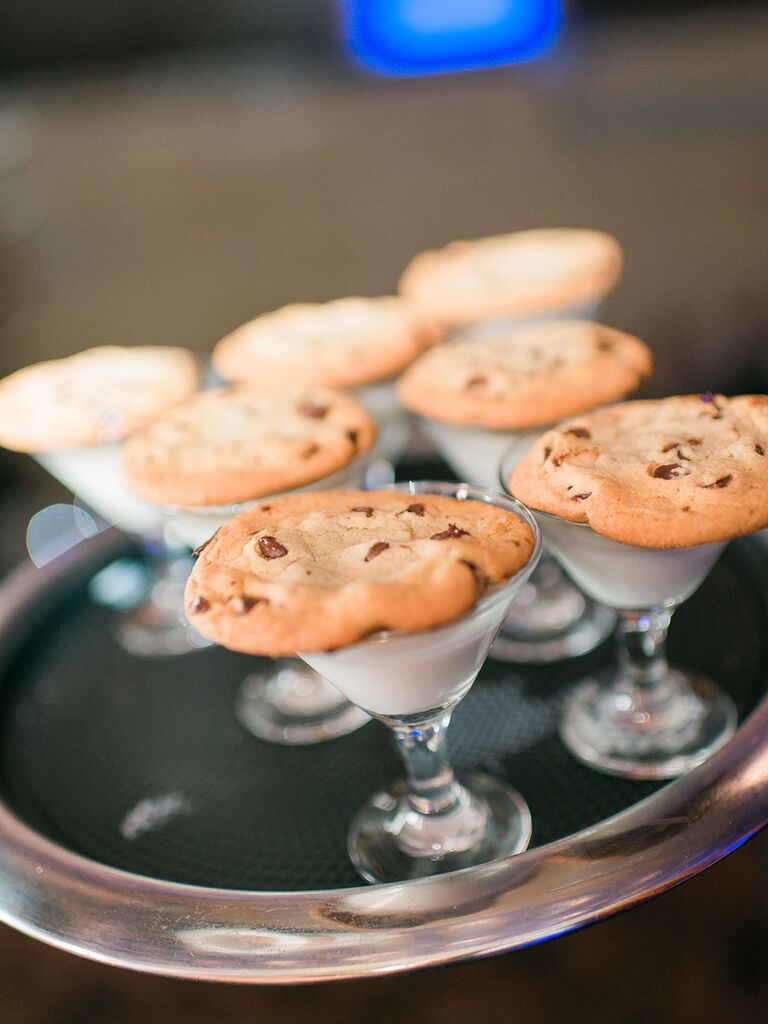 It's hard to find a better pair than chocolate-chip cookies and a cold glass of milk. Serve the iconic duo at the after-party as a final treat for the evening.
From: A Classic Wedding With a Historic Twist at Union Trust in Philadelphia, Pennsylvania
11. Dapper Designs
Model your cookie designs after your formal wedding attire—how cute are these mini suits?
From: A Historic Wedding with a Modern Twist at Castle Green in Pasadena, California
12. Creative Icing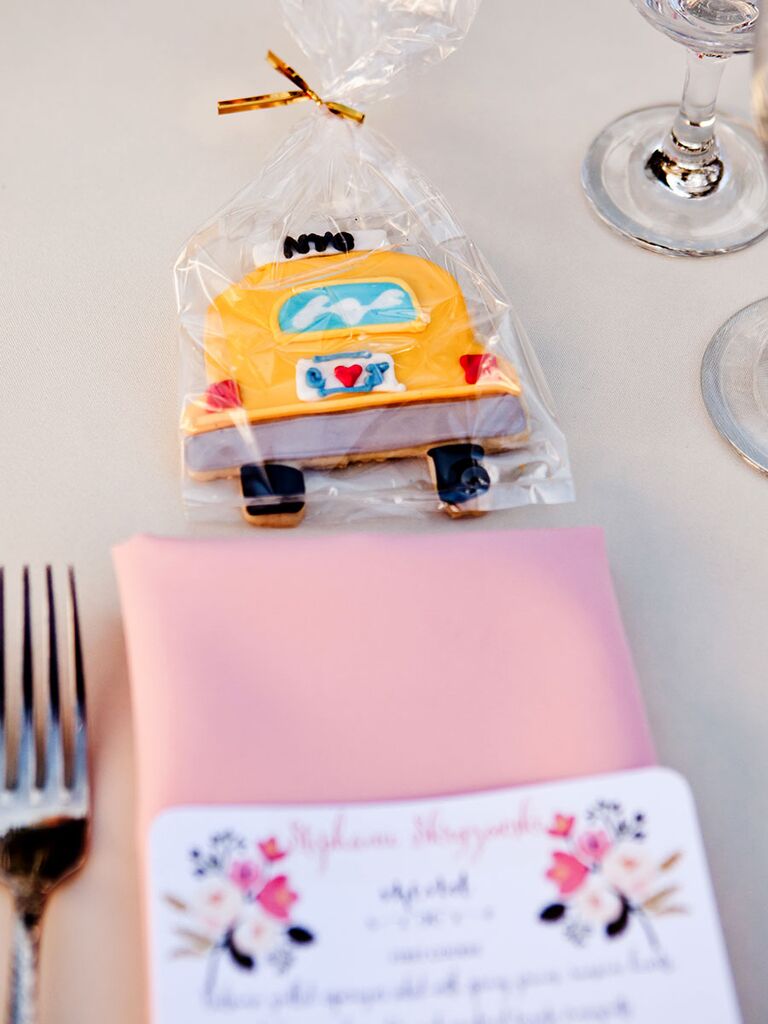 Show off your wedding theme or incorporate something that's sweet and personal to your love story.
From: A Glamorous, Garden-Inspired Destination Wedding at Darlington House in La Jolla, Californi
13. Cookie Box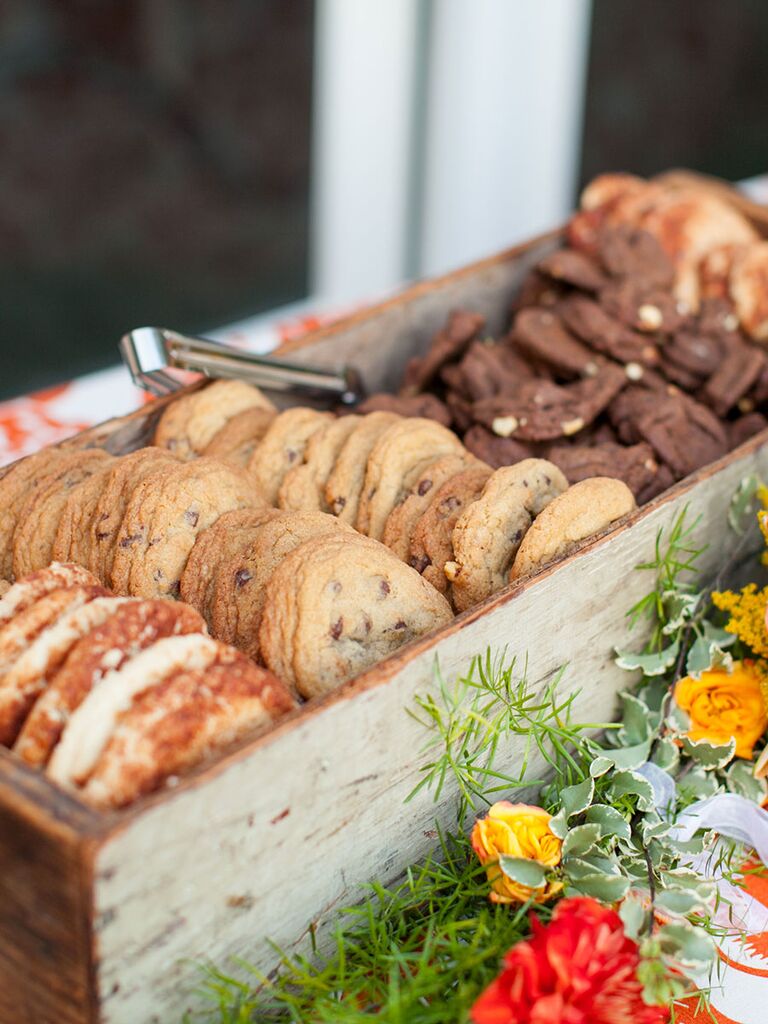 Spoil your guests with a vast assortment of classic cookie flavors and line them up in a rustic box for that homespun feel.
From: A Rustic Garden Wedding in Anaheim Hills, California
14. Preppy Pastries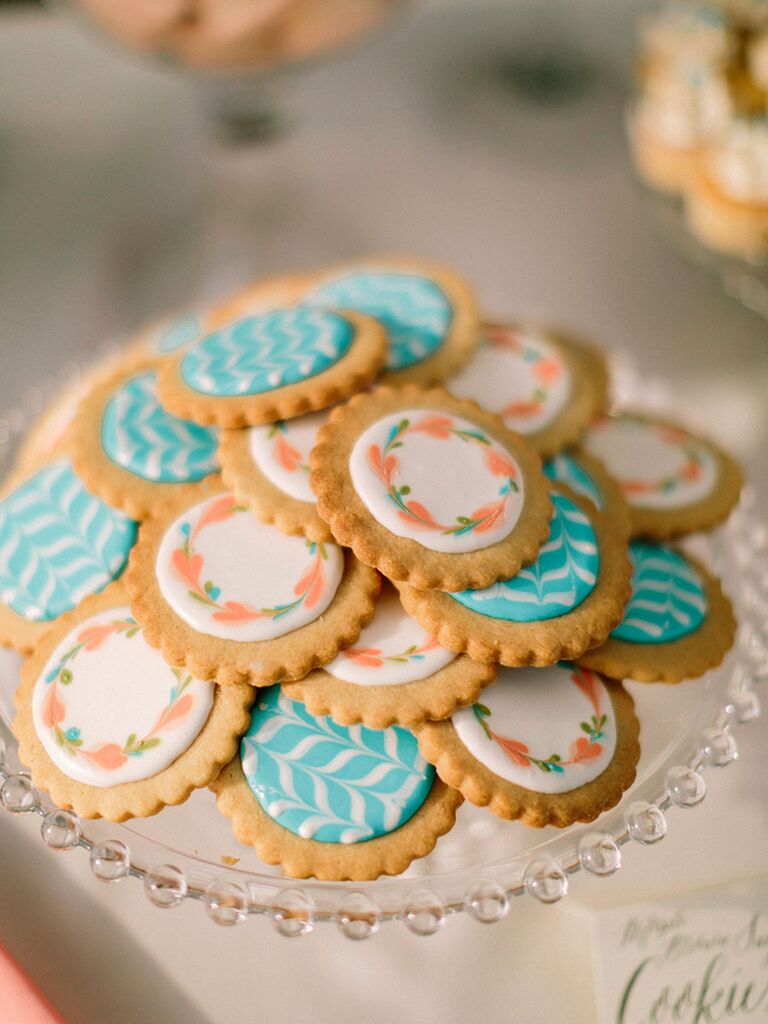 Have fun with your icing flavors and designs. Embellish your wedding cookies with anything from an intricate floral motif to a simple chevron pattern (or both!).
15. Sweet State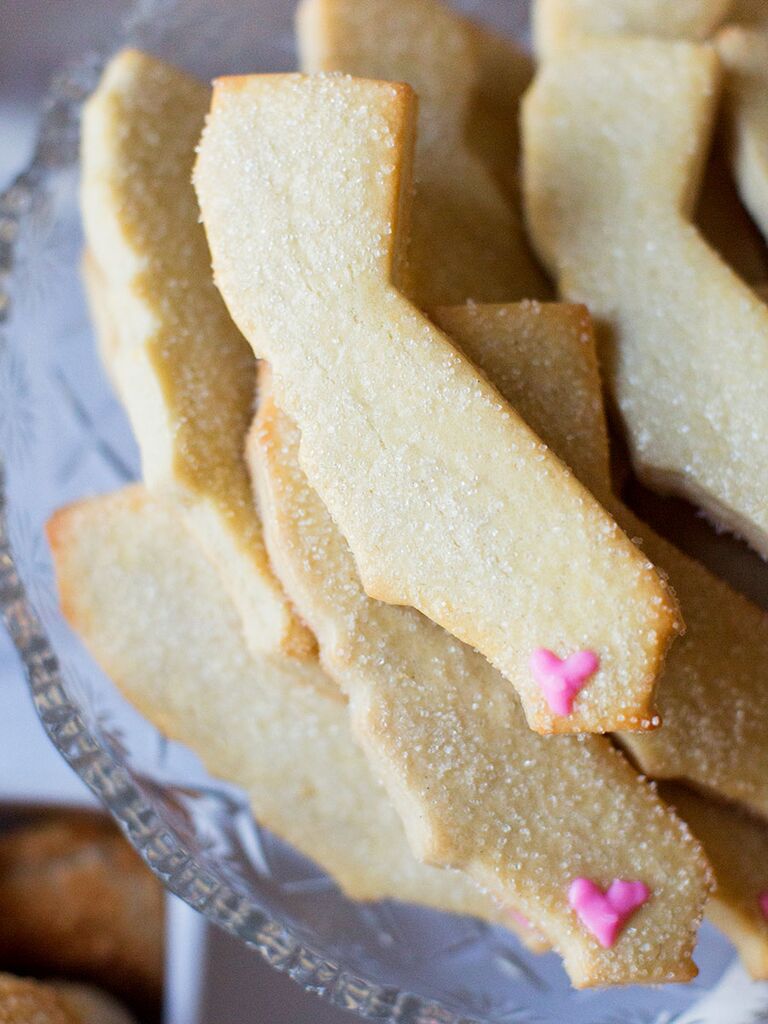 Represent both of your hometowns, or maybe the place you first met, in cookie form. Use heart-shaped icing to mark the exact location.
From: A Travel-Inspired Wedding at Coronado Community Center in Coronado, California