The Knot 2021 Real Weddings Study
If there's one thing for certain it's that the evolving landscape of COVID-19 has kept the wedding industry on their toes and required couples to be more flexible than ever with their plans. To keep up-to-date on the ever-changing story, The Knot surveyed more than 15,000 couples who got married in 2021 to provide a comprehensive look at how weddings unfolded this past year, as well as tapping into those newly engaged to understand what we should expect for the 2022 wedding season (hint: couples say their plans are full steam ahead!).
In this report:
Snapshot of 2021 Weddings
The majority of couples set to wed in 2021 were able to do so without any delay due to a highly anticipated vaccine rollout, lessened restrictions and the rise in available testing. In fact, less than 5% of couples in 2021 had to push their reception to 2022 or beyond and only 1% canceled their reception altogether due to COVID-19 (which was a large improvement from 2020, where nearly half of weddings were postponed in some capacity).
When taking a deeper look at the couples who got married in 2021, 73% were able to carry forward with their original wedding date, while the remaining 27% were couples who were initially slated to get married in 2020 (most who postponed from fall and summer of 2020, 60%).

Of the 27% that had to postpone until 2021, 81% had delayed both their ceremony and reception, while 19% had delayed the reception only.
With noteworthy steps taken to combat COVID-19 over the course of 2021, 93% of couples were able to host their wedding with family and friends in attendance and 83% held their ceremony and reception on the same day.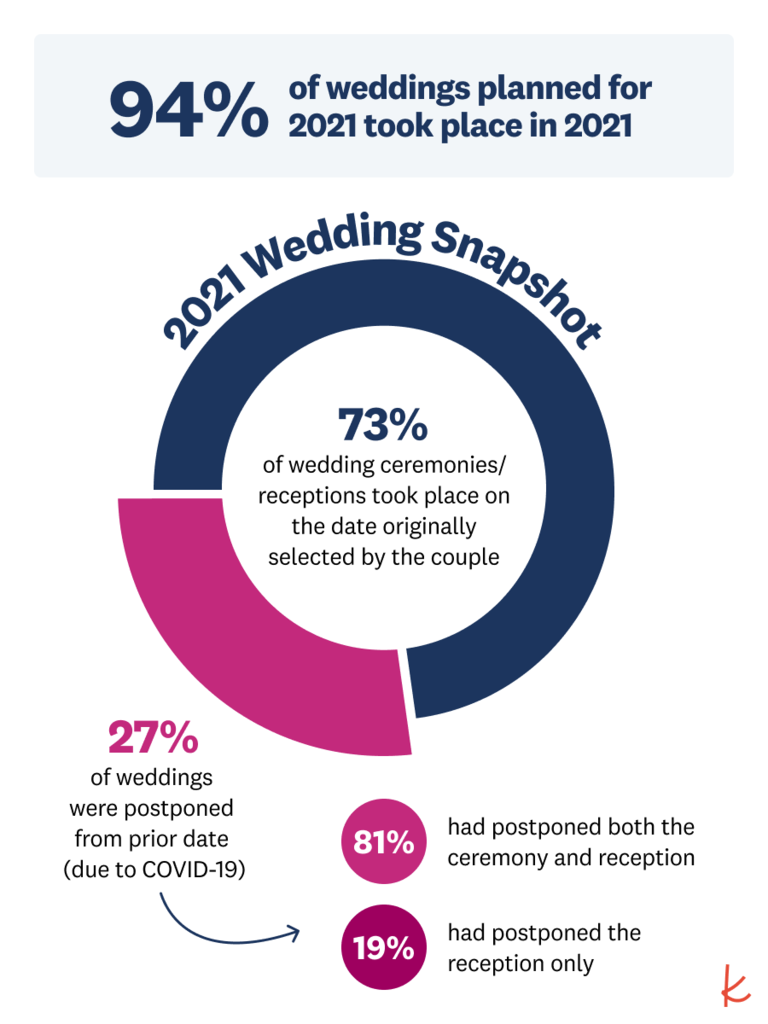 Weddings Are Trending Back to 'Normal'
Though all couples faced a different planning journey and timeline in 2021, it's encouraging to see that weddings are starting to align back to pre-pandemic 'norms'—from bach parties to number of vendors hired and overall guest count. Guest count and wedding location were two factors greatly impacted in 2020, but both have seen a strong recovery over the course of 2021.
In 2021, nearly 50% of couples reduced their guest count (although notably down from 80% in 2020), making the overall average for the year 105 guests. Though this number varied greatly by time of the year, we also saw large variation based on region, as restrictions were quicker to be lifted in certain areas.
Those who wed in the first half of the year (January-June) didn't have the benefit of weather suitable for outside nuptials or a wide-spread vaccine, therefore having a smaller guest count of 94 people on average (even less among those who wed in January-March, 83).

However, as the seasons changed and the US saw a momentary decline in COVID-19 cases, those married in July-December averaged 110 guests, working its way closer to pre-pandemic numbers (131).

Couples in the Midwest averaged the highest number of guests at 128, whereas folks in the West had the smallest average count at 90.

As guest size started to inch closer to pre-pandemic averages, so did the cost of a wedding in 2021. On average, couples spent $28,000 on their ceremony/reception for an all in total wedding cost of $34,000 (back in line with 2019 spend). However, when looking at those whose weddings had less than 50 guests, the average day-of wedding cost was roughly $15,000 whereas those with more than 100 guests averaged $38,000. Cost also greatly varies by region, where the South averages $26,000, with cities such as Orlando spending $25,000 on their ceremony/reception spend, while cities like Boston spend $40,000, driving the Northeast average upwards of $36,000 for day-of cost.
Fortunately, we also saw a decline in couples needing to change their wedding location due to COVID-19 restrictions (10% vs. 45% in 2020). As travel became less restrictive, 19% of couples were able to host a 'destination wedding', meaning a location other than their hometown or where they currently live (+10% YoY), which is back in line with pre-pandemic numbers (21% 2019).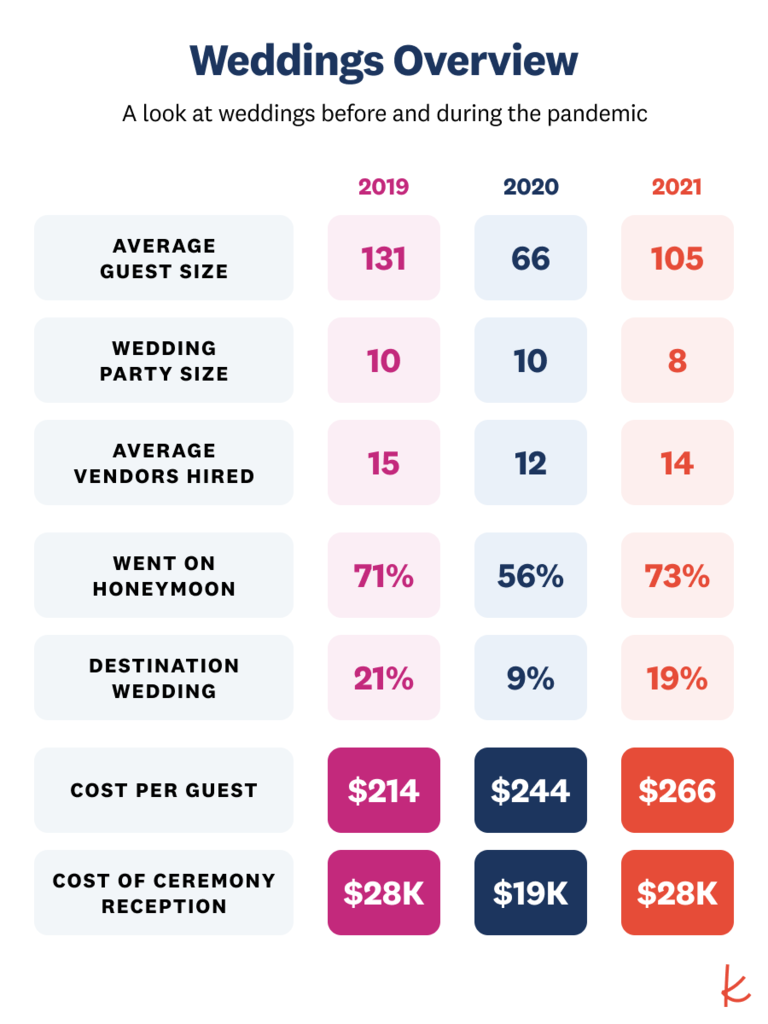 Planning During COVID-19
In 2021, the average engagement length was 14 months for couples who didn't need to postpone their nuptials (24 months for those who did). During this time, nearly 50% of couples agree that planning a wedding during COVID-19 was certainly one of the biggest challenges (45%), in addition to knowing where to start (34%) and planning within budget (25%). On average, couples pay for roughly 48% of their wedding cost, with families typically covering the remainder of the bill (52%).
While wedding planning sites like The Knot continue to be the most utilized resource during wedding planning (75%), many also turn to social media like Pinterest (71%) for inspiration.
Communication became an integral part of the planning process as well, due to the need to share important information with guests and keep them updated. From virtual/live streaming links (17%) and FAQs (48%) to directions and accommodations, 84% of couples created a wedding website to provide guests with a go-to resource.
As we've seen over the last few years, the vast majority of couples want to ensure that their guests are well taken care of (73%), making this the top priority during the planning process—from food and beverage to health and safety.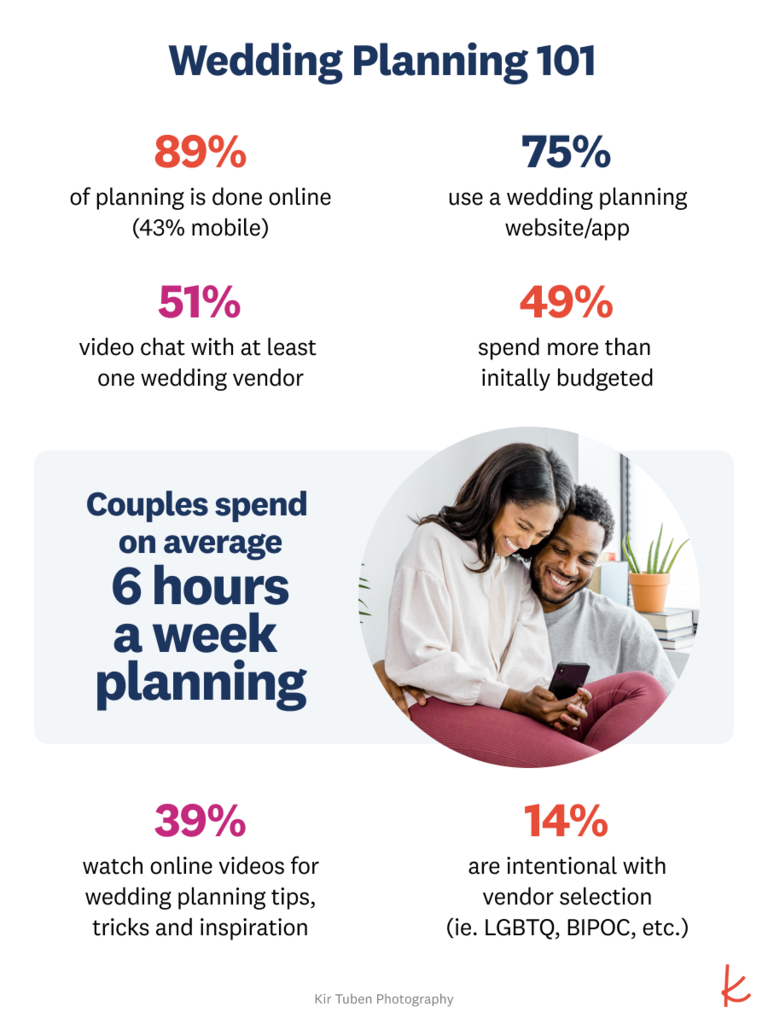 Health and Safety at Weddings
While wedding plans were able to move forward in 2021, it doesn't mean that adjustments weren't made to adapt to hosting a wedding during a pandemic. In fact, 85% of couples incorporated at least one health and safety measure into their wedding, with three on average. Outdoor celebrations continued to show popularity in 2021 given the increased health and safety benefits, with nearly 62% of ceremonies taking place either fully or partially outside (68% in 2020).
Although health and safety remained a top priority for couples, with vaccines becoming more widespread and restrictions loosening up, couples were less likely than in 2020 to implement as many safety measures. While only 9% of couples required their guests to get tested prior to attending their wedding, couples who plan on getting married in 2022 are more encouraging of this safety measure (16%), as COVID-19 testing has become more mainstream and accessible from home. Plus, nearly 1 in 3 will require guests to be vaccinated prior to attending a wedding in 2022 (30%, +17% vs. 2021).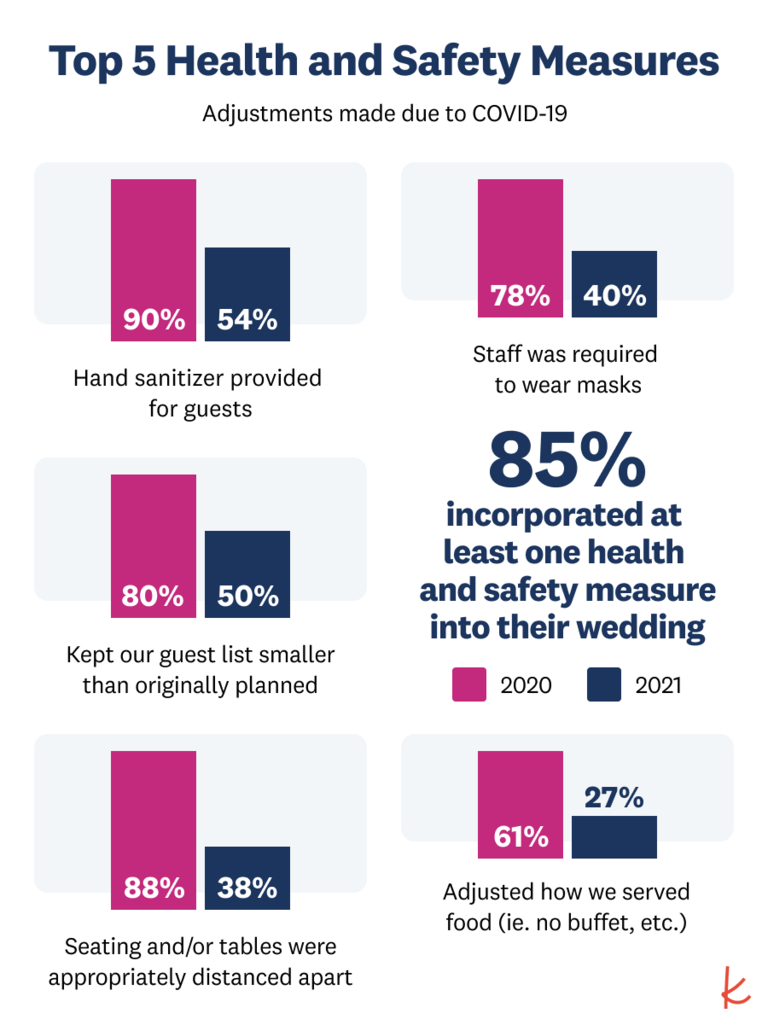 Finding the Vendor Team
This past year, approximately 60% percent of weddings were semi-formal affairs, with top descriptors including fun (38%), romantic (34%) and elegant (25%). Regardless of the vibe, couples turned to the pros to execute their big day. In fact, nearly 30% of couples hired a wedding planner to help with logistics—the most popular type being full-service planners and day-of-coordinators.
On average, couples hired 14 vendors for their wedding and relied heavily on reviews and family/friend recommendations to help select the best vendors.

Over 70% of couples find reviews to be very important when deciding which vendors to contact—mostly focusing on overall rating (96%), photos (93%) and total number of reviews (92%).
In 2021, couples were ready to get back to booking one-of-a-kind venues, after a year where nearly a quarter of weddings had to take place at home. In fact, 88% of couples booked a venue in 2021 (up 18% from 2020).
Per pre-pandemic trends, banquet halls (20%) and farm/barn weddings (18%) continue to be the most popular venue types, followed by historical buildings/homes (12%).
The average cost of a venue was $10,700 with roughly 75% including rentals as part of the fee. Of those that include catering/alcohol as part of the venue package, the average cost increases to $15,800.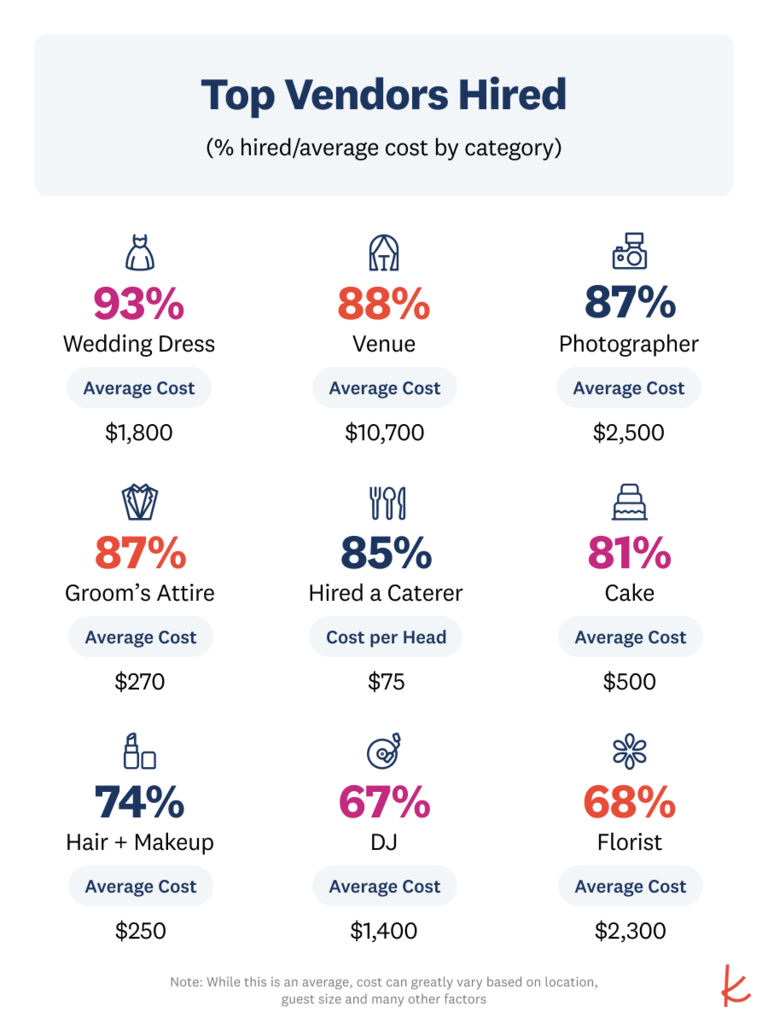 Personalization: Making it Your Own
No matter who they are, what their values and interests may be or even cultural beliefs, couples make it a priority to have their wedding day be a personal affair and a true reflection of themselves and their partner's relationship (nearly 60%). This is why we see so much effort go into the details.
Cultural
Gen Z is known as the most racially and ethnically diverse generation in US history, which is why it should come as no surprise that more than one in five marry someone with a different background. To pay homage to who they are, 60% of couples find it important to incorporate their ethnicity, religion and/or culture into their wedding celebration. From religious ceremonies (51%) and ceremonial traditions like jumping the broom to cultural music and ethnic foods (14%) couples weave in what makes their story unique throughout the day. Attire also plays a role as one in ten couples wear an item of cultural or religious significance such as a kippah or sari.
Sustainability
For one in five couples, throwing a personalized affair also means incorporating sustainable elements to help make their wedding eco-friendly. The truth is sustainability is becoming top of mind for many in their daily lives and as a result, nearly 70% of couples say they did/will put some or significant effort into incorporating sustainable or eco-friendly options into their wedding, with using secondhand decor/upcycled items, minimizing food waste and avoiding one-time use products as the most popular decisions. Recycled paper has also been a popular option for couples looking to get creative but wanting to be conscious of the environmental impact. As more and more couples look for ways to incorporate sustainability, nearly one in three agree that vendors should be more proactive in providing eco-friendly suggestions as well as being transparent about their own sustainability practices.
Food
Finally, no wedding day is complete without food, which is why roughly 57% of couples say food and beverage are the most important aspects to focus on during the planning process. In 2021, couples continue to use food moments to personalize their day with creative signature drinks (36%), many of which honor a fluffy friend, late night snack options (26%) that celebrate a couple's favorite meal and additional dessert options (61%) that pay homage to family recipes (most popular being cookies). Many guests also incorporate food as part of their favors, leaving guests with a lasting sweet impression.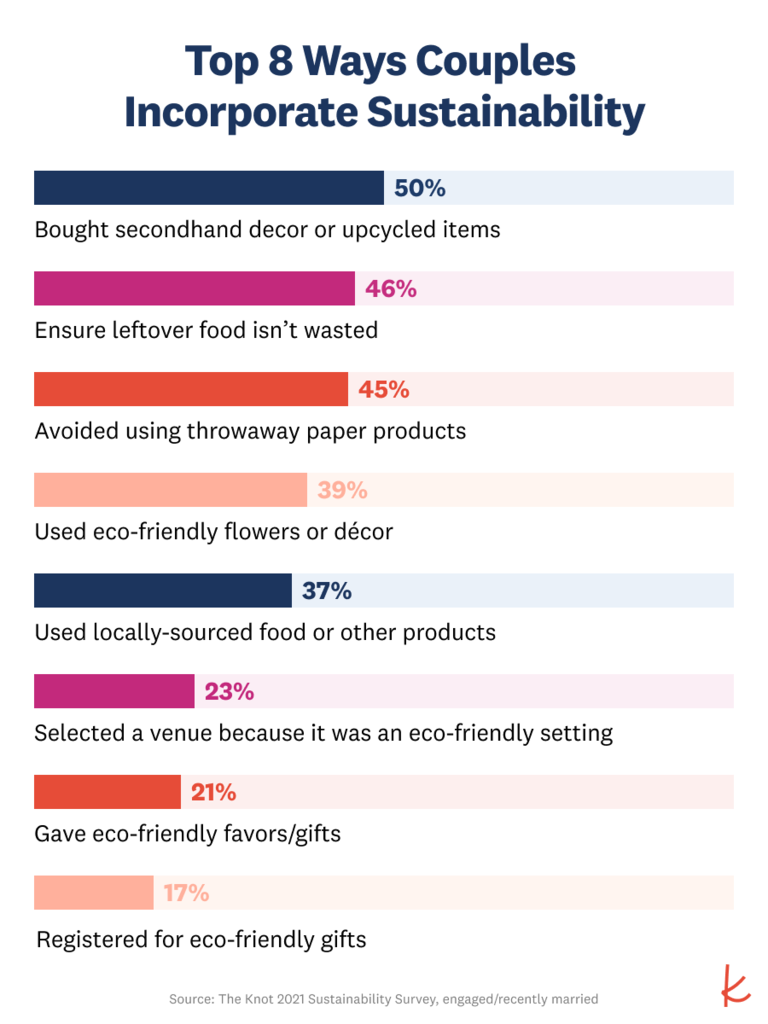 Guest Experience
This past year guests were looking forward to weddings more than ever, as folks were ready to get back to socializing and gladly welcomed a reason to dress up and celebrate. In fact, 50% of guests said they loved attending weddings (up from 39% in 2019), while 68% of guests were also willing to spend more on weddings (as a result of a year long quarantine)—most commonly spending more on gifts from the couple's registry. On average guest's spent $160 on a wedding gift in 2021 (up from $120 in 2019), with the average overall cost of attending a wedding being $460 (+$30 from 2019). Of course this cost greatly varies by location as guests who are flying to an out-of-town wedding spend upwards of $1,300 on average vs. $270 for in-town.
In return, couples want to give guests a celebration to remember and spend on average $266 per guest, up from $214 in 2019. From start to finish couples offer open bars (79%) and champagne toasts (51%) to interactive food experiences (11%) and personalized favors to round out the night (56%). In addition, nearly 60% of couples accommodate restrictive diets and offer vegan and gluten-free options. In order to make sure that guests are fully present and enjoying the day, 41% of couples ask guests to 'unplug', up 19% versus five years ago. And even after the reception officially ends, roughly one in four couples host an after-party (27%) and morning-after brunch (26%).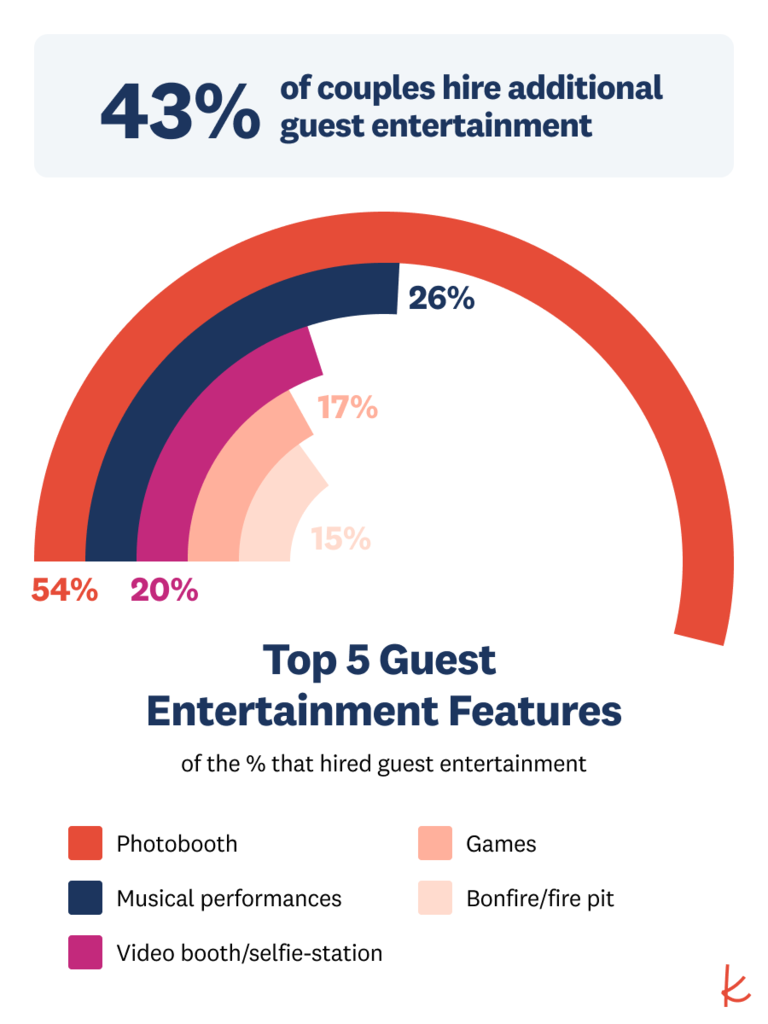 What's in Store for 2022
Though the future of COVID-19 remains uncertain at this time, there is a positive outlook for 2022 as we are seeing signs of a major recovery boom for weddings—with 2022 being a record year! Our data indicates that we should expect 2.6 million weddings in 2022 compared to 2.2 million average US weddings pre-pandemic. Those early signs are already coming to fruition as over 75% of couples who got engaged in 2021 have already set a date for 2022.
Similar to what we've seen in the past year, nearly 65% of couples are opting to wed in the summer and fall of 2022

For the sixth year in a row, October is anticipated to be the most popular month (17% of all weddings) with October 22, 2022 being the most coveted date.
Based on data from a survey conducted in February 2022, 98% of couples who are set to wed this year are confident their wedding will occur on the day it's currently scheduled for. While the reality of Omicron is top of mind, only 5% of couples are significantly more concerned that their wedding will be impacted. Overall, couples are feeling confident that they can move forward with their wedding plans by continuing to implement health and safety features (81%).
All signs are pointing to a strong 2022 wedding season as average guest size is projected to be back up to 129 (higher than the average of 105 in 2021, on par with 2019 average of 131) while the estimated average ceremony/reception spend remains steady at $27,000.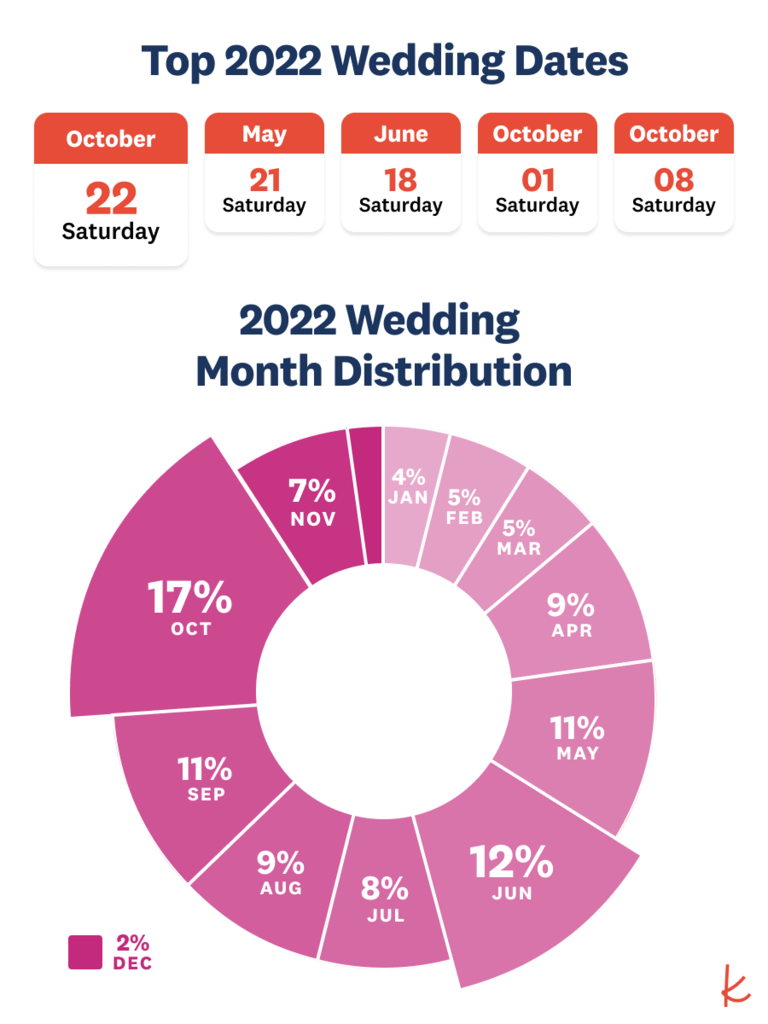 Survey Methodology: The Real Weddings Study captured responses from over 15,200 U.S. couples married between January 1 and December 31, 2021; respondents were recruited via email invitation from The Knot and/or WeddingWire membership. Respondents represent couples from all over the country with various ethnicities, income levels, race, age, sexual orientation and gender identity. To provide the most comprehensive view of the impact of COVID-19 and 2022 trends, this report also includes findings from ad hoc studies conducted throughout the year. In a typical year, The Knot Worldwide conducts research with more than 300,000 US brides, grooms, guests and wedding professionals.