Stash These Must-Have Mini Products in Your Wedding Day Bag
by Abby Gardner
Leave the big stuff to your MOH and keep these mini necessities handy.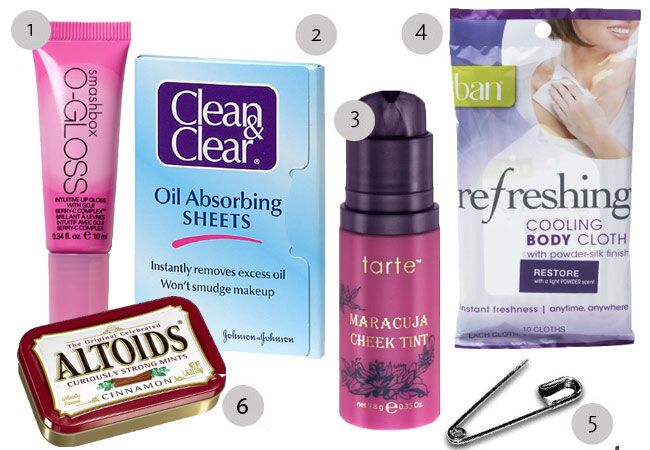 1. Lip Gloss
It's a perfect purse-size, enhances the color of any shade you've picked for the day and will keep your lips nice and soft for smooching your new spouse.
O-Gloss Intuitive Lip Gloss, Smashbox, $24, SmashBox.com
2. Oil Blotters
Even those of you with the driest of skin on an average day are going to glisten (aka sweat) on your wedding day. Blot, blot, and then blot some more. Keep one of your bridesmaid on shine alert—you'll be much happier when you look at pictures later.
Oil-Absorbing Sheets, Clean & Clear, $5.49, Drugstore.com
3. Cheek Stain
There is no better cheek color on the market than the ones made by Tarte, in my humble beauty expert opinion. And this one is the perfect size to keep you glowing all day.
Maracuja Cheek Tint, Tarte, $15, TarteCosmetics.com
4. Cooling Towelettes
This genius product both cools you down and helps get rid of body odor—a definite must when you're crushing it on the dance floor.
Total Refresh Cooling Body Cloth, Ban, $3.99, Walgreens.com
5. Safety pins
Obviously, for any unforeseen wardrobe malfunctions.
Singer Safety Pins, $3.69, Target.com
6. Breath Mints
For all the kissing you'll be doing the entire night. #duh
Cinnamon Smalls, Altoids, $12 (pack of 9), WrigleyShop.com
Want more advice?
>What Shoes to Wear to Your Winter Wedding
>Search Hundreds of Gorgeous Accessories for Your Wedding Day