The 7 Most Popular Wedding Decor Trends of 2023
You're about to see these wedding decoration trends everywhere.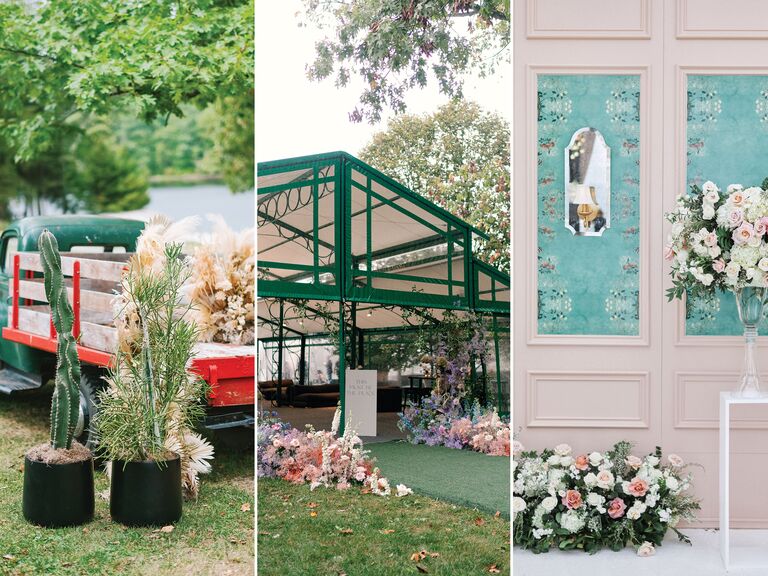 Photos from left to right: Afrik Armando, Abby Jiu Photography, Brandon Kidd Photography
The Wedding Boom brought with it many new wedding decor ideas. As weddings returned after two years of unknowns amid the pandemic, many new and creative ideas about wedding decorations emerged. We're thrilled to see everything from creative signage to Western and even Barbiecore vibes leading the way when it comes to 2023 wedding decor trends. What's more, we're sure couples are going to be just as excited about these 2023 wedding trends, which are a departure from traditional weddings, as we are. A commonality between all the freshest, hottest wedding decoration trends is that they're all about customization. Your wedding day is yours to plan and while these ideas may be popular with many couples, they all challenge to-be-weds to think outside the box and embrace personalization. Don't believe us? Peruse below to see what's hot in the world of wedding decor for 2023. Whether you're having a destination wedding or staying local, keep the guest list small or going big, no matter what you're planning—there's a way to bring these decor trends to life for your nuptials.
Plus, we tapped some of the wedding industry's best wedding planning pros to offer expert insights on why these trends are popular and how couples can make the most of these wedding ideas. Expert wedding planners Sneh Diwan of Diwan by Design, Diana Lin of Cóllectives by Diana, Michelle Gainey of Lemiga Events, and Xin Huang of Le Petit Privé all weigh in below with their thoughts on the most popular wedding decorations of the moment so you can make these trends part of your big day wedding decor, from the wedding ceremony through to the end of the night.
In this story:
Unique Wedding Tents
If you're planning a tented wedding, you're no longer limited to simple gable tents or a sailcloth tent. For outdoor weddings, we've seen a rise in marquee-style structures that have a more permanent feel to them. "Especially since 2020, with couples opting to do outdoor events or host destination weddings, tents and marquees are certainly a growing trend," says Diwan. "Particularly glass tents provide versatile settings; incorporating the ambiance of the surrounding landscape, allowing guests to really appreciate the environment."
Lin concurs, adding that "it's not just framed or pole tents anymore. We've been seeing stunning greenhouse structures built overnight in places that you couldn't even imagine exist. It's taking outdoor weddings to a new whole level and I'm very excited to see more of this."
Another unique tenting trend we've seen is the concept of non-tent tent structures to anchor couples' wedding venues. If you want to have an alfresco wedding reception dinner, but also want to create an atmosphere and a sense of space, an open-air structure is a great tent-adjacent way to go.
Creative Wedding Signs
Gone are the days when your only stationery and signage options were to have simple flat-printed designs in frames stationed around the special day. Bespoke wedding signs are having a moment and we're here for it.
Especially when it comes to seating charts and escort card displays, couples are turning these wedding signage elements into full backdrops that almost feel like a step-and-repeat. "Signage is the first thing that your guests will see or look for when they navigate an event space," notes Lin. "Why not set the tone by making a statement with your creative signage or seating chart? It can double as a photo backdrop if you want to create memorable moments throughout the space.
"It's incredible to see how many different personal touches can be added to a wedding. It's a sign that the wedding isn't just for the couple getting married, they are recognizing and honoring the guests that came to celebrate their love as well," says Diwan. "We had a client recently who created personalized candles as escort cards, which also doubled as their favors. Couples lately have been going above and beyond to involve their guests through little pieces of their decor." Similarly, Huang loves to help couples plan a "completely branded wedding. Our joy is to create a sign that services the need for direction or labeling while also blending into the decor."
Residential Wedding Decor
Residential wedding decor isn't limited to indoor weddings—we're also seeing couples find ways to creatively bring the indoors out with residential wedding details at outdoor weddings. For Lin, who works both as an interior designer and a wedding planner, she shares how she's "always blurred the lines between the two. It's about creating an environment that's comfortable and welcoming yet beautiful. You want to create an intimate space to gather. As such, it's not surprising that people are leaning into residential wedding decor."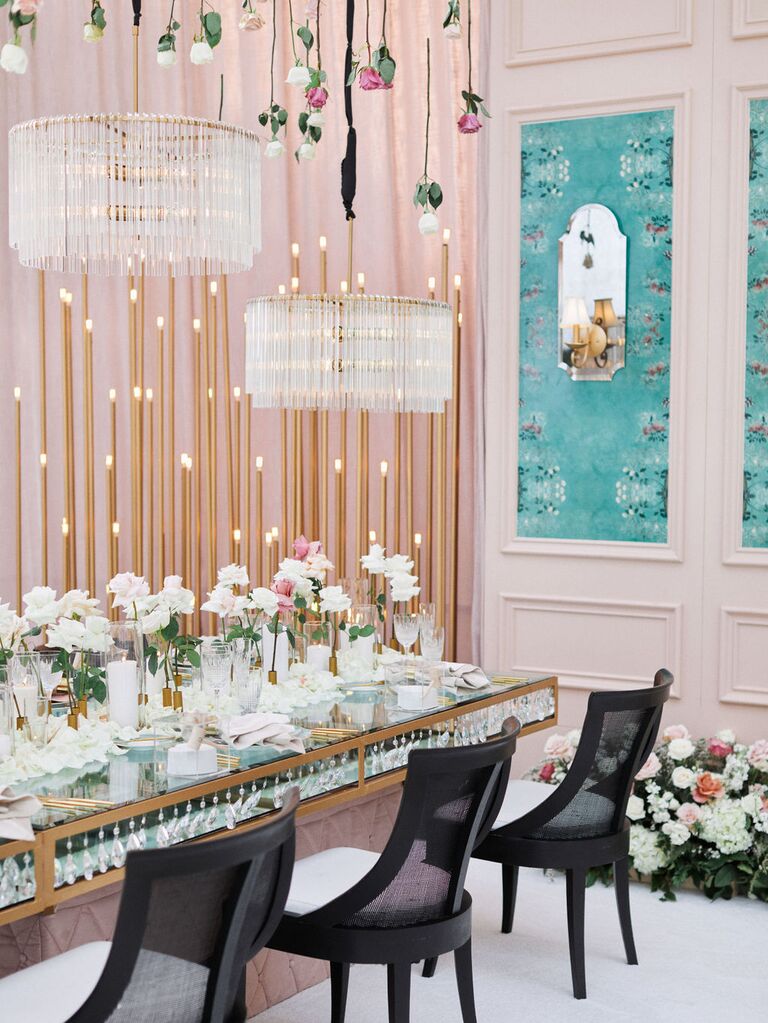 Gainey adds that "incorporating residential touches can give a feeling of entertaining like you would at home. It's personal and makes a wedding feel more intimate."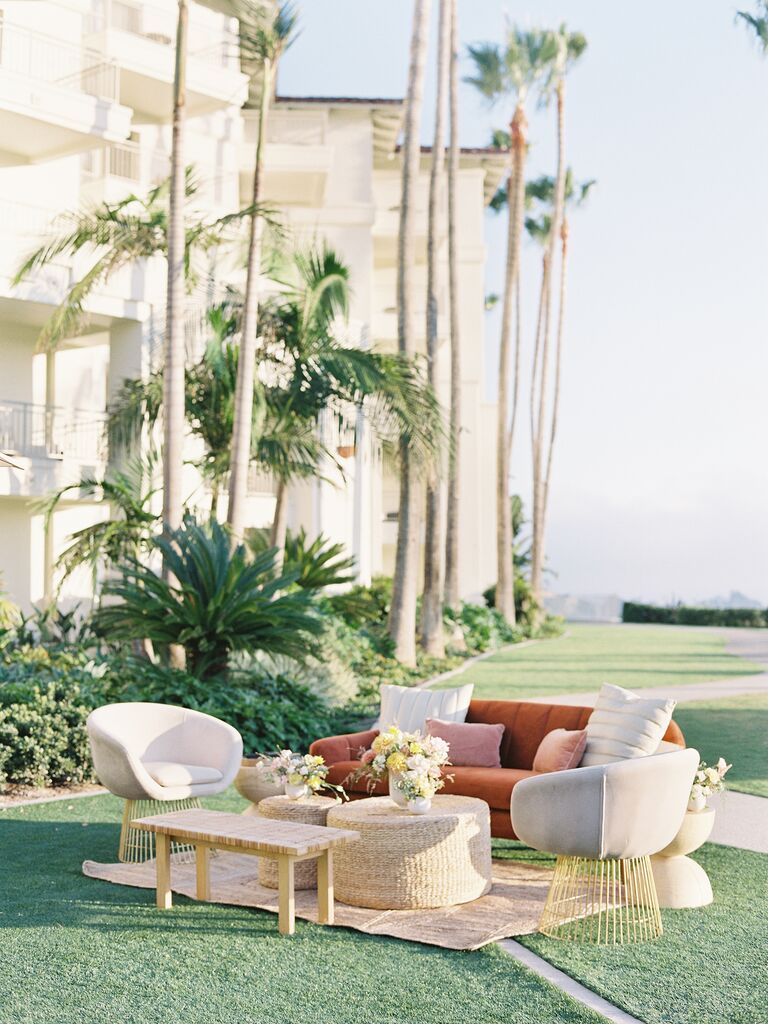 Barbiecore Aesthetic
Thanks in part to excitement over Greta Gerwig's movie about the classic Mattel doll starring Margot Robby and Ryan Gosling, couples are bringing Barbies into the world of wedding themes. In essence, the aesthetic is all about harnessing Barbie's true essence and leaning into a vibrant, maximalist vibe. The Barbiecore trend involves bright color palettes (which couples can learn more about in our wedding color trends story) and a general "more is more" meets neon philosophy. "I have seen Barbiecore utilized most in elopements," says Diwan. "The over-the-top, bold colors play off the whimsy and spontaneity of it all."
On a broad scale, we've seen couples move away from prescriptive wedding themes into a focus on aesthetics and vibes, many of which are known as 'cores,' like Regencycore and Cottagecore. "I'm all about embracing the vibrant pink hues of Barbiecore," shares Lin. "I've seen this trend being incorporated in wedding party fashion, bridesmaid attires and even as a second look. Just imagine your wedding entourage in Valentino FW 2022 Pink collection! I'm not mad about it. While Barbiecore lends itself particularly well to wedding fashion and bridesmaid dresses, there are also many ways to make the aesthetic work with wedding decorations. Consider hot pink linens and modern acrylic signage. You can also rent pink lounge furniture or select a vintage pink convertible getaway car to harness that Barbie energy.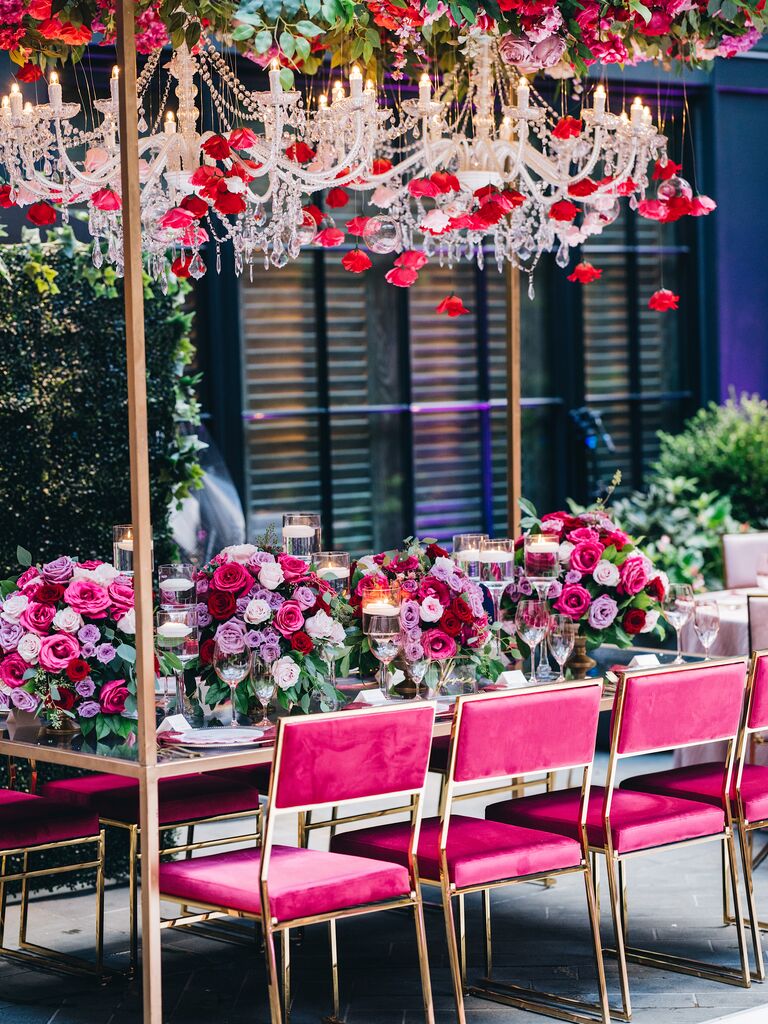 Entomology and Butterfly Wedding Decor
Yep, you read that right—bugs are having a moment within the world of wedding decorations. Entomology and lepidopterology, a fancy way of saying all things butterfly, are trending when it comes to wedding decor.
In much the same way that couples are embracing aesthetics over wedding themes, we're seeing couples lean more into sprinkling entomology-inspired motifs throughout their weddings as opposed to having strictly butterfly-themed weddings. Subtlety is key here—nods to bug and butterfly wedding decor are a chic way to go without overdoing a butterfly wedding theme. For example, maybe you commission a custom bug illustration inspired by vintage botanical posters and John Derian for your wedding invitations. Take that motif and thread it throughout the rest of your wedding by making it appear on signage and even custom cocktail napkins.
"Small touches of entomology can make an elegant statement as opposed to using pieces that are overbearing. A brooch for the bridesmaids, paper butterflies hanging from the ceiling, tasteful art on drink signs and menu cards," suggests Diwan.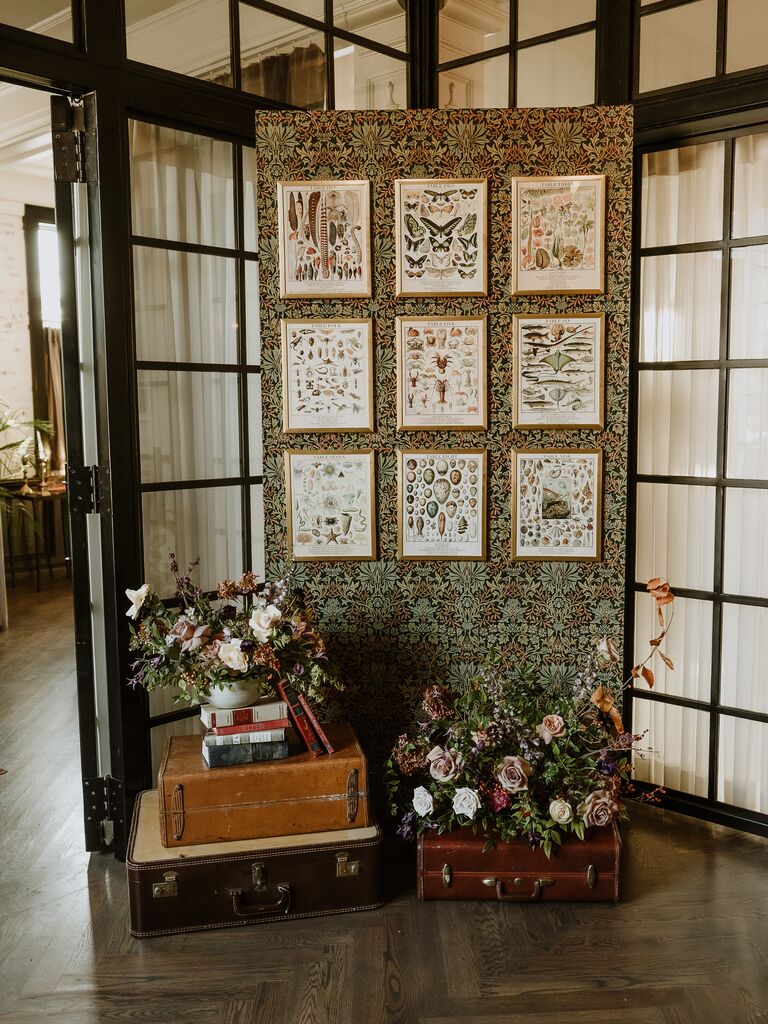 Western Wedding Decorations
Step aside boho, there's a new look in town. Western wedding ideas are popular right now. A Western wedding isn't quite a rustic wedding and it isn't quite a country wedding. Instead, the idea centers on elevated takes on Western vibes. Think: cowhide patterns, lots of texture and modern neutral colors. A Western wedding is more likely to be hosted in a meadow under a tent with the Grand Tetons in the background rather than at a rustic barn with burlap decor.
When it comes to Western wedding decorations, a big component is leaning into dried wedding flowers and foliage within floral arrangements and lots of mixed materials. From leather to wood to iron, you can build depth in your wedding design by rethinking which materials you utilize.
"The Western aesthetic is definitely rising. With fringe coming back into fashion, it's being translated into decor. We see couples creating fun experiences that fit into the Western aesthetic: themed drinks, Western music and even interactive stations (guests picking out their own cowboy hats and accessories)," says Diwan. Lin goes on to share that she is "partial to the Western aesthetic as it's a very specific look and theme that may not always be done right. The best example of an elevated Western theme done right would be Sophia Bush and Grant Hughes's wedding welcome party in Tulsa. It was beautifully done with earth-tone colors and minimalist design."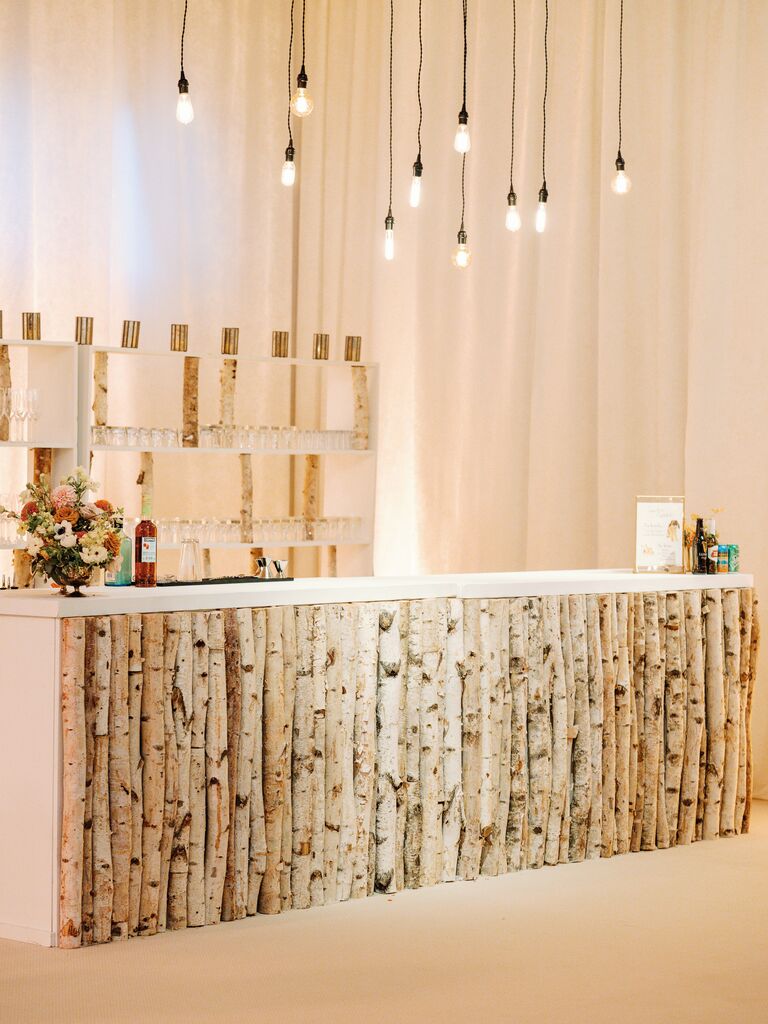 Disco Wedding Decor
Ready to hit the dance floor with a disco wedding? Now is your chance. Retro and disco-themed weddings are a trend that began in the '70s and have circled back for a second time. The best way to bring this to life is through the inclusion of plenty of metallic and mirrored details.
"There's something so fun about disco balls," says Gainey. "And at night the reflection off the mirrored surfaces adds a whimsical touch. Especially for an after-party or a dance floor, I'm here for disco decor." Similar to Gainey's after-party suggestion, Diwan loves the idea of a disco theme for a welcome party. "Disco is always a vibrant theme to keep for the welcome party or other prewedding events. With so many ways to emulate disco, such as sequins, prismatics, and bold florals, it can be freshened up by tying in unique elements that are personal to the couple."