The Freshest 2024 Wedding Decor Trends You're About to See Absolutely Everywhere
Make your day stand out with the latest and greatest decor trends.
Photos: Clary Pfieffer Photography, Ledia Tashi Photography, Nikki Daskalakis, Stetten Wilson, Calen Rose, Todd Danforth Photography, David Abel Photography,Cake: Sweet Heather Anne,Signage: Wildhouse Ink,Arrangement: Native Poppy,Design: Tiana Crispino
Wedding decor trends are always changing. While this creates an onslaught fresh and creative ideas to consider for your wedding, it can be hard to know what's hot and what's not. Want to learn about the latest and greatest wedding decor concepts for 2024 that'll make your wedding an out-of-this-world wonder? You've come to the right place. We spoke with 14 expert wedding pros about new 2024 wedding decor trends that are sure to make you swoon.
A commonality between all the freshest, hottest wedding decoration trends of 2024 is that they're all about customization and enhancing the experience. Your wedding day is yours to plan and while these trends are popular with many couples, they all challenge to-be-weds to think outside the box and embrace personalization. Don't believe us? Peruse the wedding decor trends 2024 has to offer below to see what's buzzy right now. Whether you're having a destination wedding or staying local, keep the guest list small or going big, no matter what you're planning—there's a way to bring these 2024 wedding decor trends to life for your nuptials.
2024 Wedding Decor Trends
Well, what is trending in wedding decor in 2024? Our pros agree–these are the fresh ideas of the here and now. Check out the trending wedding decor of 2024:
1. Bold, Yet Refined Use of Color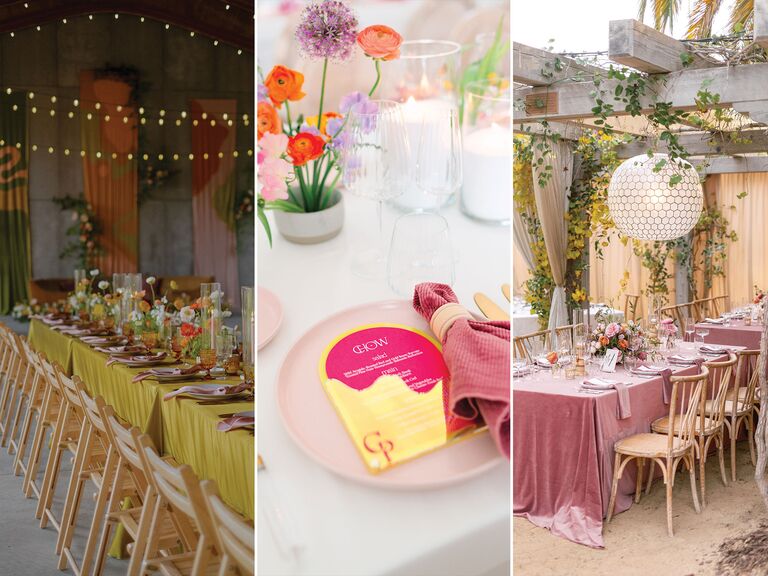 We're starting off strong with bold colors as a wedding decor trend for 2024. "I'd be remiss not to coin 2024 as the 'Year of Color,'" says Stefanie Skelley of Reverie Social. Alyssa Pettinato of Alinato Events agrees: "We are definitely diving back into color in 2024." Over the last few years, we've seen weddings move away from simple white-and-green palettes to bold kaleidoscopes of color. And while the move toward punchier hues isn't going away, we are seeing more thoughtfulness and refinement with the use of color.
Skelley goes on to add that color palettes are evolving to "strike the perfect balance– enough color to add visual intrigue, but subtle enough to remain elevated and sophisticated." Couples are no longer including "color just for the sake of color," explains Josh Spiegel of Birch Event Design. Spiegel explains that his clients are pushing the boundaries with color, "but in a much more intentional way."
2. Hanging Wedding Decor
If you want to know what is on-trend for wedding decor in 2024, you need to look up. Unique hanging installations are one of the latest trends with wedding reception decorations. Emily Coyne of Emily Coyne Events says that the couples who hire her company are loving dramatic ceiling installations, especially over the dance floor. "They invoke an incredible wow favor and create a big impact."
The pro goes on to note that this 2024 wedding decor trend is translating into "increased requests for lush hanging florals paired with beautiful lighting fixtures." Wedding decor doesn't have to be limited to tabletops—take your imagination to new heights and bringing guests' gaze upward.
3. Utilization of Non-Floral Elements
Did you know that your decorative arrangements and centerpieces aren't limited to flowers alone? According to the latest trends in wedding decor, non-floral elements, like fruit, is the popular way to go. According to XO Moreau's Alex Moreau, "Couples are favoring more creative floral arrangements, diverse greenery, and other unique elements to inject their celebrations with an individual and lively flair."
When asked about this 2024 wedding decor idea, Xin Huang of Le Petit Privé shared that they are experiencing more requests for "abstract structural floral pieces that look like works of art. Lots of interest in using fruits and veggies to add dimension and texture." One reason Huang is such a fan of this trending wedding decor is because it allows "for our minds to open up about what decor items are."
Likewise, Melissa Andre of MAD Co. likes the creative freedom that using non-floral elements provide. "When you're using a natural element like flowers, you are limited by the varieties by seasonality, geography and what Mother Nature has to offer. [This trend] gives us a whole new range of potential designs." Andre notes, lightheartedly, that the only thing stopping couples is that they might just need to broaden their decor vendor search to hire a painter or a carpenter.
4. Residential- and Restaurant-Inspired Wedding Design
When it comes to wedding decor ideas 2024 has in store, Laura Ritchie of Grit & Grace is "really excited about residential and restaurant touches." Diana Lin of Cóllectives by Diana is also excited about residential and restaurant vibes to infiltrate wedding decoration trends in 2024.
Find all the vendors you need
Discover top-rated pros for any budget, background and style.
So what exactly does this wedding trend for 2024 decor involve? Ritchie notes that it's characterized by "intimate and thoughtful details you might see at a high end restaurant like table lamps, luxurious menus and unique chairs." For Lin, who works both as an interior designer and a wedding planner, she shares how she's "always blurred the lines between the two. It's about creating an environment that's comfortable and welcoming yet beautiful. You want to create an intimate space to gather. As such, it's not surprising that people are leaning into residential wedding decor."
While Ritchie and Lin are seeing this trend with weddings on the East Coast (they're based in VA and NY, respectively), it's also permeated 2024 wedding decor trends on the West Coast. California-based Heather Balliet of Amorology Weddings is leaning into creating outdoor "pop-up restaurant" vibes with "lots of cozy lounges, warm lighting and structures that give definition to the space."
Renee Patrone Rhinehart of Events by Renee likes to refer to this trend as "dinner party weddings" because of the intimacy and personality this new wedding decor trend brings to events. It's all about "incorporating residential touches can give a feeling of entertaining like you would at home. It's personal and makes a wedding feel more intimate," says Michelle Gainey of Lemiga Events.
Paying extra attention to tablescapes is a key part of brining this latest wedding decor trend to life. Gainey suggests couples focus on carefully selected dishware, chargers, glassware and menu cards. The pro goes on to explain that, in the past, couples may have treated these kinds of details as an afterthought. However, paying special attention to them can take a wedding from "standard to designer." Balliet is also keen on leaning into creative linens to bring this new wedding decor idea to life in 2024. "Pattern play and color with both linens and napkins is always a fun touch," she says.
5. Trendy Lighting Wedding Decor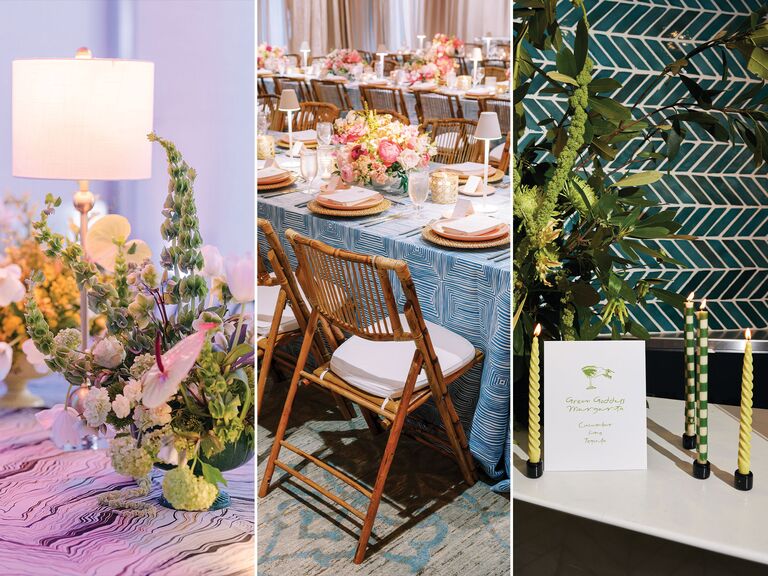 Lighting is certainly part of nailing the residential 2024 wedding decor trend. But beyond that, lighting is a fresh wedding decoration trend on its own. Pettinato notes that she is seeing couples embracing heavy usage of candles for mood lighting.
"People are leaning into more unique lighting," she says. The pro even had a bride who imported special candles from Oaxaca for a unique finishing touch. "We're going to see more focus on little details like this," she says.
Rhinehart likes when couples focus on lighting because it is a "great way to incorporate your unique style to your wedding design."
6. Embracing Curvature in Wedding Decor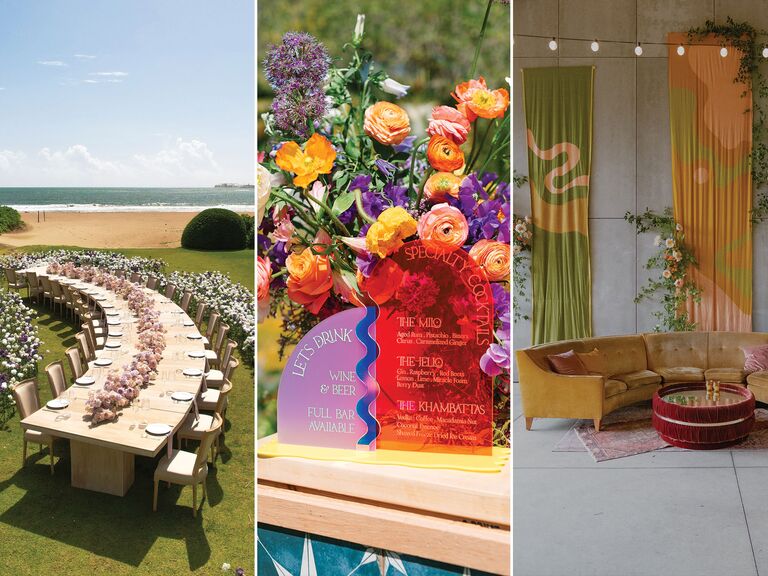 Things are getting a little wiggly with the latest trends in wedding decor for 2024. From squiggly signage to curved ceremony aisles, couples are thinking outside the box, literally, and grooving with curvature.
Spiegel shares that "asymmetrical and non-traditional aisles" are a major new wedding decor trend for 2024. He sees an increase in couples playing with shape, color, and pathways. Additionally, Coyne loves the shift toward embracing a mix of table shapes because it "creates a lot of visual interest in the reception space."
7. Flower-Packed Ceremony Decor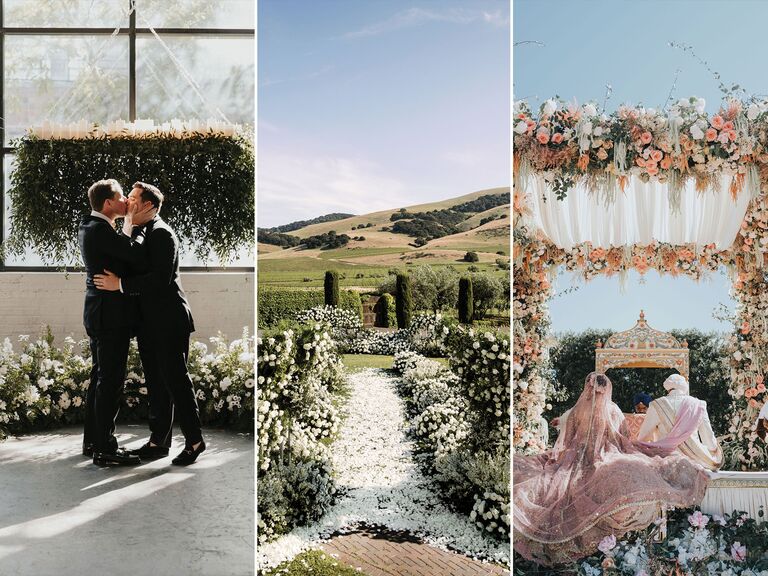 "The use of an abundant amount of florals" is one of the notable wedding decor trends 2024 has to offer according to Kristen Gosselin of KG Events. Pettinato concurs that unique ceremony flowers are having their moment with 2024 wedding decor. The pro shares that couples are thinking outside of the box and are moving away from traditional wedding arches. "We are going a little bit more grand with the aisle decor," she says.
Gosselin is a fan of flower-packed ceremonies because of the way that "blossoms can control your guest's focal point. In an outdoor ceremony setting, there can be a myriad of things that catch your guest's gaze. However, incorporating large floral displays can draw your guest's attention back to where you want their focal point to be."
And one of the best parts about this latest trend in wedding decor? It can be customized in countless ways. Coyne is seeing increased requests for potted florals. Meanwhile, Pettinato notes that it's fun when couples place florals atop pedestals at the altar. And that's not all—Huang's couples are reimaging ceremony flower arrangements by "venturing into full floor installations including large bushes." In yet another interpretation of the flower-packed ceremony trend, Ritchie loves "seeing a ceremony in the round with low floral to encircling the couple."
Moral of the story? This epic trending wedding decor idea for 2024 can work for just about any couple and any ceremony.
8. Highly Thematic Welcome Parties (to Contrast the Wedding Vibe)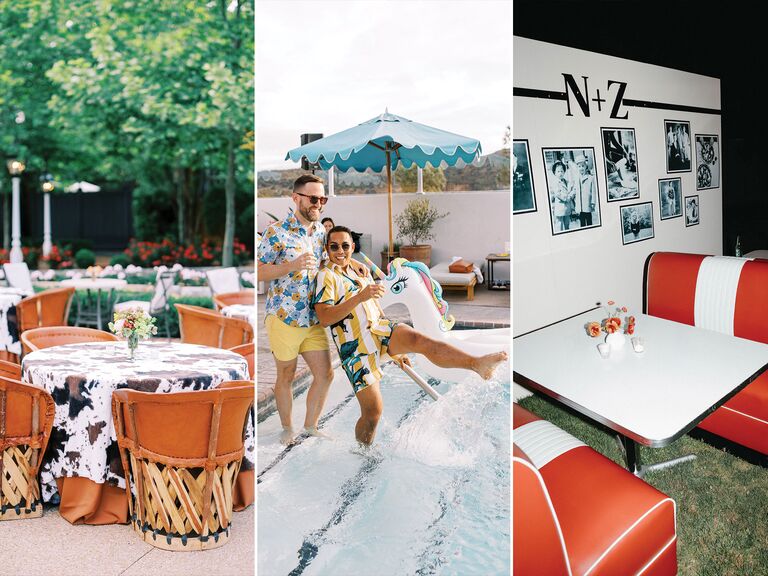 How do prewedding events affect the decor trends we're seeing for 2024 weddings? Here's the thing—if couple's want to have multiple events, they're going to want each to feel unique and distinct. So that means that a couple's chosen wedding aesthetic is going to have a strong bearing on what they do or don't do ahead of the big day. Enter: highly thematic welcome parties.
Couples are embracing exponential personalization through themed welcome parties. Maybe they're planning a more timeless, sophisticated main event. Then, in contrast, they decide to get a little quirky with a thematic kick-off. Sounds like fun to us!
Ritchie shares that "Themed welcome receptions definitely seem to be staying the course and while initially I thought the trend would peter out, its seems to only be getting more involved. A welcome reception to kick off a wedding weekend is a great way to insert in some personality and get super thematic. Western welcomes, beachy clam bakes and rooftop disco dens will persevere." Gosselin agrees, adding that this unique wedding decor trend "offers your guests a fun, non-traditional experience to break up the wedding weekend in the best way. Ditching the traditional cocktail-style welcome party for a themed party allows your guests an interactive and engaging experience. With a themed after party, it provides a surprise element for your guests."
9. More is More Maximalist Wedding Decor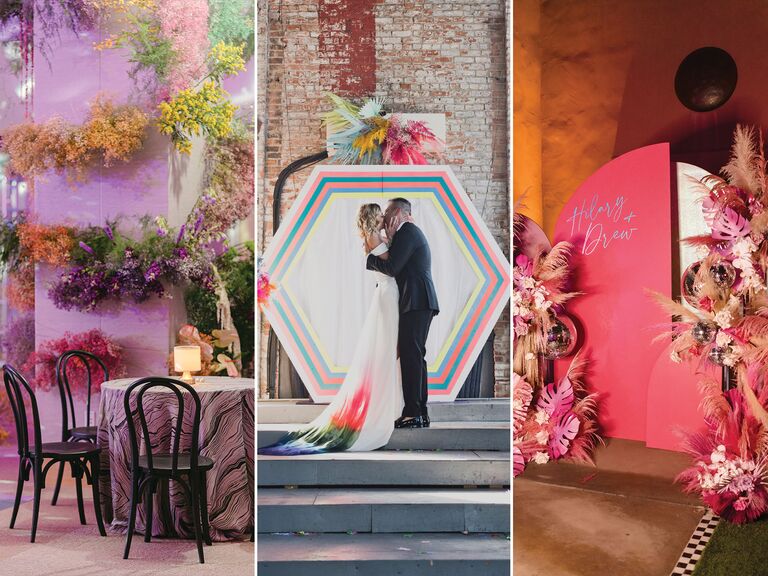 When asked what reception decor trends are on the rise, Moreau answered emphatically that she is seeing a shift toward a "maximalist design approach!" Andre agrees, noting that couples are moving away from the very minimalist aesthetics characterized by lots of black accents.
"Maximalism is characterized by an abundance of colors, prints, and styles," says Moreau. "It thrives on the principle of 'more is more,' embracing boldness, richness, and diversity in visual elements. In weddings, maximalism translates into using vibrant and varied color palettes, mixing different patterns and textures, and combining various decor styles to create a rich, layered, and visually stimulating environment. It's about breaking traditional norms and embracing a bold, expressive aesthetic that captures attention and personality."
10. An Upscale Take on The American West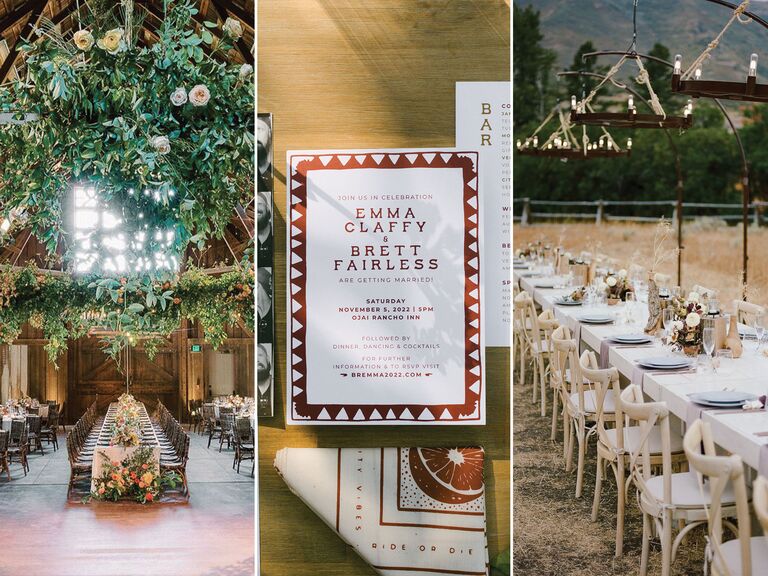 Step aside boho, there's a new look in town. Western wedding ideas are popular right now. A Western wedding isn't quite a rustic wedding and it isn't quite a country wedding. Instead, the idea centers on elevated takes on Western vibes. Think: cowhide patterns, lots of texture and modern neutral colors. A Western wedding is more likely to be hosted in a meadow under a tent with the Grand Tetons in the background rather than at a rustic barn with burlap decor.
"The Western aesthetic is definitely rising," says Sneh Diwan of Diwan by Design. "With fringe coming back into fashion, it's being translated into decor. We see couples creating fun experiences that fit into the Western aesthetic: themed drinks, Western music and even interactive stations (guests picking out their own cowboy hats and accessories)."
When it comes to Western wedding decorations, a big component is leaning into dried wedding flowers and foliage within floral arrangements and lots of mixed materials. From leather to wood to iron, you can build depth in your wedding design by rethinking which materials you utilize.
11. Metallic Disco Wedding Decor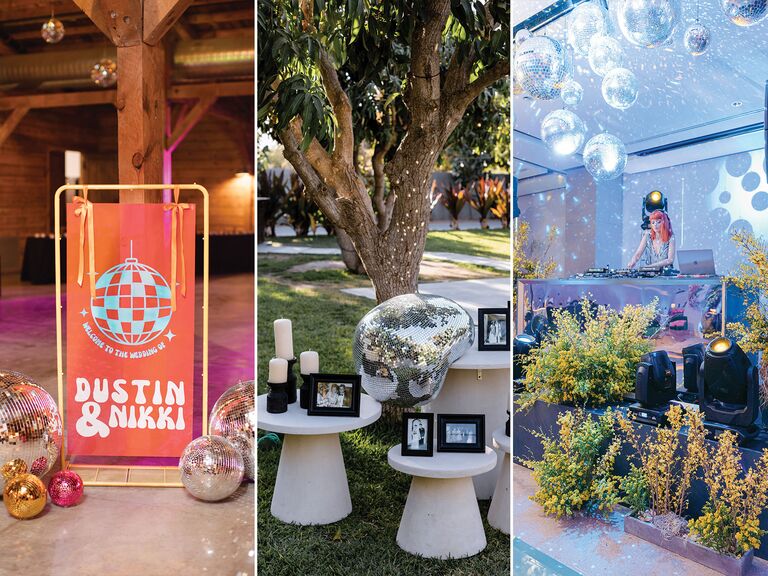 Ready to hit the dance floor with a disco wedding? Now is your chance. Retro and disco-themed weddings are a trend that began in the '70s and have circled back for a second time. The best way to bring this to life is through the inclusion of plenty of metallic and mirrored details.
Diwan loves the idea of a disco theme for a welcome party. "Disco is always a vibrant theme to keep for the welcome party or other prewedding events. With so many ways to emulate disco, such as sequins, prismatics, and bold florals, it can be freshened up by tying in unique elements that are personal to the couple."
12. Paying Special Attention to the Bars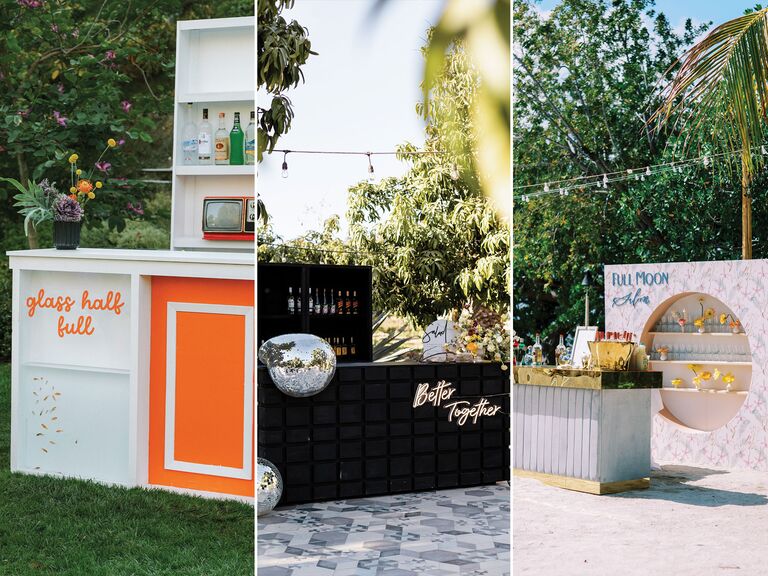 You heard it here first folks, custom bar fronts and highly decorated bars are the new escort card wall display.
Why the emphasis on bars? Spiegel notes that as "the most high-traffic area of many receptions, focal bars and custom designs are making their way to the top of the list of decor must haves."
Get to Know Our Wedding Decor Trends Experts
It's true: vendors are the backbone of weddings. They also keep us in the know about the latest and greatest trends as they've evolving. Here's a look at the knowledgeable wedding experts we tapped for wedding decor insights.