7 Wedding Details Your Guests Won't Care About
No need to splurge on these wedding extras that'll go relatively unnoticed.
by Maggie Seaver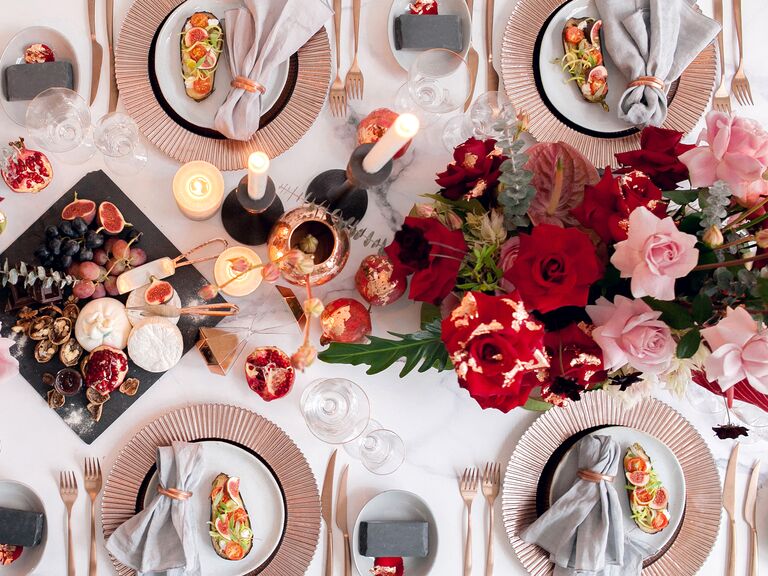 We're here to drop a truth bomb: There are some wedding details not worth agonizing or going into debt over—because your guests simply don't care. All your wedding guests want is to celebrate your marriage without going hungry, thirsty or getting bored. So if you're looking to save some money here and there, feel free to scale back on these details. Chances are, your guests won't notice or remember—as long as you put some effort into the things they will.
1. Over-the-Top Stationery
Your wedding invite is the first glimpse your guests get into your wedding style, so you can have fun with small, unexpected elements if you want, like personalized stamps or brightly colored envelopes. But don't go crazy overstuffing an elaborate envelope with thick card stock, 14-karat gold calligraphy and real peacock feathers. (And remember, the heavier your invites, the more you'll have to shell out for postage.) As long as your invites share essential information and look pretty enough to tack on the fridge, you're good to go.
2. Ceremony Programs
Same goes for your programs. Of course, you'll want to go beyond printing out a Word document in Times New Roman, but don't stress over them. Your guests will glance at them during the ceremony, then probably leave them on their seats once it's time for cocktails and congratulations.
3. Aisle Décor
Depending on your venue, you might not need much in the way of ceremony décor at all—especially if you're saying "I do" in a pretty house of worship or outdoor site. If you're dead-set on decking out your ceremony space, stick to highlighting the focal point: your altar or arch. Otherwise, small buds or lanterns you can repurpose as centerpieces work beautifully.  
4. Monogrammed Favors
Your guests will appreciate fun favors, but they don't really care all that much. This is especially true if you offer something they'll never use, like monogrammed shot glasses—or monogrammed anything. When deciding on favors, skip customizing them with your initials and wedding date. This will save you a little cash and entice your guests to take them home.
5. Expensive Linens
When was the last time you walked into a wedding reception and paid attention to the table linens? Probably never. You do want your tablecloths, runners and napkins to look pretty and fit your general color palette. As long as you've got that covered, we promise your friends and family won't judge you for not splurging on natural cocoon silk tablecloths with coordinating, customized napkins.
6. Elaborate Centerpieces
No one's denying those photos of full, towering arrangements look stunning on your inspiration board. But no one's denying how pricey they are either. You don't need to import peonies from Japan—if all you can swing is clean tablecloths, farmers market flowers, a little greenery and some twinkling votive candles, no one will bat an eye. Your guests just want an inviting place to sit, eat, sip and laugh.
7. Wedding Cake Details
Just because you splurged on cascading sugar flowers doesn't mean your cake will taste good. And that's all anyone really cares about right? Stunning wedding cakes are stunning, but at the end of the day, your cake isn't a sculpture—it's dessert! Plus, guests often miss the cake entirely due to being on dance floor, hitting up your photo booth or running to the bathroom. As long as it looks as yummy as it tastes and there's a slice for everyone, there's no need to take out a loan for a crazy confection.