This Woman Turned Her Wedding Gown Into Her Daughter's First Communion Dress and the Result Is Amazing
This little girl's white dress has a very sweet story.
by Maggie Seaver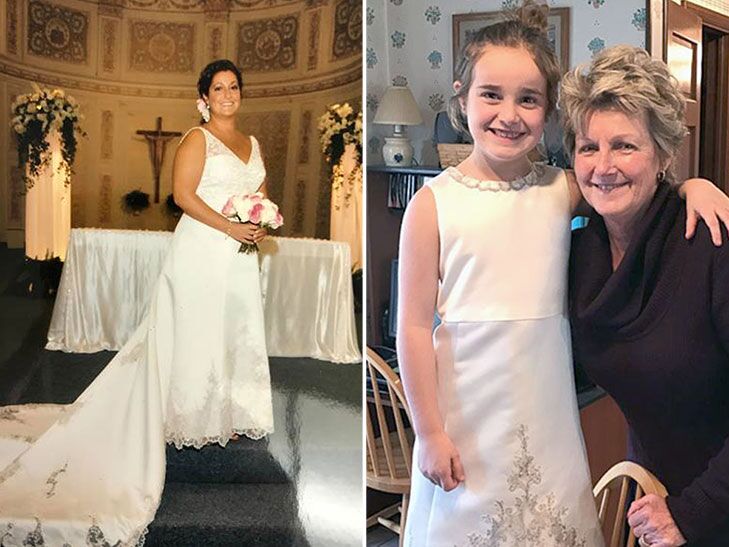 We've heard some creative stories about crafty women who've repurposed their wedding dresses into brand-new pieces, including christening dresses and a Christmas tree skirt. And this story of a wedding dress passed from mother to daughter with the help of an incredible grandmother is too sweet to resist.
When mother Quinn Whittaker, from Lima, Ohio, suddenly realized she had no dress and no time to shop for her daughter Lily's upcoming first communion, she decided to transform her wedding gown into a first communion dress.
There was no way Whittaker could tackle this project without enlisting her own mother, Suzanne Kelley, who made Whittaker's gown herself almost a decade ago (Whittaker will be celebrating her 10-year anniversary this summer!). Kelley has always been savvy with a sewing machine, making everything from princess dresses to prom dresses for her loved ones. "She's just the best grandmother and is so willing to do these types of things, and puts her heart and passion into whatever she does," Whittaker told Good Morning America.
Lily gave her grandmother a few requests—"flowy" and "princess-like," please!—and Kelley created the sweetest white dress for Lily's first communion, which Whittaker said was both "emotional" and full of compliments.
Although Whittaker definitely experienced a brief tug of sadness from having to let her wedding dress go, she knew Lily needed it and that her outfit would be extra special. "My mom held [my dress] up and said, 'This is what's left.' I had a little pang of, 'Oh this is sad,' but when I saw the finished product on Lily it made me feel good because it looked beautiful," Whittaker says. "She's our oldest, so watching her go through that sacrament was in and of itself great. But then seeing her in that dress, it was emotional. We were so proud of her too."
So what's left of the dress? Kelley mostly used material from the middle, so there's still fabric to spare from the top and the bottom—enough to use again down the line. Whittaker says her son Jack will probably be wearing a tie made from her wedding dress when it's time for his first communion.