You'll Never Guess What This Dress Is Made Of…
by Simone Hill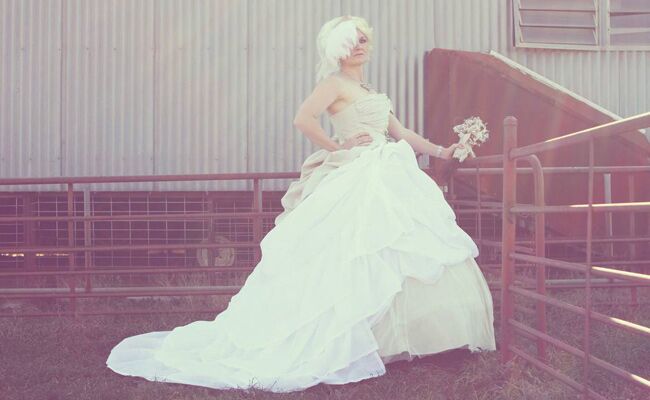 photo by
Photo: MerriedInMercury.au
I bet you didn't guess horse rugs, mosquito netting, and old shearing combs. It sounds insane but apparently an Australia-based fashion designer Kirsty Mackenzie has created a wedding dress made entirely of materials found on a farm, taking the term "rustic chic" to a whole new level.
A rundown of what she used for the dress:
Heavy canvas (for the skirt)
Mosquito netting (for the sheer overlay)
Rope (stitching on the bodice)
Rip stop from horse rugs (for ruching on the bodice)
A speaker cover spray-painted gold (the base of the veil fascinator)
Bullet shells (to accent the fascinator)
Shearing combs, bolts, blades and wire (for the bouquet)
The plan is to show her aptly named "Shot Gun Wedding Dress" in a Wearable Art contest held in Western Australia later this summer. I'll stay away from that bouquet toss thank you very much.
More good stuff!
> A roadkill wedding dress…would you wear this?
> A wedding dress made of cake?!