5 Common Mistakes to Avoid When Preserving Your Wedding Dress
If you want your wedding dress to stay gorgeous forever (or at least until you decide what to do with it), here's what not to do.
by Elena Donovan Mauer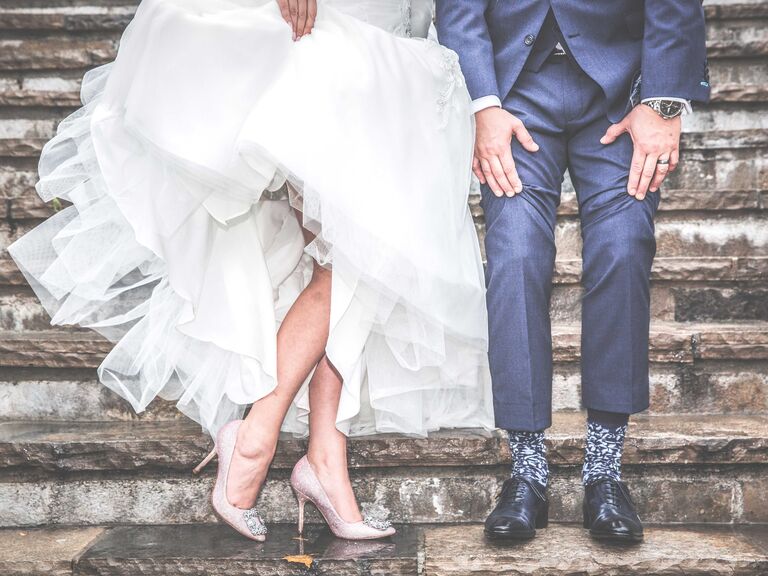 You put a lot of careful thought (and money) into choosing your wedding dress. So naturally, you don't want it yellowing or the fabric decaying over time. The best way to prevent that? Wedding dress preservation.

Wedding dress preservation is a two-part process that includes cleaning the dress and then storing it in a specialized box that prevents aging. If you're going to partake of this postwedding service, you don't want to risk doing anything that could interfere with it actually working. So definitely avoid these common mistakes brides make while preserving their dresses.
Mistake #1: Waiting too long.
There are lots of reasons to preserve a wedding dress. "The majority of customers we serve plan to keep their wedding gown as an heirloom item to pass down to their children," says Jeff Schwegmann, president and owner of Happily Ever After, the exclusive gown preservation partner of Wedding Dress Preservation by The Knot. "We've seen a rise in repurposing gowns into other items such as veils, baby blankets, christening gowns and more." Even if you're unsure what of you're going to do with your gown, preservation helps you keep your options open.
Remember that stains (even those you can't see at first) can set over time, so the longer you wait to have your gown cleaned and preserved, the more likely your dress will become discolored permanently. Within three to four weeks after the wedding is an ideal time frame, says Schwegmann.

In fact, many brides research wedding dress preservation companies before the wedding, so they already have a plan in place, and all they have to do is send in or drop off the gown after the honeymoon.
Mistake #2: Using someone who's a wedding gown cleaner but isn't a specialist.
Wedding dress preservation starts with a really good cleaning, but this isn't a task for just any ordinary dry cleaner. Make sure the cleaner is truly experienced and specializes in wedding gowns. A good pro will use multiple methods to clean different bridal gown fabrics and embellishments and can choose the right one for your dress.
Ask for recommendations and referrals, and check reviews from other customers before committing.
"Some bridal stores sell cleaning and preservation packages with the gown," says Schwegmann. "It may appear to be a good deal, but you should research the provider before purchasing this package from the store."
Mistake #3: Trying to treat stains yourself.
Got a little dirt on your gown at your outdoor ceremony? Resist the urge to try to get rid of the stain yourself.
"Avoid home remedies for stain removal, [since] they may not work and could set the stain," says Schwegmann. "The professional is going to determine the safest and most effective cleaning medium."
To give you peace of mind, Wedding Dress Preservation by The Knot allows customers to send photos of stains in advance, so they can evaluate them.

Mistake #4: Storing the wedding dress improperly after the wedding.
It's okay not to rush your gown off to get preserved the day after the wedding—you're a busy newlywed. But you should neatly hang your dress in a safe place until you return from the honeymoon. You don't want to add to the stains and wrinkles by leaving it on the floor.
Many wedding dress preservation companies are mail order; you simply put your dress in a special mailing bag and have it shipped to them. "If drinks were spilled on the gown, make sure they dry before you place it in the bag," says Schwegmann, since that could worsen the stain as well.
Mistake #5: Not storing a preserved gown correctly.
Once your wedding dress is preserved, you'll receive it in a handy box for safekeeping. Don't stash it in the basement or attic. The box should be in a temperature controlled room (air conditioned is best), out of direct sunlight, and away from dampness or humidity. Usually, a closet shelf or under the bed will do just fine. Preserved wedding dresses shouldn't be hung on a hanger, since that could stretch the fabric over the years, especially if the gown is heavy.
The preservation box will be airtight and sealed for safekeeping, and if you open it, you risk discoloration due to oxygen exposure. Don't break the seal until you're ready to pass it down or repurpose it, or only if you're willing to have it preserved and sealed all over again.
Luckily, wedding dress preservation boxes usually have a see-through window (the ones from Wedding Dress Preservation by The Knot do), so you can sneak a peek whenever you like. Here's to a long-lasting gown—and marriage!

Disclosure: This post contains affiliate links, some of which may be sponsored by paying vendors.