The Good, the Bad, and the In-Between of Wedding Dress Rental
Yes, it's a thing—but is it your thing?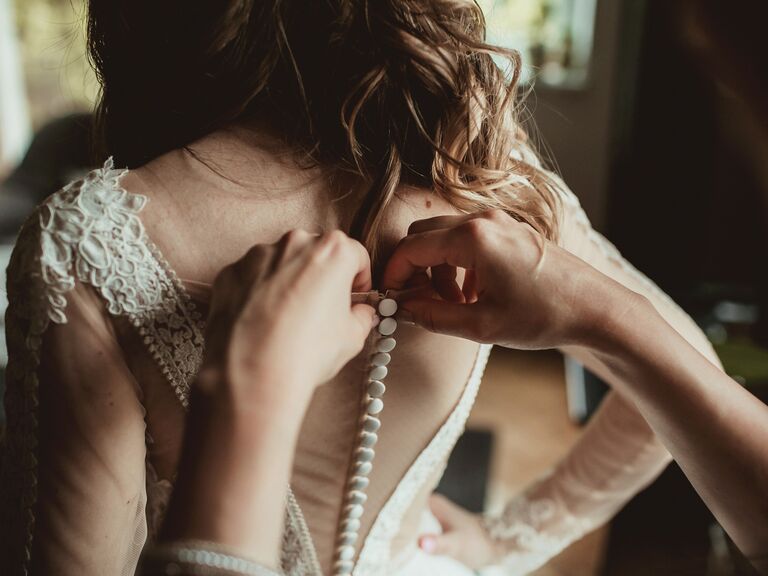 Pawel Michalowski/Shutterstock
We have included third party products to help you navigate and enjoy life's biggest moments. Purchases made through links on this page may earn us a commission.
Maybe you've been debating over renting your wedding gown, or maybe you didn't even know wedding dress rental was a thing, but now that you do, you're intrigued. Either way, it may be an option worth pursuing as you piece together your bridal look. Take a closer look for everything you need to know, to find out if your big day dress could also be your something borrowed.
Should You Buy or Rent a Wedding Dress?
The truth is, nobody can answer this question for you... except you! But here are some things to consider: If you've always dreamt of the perfect dress and feel that it will hold a lot of meaning and nostalgia for you long after your wedding day comes to a close, you're probably leaning toward owning a dress. You might even like to have the option open to pass your dress on as an heirloom to your child someday—if that's a tradition you'd like to start, then of course, buy the dress! On the other hand, maybe to you, the dress is just a formality—and you'd rather invest more time and energy on other aspects of your wedding. Something to keep in mind as you ponder is that during wedding planning, a lot of things can feel much more important to you than they will end up being after the wedding comes to a close. Try to separate your true feelings from your wedding planning stress-induced feelings as much as possible (easier said than done, we know!).
How Does Renting a Wedding Dress Work?
First, you'll browse available rental services to see if they have any dresses that fit your vision. Once you pick your fave (or faves), you'll place your order. Most sites will send your order within a specific time window—we suggest giving yourself plenty of lead time in the days before your wedding to receive the item(s), try them on and ensure proper fit—in case of emergency, you'll want enough time to send back for a new size or option. Also, most stores will send two sizes with every order, so you have more of a chance at a perfect fit. Once it's go time, your dress should arrive clean and pressed, ready to be worn. After the big day, you'll simply pack it up (you can skip the dry cleaning!) and ship it right back before the specified return date. It's that easy! And you'll save hundreds, potentially thousands, of bucks along the way.
Where Can You Rent a Wedding Dress?
Two popular favorites for gown rentals are Rent the Runway (a great pick packed with high-end designers) and Wedding Dress For Rent (featuring designer dresses and classic picks), but a quick Google search will yield lots of smaller outfits that rent designer duds—just filter by white (or whatever color you hope to wear on your wedding day!) and shop away. If your heart is set on renting, keep in mind that a gown doesn't have to be "a wedding dress" to be a wedding dress! There are lots of gorgeous dresses out there for rent that are just as dramatic, beautiful and one-of-a-kind as an "official wedding dress," so be creative and open-minded.
Additionally, any company that rents bridesmaid dresses will likely have all their options available in white or ivory—poof, that simple, floor-length bridesmaid stunner just became an excellent contender for the bride. Every site has its own rules and requirements, so be sure to review those closely before you place your rental. As you always do, read over plenty of reviews before placing your order, to ensure you can trust that you'll get what you pay for—Rent the Runway has customer galleries of real renters in their dresses, which can help you assess quality and fit. And don't forget to call around at dress salons near you—some may rent gowns on a local basis.
Wedding Dress Rental Pros and Cons
Again, whether or not you're a candidate for renting a dress really comes down to personal preference and whether or not you've always imagined yourself owning your wedding dress. But here are some pros and cons to help you decide if you're still unsure:
Pro: It's great for the environment.
The environmental toll of throwing a wedding can't be ignored—there's a ton of waste involved for an event that will only happen once! Whatever you can rent rather than buy is a greener choice, whether it be table settings or your dress, because those items go back into use for future weddings long after yours is over.
Con: You may not get a perfect fit.
You may be able to do some temporary alterations to a rented dress (like, with safety pins), but you won't be able to take it to a tailor to get it fully altered to custom-fit your body. Which may not be an issue for you, especially since most rental companies allow two sizes to be rented at once. Still, it's worth considering, especially if you have concerns about fit.
Pro: It's easy on the budget.
This one's a no-brainer—renting a dress will cost significantly less than buying one and paying for alterations. So, if you're already feeling like your dress is less important than, say, your band or flowers, renting might be a great idea for you—you'll have more money to invest in something you care more about. Or, if your bridal gown also happens to be a designer gown, you could save mega cash by renting it instead of buying.
Con: You'll have fewer options.
If you don't have a clear idea of what style of dress you want to wear, or if you're just someone that loves to try a little bit of everything before making a decision, dress rental may be tough for you because there simply will be a smaller inventory. You also won't have the luxury of working with a stylist at a salon to help you find the perfect one for you—although many online rental brands offer help from digital stylists.
Pro: You'll have fewer options.
Some brides may love the idea of a narrowed playing field when it comes to dress selection. In that case, rental might be a great option for you—you may feel significantly less overwhelmed by choice when you're limited to only a small collection to rent from (as opposed to the seemingly endless selection at most gown salons).
Thinking About Renting? Do this First.
Now that you know everything there is to know about the possibility of renting your wedding dress, you may be thinking: "Wow, I just might do this!" Before you do, do yourself this favor: Go to a local bridal boutique and spend an hour trying a few gowns on. Just to get a sense of what you like, what you don't, what dress size you are, what elements work great on you (a trumpet silhouette!) and what may not (a strapless neckline). This is a smart way to pregame renting, so that you can place your rental armed with knowledge and have a better chance of ending up with a dress you love. Which will take you one step closer to your dream wedding.