I Went to 12 Different Bridal Salons to Find My Dress—Here's What I Learned
Get the best dress shopping secrets from a real bride who's been there and done that.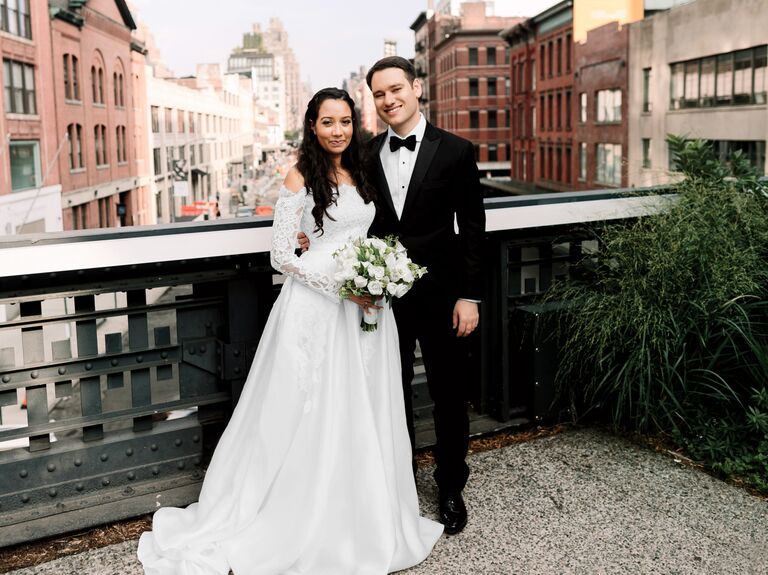 Unique Lapin Photography

By the seventh appointment, I was convinced I'd never find a wedding dress. Nothing felt right. I spent weeks trying on gowns while squeezing into shapewear and high heels—and eventually I just broke down and cried in front of an entire showroom.
But when I took my mom to see a contender I'd spotted, we ended up browsing a trunk show at the boutique—and I found my wedding dress totally by accident. My mom convinced me to try on a two-piece Lihi Hod dress and it had everything on my wish list: lace sleeves, a defined waist, off-the-shoulder neckline and train. And that's what I wore down the aisle.
Yes, some brides find their dress quickly, but there's nothing wrong with a longer search. Trust your gut, don't worry about being high-maintenance and follow these tips I learned along the way.
1. It's Okay to Shop Alone
Don't like being the center of attention? Ditch the entourage. I attended some appointments solo, with my mom, with my mom and sister, and with friends. I worried going alone would be awkward, but it was actually refreshing.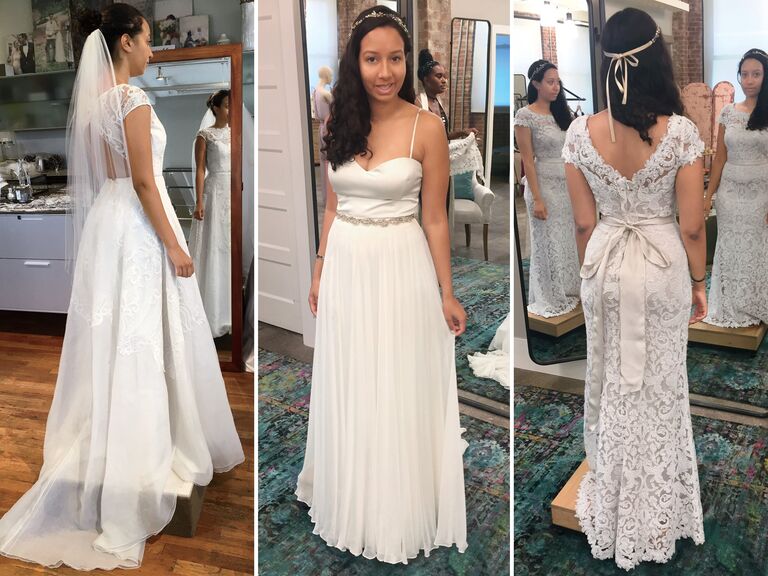 2. Try Everything Once
Stylists encouraged me to try on gowns I wouldn't have picked and the results were surprising. I hadn't considered a tulle underskirt could add some extra drama, or that an illusion back might work with my skin tone. And if you try something and hate it, that narrows down your options.
3. Be Up Front
Be honest about budget and offer feedback on each dress. Don't hesitate to say you dislike something, even if you're just trying to be polite—your stylist won't be offended.
4. Document Everything
It's important to ask about the price and estimated delivery date. Take photos from multiple angles, write notes on each dress and jot down any concerns. Some boutiques don't allow photos, so specific notes can be a lifesaver.
5. Consider Every Detail
Can you raise your arms over your head? Will you need to wear a special bra? Can you comfortably walk, sit down, bend at the waist and dance? What does the dress look like bustled? Find out the answers to these questions.
6. You Can Always Leave and Come Back
If you're unsure, don't panic. Return another day and consider bringing someone whose opinion you trust.
7. Ask About Customization
Designers can add or remove sleeves, change necklines or even make the dress in a different color. And once your gown is delivered, alterations specialists can work wonders. I was uncomfortable with some see-through parts of my gown, so the Lihi Hod team added an underskirt, and the boutique's alterations specialists ordered extra lace to cover some sheer panels on the bodice.
8. Most Importantly, Have Fun
While wedding dress shopping was stressful and a little frustrating at times, I ultimately got to dress up in a lot of pretty gowns and ended up with something I loved. The moment my husband first saw me in my dress was incredibly special—and if that's not fun, I don't know what is.
Nina Bahadur is a writer and editor. She was married on September 16, 2017, in New York City.