How to Survive Wedding Dress Shopping With Your Mom
When your heart is saying "yes," but your mom is saying "no."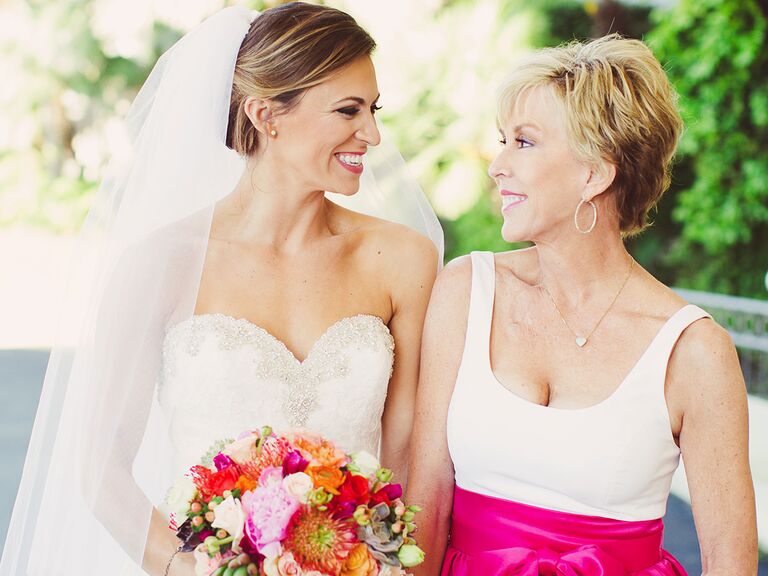 My Happy Lens Photography
Choosing the members of your wedding dress shopping entourage can be a tricky task. Since we tend to fall in the less is more camp, we love the idea of bringing your mom and a trusted friend or other family member along (as many brides do). But there's a catch—if you and your mom have wildly different tastes, but you've always imagined her joining you at the bridal salon, finding common ground—read: the right dress—might be harder than you expected. Here are a few tips on how to deal when you and your mom can't agree on a dress.
Try New Things
One of the most important (and counterintuitive) things to remember when dress shopping is to try on styles and silhouettes you wouldn't normally choose or expect to see yourself in. This situation gives you a great opportunity to do that—try a specific dress, style or silhouette that your mom wants to see you in, even if it's just to appease her. If it works, hey, you've got your dress (and everyone loves it!). If it doesn't, your mom will see that she wasn't totally on the money (and you didn't even have to confront her). If she's still head over heels, but you're still not into it…
...Get Specific
You both need to be specific about what you like and don't like about certain dresses. A little constructive criticism goes a long way to help you understand each other's tastes and rule out what works and what doesn't. Being overly negative without providing helpful or optimistic suggestions won't get you anywhere. Ask your mom to explain why she doesn't like the mermaid-style dress you're swooning over, and in turn, be honest about why her strapless pick isn't for you.
Be Sensitive
It's ultimately your day and you should look and feel completely comfortable in the gown you wear, but remember that your mom's been dreaming about this day for a long time too. It's a big deal for both of you—for different reasons, of course, but they're both important and valid reasons. Even if your mom seems like she's being picky or nagging for no good reason, trust us—there's always a reason.
Try to Compromise
It might be easier to receive her input once you've narrowed your search. You and your close friends or sisters could do the first stages of dress hunting, then bring your mom in for her thoughts on the final three to five. It's a more concise set of options you know you already love. You could also enlist a savvy dress consultant or seamstress who can either find or help create a dress that combines elements you both like.
Have an Honest Chat
At the end of the day, if you and your mom can't see eye to eye, it might worth considering another shopping wing woman whose opinions align more closely with yours. If you're comfortable talking to your mom about it, go ahead and bring it up gently, but honestly. Convey how much you value her opinion, but that your differing styles and expectations are keeping you from making this very personal decision. Hopefully she'll understand and either step aside or even promise to limit the negativity and be more open-minded.