The Top Wedding Dress Trends of 2024
We scouted the Bridal Fashion Week runways to find the trends you need to know about. Here's what's going to be hot in 2024.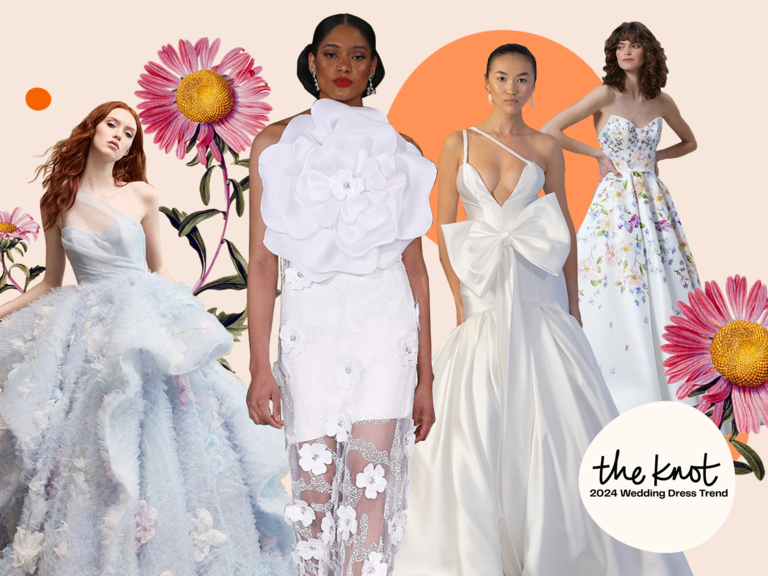 Photos Courtesy of Ines Di Santo, Nardos, Esé Azénabor, Savin | Getty,Design by Tiana Crispino
For brides who believe that walking down the aisle should feel like walking down the runway, there's no better place to begin your search for the perfect dress than New York Bridal Fashion Week. Recently, we got a sneak peak into upcoming wedding dress trends as designers showcased their Spring 2024 collections as part of the event. The semi-annual affair takes place each April and October, when individuals from all over the world have the chance to gather and see what's on deck for the following year of bridal fashion. This season, we witnessed beloved bridal brands like Berta and Galia Lahav reveal their spring designs alongside up-and-coming names like Cinq and Nadia Manjarrez, and let's just say inspiration (along with a bit of pollen) was certainly in the air.
From modern takes on classic bridal styles, to innovative avant-garde looks, there was a little something for everyone to enjoy this season. For 2024 brides, there is undoubtedly reason to get excited, as all of these designs will soon be available to wear for your own nuptials. Fortunately you don't have to travel to the Big Apple to get the latest scoop on what's in style. As your expert source on all things bridal fashion, we're breaking down the top 10 upcoming wedding dress trends for 2024.
Why Are 2024 Wedding Dresses Shown in 2023?
It might seem a bit hasty to start talking about next year's wedding dress trends a year ahead of schedule, but if you're a bride gearing up for a 2024 wedding, these collections actually come at just the right time. Whether you're actively on the search for your dream dress, or just fantasizing about your future wedding look, getting to know the looks from the runway can help you stay ahead of the game when it comes to trends. Shopping for a wedding dress can be a long and extensive process, especially if you plan to go the made-to-order route. According to The Knot's Real Wedding Study, the ideal time to purchase your gown is anywhere from eight to ten months before the date of the event, as to budget enough time for production and alterations. Having foresight when it comes to future bridal trends can help ensure you'll still love your dress by the time it's ready to be worn.
The 2024 Wedding Dress Trends:
Florals in Full Bloom
Florals for spring? They're more groundbreaking than you might think. While this season saw its fair share of tried-and-true bridal looks featuring floral appliques and botanical embroidery, what really stood out was the ways in which many designers debuted floral elements in bigger and bolder ways. Oversized floral motifs stole the show during presentations from brands like Nardos, Madeline and Badgley Mischka. This modern take on a classic bridal style offers a breath of fresh air for brides looking to push the boundaries of tradition in a whimsical yet feminine way.
A Penchant for Pastels
From baby blues to soft pink hues, Spring 2024 collections showed us that more and more designers are experimenting with color, which is certainly a reason to celebrate for any brides out there looking for something other than white. Pastels in particular made a splash in more vivid ways than seen in previous seasons—from the hand-painted flowers emblazoned on dresses from Savin London, to the colorful and grand tulle ball gowns showcased by Ines Di Santo and Kelly Faetanini. While classic bridal whites will never go out of style, for now we're embracing the idea that pastels are anything but passé.
A Nod to the '90s
They say fashion repeats itself every 20 years, but when it comes to the bridal world, some styles never fade. The '90s, for instance, are seemingly always 'back again' leading us to beg the question, have they ever really left? There's something about the decade's minimalist designs and understated silhouettes that will forever hold a beloved place within bridal design. This season, brands like Katherine Tash, Kelly Faetanini and Nardos leaned into turn-of-the-century charm by showcasing looks that featured luxe satin fabrics, structured bodices and clean lines.
Elegance Deconstructed
The rise of subversion within streetwear has given way to an all new era of bridal fashion that's unlike anything we've seen before—which can really only be defined by its inability to fit into one specific category. Think classic silhouettes coupled with elements of deconstruction that reveal the underpinnings of what is not normally meant to be seen. Exposed boning, distressed skirts, asymmetric necklines and raw hems, all lay the framework for the avant-garde styles. This season, brands like Cinq, Danielle Frankel and Nardos debuted these unique looks in which the free-spirit and femme fatale alike are sure to rejoice in.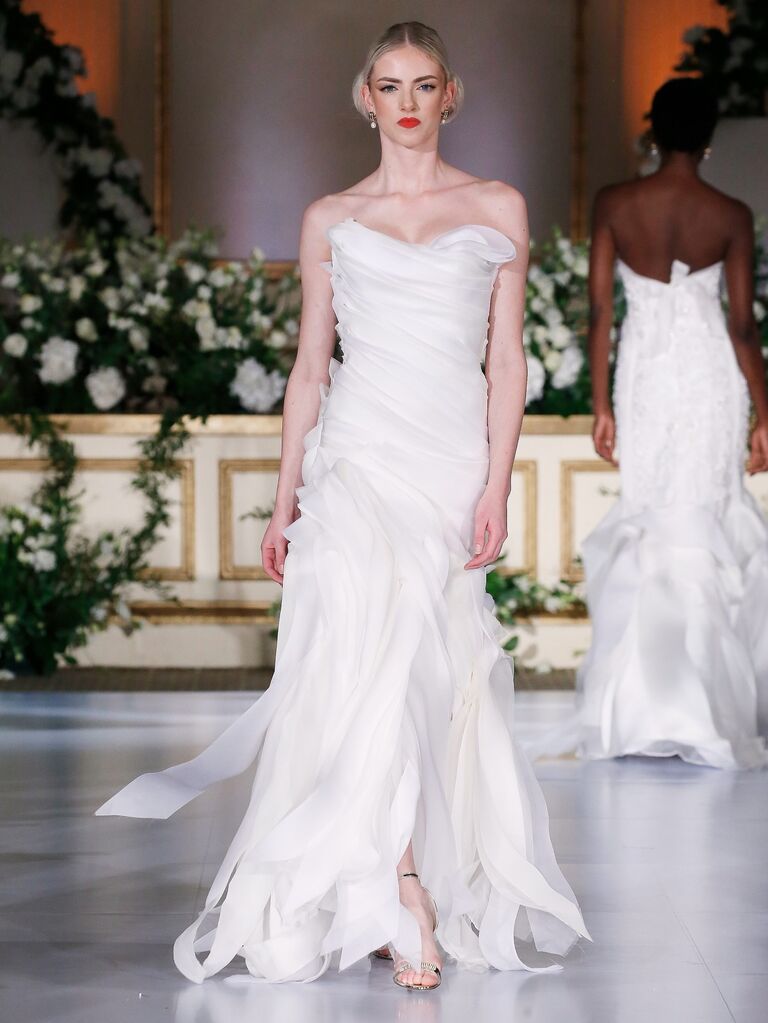 Back to Black
The Land Down Under has been known to set the pace when it comes to bridal fashion trends, due to it being a hub for so many beloved designers and brands. So when Australian brides began stepping down the aisle clad in black, it didn't take long for the rest of the world to follow. As the antithesis of tradition, black dresses have become increasingly popular amongst Gen Z brides in particular, who are rewriting the rules when it comes to wedding fashion. This season, many collections included at least one option in black, however, we predict that this is only the beginning. For to-be-weds looking to rock a black gown in a way that still feels distinctly bridal, many of the black lace designs have the option to add a nude or white underlay, which creates a unique sense of contrast.
Wrapped up in Bow
If this year's collections showed us anything, it's that there's perhaps no better way to tie a wedding look together than with a bow (pun intended). From oversized bows that extend into dramatic sweep trains, to mini crystal bow embellishments, it seems that so many designers are *wrapped up* in this trend, and for good reason. A bow adds a timeless feminine touch to any look. While they previously played a supporting role in wedding attire through additions in hair or accessories, we're predicting that oversized bow motifs will soon take center stage within the bridal fashion world.
Echos of the Jazz Era
The 1920's flapper, defined by her desire to flout tradition, is not unlike the modern bride. Over a century later, many designers have embraced that sentiment and are leaning into the same sense of individuality that made the Jazz Age a standout era for fashion. Drop waists, ornate beading and art deco designs, all once considered dated, have all made their return in an effort to render themselves as classic. For the brides who simply don't want to look like brides, modern takes on 1920's staples are the way to go. Luckily, there was no shortage of these looks on the Spring 2024 runways, thanks to brands like Esé Azénabor, La Premiere and Danielle Frankel.
A Motion Towards Maximalism
Microweddings and elopements certainly had a moment in previous years, but according to our Real Weddings Study, large weddings are now back and better than ever, and with that comes even more reason to celebrate. Of course, nothing cultivates a sentiment of celebration quite like sequins and sparkles do. Brands like Madeline, Jimme Huang and Arava Polak and showcased a variety of dresses adorned in all things sparkly. This sense of all-out maximalism is perfect for the bride who believes more is more. While minimalism will always have its place within the wedding fashion world, one thing is certain: there will be no shortage of bridal glam in 2024.
Tasteful in Transition
Change can be a good thing, and this trend is certainly a testament to that. As this season's collections would reveal, the convertible dress moment we observed last fall was merely a preview of what was to come. We're no strangers to the detachable skirt, but this season, designers displayed even more creativity and innovation where versatile looks are involved. THEIA, for example, presented their new "Calypso" gown that can seamlessly take brides from a church ceremony to the reception, with detachable flutter sleeves that add modesty to the otherwise sultry look. Nadia Manjarrez debuted her "Dolores" set, which features a detachable skirt that can be swapped out with a matching set of trousers. Mark Ingram wowed us with his new "Theresa" dress, which converts from a lace mermaid gown into a charming mini romper.
Embroidered Eminence
Based on the popularity of hand-beading and hand-painting on gowns in recent years, it's evident that many modern brides are looking for ways to add an artisanal touch to their wedding day looks. Embroidery offers the perfect way to do so, due to its options being virtually limitless. Both this season and last, designers showcased fresh and modern ways to introduce embroidery into classic bridal styles. From hand-drawn botanical designs embroidered directly onto gowns, to bold custom lettering on veils, this trend offers an element of personalization that is simply unmatched.