21 Creative Wedding Drink Stations for Your Cocktail Hour or Reception
These ideas will one-up the open bar.
Want to provide cold, refreshing drinks for an outdoor summer wedding ceremony? Or serve hot chocolate to help guests warm up on a chilly winter evening? These wedding drink station ideas are a great way to supplement the bar during your cocktail hour, wedding reception or at the start of the ceremony. Your drink station can be customized to serve signature cocktails or designated as a booze-free zone with juices, iced tea, coffee or any of your favorite drinks. See some of your options with these creative DIY wedding drink ideas.
Tips for Creating a Drink Station at Your Wedding
The idea behind adding a wedding drink station is to relieve the line at the bar by allowing guests to serve themselves—this means more time on the dance floor and partying! From premade cocktails in mason jars to self-serve craft beer taps and mobile bars, there are so many ways to delight your guests with a beverage stand that's fun and unexpected.
A drink station also comes in handy for providing non-alcoholic drinks so guests don't have to wait in line at the bar. Serve basic refreshments like water, coffee, iced tea and juice in drink dispensers that your catering or bartending team can replenish as needed.
To avoid overspending on multiple different types of alcohol, it's best to keep your wedding drink station relatively niche. Remember, the goal of the station isn't to replace the open bar but to add an additional, interactive element that your guests will enjoy.
Wedding Drink Station Ideas
Need help getting creative with your drink station idea? See what other couples did with these interactive cocktail bars, self-serve drink dispensers and handcrafted beverage ideas from real weddings.
1. Pour-Over Coffee Bar
Perfect for a brunch wedding or post-dinner treat, a pour-over coffee bar is a more gourmet take on a classic cup of joe. Guests will love the experience of watching their freshly brewed coffee made just for them.
2. Self-Serve Rosé Truck
If your summertime motto is rosé all day, this wedding drink station idea is for you. Rosé on tap combined with the aesthetics of a cute vintage truck? Say no more.
3. Chai Tea Station
Your self-serve wedding drink bar is a prime opportunity to include a beverage that's special to you personally or culturally. This couple served chai tea to honor the groom's Indian background.
4. Bourbon Tasting Bar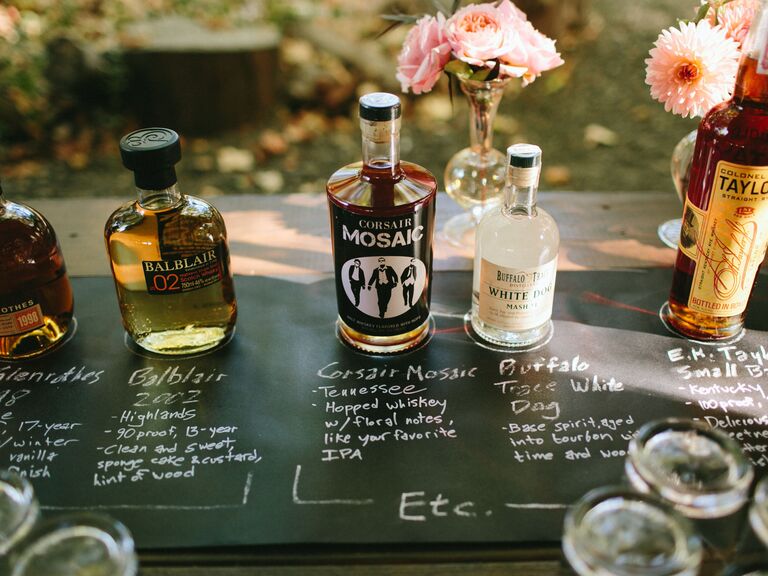 Cracking open a bottle of bourbon after the ceremony is a long-standing Southern wedding tradition, but you don't have to be getting married in the South to embrace this creative drink station idea. If bourbon and whiskey are your cocktail go-tos, treat your guests to a tasting board with the help of a pro mixologist or bartender.
5. Lemonade Dispenser
There's nothing more refreshing on a hot summer day than a cold glass of lemonade or iced tea. Set up a table with both options (you can keep the mixtures classic or infuse them with fruit and other flavors) for an outdoor wedding drink station idea that's appropriate for all ages.
6. Margarita Station
Can't wait to get the party started on your wedding day? Have margaritas ready to go at their own station as soon as your cocktail hour kicks off. If this is what you're serving as your signature drink, ask your bartenders to prep a certain amount of margs ahead of time—after the initial supply runs out, guests can request them individually later on.
7. Milk and Cookies Table
Whether you're looking for alternatives to a traditional wedding cake or you want to surprise your guests with one final snack at the end of the night, you can't go wrong with milk and cookies. Make it easy to serve a lot of people at once by pre-pouring the milk into miniature glass bottles with straws.
8. Mimosa Bar
Popular as a bridal shower idea or postwedding brunch beverage, this self-serve mimosa bar gives guests the choice between different juices and fresh fruit garnishes. Alternatively, you could swap the mimosas for sangria.
9. Champagne Wall
You've seen champagne escort card displays, but this "living" champagne wall takes it to another level. Glasses of champagne are hand-served by staff hidden behind a wall of greenery or flowers.
10. Aperol Spritz Cart
If you can't get enough of this Italian-inspired cocktail, create a wedding drink station inspired by the summery drink. Provide garnishes like orange wedges, cherries, candied fruits, mint leaves or edible flowers for guests to customize their own sips.
11. Vintage Soda Bottles
Serve classic favorites, like soda or flavored water, in glass bottles with matching straws that complement your wedding decor. Even better if you can find vintage crates to go along with the display!
12. Hot Chocolate Station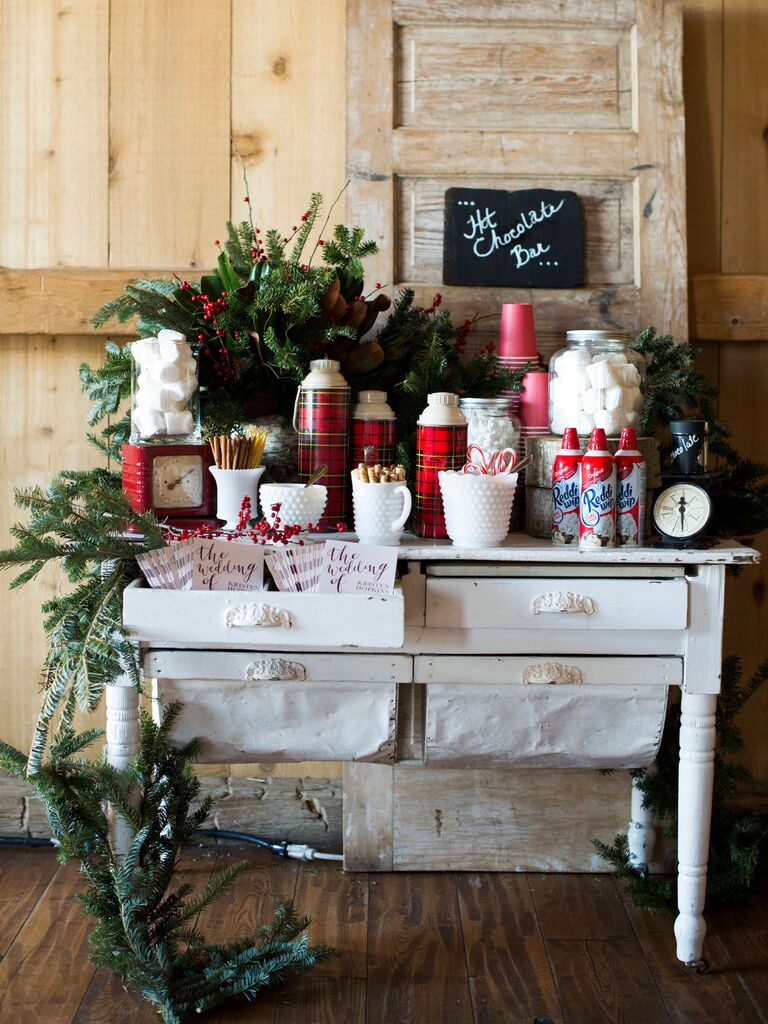 We love the idea of setting up a DIY hot chocolate station at your winter wedding. Be sure to provide all the toppings your guests could want, such as marshmallows, whipped cream, peppermint sticks and sea salt crystals. Baileys and Kahlúa can be used for spiked versions—just be sure to keep them out of reach for younger guests.
13. Mason Jar Drinks
Big-batch cocktails or refreshments can be poured into canning jars for guests to easily grab and go. This casual approach is great for a rustic wedding or backyard wedding if you want to keep a low-key vibe.
14. Kombucha Stand
Serve bottles of chilled kombucha for an outdoor wedding on a warm summer day. If your guests haven't tried kombucha before, it's the perfect chance for them to test it out.
15. Cotton Candy Cosmopolitans
Switch up the recipe of a favorite cocktail, like a cosmopolitan or gimlet, by adding miniature servings of cotton candy to each glass. Guests can watch as the bartender pours the mixture over the cotton candy.
16. Bubble Tea
Creamy bubble tea is a yummy non-alcoholic option for a fall wedding. You can serve it from a dispenser or have it ready to go in individually packaged cups with straws.
17. Frozen Mixed Drinks
Destination wedding or not, frozen margaritas and daiquiris will be a hit at a summer reception. For a non-alcoholic version, serve slushies or fruit smoothies instead.
18. Beer on Tap
Celebrate your love of craft beer by serving it straight from the tap with the help of a cute mobile bar.
19. Espresso Counter
Can't get through the afternoon without your daily latte or cappuccino? Hire a professional barista to make custom drinks for guests at an espresso bar.
20. Seltzer Water Buckets
Keep bottles of Topo Chico or other seltzer water at the ready for a country wedding or backyard bash.
21. Signature Drink Table
If you've got signature drinks lined up on the menu, guests won't be able to resist trying one of each once they see them displayed on a table. Use signs to list the ingredients of each cocktail.