21 Budget-Friendly Escort Card Displays That Look Anything But Cheap
Escort guests to their tables in style, without breaking the bank.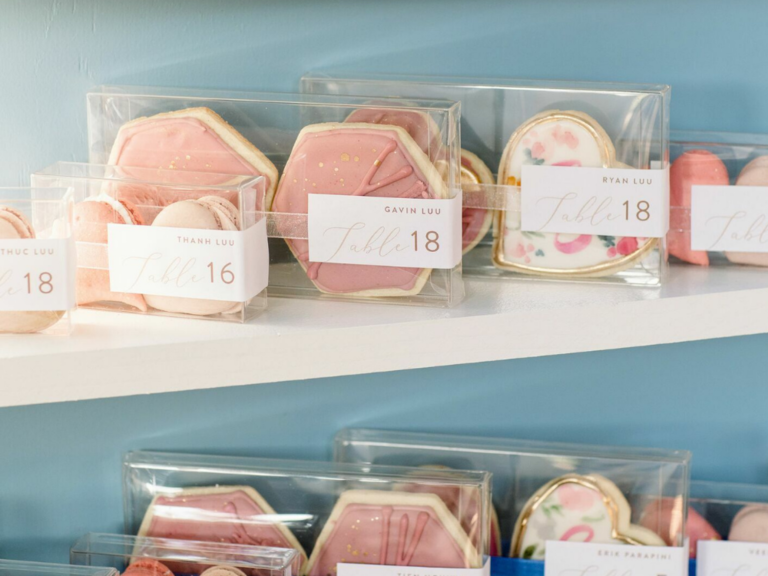 Now that your RSVPs are in, it's time to decide where to seat each guest and how to communicate those table assignments to them. While a simple wedding escort card is all that's needed, creating a memorable escort card display is a chance to have fun with your decor and wow guests as they arrive at the reception. We've tapped a few knowledgeable industry experts, José Rolón of José Rolón Events, Candice Patterson of Designs by CM Events and Ryan Abney of Ryan Abney Event Design, to help you create a memorable, budget-friendly escort card display you'll absolutely love, without blowing your whole wedding budget.
Seating Chart vs. Escort Cards
Before diving into dreaming up an epic display, you first need to decide whether you want a seating chart or wedding escort cards to instruct guests on where they'll be dining. The terms seating chart and escort card display are frequently interchanged, and while they're similar, the two seating assignment instruction tools are ever so slightly different. "Simply put, escort cards are physical cards to be picked up by your guests to let them know which table they're assigned to for dinner," José Rolón says. "Escort card displays and seating charts share the same role in that they both tell guests where they are seated for the festivities. The difference is that escort cards are mobile and can be taken with the guest to their respective seats, while a seating chart is stationary," notes Ryan Abney. Candice Patternson agrees, explaining that "guests wouldn't take the seating chart with them, but they would take the escort card or item with them."

"Escort card displays are more creative and thoughtful in their creation and come in many forms from champagne glasses with named tags hanging off the rim to a wall mimicking a hotel concierge showcasing square boxes with hanging keys with your names on them," notes Rolón. "A seating chart lays out like an art wall that's typically meant to be seen and not touched like an oversized mirror with names and tables written out in calligraphy." In the end, either option is great, but you really only need one or the other.
Escort Cards vs. Place Cards
Another term your stationer or planner has likely mentioned is a place card. Once again this isn't the same thing as an escort card. While an escort card guides guests to their assigned table, if you and your partner decide to designate specific seats at each table (a great idea if attendees have preselected their entree choice), a place card is needed to do just that. An addition to each place setting, this simply lets guests know which seat is theirs, since the escort card only communicated a table.

Since the advent of Pinterest, some pretty epic wedding escort card ideas have been dreamt up. Fortunately for you, an over-the-top display doesn't have to break the bank. Our pros offer need-to-know insights into creating budget-friendly escort card displays that look anything but cheap. These affordable options will no doubt make a statement as guests find their table assignments.
In this article:
Macro Thinking
When dreaming up an escort card display that wows, but doesn't cost an arm and a leg, prioritizing budget on wow-factor is key. As luxurious as letterpress is, save that printing technique for your invitations and opt to flat print any stationery elements for your escort cards. That'll give you the freedom to invest in a display that impresses guests from the first moment they see it.
"One of my favorite escort card options is an envelope with a handwritten note from the couple to each of their guests. I will always love a sentimental inclusion into a couple's special day," Abney says. These escort cards are simply mini cards in envelopes (with a heartfelt message from the couple!), but the large floral arrangement immediately ties the table's aesthetic into the rest of the reception decor.
Hand-painted tent cards got a dramatic upgrade thanks to asymmetrical greenery garland attached to the circular shelving unit.
Here, a bold arrangement, nestled under a cloche, catches your eye. The statement-making design beckons attendees to come pick up their tented escort card.
Repurpose the Display
A great way to stretch your budget is to consider how decor elements can be repurposed throughout the day. Many couples reuse their ceremony arch as a sweetheart table or photo booth backdrop, that way the stunning florals get to be enjoyed all celebration long. Harness that same thinking when it comes to your escort card display. Since, unlike a seating chart, escort cards will be taken away by guests, this leaves you with the base display to reuse later in the evening as a cake or dessert spread setup.
"Whatever you do, it should display well and encourage a positive reaction from your guests," Patterson advises. This setup does just that; A dramatic floral arrangement placed on the escort card table brought dramatic flair to an otherwise straightforward tent card display.
Instead of using the monogram on each escort card, having it front and center ensures the display is eye-catching from the onset. This prominent monogram adds a classic, but statement-making, vibe to the traditional escort card board. Plus, once all the escort cards have been removed, the dramatic board could easily be repurposed as a cake backdrop or a step-and-repeat guests can pose in front of all evening long.
Similarly, this boxwood hedge, once all escort cards have been taken down, would be an ideal cake backdrop or addition to a photo booth.
Make the Elements Multifunctional
Beyond reusing the actual display, consider a two-for-one method with your actual escort cards. Have your escort cards double as wedding favors for attendees. After all, "escort cards don't have to actually be cards," Abney reminds us. Mini bottles of hand sanitizer with guest names and table numbers written on the bottles will effectively communicate the seating information needed while acting as a gift for your loved ones. That's a win-win everyone will enjoy.
Personal flowers don't need to be limited to your wedding party members. Each attendee at this wedding received a little posy that conveniently also led them to their dinner tables.
While the fresh flowers in a posy will only last for a few weeks, giving attendees their floral arrangement in a cute bud vase is a gift that keeps on giving. They'll love reusing the vessel, constantly being reminded of your nuptials.
If flowers aren't quite your thing, take a cue from this couple's playbook. Ornate tiles, calligraphed with names and table assignments, became custom coasters for loved ones to depart with.
Not only did these pottery mugs support a local artisan, giving guests their mug as part of their escort card was a pandemic-friendly decision. Guests used the same vessel all evening, ensuring less contact and safer food-service, before taking the pastel-hued pieces home at the end of the night.
Opt for Edible Escort Cards
Along the same lines as having your escort cards double as favors, a great way to make escort cards multifunctional (since the more purposes escort cards serve, the more budget-friendly they'll tend to be!) is to have them be an edible component of the menu you're serving for the wedding. Catering is one of the biggest line items on most budgets and, chances are, you and your partner already have plans to invest in catering.
Instead of having cocktails passed during cocktail hour, use those funds to have your caterer help create tequila shot escort cards for attendees to start the party on a festive note.
To-be-weds with a sweet tooth, a cookie escort card display is just the ticket for you.
Knowing how many servings of dessert to order is a common conundrum engaged couples face. And when the wrong amount is ordered, that can lead to both food and money waste. Here, each guest was given their pre-portioned dessert as part of their escort card, the fixings for s'mores. This took guessing out of the dessert equation, leaving a tasty, bottom-line-friendly display.
Champagne is always a great idea. Instead of paying for a separate champagne toast, start the party off right with a flute for each guest as their escort card.
Take Stock of Your Hobbies
Chances are whatever hobby you're into, you already own a lot of items relating to that interest. Lean into that fact and incorporate those items into a personalized escort card display that requires next-to-no new items to be purchased.
Antique collectors, look through your collection for any trays or vessels that could anchor an escort card display.
Equestrians know that once the ferrier comes to fix up your steed's feet, the old horseshoes will likely just pile up and collect dust. After a thorough cleaning and a coat of on-palette paint, old horseshoes will make a fun escort card display at the wedding.
Collect rocks from locations that are meaningful to you and your partner.
"Having a beach wedding? Have family and friends collect flat rocks or sea glass," suggests Rolón.
"The use of something environmentally provided could potentially eliminate the cost of acquiring an object. A great example of this concept would be leaves, acorns, or pumpkins," Abney says.
To-be-weds with a green thumb, plant a few garden boxes of your favorite botanical. Use simple plant stakes to incorporate escort cards into the earthy display. When you bring home the garden boxes after the wedding, they'll forever remind you of your special day.
In Some Cases, More is More
In the end, one of the best ways to maximize your budget is to get the most out of each line item. In the case of an epic escort card display, shelling out a bit more in an effort to follow all of the above tips may actually save you money in the long run.
While proper planning will help you create a budget-friendly display, it's important to remember that minding your budget doesn't always mean going DIY. "What's not a good idea for cost-cutting when it comes to an escort card display is to have your friends build or set one up on the day of. Please hire a professional to do it. Often, escort card displays are first impressions, and the last thing you want is to have a guest get ink on their dress or have something come crashing down because everything was left at the last minute," Rolón advises.
This couple not only had popsicles as escort cards, the epic display also was easily transformed to be used for other purposes throughout the night. While the escort card display took a lot of planning, in the end it was both a catering and decor statement making it serve a triple purpose. That's a major win.