Wedding Fashion Rules to Break
Rules are meant to be broken, and this applies to your wedding. You're the bride, so bend them, break them or follow them—it's up to you!
by Jennie Ma
Rule to Break: Only the Bride Can Wear White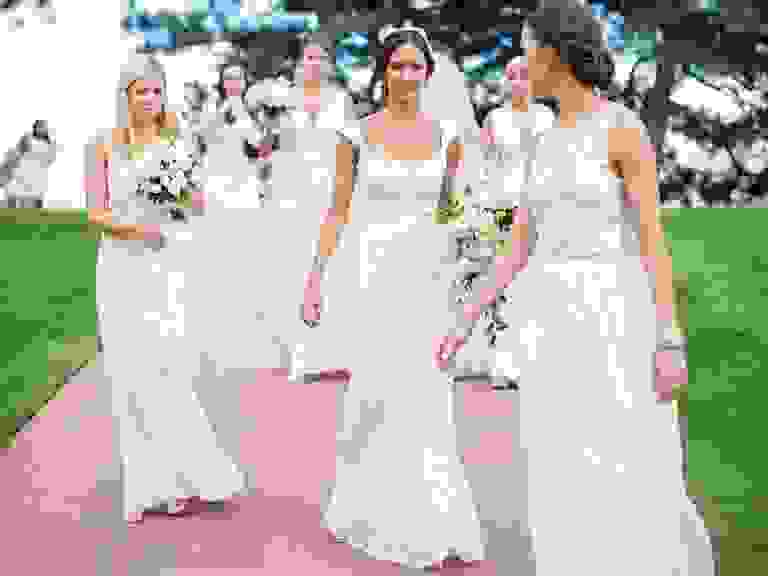 We get why this may seem like a good rule -- as the bride, you're suppose to stand out and part of that is wearing white. But we've been seeing weddings where brides dress their bridesmaids in ivory or cream hues or even have an all-white wedding, where guests are encouraged to wear this color, and we have to admit -- it looks pretty gorgeous.
There are still ways you can make sure you don't blend in with your bridesmaids -- have them in a simple silhouette while your dress is embellished, or, if you're a total rebel, wear color and have them wear white. And believe us, none of your guests will be confused on who the bride is -- your smile and glow (and not to mention that handsome groom on your arm) will give it all away.
Rule to Break: Don't Mix Metals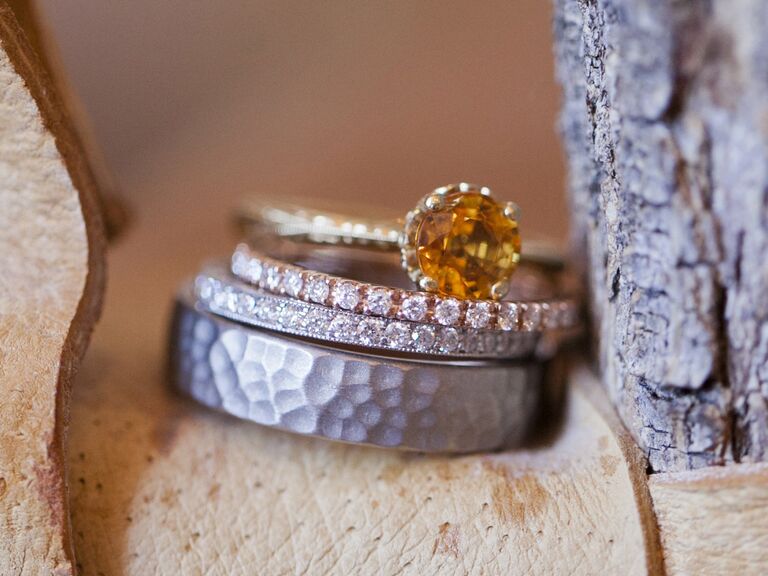 Pairing yellow gold, rose gold and platinum used to be a big no-no, but now we're saying yes to this trendy mix. There are so many ways to incorporate this new style (wear platinum earrings and a rose gold bracelet or have both gold and silver details on your dress), but our favorite interpretation of this trend is stacking a variety of metal bands on your engagement ring. The different colors give your rings depth and contrast, which means they'll make even more of a statement. If you like this idea but want to scale it back, keep your metals mixed in either a warm or cool color family. That means you can combine yellow and rose gold or platinum and burnished silver.
Rule to Break: You Must Have a Veil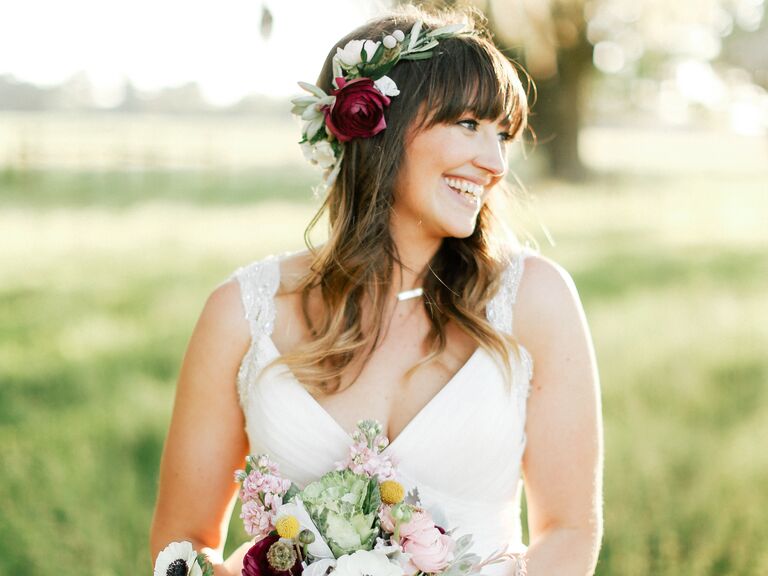 What your mother is saying is probably true -- you won't have too many chances to wear a veil -- but just because the opportunity to wear something is rare, doesn't mean it's the right choice for you, especially when there are so many veil alternatives available now. Instead of a piece of tulle, you can adorn your hair with a floral wreath, an art-deco-inspired halo headpiece that wraps around your forehead, or a hair vine that winds around a pretty updo. If you want to give a nod to tradition without all the formality of a long veil, wear a headband that has a cage veil attached to the front. It's easy to slip on and off and has a fresh, flirty feel.
Rule to Break: Don't Forget Your Something Old, New, Borrowed, and Blue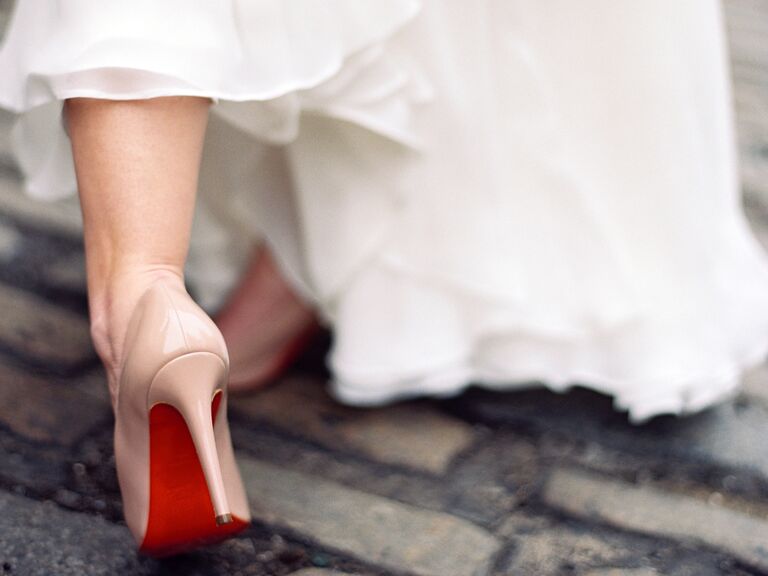 We love this tradition, but you don't need to follow it so strictly (or even at all). We say if you want to wear a "something red" instead (like the bottoms of a new pair of Louboutins) or pretty blush accessories, then go for it. If you have a nagging feeling you have to cover all your bases no matter how superstitious, then know that there are other colors that have beautiful symbolic meanings—red for passion, yellow for happiness and green for renewal, to name a few. So pick your favorite color or one that you symbolically identify with and wear it down the aisle.
Rule to Break: You Have to Wear Heels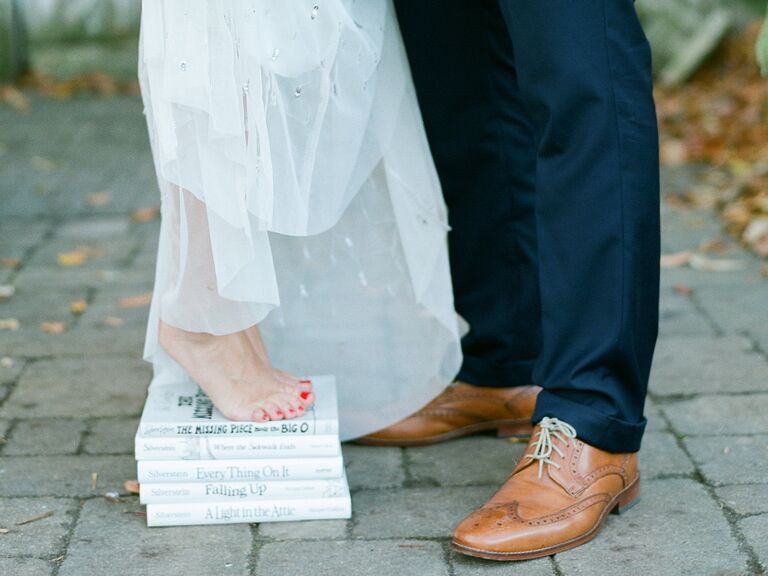 We understand the allure of heels -- they make you look taller and thinner (and seriously who doesn't want that), but keep in mind that anything this good is like black magic -- it comes at a price. You will have to be on your feet for close to (if not more than) 10 hours that day. You'll look good, but you will also most likely be in pain by the end of the night. If it's worth it to you, do it -- but you definitely don't have to put your toes through that torment. Other totally wedding-worthy options are stylish kitten heels, chic ballet slippers or trendy strappy flats.