10 Of-the-Moment Wedding Food Trends, According to Experts
We'll take one of everything, please.
One of the best ways to personalize your wedding day is to be intentional with your menu choices. The food you serve at your nuptials can tell a story: about your relationship, your family or your future. To help spark inspiration, we rounded up our favorite wedding food trends that we predict will be everywhere in 2023. From hyper-personalized menus to of-the-moment ideas (think: creative food stations, individual servings or plant-based menus), we have ideas for every kind of couple. Work with your wedding planner and wedding caterer to help bring any (or all) of these catering food trends to life.
Plant-Based Menus
Plant-based food trends are on the rise. With high-profile events like the Met Gala serving vegan food, more couples will start requesting this for their nuptials. "Lately, there's so much consideration and inclusion at weddings, which I really love. I've seen a ton of great vegan appetizers that couples are choosing and making sure there's something to eat for everyone. This wasn't the case a couple of years ago," Meg Walker, Owner of Made by Meg Catering, says. Every year more and more guests are requesting vegan and vegetarian options whether or not they have a dietary restriction. By offering plant-based food, you're not only catering to your guests, but it's more sustainable and cost-effective.
Make It Yours: The term "plant-based" might call to mind salads and roasted vegetables. However, there are so many exciting vegan foods to choose from. Whether you want a barbecue jackfruit sandwich that's reminiscent of a pulled pork slider or a fried "chicken" sandwich made of seitan, the options are endless.
Grazing Tables
If you haven't seen a mouthwatering grazing table on Pinterest yet, you're missing out. Grazing tables are like charcuterie boards to the second power and can feature any of your favorite foods. "I'm so thrilled grazing tables are coming back. I want to say that social media has made it trendy again, but ultimately, it's a beautiful work of art when done right," Vanessa Vass Schuster, sales director of Root Cellar Catering Co., says. Another reason grazing tables are a food trend in catering is because of the timing. "We're getting back together and gathering together in a way that we weren't able to during the pandemic. It makes people appreciate what it means to break bread together and tap into some of those long-held and loved wedding traditions," Walker explains. This is your sign to take advantage of celebrating with your loved ones and enjoying delicious food together.
Make It Yours: Just because grazing tables look similar to charcuterie boards doesn't mean you have to add only cheese, crackers and fruit. Add sushi rolls, doughnuts or buffalo cauliflower to your grazing table. The options are truly endless.
Local Produce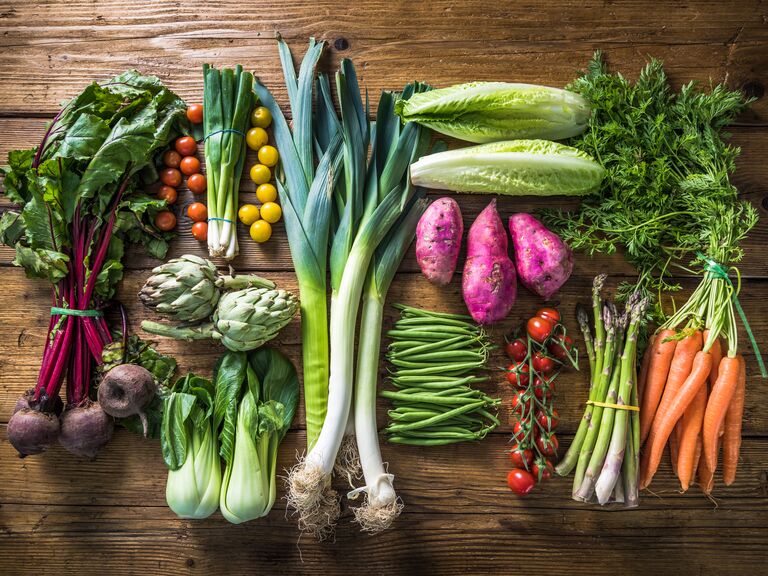 The wedding industry is always following the global conversation, and since concerns about the environment and sustainability are prevalent they have become important topics in weddings too. Because of this, local produce has become a popular wedding food trend. Megan Turbeville, owner and executive chef of Root Cellar Catering Co., goes into depth about local produce. "Locally grown food is amazing and I love working with local providers to source ingredients closer to home. Oftentimes, it's more expensive if couples want their whole menu locally sourced. But those with catering budgets that can accommodate the additional cost love it." Turbeville also always recommends crafting a menu based on seasonal options. Not only will seasonal food taste better, but it will save you money in the long run because there's more food to choose from and farmers are trying to offload them.
Make It Yours: For example, if your wedding is in the spring, serve oven-roasted asparagus. Summer wedding? Have a guacamole station. Fall celebration? Put apple crumble on your menu. Winter nuptials? Consider having pumpkin gnocchi as your appetizer. Just remember to talk with your wedding caterer about what foods are local and seasonal during your wedding so you can make the best menu.
Thoughtful Late-Night Snacks
Late-night snacks aren't a new concept, but you will see a new spin on the tradition. "Late-night snacks aren't going anywhere, but I predict that couples will make the selections more about the foods they love to eat when out on a date or at home watching movies," Desireé Dent, founder of Dejanae Events LLC says. Late-night foods will become a bigger part of the food experience and will be well thought out and planned. We've seen some couples serve items from their favorite fast food places for their midnight wedding snacks. Couples have participated in this catering food trend with KFC, McDonald's, Chick-fil-A and much more at their wedding after-party.
Make It Yours: Brainstorm with your partner to create a list of your favorite snacks. Give guests a small bowl of spiced-up ramen, crispy pizza rolls or hand-rolled burritos. If you have more of a sweet tooth, consider ideas like cosmic brownies, ice cream sandwiches or sprinkled doughnuts.
Oysters
Lots of luxe or nautical-themed weddings serve oysters, but we've noticed these tasty mollusks popping up at all kinds of weddings. Oysters effortlessly elevate your cocktail hour or reception because of the experience it creates. Having someone shuck oysters in front of the guests makes the food moment more intimate. Walker says that couples usually ask her to serve oysters because they have a personal connection with them because of their heritage or upbringing. But if you can't get enough of these salty delights when you're out with friends or having a date night, don't hesitate to add them to your wedding menu.
Make It Yours: Have an oyster bar at your cocktail hour or reception. Take it to the next level by asking your caterer to serve zesty saltine crackers, hot sauce, mignonette or snap pea salad alongside the oysters. If you want more variety, offer raw and cooked oysters.
Plated Dinners
Plated dinners are nothing new in the world of weddings. But Walker believes they're making a notable resurgence for a very unique reason. "After the pandemic, I've realized people are heading back to the basics and want to sit down and do a traditional plated dinner. People want to do those longer toasts and say everything that's been on their minds since getting married means so much more now," Walker explains. Since COVID-19 meant couples couldn't celebrate like they wanted to, so many people are embracing the joy of hosting and gathering once again.
Make It Yours: Think of plated dinners as a great opportunity to help your guests get to know each other better. Put icebreaker questions on each reception table or add printable wedding games to help increase the comradery.
Barbecue
Arguably, barbecue is one of the most universal crowd-pleasers, which makes it perfect for a wedding. Carly Katz-Hackman, chief sales officer at Pinch Food Design, breaks down why barbecue rehearsal dinners and receptions are a food trend in wedding catering. "People like comfort food, whether on the couch or at a wedding, and it's definitely Pinch's favorite cuisine to serve. Comfort food is simply food that makes us feel good, and that's what couples want for their guests." Plus, barbecue is typically served in large quantities, making it great for just about any guest count.
Make It Yours: Your wedding barbecue cuisine can be as casual or elevated as you like. Just make sure your and your partner's favorite sweet and savory dishes are on the menu. We suggest you research what barbecue caterers offer vegan or vegetarian options so all your guests can enjoy the feast.
Individual Servings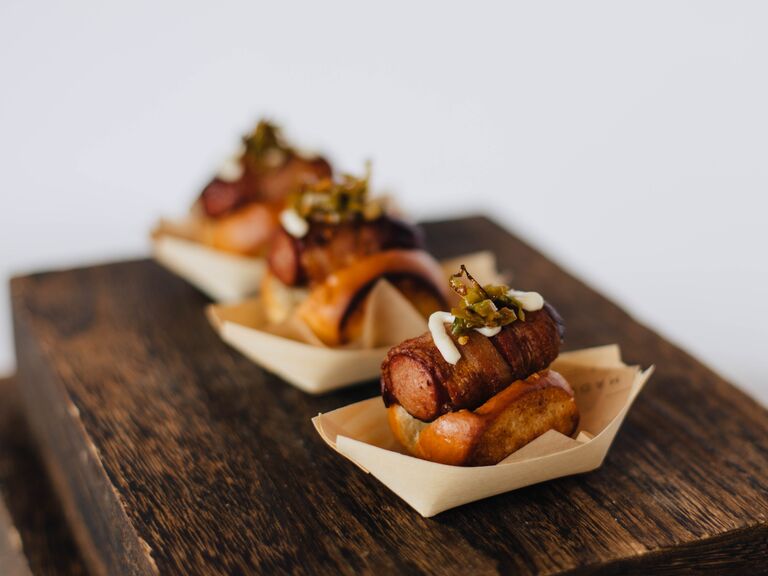 COVID-19 changed the way wedding receptions worked. Menus were reimagined into individual servings for a safe, seamless experience. And that change is here to stay. Expect to see this trend become more elevated in 2023. "When dancing, mixing and mingling is a priority for couples and guests, offering a non-traditional dinner by way of hors d'oeuvres, passed plates and food stations can facilitate a no-hold-barred party," Katz-Hackman says. Sushi flights, caviar tastings and personal dessert platters will be everywhere in the coming year. The presentation will be elevated with a surprise reveal, decorative serving ware and unique garnishes.
Make It Yours: Think of your favorite foods that can easily be packaged or made into miniature versions. Our favorite ideas include individual charcuterie boards, mini street hotdogs or tiny wedding cakes.
Private Chef Experience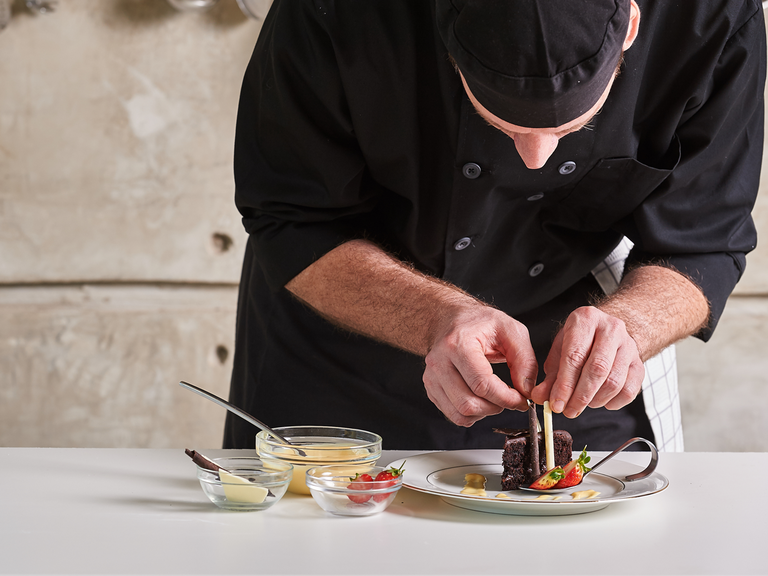 Another wedding catering food trend on the rise? Hiring a private chef and having them put together a personalized tasting menu. You can really turn your guests' dining experience into something unforgettable since it makes it more intimate and unique. If you love food and cooking, sit down with your private chef so you can collaborate and be more hands-on with the final product. Having a private chef at your celebration is the new way to take your wedding to the next level.
Make It Yours: If the idea of hiring a private chef for your whole wedding isn't in your budget, think of different ways to incorporate this trend. Maybe they can create appetizers or desserts or craft the meal for your rehearsal dinner.
Poke Bars
Poke has been a Hawaiian staple for many years but has started to make its presence known in the rest of the United States. This light and refreshing dish is perfect for couples having beach weddings but can be done for just about any wedding. Walker offers suggestions for everything you can with this Hawaiian dish. "I typically offer three types of poke. One of them is your traditional poke, and I'll have a different one that has coconut milk, Japanese wine and local whitefish. And then I'll also do a mango tequila poke with bay scallops, prawns, yuzu and mango." Even though adding lots of colorful and crunchy toppings isn't considered traditional poke, Walker thinks adding them is a fun way to make your poke bar unique. "I like to add different types of chips. I'll do corn tortillas, wontons and sweet potato chips." Want a vegan option for your guests? Vass Schuster suggests doing a roasted beet poke that she guarantees will make even meat-eaters happy.
Make It Yours: To make your poke bar or station stand out, ask your fishmonger for some fresh seaweed so you can use it as decoration. Ask your caterer if the poke can be served in bamboo bowls to give a nod to the dish's Hawaiian roots.