26 Unique Wedding Gifts for Your Very Special Daughter
We'll help you find the perfect present.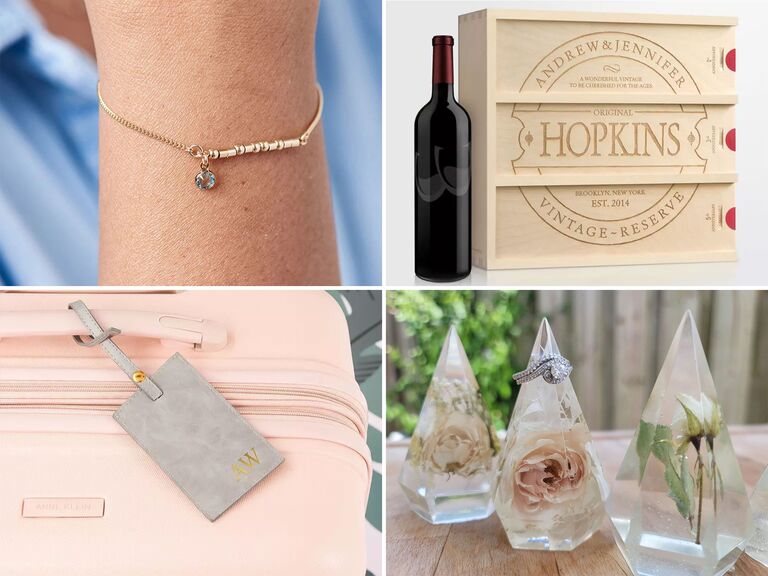 We have included third party products to help you navigate and enjoy life's biggest moments. Purchases made through links on this page may earn us a commission.
Your daughter's wedding is an undeniably special and important occasion. Naturally, you want to show your support by giving her a gift that thoughtfully expresses your feelings of love, joy and pride. But we know that picking the perfect present for your little girl's big day isn't always the easiest task. That's why we've made a list of our favorite wedding gift ideas for parents who are celebrating their daughters. Get inspired by the types of gifts that tend to be the biggest hits, from practical presents to sentimental keepsakes. With a little help, you're sure to find the best wedding gift for your daughter.
In this article:
Surprise Gifts for the Wedding Day
The preparations have been made and now it's time for your daughter to walk down the aisle and say "I do." Giving her a gift on the wedding day is a lovely way to show your support. If you want to surprise your daughter with a day-of wedding gift, make sure it's easily packable so it can be effortlessly transferred to and from the wedding venue. These tried-and-true gift ideas will get the celebration (and the tears) started.
Interlocking Necklace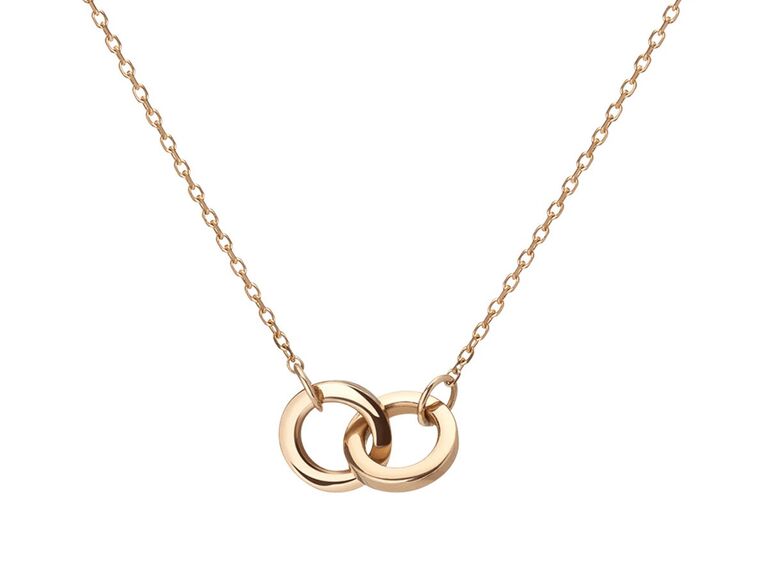 You simply can't go wrong with fine jewelry. This delicate Connection necklace—featuring two interlocking loops—is a beautiful representation of the bond between a parent and child, as well as the union of two families. Choose between ethically sourced yellow, white or rose gold for a gift that your daughter can wear with pride.
Dear Daughter Journal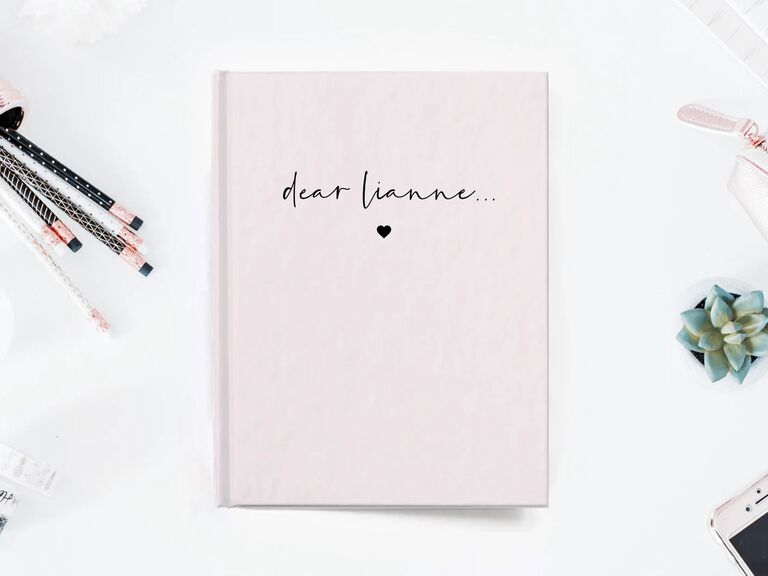 Sometimes a card just can't hold everything you want to tell your daughter on her wedding day. Throughout the engagement, you can use this notebook to write down memories, advice and messages of love. Then, give the completed journal to your daughter on the big day. She'll cherish this special gift for years to come!
Personalized Wedding Clutch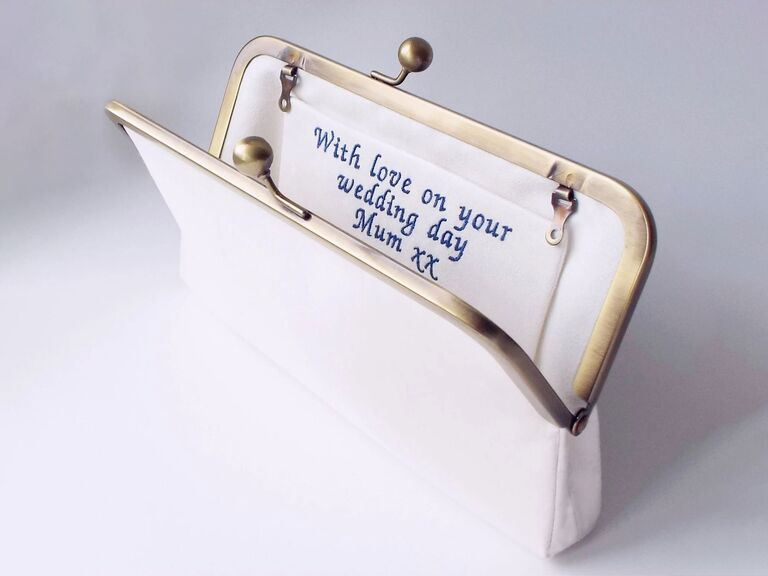 One thing that's often forgotten on the wedding day? Someplace for the bride to store her phone, lipstick and other important items. Save the day with a personalized bridal clutch! This is a perfect gift for mothers to give to their daughters when they're getting ready together. Not only is this wedding gift practical, but your secret message embroidered inside will bring a tear to her eye—make sure to pre-pack the clutch with tissues!
Morse Code Bracelet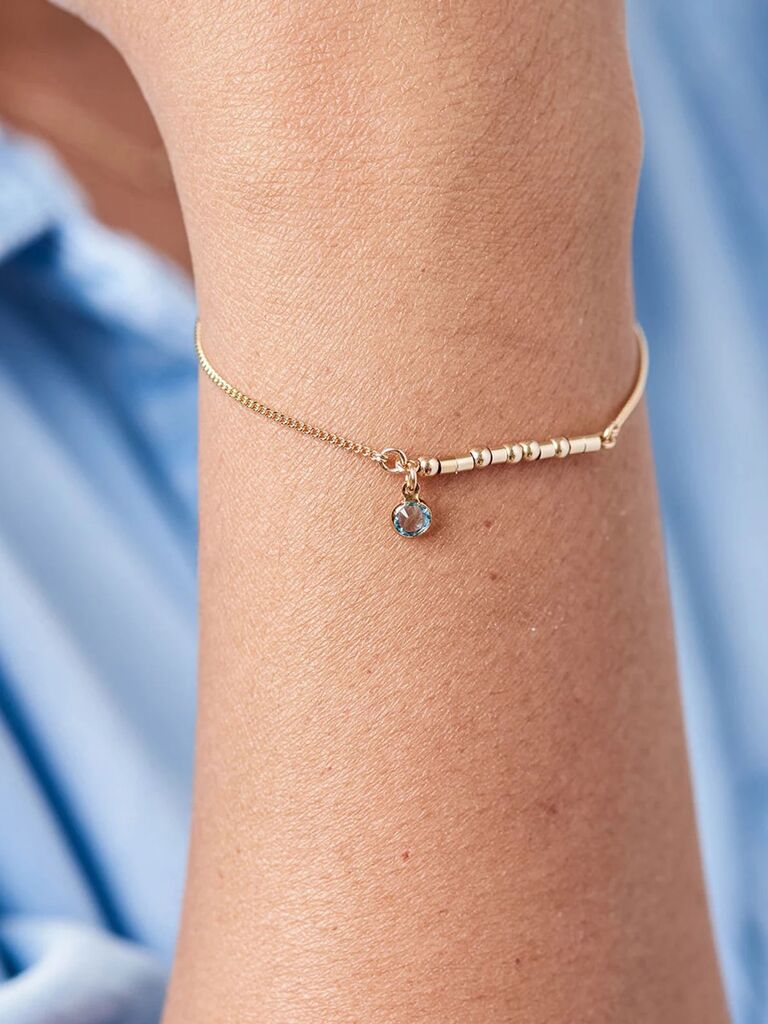 Less is more with this perfectly understated bracelet. Delicate gold or silver beads spell out a custom message in morse code. Write a short and sweet note to your daughter, then add a birthstone charm for a little color and an even more personalized gift.
Custom Music Box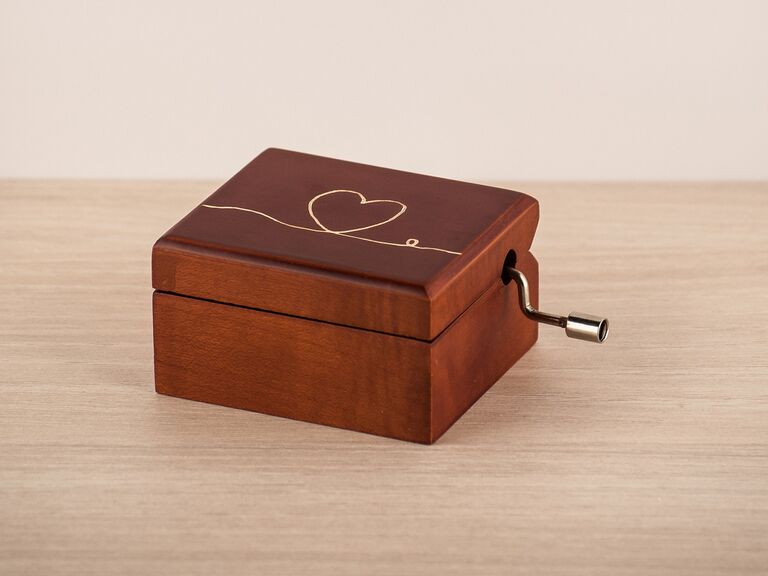 Give your daughter a small reminder of her childhood as a wedding gift. This handmade wooden music box is engraved with a heart and inscribed with a personalized message. You can choose from over 60 songs or request a custom tune that'll instantly make her think of you and your special bond. What about your mother-daughter or father-daughter dance song?
Daughter-in-Law Bracelet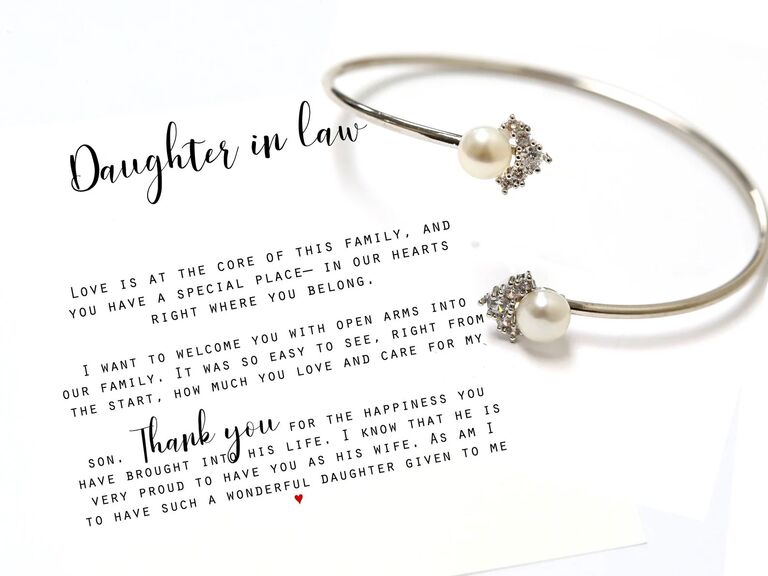 Need a gift for your daughter-in-law on her wedding day? Go for this lovely cuff bracelet capped with freshwater pearls. Pick from a gold, rose gold or silver metal finish then write a custom message for the card. You can even pair the bracelet with a matching necklace and earrings.
Birthstone Perfume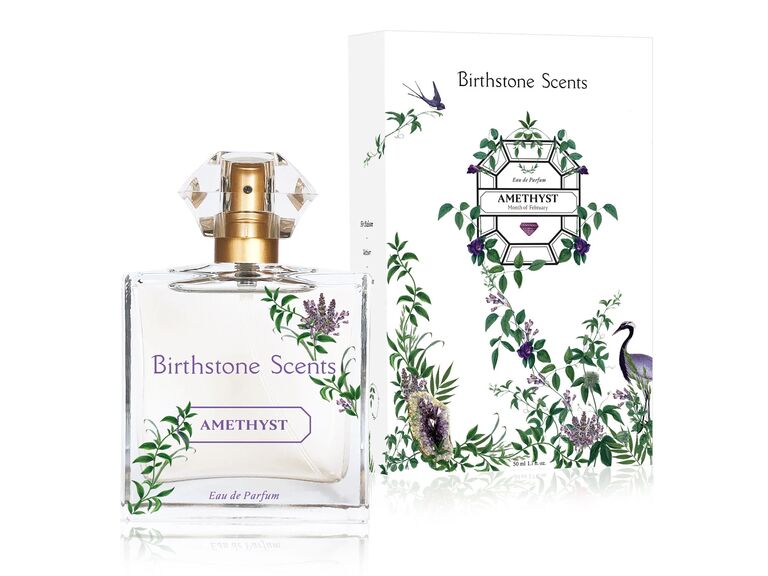 A special perfume will bring back memories of the wedding day whenever your daughter spritzes it. But don't just go for any bottle—get her a birthstone-inspired scent. You can even buy a gift set which pairs the perfume with a birthstone pendant necklace. Bonus: Pretty perfume bottles look lovely styled in wedding photography flat lays.
Cute, Commemorative Presents
Many brides will tell you that after months of planning, the big day goes by so fast that they barely had time to appreciate it. These beautiful postwedding keepsake gifts will help your daughter remember every gorgeous highlight for years to come (and no, they're not photo albums!).
Wedding Photo Coasters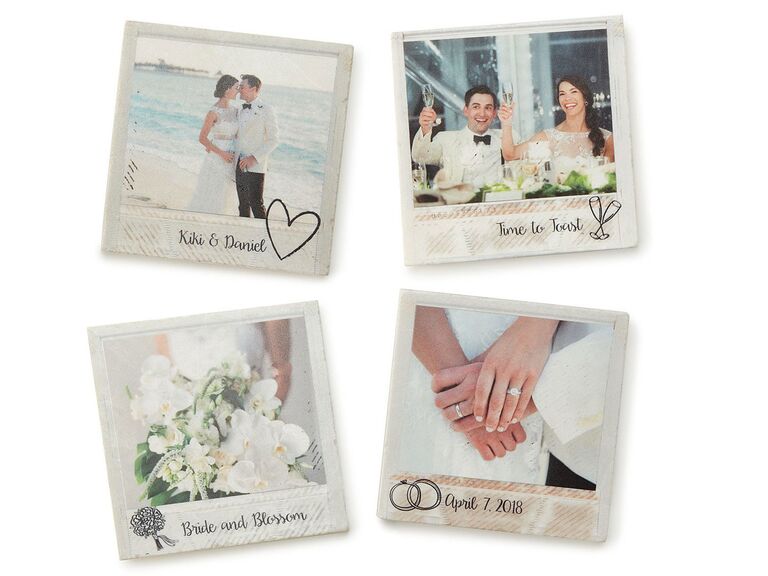 Help your daughter relive her wedding day every day with these custom coasters. Choose four of your favorite photographs from the wedding then have them printed onto marble square coasters that resemble polaroid pictures. For an extra charge, write short captions under each photo (such as the couple's anniversary date, their names or best wishes). These coasters don't just prevent water rings—they're a great reminder of your daughter's special day.
Wedding Invitation Keepsake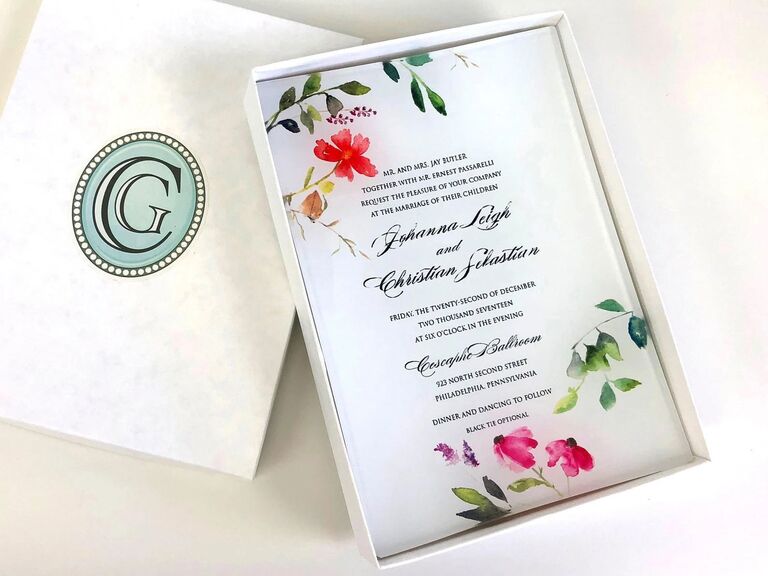 Turn your daughter's wedding stationery into a piece of art to be cherished forever. Preserve her save-the-date or wedding invitation as a glass tray she can use as a serving plate (it's dishwasher safe) or display on a stand in her home. It's the perfect keepsake for newlyweds who'd like a unique way to remember their day.
Wedding Flower Ring Holder
If you're on the hunt for an out-of-the-box wedding gift for your daughter, consider a custom floral keepsake. Simply send off a few stems from your daughter's wedding bouquet to be preserved in resin for a crystal-shaped ring holder. This gift is not only practical, but a special way to make sure the flowers last forever.
Anniversary Clock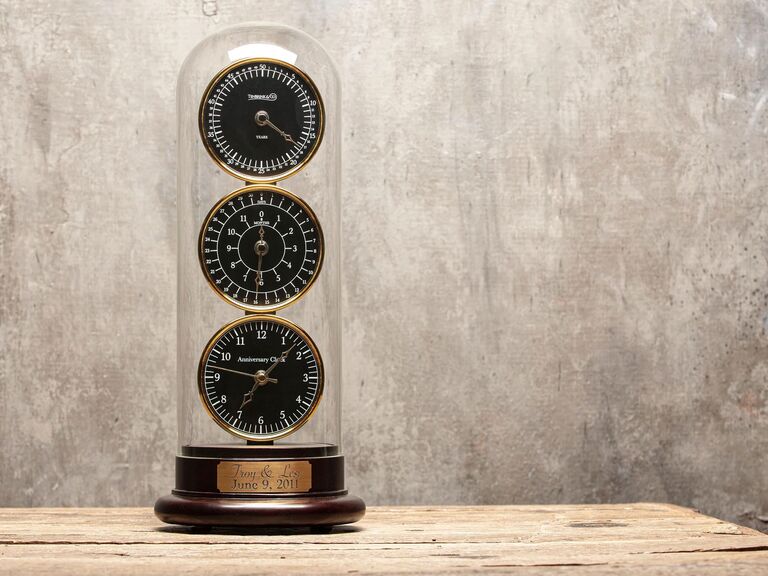 Start the clock! Now that the wedding day has come and gone, help your daughter celebrate every moment of her marriage with a clock that shows the years, months, days, hours, minutes and seconds since the special day. Personalize this clock with the newlyweds' names, their wedding date and—surprise—their first dance song. (Yep, in addition to keeping the time, this unique clock plays music!) It'll become more than just a wedding gift for your daughter—it'll be a cherished keepsake for the rest of her life.
Illustrated Couple Portrait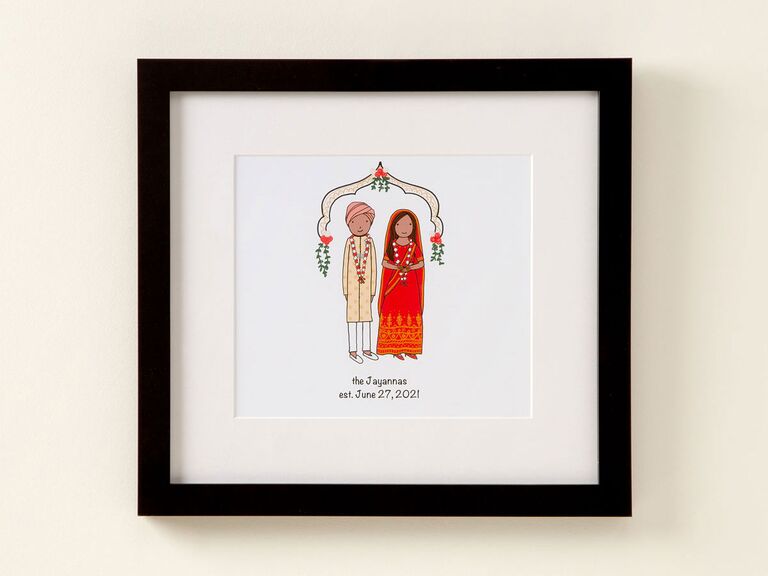 Commemorate your daughter's wedding day with a cute caricature of her and her partner. Shelly Klein's illustrations can include 10 additional figures around the couple, so feel free to add yourself, the wedding party or even family pets. You can also add a few icons to symbolize the ceremony decor. Finish it off with the newlyweds' names, wedding date and a wooden frame.
Anniversary Wine Box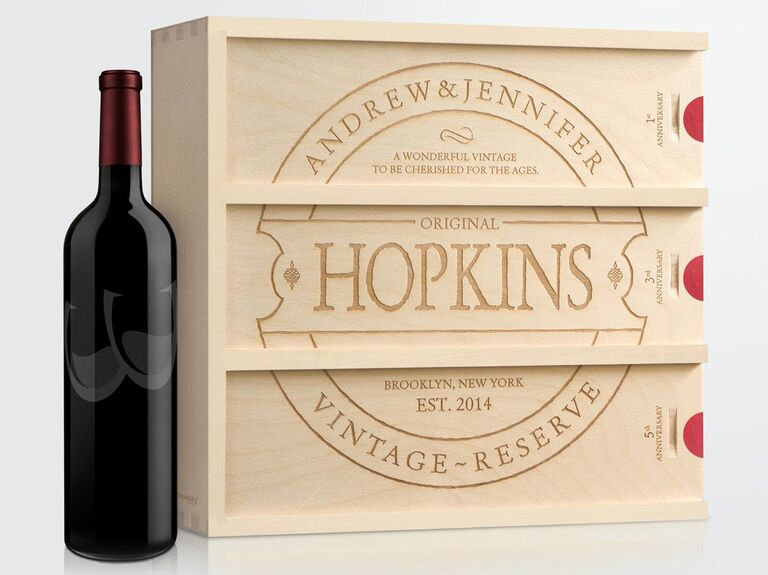 This anniversary wine box is a unique wedding gift for your daughter and her partner. Customize it with the couple's names, wedding date and wedding location, then fill it with their favorite bottles of wine to enjoy on three future wedding anniversaries.
Custom Star Map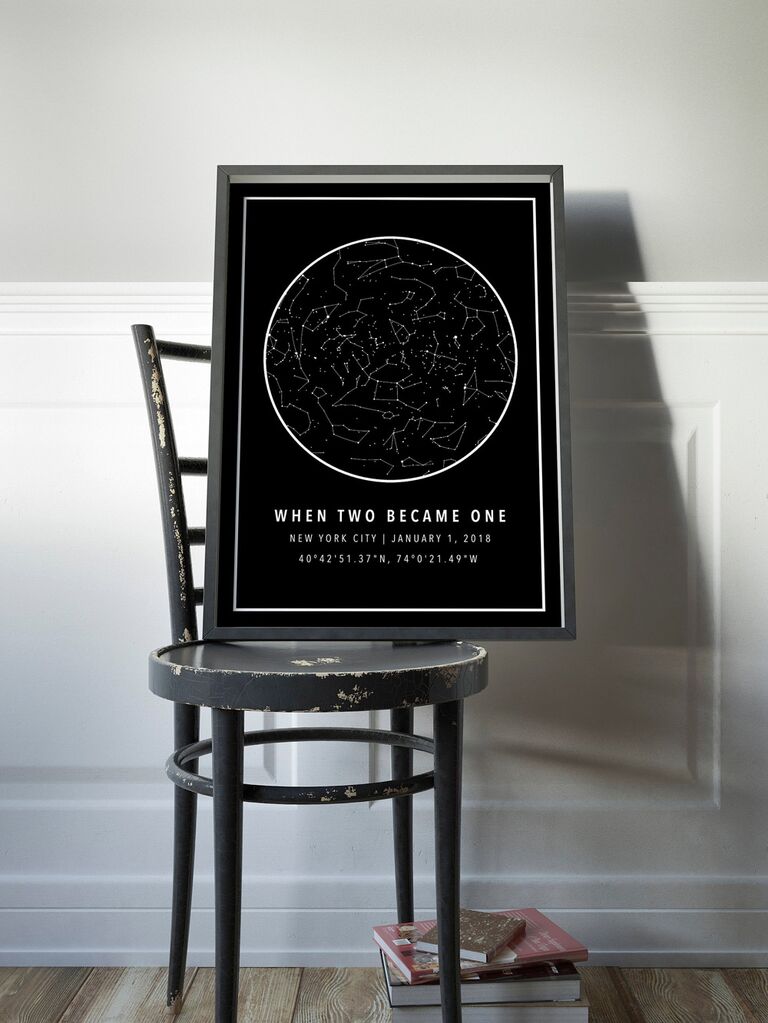 Wait until shortly after the wedding and order a star map that shows what the sky looked like on your daughter's wedding night. You get to pick the size of the print, the background color and the text. Talk about a gift that's truly out of this world.
Classic and Creative Home Goods
Home sweet home! Round out her registry wish list with a home-related gift. Some of these housewarming presents are traditional, while others are traditional with a twist.
Something From Her Registry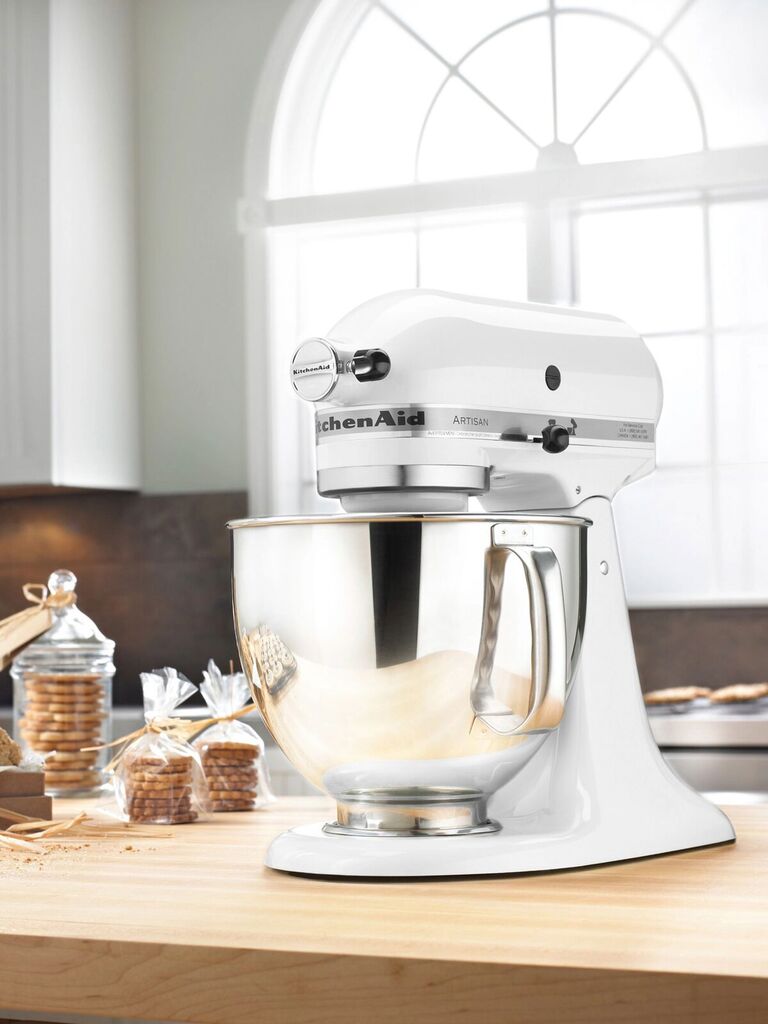 Couples always appreciate gifts purchased from their wedding registry. Surprise your daughter by buying one of the big-ticket items on her wish list, like the classic KitchenAid Artisan Series Stand Mixer. Couples adore this stylish baking tool, which comes with beaters, whisks, dough hooks and a mixing bowl. Choose between sleek metallics or retro colors to match your daughter's design style.
Symbolic Wine Glasses
Appropriately named The Women We Love Wine Glasses, these hand-blown stemless glasses are not only beautiful, but symbolically colored to represent kindness, love and wisdom. Create a set by purchasing the Daughter glass and the Wife glass—one to represent your parent-child relationship, and the other to represent your daughter's new marriage.
Customized Doormat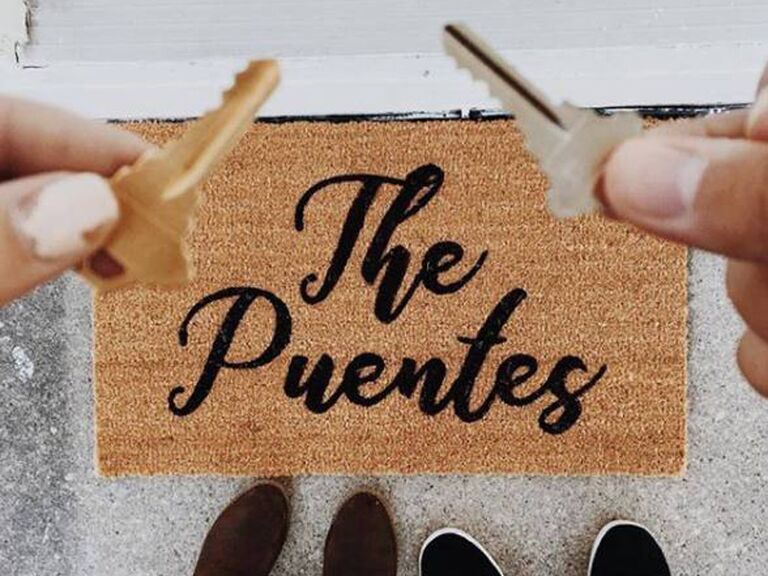 Is your daughter moving after the wedding? Help turn her new place into a home with this personalized doormat. Adorned with the couple's shared last name, it'll welcome the newlyweds' guests before they even ring the bell!
Personalized Wall Art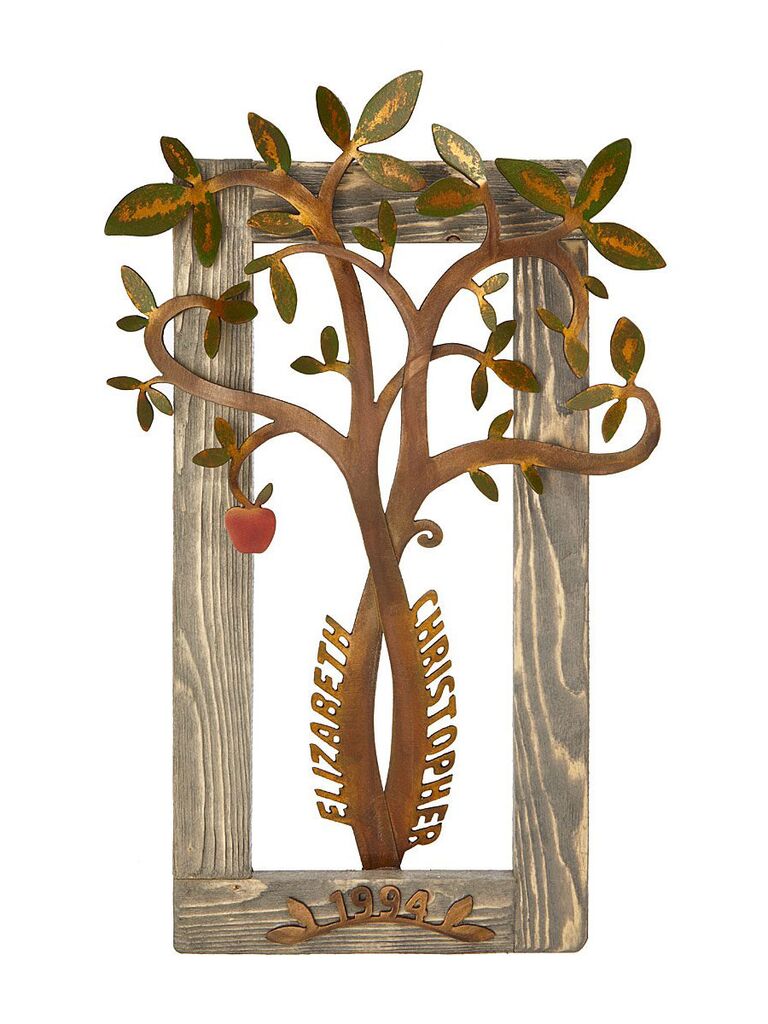 Decorate your daughter's home with handmade, romantic artwork. This piece of steel is beautifully welded to look like two trees growing together—a fitting metaphor for your daughter's recent union—with a budding apple (noted by the maker as a symbol that the couple picked each other). Personalize the gift with the newlyweds' names and wedding date.
Family Cookbook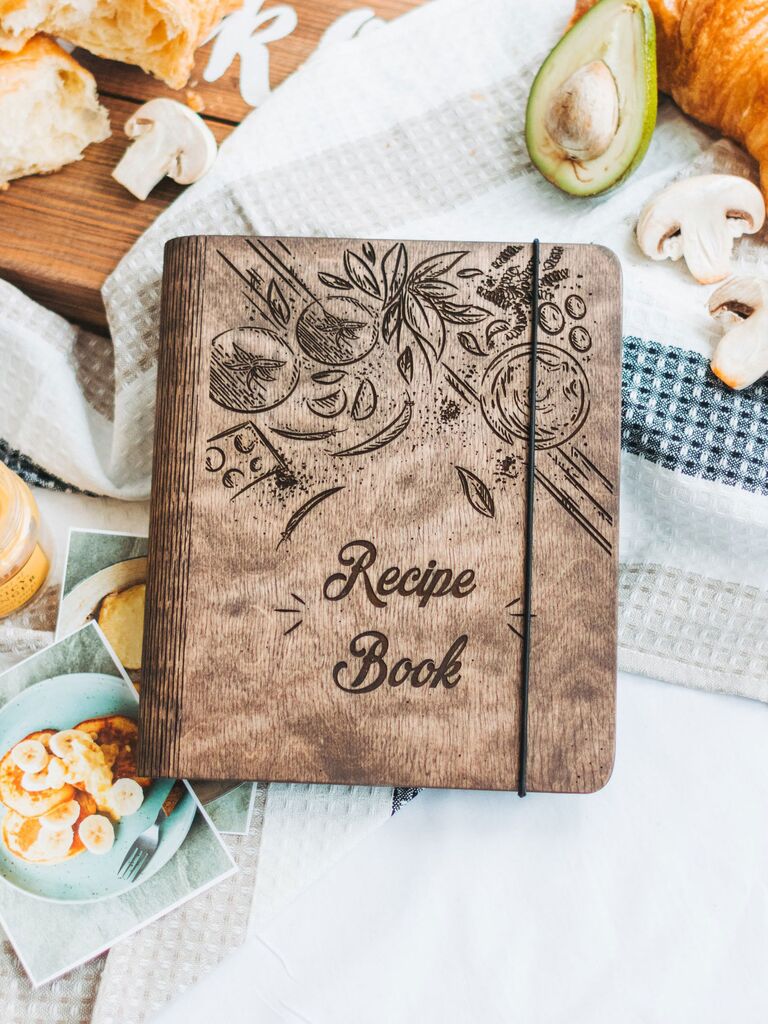 Looking for a wedding gift for your stepdaughter? You may not have passed down genes, but you can certainly pass down recipes. Put together a custom cookbook so she has all her favorite family recipes in one place. It's an excellent way to ensure that your family legacy is one of happy tummies. Plus, this binder format lets her add new recipes that she concocts with her spouse.
Useful Honeymoon Accessories
After months of planning and excitement for the big day, your daughter deserves the trip of a lifetime. These wedding gifts will make her honeymoon that much sweeter.
Trendy Luggage
Send your daughter on her honeymoon with a chic new carry-on. Luggage may not be your first wedding gift idea for your daughter, but the right set can last the whole marriage, making for a really practical present. This durable hardshell suitcase is made from sustainable materials and comes in some really chic color combinations.
Monogrammed Luggage Tag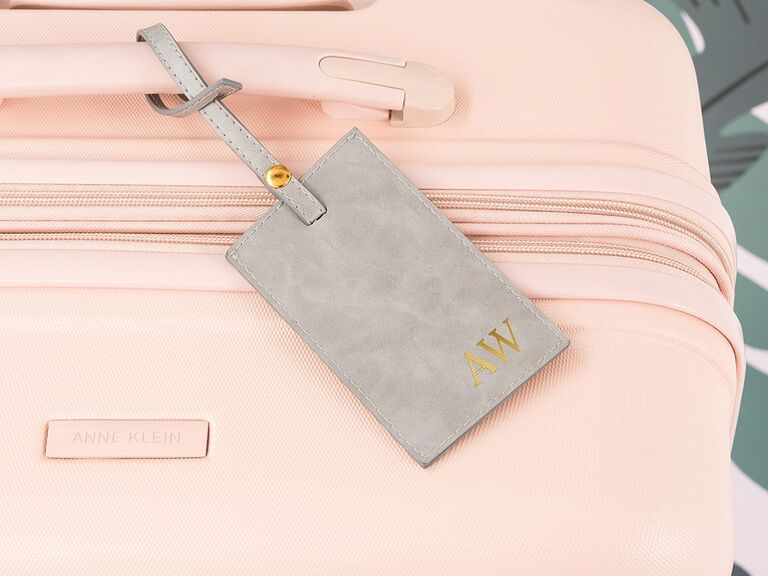 Travel gifts come in handy long after the honeymoon. Give your daughter a luggage tag for a personalized and practical wedding gift. It's an especially thoughtful gift if she's just changed her name and needs travel accessories with her new monogram. Plus, this faux-leather tag is budget friendly, so you can give one to her partner too.
Instant Camera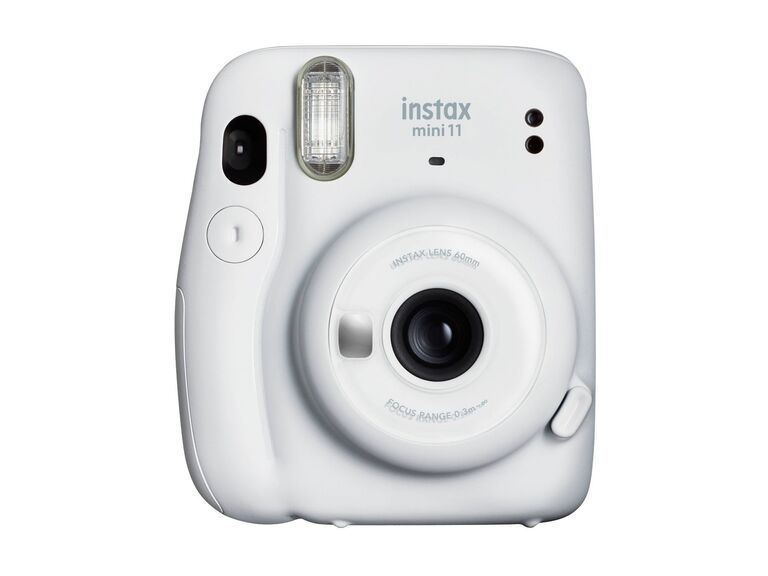 In case you hadn't heard, polaroids are back in fashion! An instant camera (and don't forget some film) is a unique wedding gift for your daughter to help her capture newlywed life. The newlyweds will use it all honeymoon long, guaranteed.
Custom Passport Cover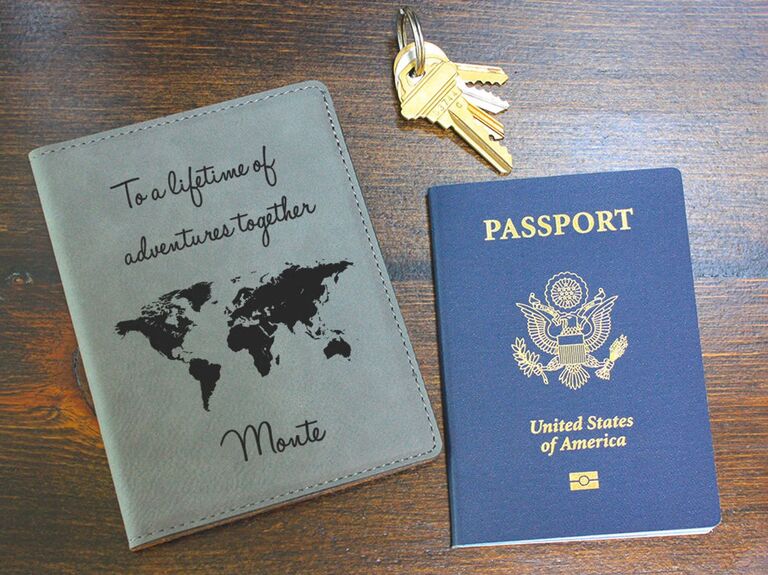 Is the honeymoon international? Give your daughter and her partner personalized passport covers! Adorned with the sweet message "To a lifetime of adventure together," this wedding gift perfectly sums up your hopes for their marriage. Choose between three colors, then have the accessories printed with the newlyweds' names.
Unique Subscription Services
The best gift for your daughter may just be the one that keeps on giving. These subscription boxes are a wonderful way to surprise her and her other half for months after the wedding is over. Because why stop celebrating?
Craft Cocktail Subscription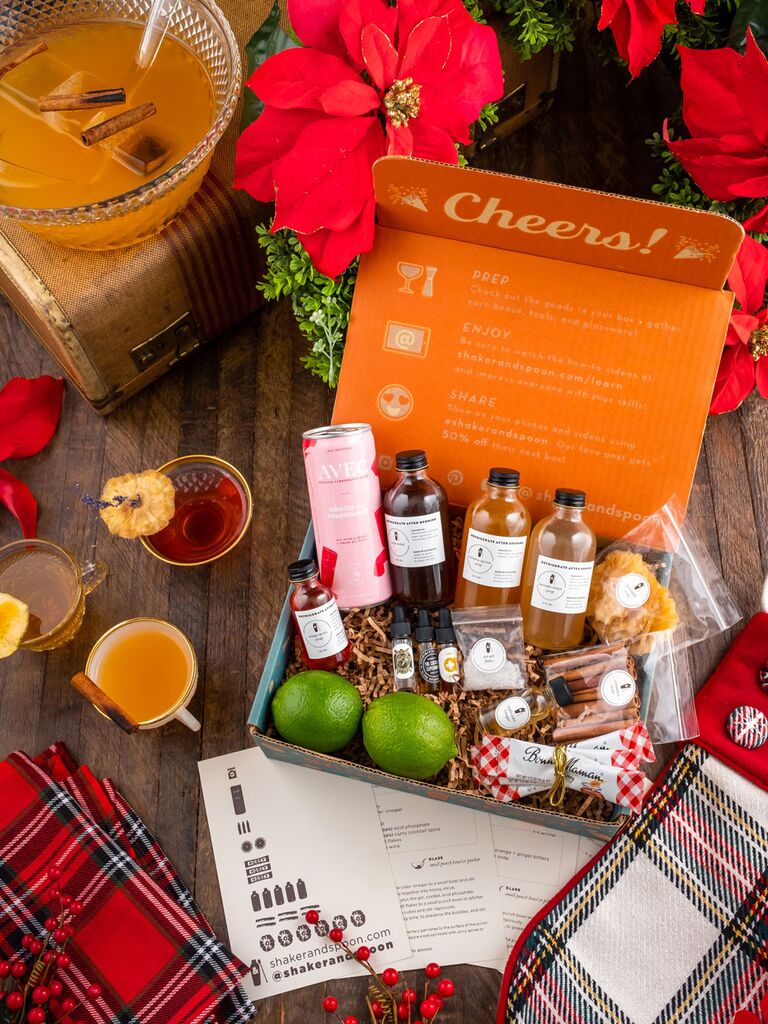 Is your daughter an amateur mixologist? Shaker & Spoon's subscription service will provide the newlyweds with all the syrups, bitters, garnishes and mixers they need to make high-quality cocktails every month. This creative wedding gift will keep the toasts going well past the big day!
Coffee Delivery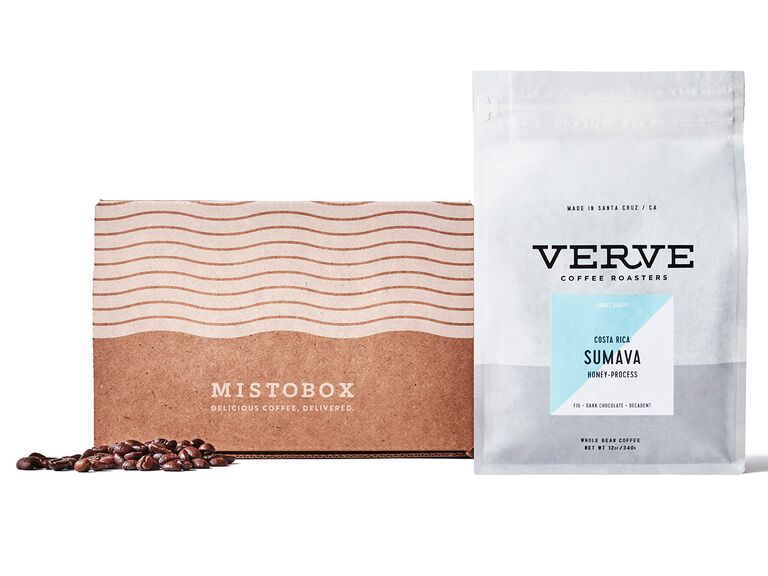 Give your daughter and her partner the gift of love in a mug with this coffee subscription service. Each bag is filled with fresh-roasted beans and shipped straight to their door, so they can wake up to a new cup every morning. Now that's how to start a marriage.
Date Night Subscription Box
Just because your daughter's married, doesn't mean she'll stop going on dates. Think outside of the typical gift box with the Adventure Box Subscription. Your daughter and her S.O. will receive everything they need for a creative and romantic date each month.