16 Wedding Gloves That Are the Epitome of Glamour
From romantic lace to silky satin, you'll swoon over these exquisite pairs.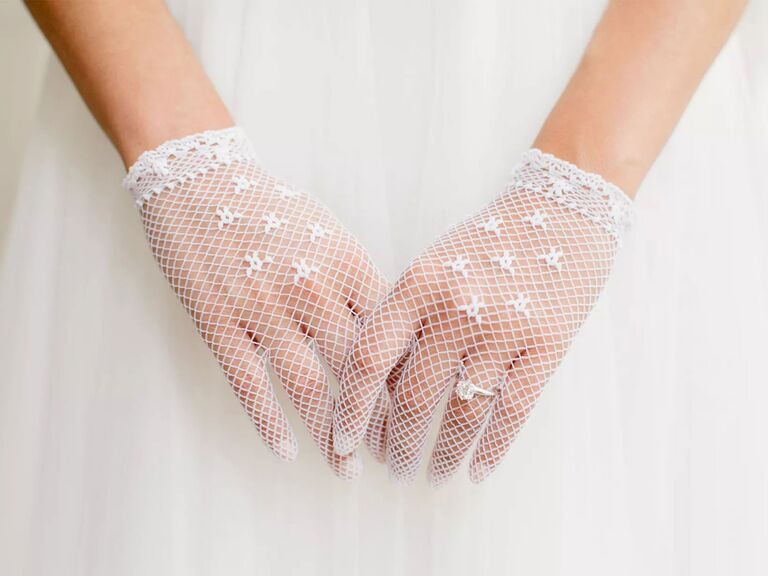 We have included third party products to help you navigate and enjoy life's biggest moments. Purchases made through links on this page may earn us a commission.
From taking over Bridal Fashion Week to dominating television screens in Bridgerton, wedding gloves are not going out of style anytime soon. There's something inherently regal about donning a pair of elegant gloves for your nuptials. Similar to other wedding accessories, such as veils, headbands and hair bows, bridal gloves can add an extra layer of refinement to your ensemble. Plus, gloves are available in a variety of fabrics, styles and hues for every wedding vibe, whether you're craving gloves that are traditional and vintage or simple and modern ones.
To help you find the wedding gloves of your dreams, we've included the most glamorous styles on the market, from timeless wrist-length lace gloves to luxurious elbow-length satin sets. Then, with the help of a wedding glove expert, we're answering your most-asked questions surrounding wearing gloves to your wedding, including how to choose the right pair and how to wear them correctly at your ceremony and reception.
In this article:
The Best Wedding Gloves
We've handpicked the most beautiful bridal gloves at every price point, including lovely options from Cornelia James, BHLDN, Danielle Frankel, Lulus and more. From French-inspired lace to silky satin, there is no shortage of sophisticated options for your upcoming soirée.
1. Cornelia James Ophelia Satin Opera Glove in Ivory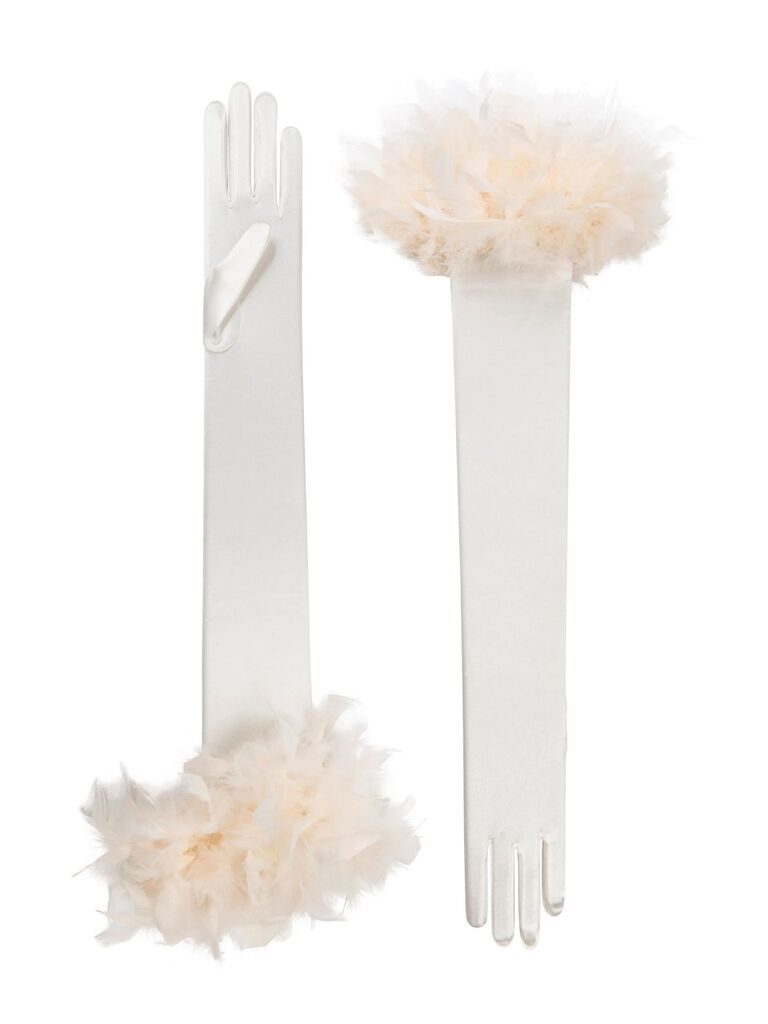 These satin opera wedding gloves accented with fluffy feathers are downright luxurious. The medium-weight satin piece is crafted with a touch of stretch for comfort, while the plume details are fun and festive. Choose from Ivory or Black depending on your wedding vibe.
2. Anthropologie Blossom Veils Pearl Gloves
Made from sheer material and covered with pearl embellishments, we can't stop staring at these showstopping bridal gloves. Because of the sparkly adornments, they would look exceptional paired with a minimalist wedding dress.
3. Floris Amor Studio Long Tulle Wedding Gloves in White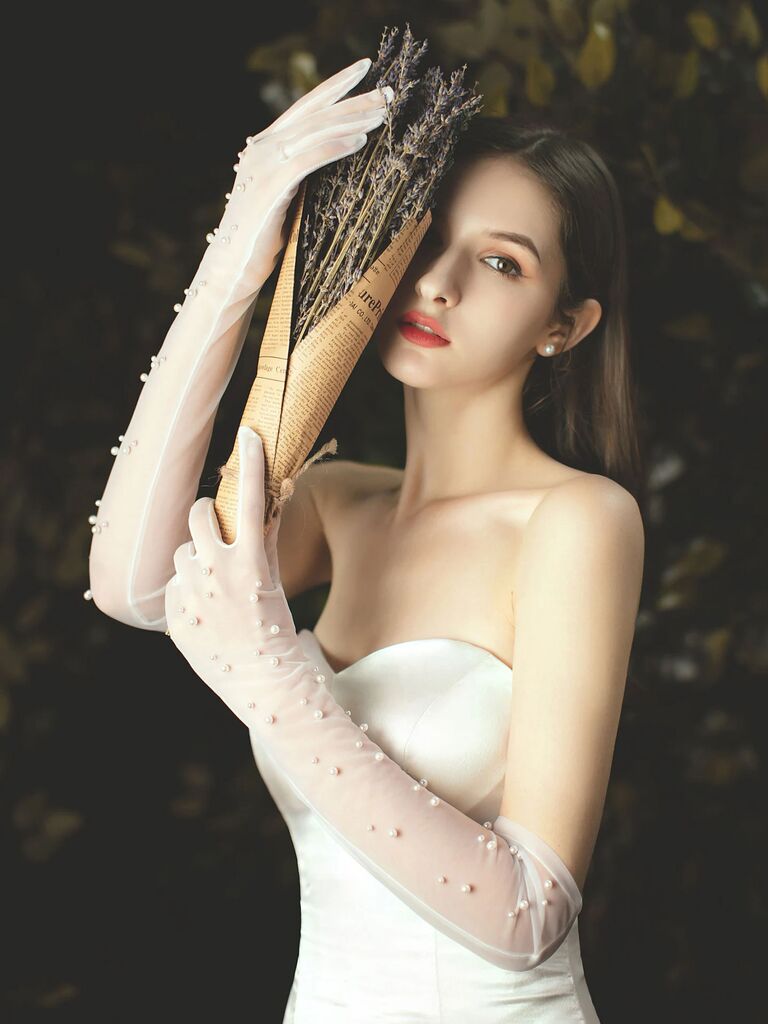 These tulle wedding gloves embellished with faux pearls are one of our favorite affordable styles for brides. The luminous pearls will instantly add a luxe element to your outfit. You can even wear these beauties to your Bridgerton-themed bridal shower or put them on for your upscale rehearsal dinner.
4. Anthropologie Blossom Veils Embellished Gloves
You'll look effortlessly elegant on your wedding day wearing these lovely see-through wedding gloves. They feature romantic floating gem embellishments shaped like blossoms throughout the long elbow-length gloves. The lightweight sheer fabric also means that these are suitable for warmer climates, such as summer events and outdoor gatherings.
5. Lace Wedding Gloves with Bow
Looking for timeless lace wedding gloves? These wrist-length pieces are adorned with lace and imitation pearls for a refined bridal look. And they're a great option if you're wearing a gown with longer sleeves. For another plus, they include a bit of stretch for extra comfort and flexibility.
6. Danielle Frankel Chantilly Lace Gloves in Ivory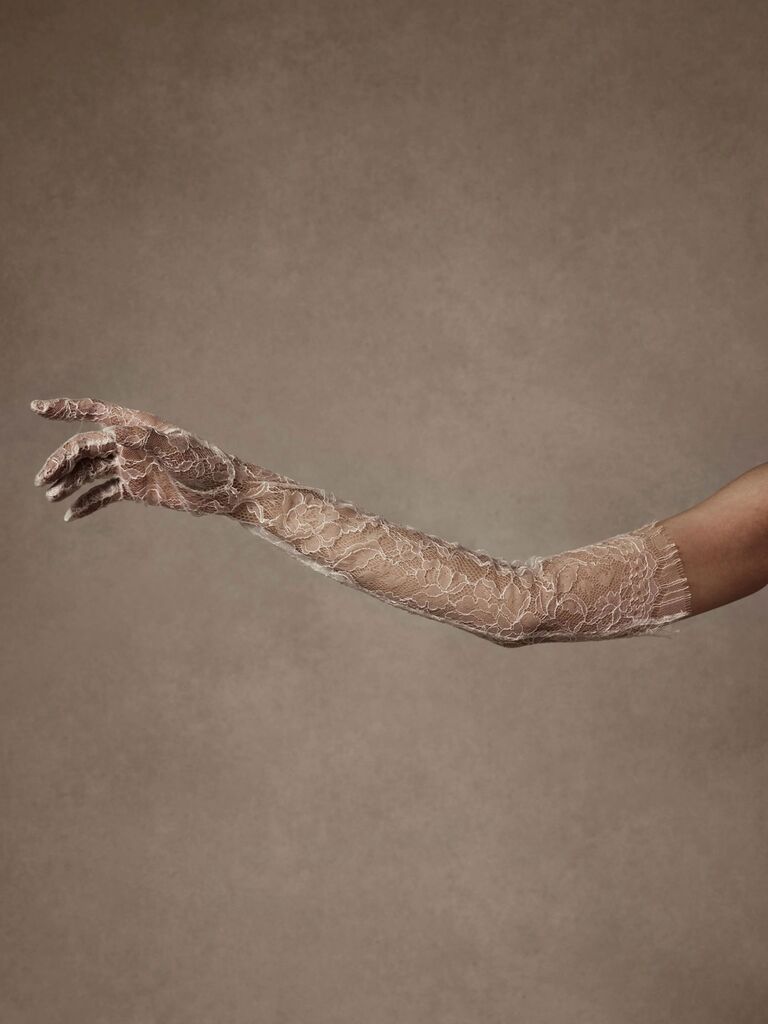 You'll be transported to the 17th century once you slip on these regency-inspired Chantilly lace bridal gloves. The refined accessory is covered in an exquisite French lace motif that extends over the elbow. They'd make the perfect wedding accessory if you're getting married at a French chateau, an Italian villa or a historic estate.
7. Anthropologie Rosette Opera Gloves in Pink
Who says you have to only wear white gloves to your wedding? These pink opera wedding gloves take the popular "Barbiecore" fashion trend to a whole new level. The dramatic florals and ruffled sleeve endings are eye-catching and make a glamorous statement.
8. Caroline Amato Silk Three-Button Opera Gloves in Diamond White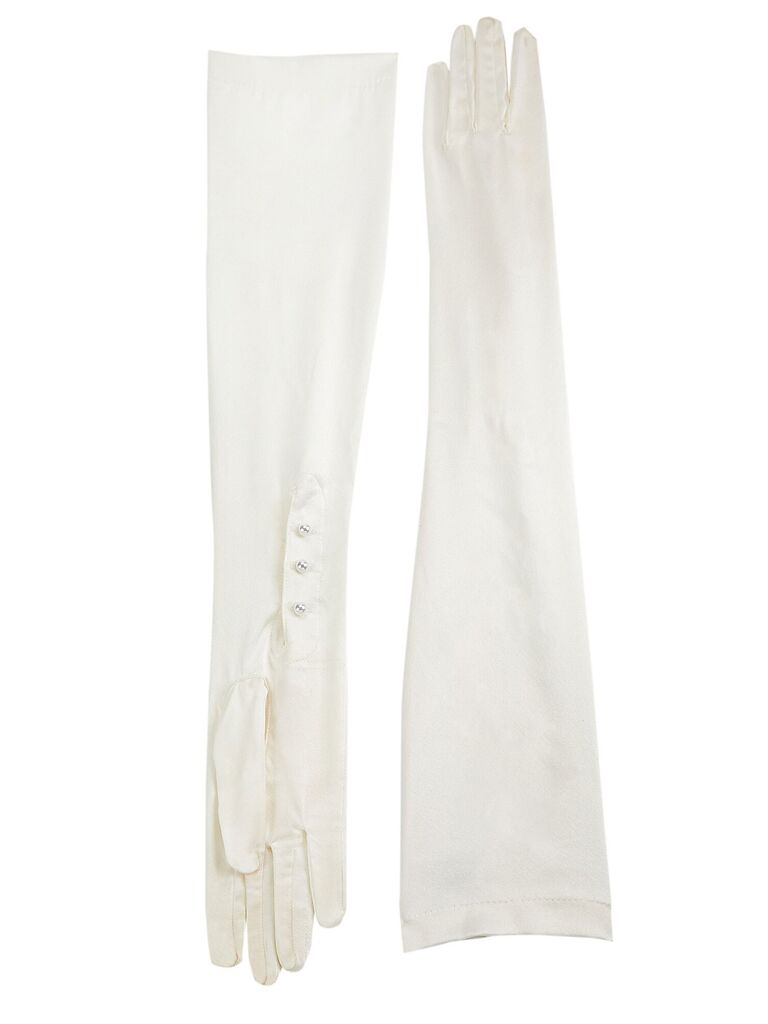 Here's another pair of white opera gloves to have on your radar. This pair by Caroline Amato is made from sumptuous silk and comes in two gorgeous shades, wedding White or sultry Black. As the icing on the cake, these bridal gloves are adorned with three faux pearl buttons that exude sophistication.
9. Hoefer Bridal Wedding Gloves with Tulle Floral Bow Lace in White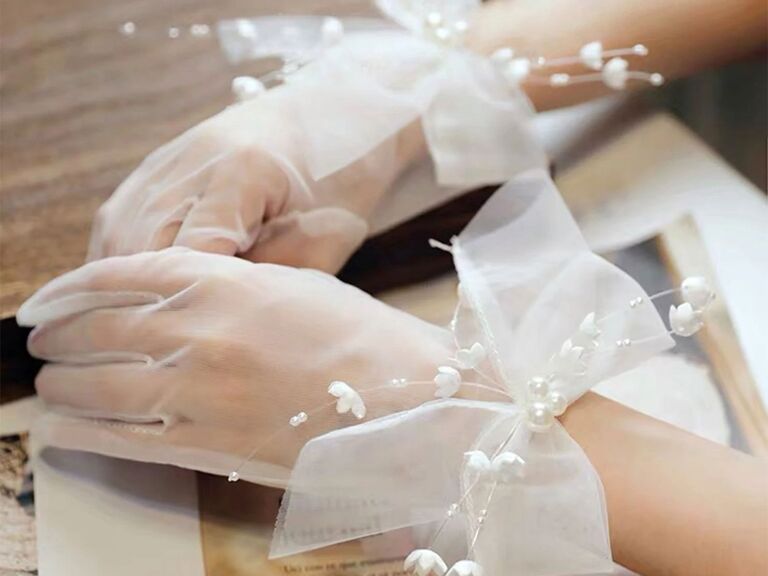 There are so many beautiful details on these handmade wedding gloves for brides, from the whimsical tulle material and oversized tulle bows to the faux pearl floral accents. It's a delightful wedding style that combines tradition with modernity.
10. Carolina Amato Viviana Silk Gloves in White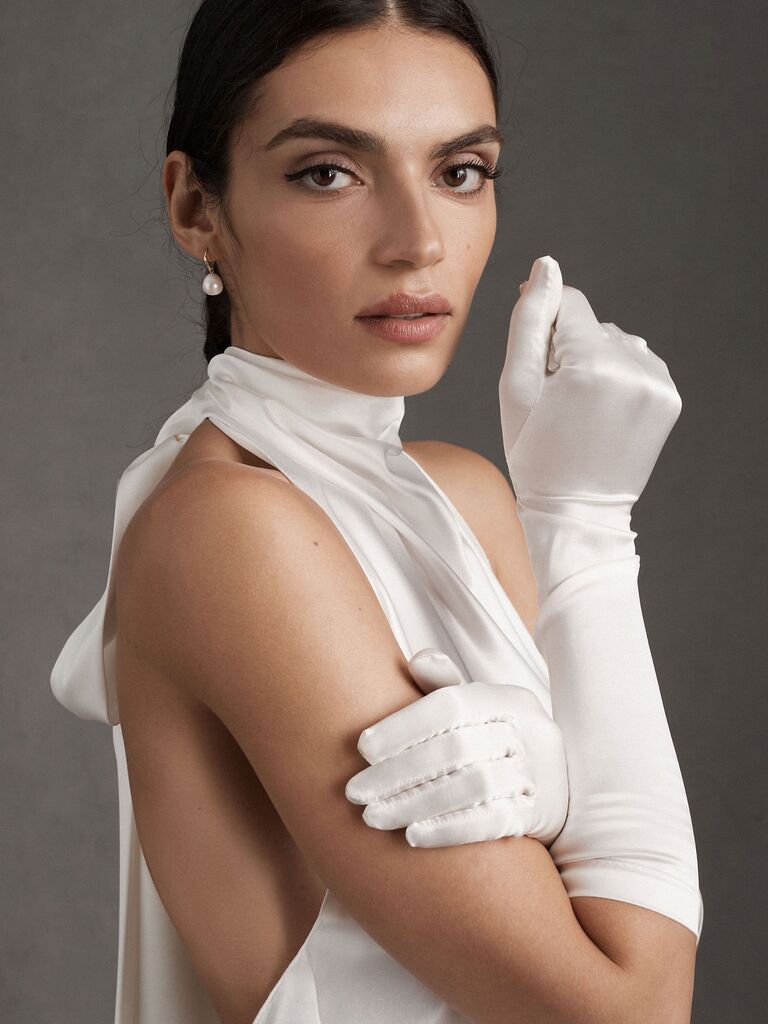 Slip on these delicate silk white wedding gloves, then get ready for a ton of compliments on your big day. The bright white hue and silky material are perfect for your nuptials or prewedding events. Style these pieces with a satin gown for an unbelievably stunning look.
11. Shop Jemme Vintage Cotton Crochet Wedding Gloves in White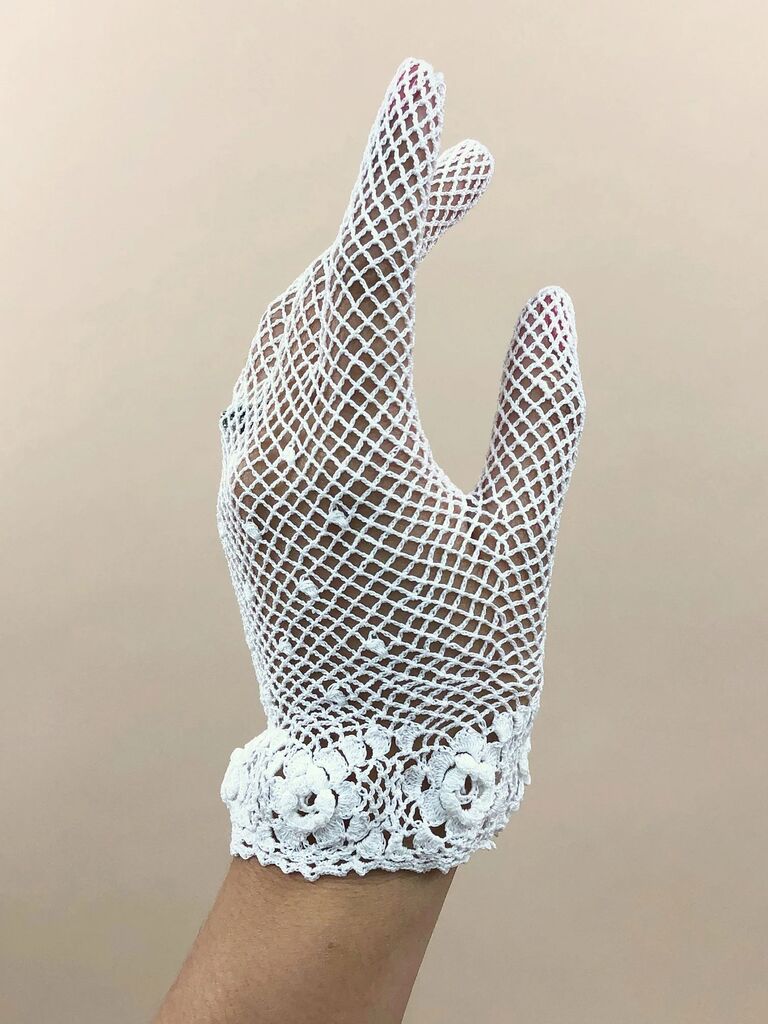 These vintage 1960s-inspired crochet wedding gloves are the perfect "something old" accessory to incorporate into your wedding day. Crafted from lightweight cotton yarn, they feature a traditional netted pattern that looks straight out of Bridgerton or any historical TV show.
12. Cornelia James Hermione | Satin Opera Glove
If you're hosting an upscale black-tie soirée, these long ivory bridal gloves will transform your wedding outfit into an extravagant one. The elbow-length pieces are made from shiny satin and come in Black, Pearl, Ivory, Champagne, Smokey Rose, and more.
13. Cornelia James Màiri Cashmere Glove in Taupe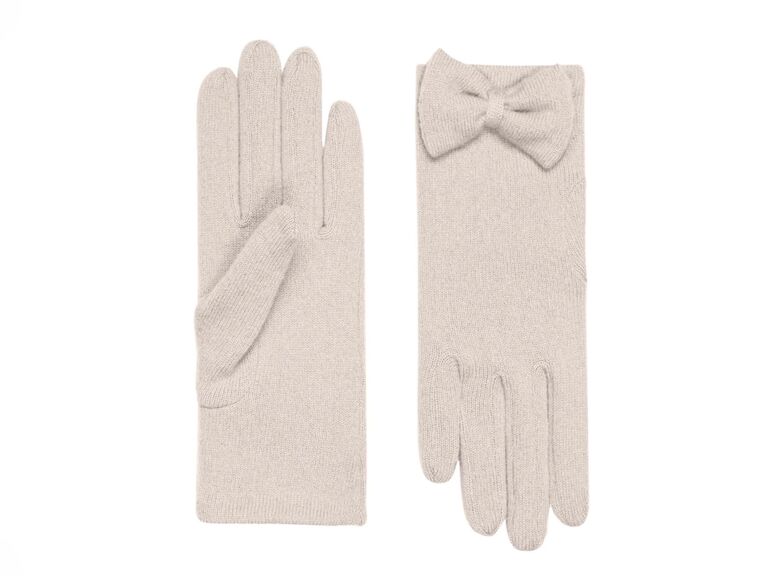 These short wedding gloves, made from super-soft cashmere, are a foolproof pick for winter events. Your hands will stay warm and cozy for your outdoor wedding photos while also looking stylish. The beautiful taupe shade and sweet bow details make them even more wedding-worthy.
14. Kerry Parker Store Hand Embroidered Wedding Gloves in Ivory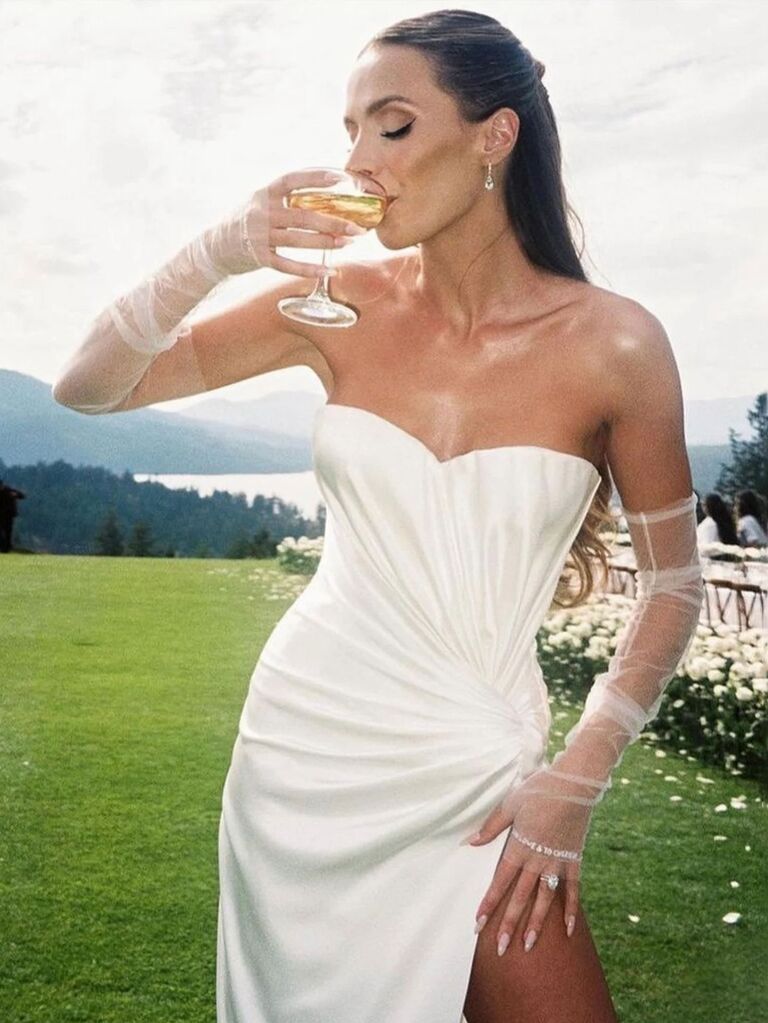 We love the personalized element of these exquisite fingerless wedding gloves. You can have a special saying embroidered in silk thread on the ethereal tulle fabric for your wedding day or even for your engagement photos. Either way, you'll cherish these sentimental gloves forever.
15. Cornelia James Calypso Satin Opera Gloves
Incorporate a hint of shimmer into your bridal ensemble with these fancy satin wedding gloves. The enchanting pair is adorned with glittering rhinestones that seal a chic cut-out design for a breathtaking wedding accessory you won't want to take off.
16. Cornelia James Desdemona Silk Opera Glove with Mousquetaire in White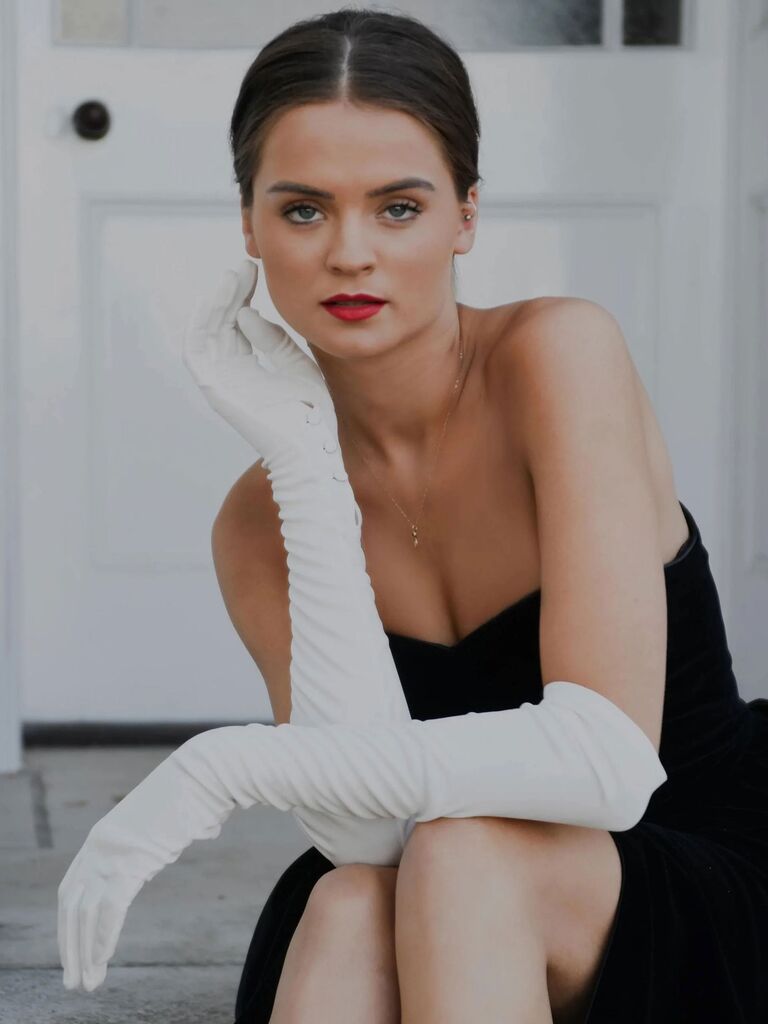 These white bridal opera gloves would look incredible with a range of wedding outfits, from a voluminous ball gown for your wedding to a modern mini dress for your rehearsal dinner. The best part? They feature the traditional mousquetaire button opening on the inside of the wrist, which allows the hand to be removed for the ceremony without having to take the glove off (how convenient!). This style also comes in five swoon-worthy shades, including Ivory, White, Blush Pink and Black.
Frequently Asked Questions
With the help of a wedding glove expert from British glovemaker Cornelia James, we're diving into your most-asked etiquette questions about bridal gloves. Read on for our must-read tips.
Are gloves in style for weddings?
You might be wondering: Are wedding gloves still in fashion? The answer is 100% yes! "We've always seen their popularity when looking back at style icons such as Grace Kelly, Audrey Hepburn and Elizabeth Taylor, but it's clear that wedding gloves are certainly making a come back this year," says Zoe Moderski, an outreach consultant at Cornelia James. "From Bridgerton style to classic opera, we've been seeing them everywhere."
According to Moderski, bridal runways have been flaunting even more glove styles in 2022, thanks to celebrity wedding looks in recent years. Notable examples include Nicola Peltz's Valentino gown accented with elegant lace gloves, Kourtney Kardashian's Dolce & Gabbana mini dress with sheer gloves, and Hailey Bieber's "almost wedding glove" Chantilly lace gown designed by the late Virgil Abloh.
Why do brides wear wedding gloves?
While bridal gloves are commonly associated with tradition, there are other reasons why brides may sport the classic accessory. "Traditionally, brides wore wedding gloves as a symbol of grace. Today, some brides choose to wear gloves because formal etiquette still recommends that brides wear them," explains Moderski. But ultimately, wearing wedding gloves is a personal choice that can be made simply for the sake of fashion. "The majority of modern brides treat bridal gloves as a fashion accessory," Moderski adds.
How do I choose wedding gloves?
There are a few things to consider when selecting your wedding gloves, including the length, material and color. The length of your gloves will depend on the sleeve length of your outfit and the formality of your event. For example, if you're wearing a sleeveless gown for a black-tie affair, consider wearing opera wedding gloves—a formal style that covers the mid-arm and beyond. Alternatively, if you're wearing a dress with long sleeves—or are hosting a non-traditional or less-formal function—wrist-length gloves are an appropriate and stylish choice. But etiquette rules aside, it's your wedding—so choose the length that you absolutely love.
As for the fabric of your gloves, you have a few options to choose from, including silk, satin, tulle and lace. "Our most popular bridal gloves are usually a silk or satin opera glove. Silk is always a safe bet as our material has a beautiful matte finish which makes it really easy to match with gowns," says Moderski. Cornelia James recommends pairing silk gloves with satin dresses and satin gloves with silk dresses, as well as playing around with tulle and lace to spice up different silhouettes. "Choosing gloves with the right amount of contrast allows for both gloves and dress to speak for themselves and stand out in equal measure," their website says.
Moderski advises that you order swatches of your gloves first in order to get a feel of the fabric and color. "We always recommend ordering fabric swatches before choosing the gloves. We recommend ordering a fabric that complements the gown. It's much easier to do this if you're able to test with swatches before selecting which glove you want, making it easy to rule out any discrepancies in color or material."
If you need help choosing the right look for your outfit, consult a bridal consultant during your dress shopping appointment or bridal stylist. They'll be able to work with you on your style preferences and help you find the best bridal gloves for your wedding day.
How to wear gloves at your wedding
So, how do gloves at weddings work, exactly? You might be wondering how to exchange wedding rings at the ceremony and what happens during the reception.
"The simple answer is it's really up to you!" adds Moderski. "Some brides like to have the ring placed on top of the glove during the ceremony, while others prefer to lose the glove until the reception altogether."
Cornelia James also makes gloves with a 'mousquetaire' for those who'd like to have their hands free without taking the glove off completely. "A mousquetaire is a small three-inch opening at the inner wrist that allows for easy removal from the wearer's hand. The hand remains attached and may be tucked inside the sleeve of the glove for dining or an exchange of rings," she explains. The mousquetaire is then sealed with dainty buttons or bows for an elegant touch.
Another option that you can do? Have your seamstress unstitch the seam of the wedding ring finger on the left glove so you have a small opening. During the ring swap, slip your finger out, and, once the wedding band is in place, slip it back in. You could also just take the glove off and hand it to your honor attendant during the exchange, but if the gloves are long, you may be left struggling and fumbling at the altar, so practice beforehand. You'll also want to leave them off in the receiving line and while eating and drinking during the reception.