What These 20 Petite Wedding Dresses Lack in Length, They Make Up for in Style
Long story short, you're going to love these options.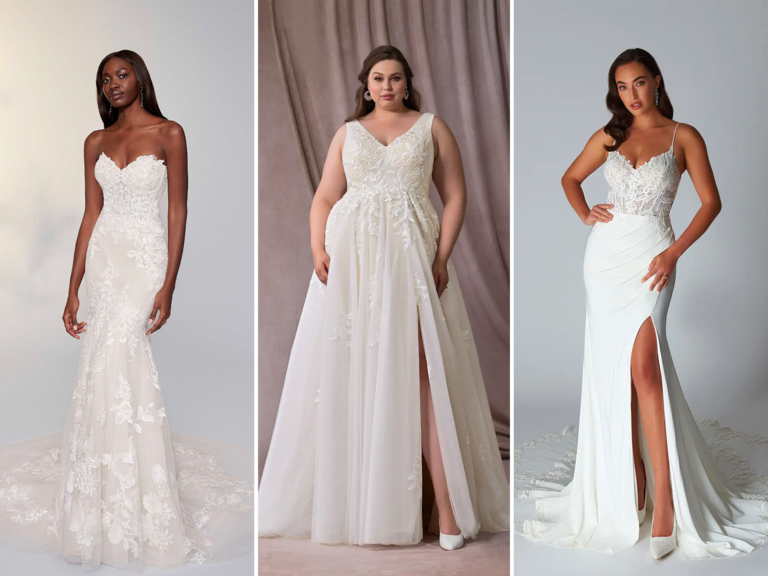 Photos: Justin Alexander, Azazie
We have included third party products to help you navigate and enjoy life's biggest moments. Purchases made through links on this page may earn us a commission.
At five feet tall, the struggle to find clothes that fit just right is one that I've come to know all too well. The search for petite wedding dresses, on the other hand, is one that I've feared. Because nearly half of all women in America are 5'4" and under, I knew that I certainly wasn't alone in that regard. I'm sure many of you can relate to the hassle when it comes to trying on dresses—midis fit like maxis, maxis drag along the ground, and don't even get me started on gaping necklines (no-go on the nip slips). Let's be real: these are issues no bride should have to face on their big day; a day where they deserve to look and feel their best.
With so many petites out there, I knew there had to be better options, so I searched the internet high and low for the best wedding dresses for petite brides, and to my surprise, what I found eased my worries tremendously. Now let me ease your mind.
While the bridal industry as a whole has a long way to go in terms of becoming inclusive to all body types, the good news is that things are changing. Because so many wedding dress brands now offer made-to-measure sizing, finding your dream dress doesn't have to be a daunting task. Some beloved bridal brands, like Olivia Bottega and Justin Alexander, even offer styles that were specifically designed with the petite bride in mind.
As your resident petite fashion expert, I'm here to help you through the process of finding the perfect fit. Keep reading to discover my top tips for dress shopping as someone 5'4" or under, as well as 20 of the best wedding dresses for petite brides. One thing I can say for sure is that these picks are nothing *short* of perfection.
In this article:
Editor Picks: The Best Petite Wedding Dresses for 2023
Looking for inspiration? Here are 23 of the best petite wedding dresses for 2023 brides.
Vila Petite Bridal Satin Mermaid Maxi Dress
This petite wedding dress is perfect for brides on a budget. Not only is it affordable, but it was also designed specifically for brides 5'4" and under, so you won't have to worry about the skirt dragging on the ground. Its charming mermaid silhouette falls just above the ankles, allowing you to show off your wedding shoes.
Dress style: Mermaid
Size range: 2 - 12
Justin Alexander Strapless Illusion Lace Fit and Flare Gown Petite
Romantic brides: you're bound to fall in love with this strapless gown featuring a sweetheart neckline, fit and flare silhouette and floral appliqués scattered throughout. Because it was designed for petites, you can enjoy its chapel-length train without excessive alterations.
Dress style: Fit and Flare
Size range: Custom
Silk Maison Front Cross Halter Neck Silk Dress
Made from 100% silk, this pick is guaranteed to keep you comfortable throughout a night full of dancing. While not specifically designed for petites, it's just the right length to be worn as a maxi dress by shorter brides. Plus, its draped bodice reduces the need for any complicated alterations.
Dress style: Slip
Size range: XS - L
Olivia Bottega Sparkle Wedding Dress Heist
Bring on the bling! This all-over glitter gown is perfect for the bride who believes more is more. Whether you're looking for petite or petite-plus sizing, you can rest assured knowing your gown will be the perfect fit thanks to Olivia Bottega's made-to-measure offering.
Dress style: A-Line
Size range: 2 - 34
Watters Tilly Strapless Corset Front-Slit Wedding Gown
Designed with the fashion-forward bride in mind, this pearl-adorned gown is guaranteed to make a statement on your big day. Its strapless neckline and side leg slit offers a lengthening effect that petites will love. Need a shorter length? Its streamlined skirt can easily be hemmed!
Dress style: Column
Size range: 0 - 16
Azazie Celandine Gown
Say 'I do' to the perfect fit with the help of Azazie's custom sizing option. This A-line gown, with a glamorous crystal-adorned bodice and dramatic tulle skirt is an excellent alternative to a classic ball gown, as it was created with petite frames in mind.
Dress style: A-Line
Size range: 0 - 30
Cocomelody Sheath Sweep-Brush Train Lace Tulle Wedding Dress
Our love for this petite wedding dress is certainly blooming. All-over floral appliqués and a flattering mermaid silhouette make it a trendy option for 2024 brides. Complete the fashion-forward ensemble with a statement-making mini veil.
Dress style: Mermaid
Size range: Custom
Silk Maison Open Back Bowknot Silk Dress
With a streamlined silhouette, this midi dress makes the perfect maxi for petite brides. It also features an oversized bow detailing on the back that gives it a distinct bridal touch you're sure to love. Oh, and did we mention it's made from 100% silk?
Dress style: Slip
Size range: XS - L
Azazie Rosalina Gown
At the intersection of sweet and sexy, you'll find the Rosalina gown. Its figure-flattering lace bodice with exposed boning is met with a draped skirt and dramatic lace train. Custom sizing option ensures you'll have the perfect fit, no matter your height.
Dress style: Trumpet
Size range: 0 - 30
Olivia Bottega Floral Lace Wedding Dress Romanica
Who says petite brides can't rock a ball gown? Because this sparkly pick is custom-made to your measurements, you won't have to worry about drowning in fabric when you step into the Romantica gown. We can't get enough of its sparkly tulle shoulder bows or embroidered bustier bodice.
Dress style: Ball Gown
Size range: 2 - 26
Olivia Bottega Plus Size Crepe Wedding Dress Jessica
Petite plus brides—here's a minimalist style you're sure to love. Its streamlined silhouette, with a square neckline and train, offers the perfect blank canvas to accessorize with. Our suggestion? An eye-catching embroidered veil or statement jewelry.
Dress style: Fit and Flare
Size range: 2 - 18
Justin Alexander Signature Satin Fit and Flare Gown with Folded Neckline Petite
This dress puts a modern spin on a classic bridal look. Made especially for petites, the charming strapless gown features a sweetheart neckline and a chapel-length train. Finish off the timeless ensemble with an embellished bridal belt.
Dress style: Fit and Flare
Size range: Custom
Olivia Bottega Glitter Mermaid Wedding Dress Lovisa with Leg Slit
Looking for a wedding day look that will take you to new heights? The silhouette of this sparkly gown offers a lengthening effect you're sure to love. It features a trendy corset-style bodice, off-shoulder sleeves, a side leg slit and an oversized tulle bow on the back.
Dress style: Column
Size range: 2 - 30
Cocomelody A-Line Sweep-Brush Train Crushed Material Wedding Dress
With a crossover bodice, puff sleeves and pleated skirt, this petite gown is a lovely option for a winter wedding. Because each dress is made to your own unique measurements, you can nail the perfect fit.
Dress style: A-Line
Size range: Custom
Lillian West Natural Waist Fit and Flare with Lace Details Petite
Being petite doesn't mean you have to sacrifice on bridal glam for your big day. This fit and flare gown brings all the drama and then some. With an appliquéd bodice and chapel-length train, it's a petite bride's dream.
Dress style: Fit and Flare
Size range: Custom
Azazie Xena Gown
Though glamorous enough to wear on its own, this A-line gown was practically made for accessorizing. Its deep V-neckline and empire waist keep things classic, while its illusion lace back gives it an eye-catching touch.
Dress style: A-Line
Size range: 0 - 30
Cocomelody A-Line Sweep-Brush Train Lace Tulle Wedding Dress
Here's a whimsical pick we love for a garden wedding. The A-line gown features a sweetheart neckline, puff sleeves and a sheer overlay with scattered floral appliqués. Available in both standard and petite sizing, it's an all-around win in our books.
Dress style: A-Line
Size range: Custom
Olivia Bottega Satin Midi Wedding Dress Cameron
We're spilling the tea: Tea-length dresses were practically made for petite brides. With a length that hits around mid-calf, you can feel confident knowing your skirt won't drag on the ground. This gown, with an off-shoulder neckline and full circle skirt makes a charming option for any dress code.
Dress style: A-Line
Size range: 2 - 34
Azazie Joie Gown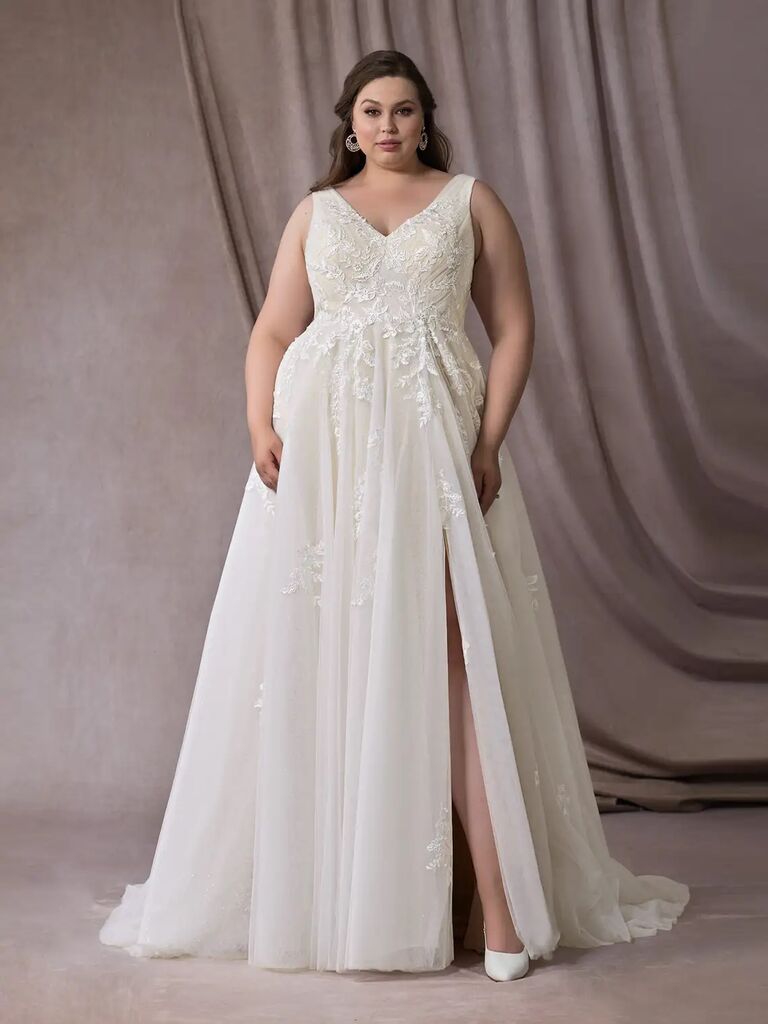 For the bride who wants to feel like a Queen on their big day: begin your 'happily ever after' in this classic bridal number. Custom sizing makes the floral appliquéd A-line gown a stunning option for both petite and petite-plus brides alike.
Dress style: A-Line
Size range: 0 - 28
Sachin & Babi Bonnie Gown
No train? No problem—especially when you're petite. The column silhouette of this one-shoulder gown makes it easy to hem to your ideal length. Not to mention, with an oversized bow on one shoulder, it's a totally swoon-worthy pick.
Dress style: Column
Size range: 0 - 14
Wedding Dress Styles We're Obsessed With for Petite Brides
Through years of trial and error, I've found that finding the right dress style as a petite is all about working with your proportions. While the goal might not necessarily be to look tall, chances are, you probably don't want to look shorter than you actually are. Opting for styles that draw the eye vertically is a great way to create the illusion of length—and if you're going the full-length dress route, you'll likely want all the length you can get! These three styles are our tried and true options for petite and petite-plus brides alike.
Lower Necklines
When it comes to flattering a petite figure, sometimes less fabric is more. Opting for a lower neckline is an easy way to ensure your frame isn't overwhelmed by excess fabric. Sweetheart and plunging necklines, in particular, are ideal options, as they have an elongating effect on the neck. Strapless gowns are also a popular choice for petite brides for this same reason. Pro tip: tailoring around the neckline can be a great investment if you have a smaller chest and are worried about fabric draping.
Empire Waists
Not only are empire waists a beloved bridal style, but they can also help create the illusion that your legs are longer than they actually are, which is great if you're a petite bride hoping to add height to your wedding day look. Because empire waistlines fall just below the bust, they reduce the need for complicated alterations around the bodice, making them an all-around win for petites.
Mermaid or Trumpet Silhouettes
If you're looking for that dramatic bridal look, but feel that a ball gown may overwhelm your petite frame, the good news is that there are plenty of other options. A mermaid or trumpet silhouette can be a great way to incorporate a full skirt, without feeling like you're drawing in fabric. Not to mention, they're oh-so chic.
What to Know Before You Shop: Wedding Dresses for Petite Brides
Try before you buy.
With so many simple ways to shop from the comfort of your home, you might be inclined to go the online shopping route for your wedding gown. While browsing styles virtually is certainly a good idea to help narrow your search, we recommend seeing your dress in person before you make the final decision. Because the models pictured online likely have different proportions than you, it can be difficult to tell how a dress will actually look on your frame without trying it on. Attending an in-person styling session at your local bridal salon can also be a great way to get an expert's advice on what styles best suit your body type.
Tailoring is a good investment.
The reality for most brides, petite or not, is that wedding dresses don't typically come tailored to your exact proportions. Even if you purchase a gown specifically made for petites, there is a chance you may need some slight alterations, such as a simple hem on the skirt, or taking in at the waist. We recommend factoring the cost of these services into your wedding dress budget just in case. Remember: alterations can take time, especially during peak wedding season, so be sure to give yourself plenty of time to bring your dress in.
A little heel goes a long way.
There's nothing wrong with embracing your height on your big day with a pair of wedding flats. However, if you are looking to take your look to new heights (literally), there are plenty of ways to do so without sacrificing your comfort. Platforms and wedges are great options for petite brides, as they give you that extra boost while still being comfortable enough for all-day wear. No matter what style you choose, be sure to keep footwear height in mind when choosing (and altering) your gown.
Where to Buy Petite Wedding Dresses
Olivia Bottega
Think shopping for a petite wedding dress means having limited options? Think again! Olivia Bottega's inclusive size range is changing the game when it comes to dress shopping. They offer a wide range of on-trend options in both petite and petite-plus sizing, with most styles available in sizes 2 through 34. For brides wanting that extra perfect fit, they also offer a custom sizing option.
Azazie
No matter what your bridal style is, Azazie is bound to have just what you're looking for. Not only are most of their gowns available in sizes 0 - 30, they also offer custom-sizing for no extra charge—which is perfect for petite brides who want a dress custom made to their specific proportions. Because they have an incredible selection of bridesmaid gowns (which can be made-to-measure as well), we like to think of them as a one-stop-shop for all things wedding attire.
Cocomelody
For brides 5'4" and under, Cocomelody's petite section gives plenty of reason to rejoice. Between being stylish, affordable and size-inclusive, the online bridal boutique checks off all our boxes. Not to mention, they have several locations throughout the country, making it easy to browse your top picks in person.