Wedding Dress Necklines Glossary
Different necklines flatter different women. Read up with our guide to what looks good on whom.
by Hollee Actman Becker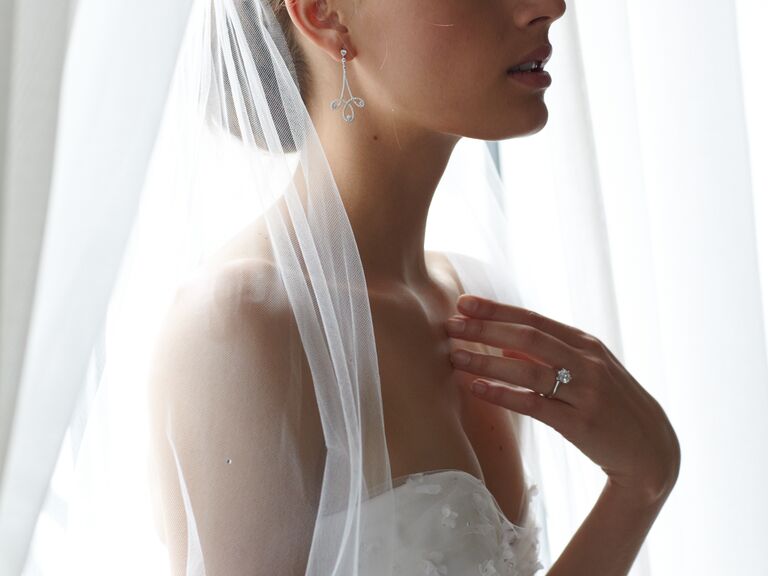 Sweetheart. Sabrina. Strapless. The right neckline can make the difference between a wedding gown that flatters and one that falters. Below, we help you decipher the different styles.
Off-the-Shoulder
Just like the name implies, this neckline sits below the shoulders to showcase a woman's collarbone and shoulders, with sleeves that cover part of the upper arm. While this style is superflattering to medium- or full-chested women, an off-the-shoulder neckline will look good on almost all figures. But if you've got fuller arms and are uncomfortable with baring your shoulders, you may wan to consider a portrait neckline instead.
Good for: Full-chested and pear-shaped women
Bad for: Broad shoulders, fuller arms
Portrait
Similar to an off-the-shoulder style but made with more fabric, the portrait neckline is characterized by a wide, soft scoop from the tip of one shoulder to the tip of the other.
Good for: Fuller arms and prominent collarbones
Bad for: Undefined collarbones
Sweetheart
The sweetheart neckline -- which is actually shaped like the top half of a heart -- is a wonderful option for fuller-chested women because it really accentuates the decolletage. The sweetheart is often done with an overlay of sheer material that rises higher than the heart shape, giving the torso a longer line and also making the neck look longer.
Good for: Serious decolletage
Bad for: The decolletage-impaired
Sabrina/Bateau
This shape gently follows the curve of the collarbone, almost to the tip of the shoulders -- and it's cut straight across so less of the decolletage shows. It can be paired with sleeves or a sleeveless style.
Good for: Small breasts
Bad for: The well-endowed
Halter/High Neck
The halter features straps that wrap around the back of the neck, or a high neck with deep armholes. Both look best on broad shoulders or taller women -- 5'7" and up.
Good for: Broad shoulders
Bad for: Narrow shoudlers
Scoop
The scoop, a U-shaped neckline, is a universally flattering classic. It can be cut low, and quite often the scoop will continue on the back of the dress.
Good for: Just about anyone
Jewel
Also known as the T-shirt neckline, due to it's similarity to an actual T-shirt, the jewel neckline is round and sits at the base of the throat.
Good for: Small-chested woman (it will make you look bustier)
Bad for: Large-chested women (it will make you look bustier too)
V-neck
The name says it all: The neckline dips down in the front (and sometimes in the back as well) in a V-shape, de-emphasizing the bustline.
Good for: B or C cups
Bad for: Anyone bigger or smaller
Strapless
The strapless neckline is a popular choice with busty brides, and it looks wonderful when paired with either a sweetheart or straight-across square bodice.
Good for: Great shoulders and collarbones
Bad for: Smaller-chested women