Wedding Dress Necklines 101
Not sure where to start in the wedding dress search? Narrowing down your favorite necklines is a great place to start.
So you're newly engaged and just starting to think about wedding dress shopping, but aren't sure where to start. We know that wedding dress shopping can be daunting, but it doesn't have to be—starting with a detail as simple as a wedding neckline can help to fuel your search. Doing your research before your first dress shopping appointment is an important step in figuring out what you're looking for. The bridal world has a language all its own, and you'll want to learn some key terms so you can properly identify your likes and dislikes. An easy place to start is necklines.
There are so many different necklines out there that you may not have even known had a proper name. That's why we've created this handy guide to help you decide on a favorite (or a few favorites) to narrow down your wedding dress search on the road to saying "yes." Consider it your wedding dress neckline glossary.
Every Wedding Dress Neckline You Need to Know
Some necklines are more well-known than others (chances are, you've heard of a sweetheart or a strapless neckline). But what about a jewel or an illusion? Get the details on the most popular—and the lesser-known—wedding dress necklines below.
Sweetheart Neckline
The aptly named sweetheart neckline is a great choice for brides wanting a sweet, feminine style. This neckline is actually shaped like the top half of a heart, making it a romantic choice for a heart-shaped wedding dress. It's also commonly known as the "princess neckline," because of its soft edges and feminine shape. The sweetheart style draws attention to the décolletage and gives the illusion of a longer torso and neck (especially great news for petite brides). To-be-weds looking for a more modest cut can opt for a semi-sweetheart neckline (which is cut a little higher on the chest) or an illusion sweetheart neckline (which consists of a sheer fabric overlay to cover the décolletage).
Square Neckline
This modern neckline has rocketed in popularity, thanks in part to Nicola Peltz popularizing the trend at her nuptials to Brooklyn Beckham. The popularity of the style is no surprise, as '90s-inspired trends have been making headwinds in all aspects of the fashion industry as of late. Despite its seemingly simple square shape, this neckline gives a trendy twist to any dress, even though the trend actually dates back to the Regency era. This versatile neckline looks just as fashionable on a simple crepe gown as it does on a Bridgerton-inspired ball gown.
High Neckline
A high-neck dress is a timeless style — even Audrey Hepburn opted for a high neckline on her wedding dress. A high neck is perfect for a bride who wants to cover up her decolletage and or bust. It often cuts inward at the sides, creating the illusion of a longer neck and torso. This modest neckline pairs especially well with an updo and a plunging back for a bridal look that's equal parts demure and sexy.
V-Neck Neckline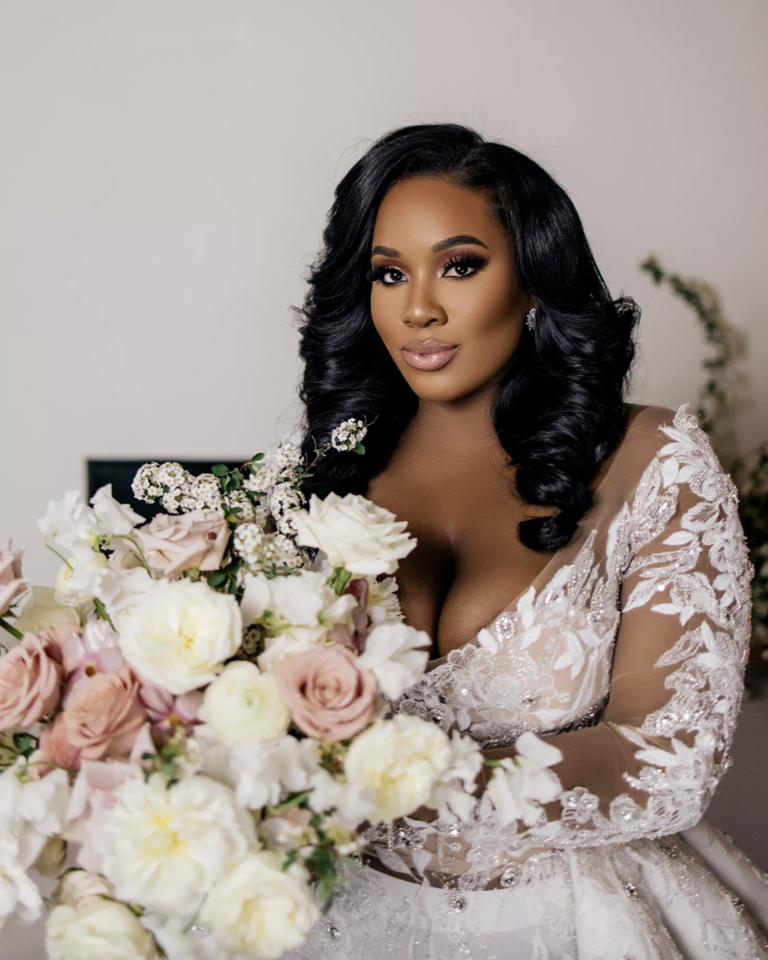 A V-neck is exactly as the name suggests: it's shaped like the letter V. The V-neck neckline dips down in the front (and sometimes in the back as well) in a flattering V-shape. The clean lines elongate the torso, while the straps offer support and security (read: you can dance the night away without any wardrobe malfunction worries). V-necks can be as daring or modest as you'd like, depending on how low they are cut.
Plunging Neckline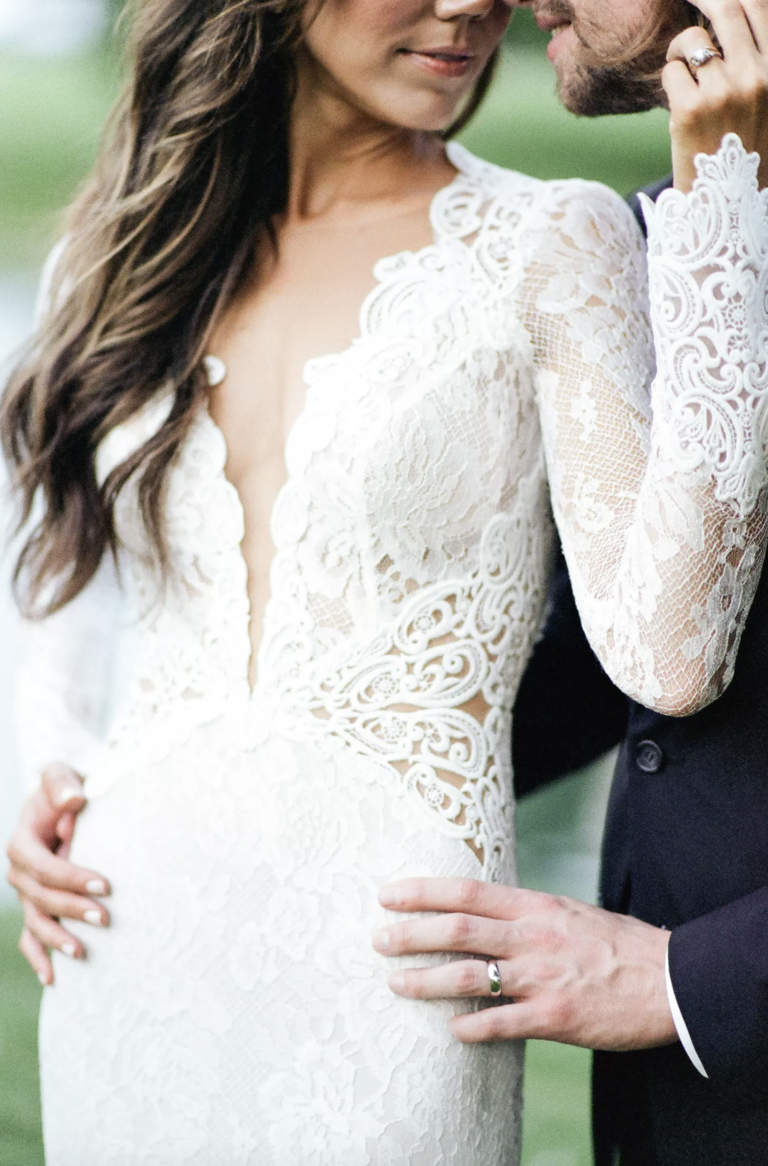 A plunging neckline is the more daring version of a V-neck. This sexy style puts your décolletage on full display—this style can even dip as far down as the belly button. This dramatic neckline is a red-carpet favorite, and for good reason. While many plunging necklines have an illusion mesh to provide more support, you could also opt to forego the illusion entirely (just make sure to have fashion tape on hand to prevent any wardrobe malfunctions).
Portrait Neckline
The portrait neckline is similar to an off-the-shoulder style, but it sits just on the edge of the shoulders. The popular style is a great option for brides who love the look of an off-the-shoulder gown, but prefer the comfort of having straps. Portrait necklines are a great choice for to-be-weds aiming for a formal, black-tie look, as the cut is reminiscent of chic special occasion gowns. The portrait neckline is also a wonderful choice for brides hoping to achieve a vintage look.
Halter Neckline
Similar to your favorite Y2K halter top, the halter neckline wraps around the back of your neck instead of having straps that sit on the shoulders. This alluring style—worn by celebrities like Meghan Markle and supermodel Hunter McGrady—allows brides to show some skin while also keeping the bust and décolletage covered. This flattering neckline shows off your arms and shoulders and is an especially popular choice for summer brides.
Straight Neckline
This modern, clean neckline cuts straight across the chest. A popular choice on strapless dresses, this cut shows off the décolletage and collarbones while still being modest. Like the square neckline, it's also a '90s wedding dress throwback that's experiencing a bridal fashion revival. Consider it the more modern take on a sweetheart neckline. You still have a similar amount of coverage in a straight neckline but in a simpler way.
Bateau Neckline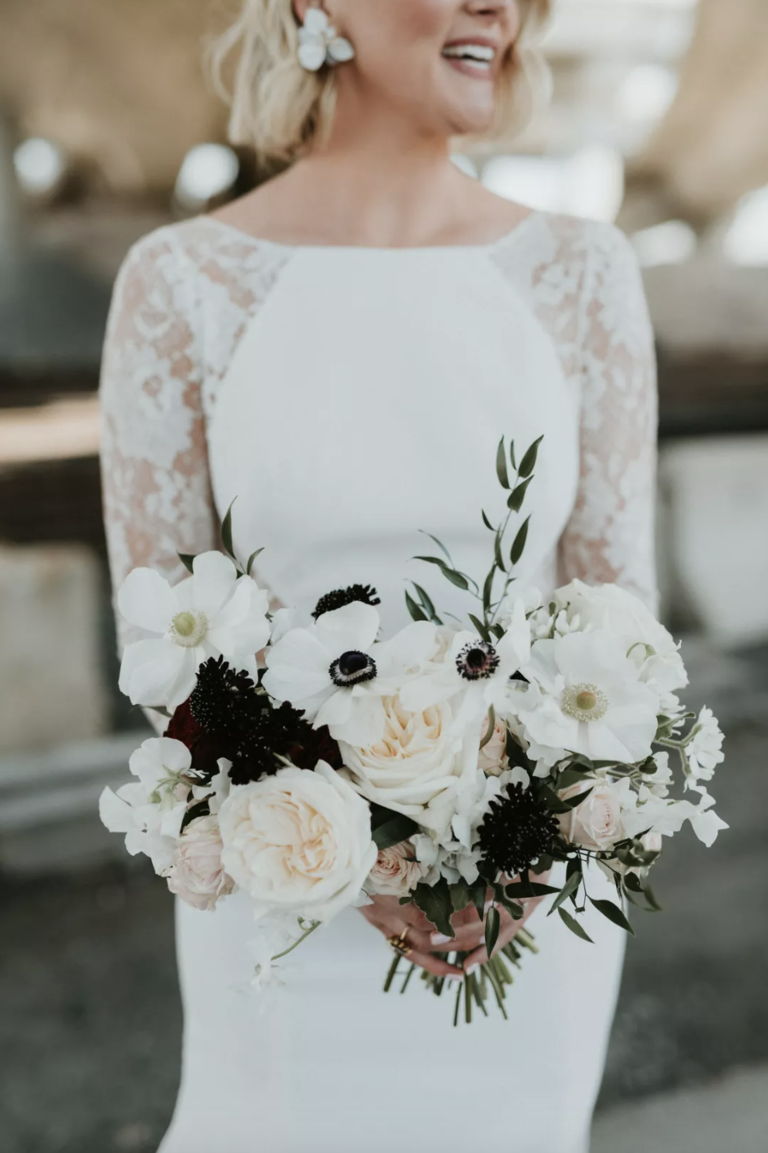 Also called a "boat" or "Sabrina" neckline (named after the classic Audrey Hepburn film), a bateau neckline gently follows the curve of the collarbone and stretches out almost to the tip of the shoulders. This shape has had a resurgence of popularity since Meghan Markle rocked the style for her own wedding ceremony.
Jewel Neckline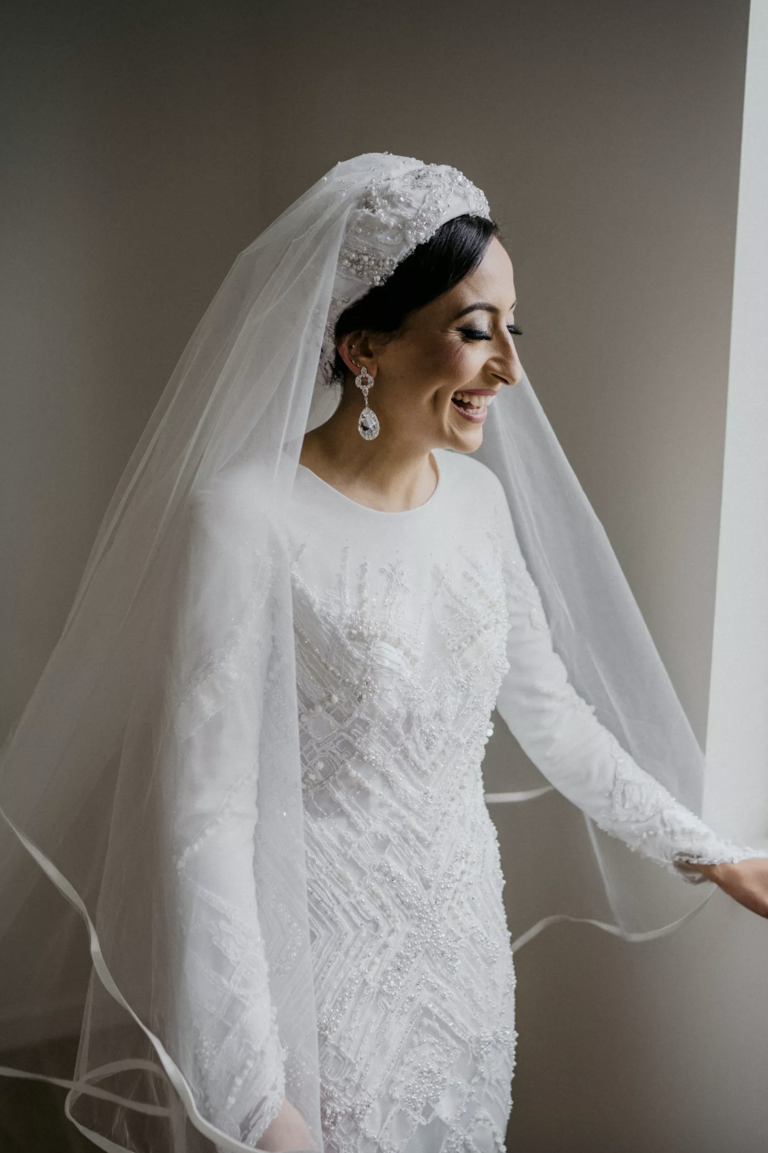 A jewel neckline is also referred to as a "t-shirt cut" neckline, because—you guessed it—it bears a resemblance to the cut of the casual wardrobe staple. The jewel neckline is round and sits right at the base of the throat. The higher cut and fuller coverage of this style accentuate your bust while still offering a good amount of coverage for those who want a more modest neckline.
Scoop Neckline
The scoop neckline, a U-shaped style, is universally-flattering and classic. The neckline gently scoops down from your shoulders below your collarbones and across the chest. It can be cut low or high depending on your preference, and the addition of straps makes it a comfortable fit. Quite often, the scoop will continue on the back of the dress. If you're going for a sultry vibe but don't want to show too much skin, look for a dress with a higher neckline and a lower scoop style in the back. Psst: It's also one of the hottest wedding dress trends of 2023.
Queen Anne Neckline
This regal neckline was named after the queen of Great Britain. The cut is often very similar to a V-neck, however it features an added collar detail around the back of the neck that gives the illusion of a bolero jacket. This style can be executed on both short and long sleeved gowns. The Queen Anne neckline is especially slimming on the shoulders. This cut is perfect for an elegant, vintage-inspired affair.
Illusion Neckline
"Illusion" is a word you're going to hear a lot in your wedding dress search, and it refers to the thin mesh-like fabric that looks undetectable over the skin. Illusion necklines allow for extra support without the added weight of a heavy bridal fabric. Oftentimes illusion necklines will feature a dusting of crystals or lace at the highest part of the neck, which gives the illusion that it's simply floating on the skin.
One-Shoulder Neckline
Just as it has made waves in street fashion, the one-shoulder neckline is having a moment in the bridal world. Typically, the one-shoulder neckline starts on one shoulder and cuts diagonally across the chest for a Greek goddess vibe. The fashionable one-strap style will instantly draw the eye to your gorgeous face and radiant smile.
Off-the-Shoulder Neckline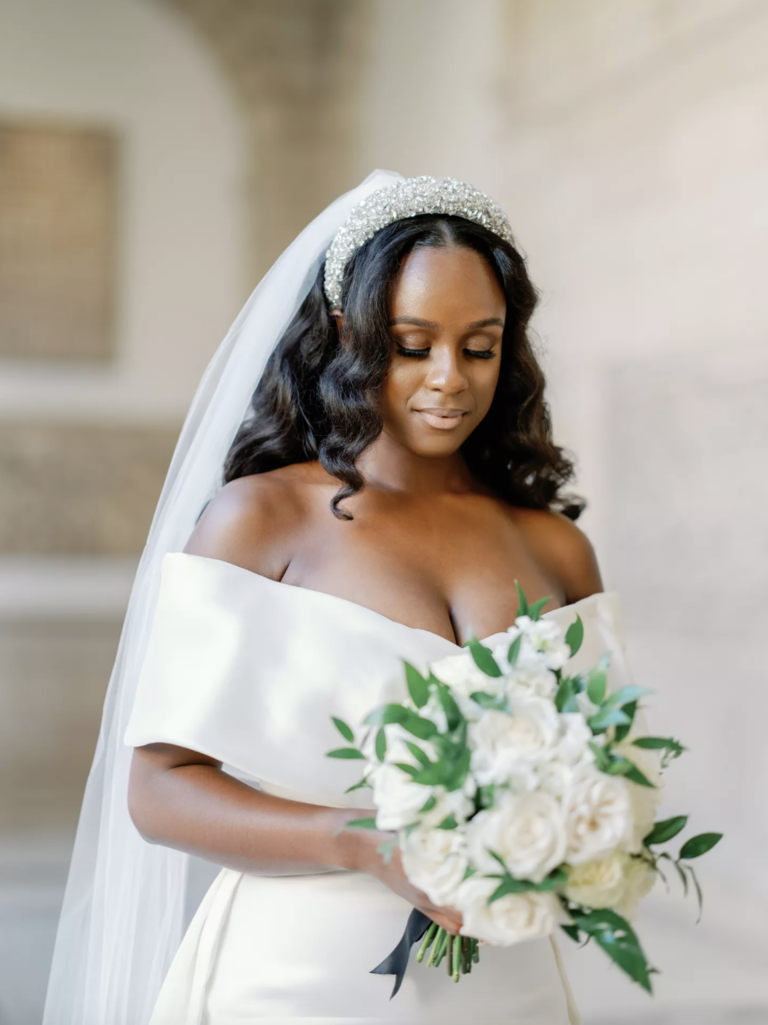 An off-the-shoulder neckline is perfect for brides who want to show just a little bit of skin. Just like the name implies, the off-the-shoulder neckline sits below the shoulders to showcase the collarbone and shoulders with sleeves that cover part of the upper arm. This neckline can even be added to a strapless gown, with the addition of off-the-shoulder straps. An off-the-shoulder neckline looks amazing on all figures and bust sizes, which makes it a must-try for your wedding dress shopping appointment.
Strapless Neckline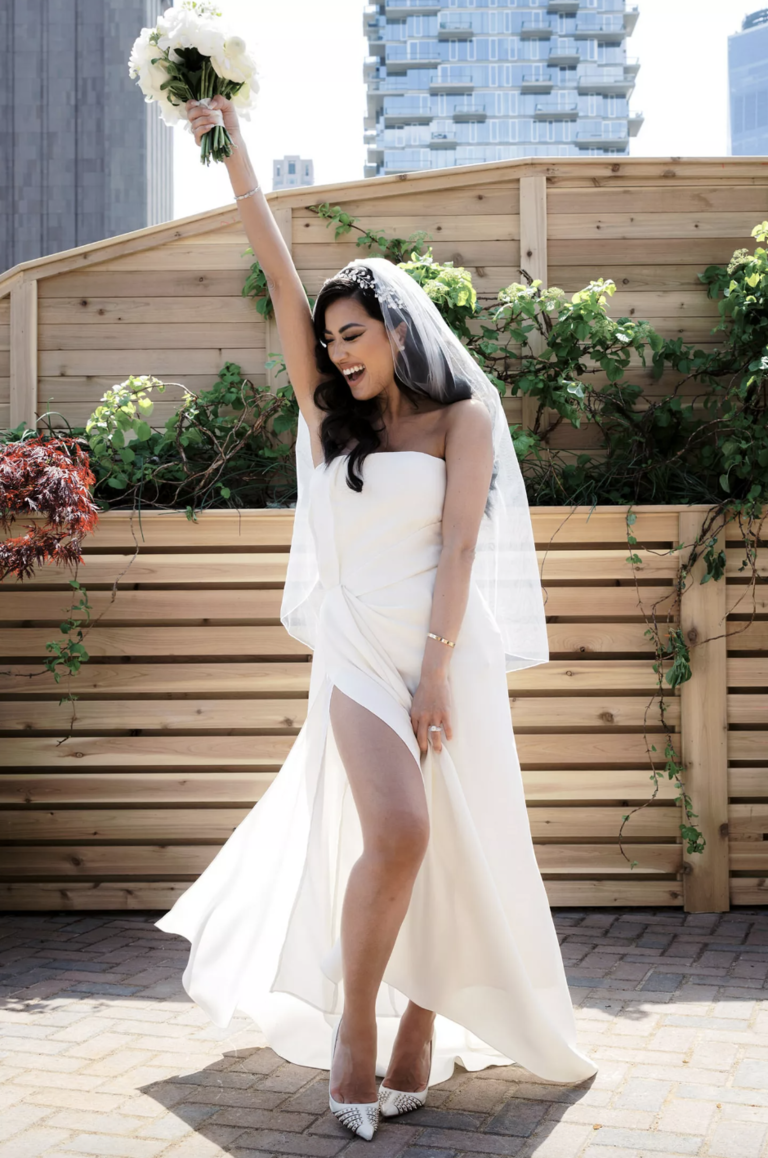 A strapless neckline cuts right across the chest, typically in a sweetheart or straight cut, sans straps. This style is especially fitting for a warm-weather wedding, as it shows off the shoulders and collarbone. If you're concerned about your strapless gown sliding down, work closely with your salon, tailor or seamstress to get the perfect fit. Sometimes your seamstress can even create detachable spaghetti straps you can slip on halfway through the night if you want a bit more support before you hit the dancefloor.