6 Places to Start Shopping for Your Wedding Dress
This isn't a run-of-the-mill party dress you can pick up at the mall on your lunch break. You need to know where (and even when—you'll need to make appointments at some places) to begin your search.
by The Knot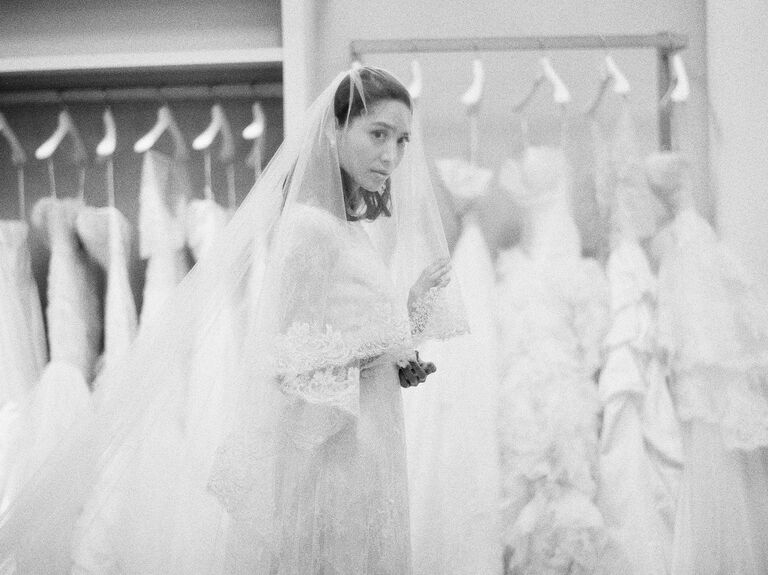 Bridal Salons
Couture and independent bridal salons promise personalized service, as well as a wide variety of gowns. Besides a tranquil VIP atmosphere, another plus is the dresses they carry usually fall into a similar price range and share a distinct style, so you can hone in on exactly what you're looking for depending on the salon you select. You'll find shoes, veils and other bridal accessories too—perfect for shopping for your entire look all in one place. Just call ahead for an appointment (salons book up fast, especially in summer months) and confirm that they carry dresses in your price range.
National Bridal Chains
Because these big retail stores manufacture, import and sell their own private-label gowns, they have low prices and a huge selection. Many also offer affordable collaborations with well-known designers, like Truly Zac Posen and White by Vera Wang, two lines available at David's Bridal. Similar to salons, bridal chains often carry everything from dresses to jewelry and offer alterations on site. Since you can buy off-the-rack, they're a great option if you're short on time.
Department Stores
Bet you didn't know you could find your wedding gown at the same place you buy your skinny jeans and winter coats, but it's true! Department stores are a great place to start since most carry a broad range of designers, from Monique Lhuillier and Jenny Packham to Watters and Hayley Paige, and hold exclusive trunk shows like stand-alone bridal salons do. If you're on a tight deadline, you can shop off-the-rack, and if you're not, you can choose a made-to-order gown. Another perk? You can browse online first and then call in the gowns you want to try on at your local store.
Fashion Retailers
More and more fashion retail shops are branching out into bridal lines, so if you're a fan of a specific brand, like J.Crew, Ann Taylor or BHLDN, you can buy a name you already love and trust. Plus, they're an easy and convenient option—you can purchase dresses right off-the-rack and they come in street sizes you can relate to. Just keep in mind that unlike custom orders, there's no guarantee these gowns will be available in the size or style you want when you're ready to buy.
Wedding Dress Rental Shops
It's not the most common way to find a wedding gown, but some clothing-rental stores and sites, like Rent the Runway, have white dresses in stock that would work for your walk down the aisle, and you might even find a seller that's devoted to wedding dresses. The upside of renting is you can wear an expensive designer gown while paying just a fraction of the retail price. The obvious catch though is since your gown is borrowed, you may have to plan around its availability, not to mention there's a risk it's never delivered. And, of course, you don't get to keep it as a special memento in the end.
Pre-owned Wedding Dresses
Secondhand gowns are another alternative to buying brand-new. Buying a used gown may be a bit of a gamble, but there are many sites where you can connect with brides looking to sell their own gowns, and you can usually find heavily discounted designer dresses. Plus, if you get lucky and buy a dress from someone with a similar body type, you may not have to make too many alterations, which also cuts down on the costs. The big downside? You likely can't see, touch or try the dress on before you decide to purchase it, which means you really don't know what you're going to end up getting.